« The Tripod: CAMERA Links in 3 Languages -- Oct. 9-10 | Main | The Tripod: CAMERA Links in 3 Languages -- Oct. 11-15 »
October 15, 2013
Cement to Gaza Used for Tunnels Instead of Schools and Houses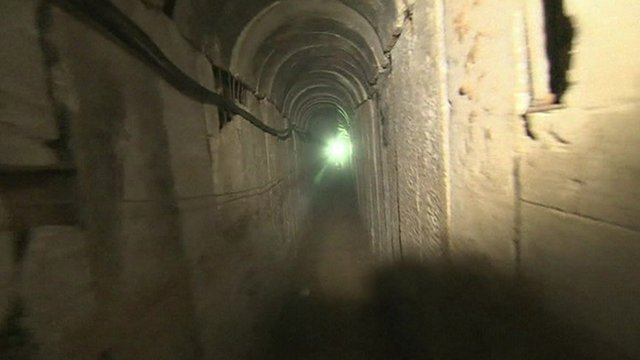 On September 26, Electronic Intifada published in its "human rights" section another of its endless depictions of Gazan deprivation caused by Israel's allegedly cruel policy of denying construction materials, mainly cement. The article states:
With the severe shortage of building supplies in Gaza, for example, construction has stopped on 13 government schools and tendering postponed on 26 others, the UN agency OCHA reported.

Rehabilitation of the 76 kindergartens that were damaged during Israel's November 2012 attacks on Gaza was also likely to be delayed or postponed, and the construction of a new building at Al-Aqsa University has stopped, OCHA added..."There are hundreds of construction projects pending in Gaza," including many badly needed housing projects...
Now we know the real reason why the cement was so desperately needed.
On October 13, Israeli officials reported that security forces had uncovered a large tunnel penetrating deep into Israeli territory. It is reportedly large enough to facilitate the transfer of a battalion sized military force. According to Israeli sources,
Security forces last week discovered the terminus of the tunnel some 300 meters inside Israel proper, near Kibbutz Ein Hashlosha... The tunnel, which began in Abbasan al-Saghira, a farming village near Khan Yunis, was described by officials as being 18 meters deep and 1,700 meters long. Officials estimate it took around a year to construct.
Officials estimated that 500 tons of cement was used to construct the tunnel. On October 14, the discovery of another tunnel was reported, rigged with explosives.
Revelations about what Hamas did with its cement exposes the sob stories about Gazan shortages as cynical deceptions. For years, so-called human rights groups have chided Israel for its caution in supplying construction materials to Gaza and mocked its concerns that such materials would be used for terrorism purposes. Meanwhile, the whole time, Hamas was diverting the supplies to build tunnels into Israel in order to launch terrorist attacks. Apparently the kindergartens and desperately needed homes can wait.
Posted by SS at October 15, 2013 12:43 PM
Comments
Never is there publication of how the Palestinians are indeed the perpetrators of violence, terrorism, and killing of innocent Israelis. Further, we never hear of how billions of dollars from dictatorships such as Iran, Syria, and Quatar support these terrorist activities. The world cries for the Palestinians yet who knows about Israeli victims of terror?
And where do the few injured Palestinians go for FREE medical care? To Israel, of course.
Posted by: karen at October 17, 2013 02:51 PM
Guidelines for posting
This is a moderated blog. We will not post comments that include racism, bigotry, threats, or factually inaccurate material.
Post a comment