« Author Asks "Will We Ever Be Forgiven for the Holocaust?" | Main | Huffington Post Demonstrates How Not to Correct »
October 27, 2013
NYT's Rudoren Apologizes to Sara Netanyahu
Sara Netanyahu (above) receives apology from NYT Jerusalem bureau chief Jodi Ruderon
On Oct. 23, The New York Times published the following correction: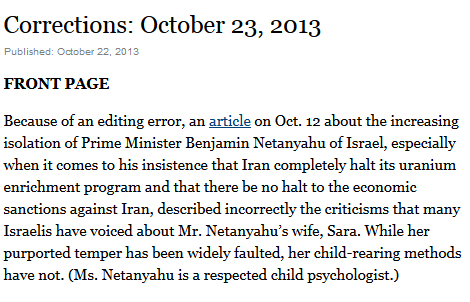 Barak Ravid reports in Ha'aretz today:
Sources close to the prime minister leaked to Israel Hayom that the New York Times bureau chief in Jerusalem, Jodi Rudoren, who had written the article, had sent a letter of apology to Sara Netanyahu. Netanyahu's people also leaked excerpts from the letter implying that she was "deeply apologetic," citing "an embarrassing editorial flaw," describing the piece as "outrageous." . . .

Rudoren declined to disclose the contents of the letter, saying, "I consider its contents to be personal, so I will not address them. The paper's published correction speaks for itself -- there was an editing error that led to the criticism being described improperly…"
For New York Times corrections prompted by CAMERA, see here. See also CAMERA's Monograph, "Indicting Israel: New York Times Coverage of the Palestinian-Israeli Conflict."
Posted by TS at October 27, 2013 05:22 AM
Comments
Guidelines for posting
This is a moderated blog. We will not post comments that include racism, bigotry, threats, or factually inaccurate material.
Post a comment