« Author of Book on Arab-Israeli Conflict Says Not Enough Space | Main | Arab-Israeli Straight Talk - A Book for All Seasons »
October 30, 2013
Newest New York Times Columnist Sees Israeli Conspiracies Everywhere
CAMERA's nine-month study of The New York Times Opinion pages found a dramatic slant toward anti-Israel material.
"Three quarters of all opinion pieces about the Palestinian-Israeli conflict during the study period were negative toward Israel. None were negative toward the Palestinians," the study found. Looking at pieces by Times-employed columnists specifically, it found passages critical of Israel overwhelmingly dominating (the newspaper's version of) the conversation.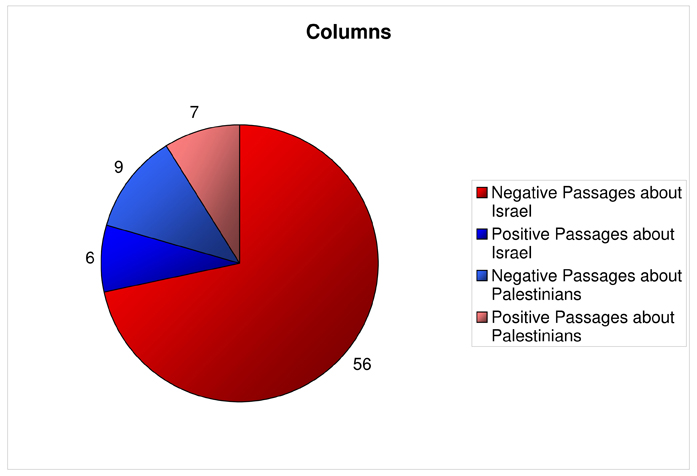 So how did The New York Times redress this imbalance? By hiring a new columnist who argues that a "massive Zionist organization rules America," of course!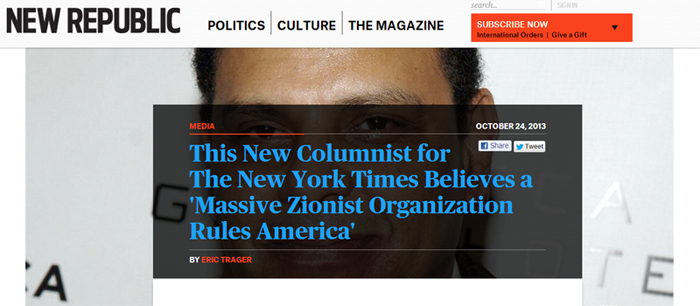 Read about Alaa Al-Aswany's radical and conspiratorial views at The New Republic.
Posted by GI at October 30, 2013 12:26 PM
Comments
NYT distorts even fabricates stories on Israel. I cannot even call what they write "news"
Posted by: ronnie pleet at October 31, 2013 12:35 PM
The NYT writers know how great Israel is, but their personal attacks, lies, and name-calling is evidence that they don't have the moral fortitude to progress beyond childish behavior and outright hatred.
It's high time to start a massive international boycott against the New York Times. Anyone with a subscription should cancel immediately, especially Jewish subscribers.
There are many better newspapers with actual facts about Israel, instead of opinions and the usual bigotry found in the failing New York Times.
Posted by: Craig at November 2, 2013 12:36 PM
If the Times will hire a racist like Alaa Al-Aswany, then David Duke should also call the NY Times for a job.
Posted by: Ken Kelso at November 2, 2013 09:26 PM
On July 4, 2010, Nick Kristof wrote that he was
"Surprised" that Israel had been telling t he truth
and there was no humanitarian crisis in Gaza.
He dis not apologize to Israel for demonizing it.
He did not apologize to the readership for his mistake. He did not identify the Left-wing(let's be realistic)NGOs who misinformed him. He did not explain h ow he was taken it. Just "surprised".
In a similar hoax, afterthe Cast Lead war in Gaza,
Hamas insisted that it did not have enough construction materials to re-h ouse all its homeless, and t he hundreds of reporters in the Gaza press corps dutifully passed this message on to the public worldwide. Suddenly,, in approximately June or July, 2010, Hamas announced the completion of numerous high-level stores, hotels, swimming pools, etc., projects that had to take many months apiece to build, and the Gaza press corps had to have seen these growing project hundreds of times, but did not let a word pass to the public. This is where Kristof got his misinformation.
Hamas had the materials to build new homes for the homeless, but chose to build hotels instead.
Hamas complains the Gaza aquifer is drying up,but
the pools Hamas builds will dry the aquifer even faster. Hamas claim its water is contaminated;
how can it fill the new swimming pools? Water
pollution in crowded areas is notorious for developing polio and cholera, but Fathi Hamad
Hamas'Minister of the Interior, claims that cholera and polio have been eliminated. What's happening?
Posted by: ARCANEONE at November 11, 2013 03:08 AM
Guidelines for posting
This is a moderated blog. We will not post comments that include racism, bigotry, threats, or factually inaccurate material.
Post a comment