« Huffington Post Demonstrates How Not to Correct | Main | The Tripod: CAMERA Links in 3 Languages -- Oct. 25-28 »
October 28, 2013
Life Sentences Lost in Ha'aretz's Translation
It's been a rough few days for Ha'aretz's English edition. First, there was the page-one headline and article last week which falsely claimed that Rihanna changed lyrics of her song to reference Palestine. (Ha'aretz quickly corrected.) Today's front-page error is the result of yet another mistranslation from the original Hebrew article.
In the latest "Ha'aretz, Lost in Translation," the page-one article, also online, erroneously reports:
The Prime Minister's Office stated that all of the prisoners slated for release were involved in attacks before the Oslo Accords were signed, and all received sentences of between 17 and 27 years in prison.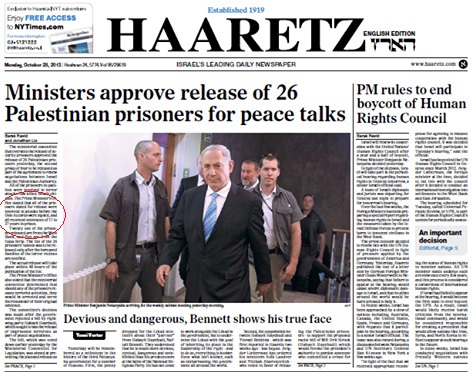 All of the prisoners slated to be released tomorrow received sentences longer than 27 years. While prisoners slated to be released served 19 to 28 years, almost all received at least one life term. The exceptions were Mukbal Mahmed Badawi Najach (38 years), Ashur Masabach Khalil Mhamed (30 years), and Karan Azzat Musa Musa (28 years, the shortest sentence). Thus, even the shortest sentence received was longer than the 27 years reported in the English edition. (The Israel Prison Service released a list, in Hebrew, of all of the prisoners to be released tomorrow, and their sentences.)

As for the statement from the Prime Minister's Office, it stated:
All of the prisoners slated for release perpetrated offenses before the Oslo accords and served prison sentences of 19-28 years. (Emphasis added.)

Finally, the more accurate Hebrew edition reported:


מלשכת ראש הממשלה נמסר כי כל האסירים המשוחררים ביצעו את הפיגועים שבגינם נכלאו לפני החתימה על הסכמי אוסלו וריצו תקופות מאסר של 17 עד 28 שנים בכלא
CAMERA's translation:
According to the Prime Minister's Office, the released prisoners carried out the attacks for which they were imprisoned before the signing of the Oslo Accords and served 17 to 28 years in prison.
CAMERA's Israel office has notified editors about the error, and they have promised to look into it.
Oct. 29 Update: Ha'aretz on Prisoners: A Correction, And An Error
Posted by TS at October 28, 2013 09:25 AM
Comments
Guidelines for posting
This is a moderated blog. We will not post comments that include racism, bigotry, threats, or factually inaccurate material.
Post a comment