« The Tripod: CAMERA Links in 3 Languages -- Oct. 16-21 | Main | Washington Post Columnist Gets Iran Right »
October 22, 2013
A Scathing Exposé of the World Council of Churches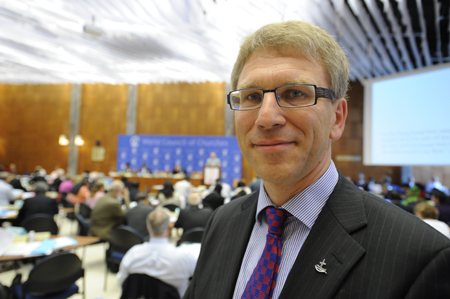 WCC General Secretary Rev. Dr Olav Fykse Tveit
The World Council of Churches is morally, ethically and intellectually bankrupt. That is the only logical conclusion one can draw after reading Malcolm Lowe's scathing essay published today in the Gatestone Institute. In the piece, Lowe highlights the WCC's failure to speak up forcefully on behalf of Christians suffering persecution in Muslim-majority countries in the Middle East.
Lowe, a New Testatment Scholar who resides in Jerusalem, also asks why the WCC has not set up an accompaniment program that allows human rights activists from the West to stand in solidarity with Christians suffering persecution in places like Egypt, Syria and Iraq.
Part of the answer, Lowe reports, is that the WCC has bought into "the preposterous lie … that Palestine is the central issue [in the region]" and "that solving this issue will rescue the Christians perishing elsewhere in the Middle East." Lowe continues:
Another answer is sheer cowardice. The main task of [WCC activists in the West Bank], apart from listening to unverifiable Palestinian tales, is to watch Palestinians go through Israeli checkpoints. The number of checkpoints has been drastically reduced in recent years and the Israeli authorities are introducing quicker and surer means of identification, so not much risk there. If the EAPPI internationals want a little whiff of danger, they can go on a Friday to watch – from a safe distance of course – a ritual battle between Palestinian youths throwing stones and Israeli soldiers responding with tear gas. In Egypt or Syria, on the other hand, they would have faced a real danger from machine guns, arson or bombardment with conventional and chemical weapons.
Posted by dvz at October 22, 2013 01:03 PM
Comments
Guidelines for posting
This is a moderated blog. We will not post comments that include racism, bigotry, threats, or factually inaccurate material.
Post a comment