« September 2013 | Main | November 2013 »
October 31, 2013
The Tripod: CAMERA Links in 3 Languages -- Oct. 29-31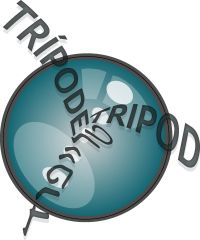 BBC airbrushes Hizballah, Iran from feature on 1983 Beirut bombings
A BBC article on the bombing of the US Marines barracks in 1983 omits any mention of the perpetrators. (BBC Watch)
BBC double standards on paramilitary murals
BBC reporting on paramilitary murals in Northern Ireland meets different standards than those displayed in reports from PA controlled areas. (BBC Watch)
El Pais: Palestine, BDS and other issues
False rumors about support for the BDS movement is helping boycott campaigns against Israel. (ReVista de Medio Oriente)
BDS in El Universal of Mexico
A group of radical activists criticize an invitation to Israel by the organizers of Latin America's largest book fair. (ReVista de Medio Oriente)
Less Hamas, More Humus Event Featuring Anat Berko at Florida State University
Dr. Berko discussed suicide terror as perpetrated by Hamas and other groups at CAMERA sponsored event. (in Focus)
University of Central Florida Hosts Dr. Anat Berko
30-40 students attend CAMERA sponsored event titled "The Smarter Bomb: Women and Children as Suicide Bombers". (in Focus)
Israel returns to the UN Human Rights Council
After 18 months Israel agrees to return to the Council, but demands objectivity and non-biased resolutions. . (ReVista de Medio Oriente)

Posted by RH at 05:59 PM | Comments (0)
In Praise of the EUMC Working Definition of Antisemitism
This post, by Adam Levick, is cross-posted from CiF Watch
In 2005, following several years which saw a disturbing rise in antisemitic violence across Europe, the European Union Monitoring Center on Racism and Xenophobia (EUMC) reached a Working Definition of Antisemitism.
Later in the year, the Working Definition of Antisemitism was prominently referenced at the Organization for Security and Cooperation in Europe (OSCE) Cordoba Conference. And, since then, many other bodies have advocated its usage. The one-page Working Definition of Antisemitism (below) evolved as a result of the efforts of a large number of European institutions and human rights experts.
The stated goal of the Working Definition of Antisemitism was to provide a guide (to EU members states) for identifying incidents, collecting data and supporting the implementation and enforcement of legislation dealing with antisemitism.
Here it is:
Recently, a commentator who has expressed sympathy for antisemites, and routinely calls for the end of the Jewish state, used his platform at a site notable for endorsing terrorism and equating Zionism to Nazism, to falsely characterize the Working Definition of Antisemitism as "an abandoned draft text."
While it is narrowly true that the website of Fundamental Rights Agency (FRA), the successor to the EUMC, doesn't include the text of the Working Definition of Antisemitism – due to the fact that its mandate differs from EUMC – here are the facts:
• The State Department report on Global Antisemitism in 2008 included the following: "The EUMC's working definition provides a useful framework for identifying and understanding the problem and is adopted for the purposes of this report."
• The Working Definition of Antisemitism was cited by the US State Department's Special Envoy to Monitor and Combat Anti-Semitism in testimony given to the Commission on Security and Cooperation in Europe (in Helsinki) in 2011, and is currently endorsed on the State Department's "Monitoring and Combating Antisemitism" page.
• The Working Definition of Antisemitism was endorsed by the London Declaration of the Inter Parliamentary Coalition for Combating Antisemitism in 2009.
• In 2010, the UK All-Party Inquiry into antisemitism recommended that the Working Definition of Antisemitism should be adopted and promoted by the Government and law enforcement agencies.
• The UK National Union of Students renewed their support for the Working Definition of Antisemitism in 2013.
• An official document published by the OSCE's Office for Democratic Institutions and Human Rights (ODIHR) recommends the Working Definition of Antisemitism as a valuable hate crime data collection tool for law enforcement agencies, and for educators.
• The OSCE Parliamentary Assembly has formally recognized the Working Definition of Antisemitism.
Though most manifestations of antisemitism included in the Working Definition of Antisemitism shouldn't even need to be pointed out (such as 'calling for, aiding, or justifying the killing or harming of Jews in the name of a radical ideology or an extremist view of religion'), many who oppose it do so for the following reasons:
1) It defines as antisemitic the equating of Zionism with Nazism.
2) It defines as antisemitic calls for the end of the Jewish state.
It is of course no coincidence that this recent attack on the Working Definition of Antisemitism was leveled by a commentator who continually promotes the second charge at a site which has endorsed the first.
Yet, despite the protests from a few marginal, extremist voices, the Working Definition continues to represent a widely respected, useful tool for understanding modern manifestations of antisemitism, and this blog will continue to use it in our continuing fight against such racism at the Guardian and 'Comment is Free'.
Posted by GI at 04:07 PM | Comments (0)
October 30, 2013
Where's the Coverage? Abbas Admits PA Ordered Terrorism

The popular press has been reporting on the recent release of 26 Palestinian prisoners from Israeli jails, the second round of prisoners released as a "goodwill gesture" from the Israelis to the Palestinian Authority as part of the ongoing negotiations. By definition, these prisoners are terrorists. Terrorism is defined as the use of violence and intimidation to achieve some political goal and popularly understood as violence against civilians to achieve political ends.
Yet Mahmoud Abbas, President of the Palestinian Authority, considers these actions "the duty of resistance." He said so in a 2005 interview on PA television. Palestinian Media Watch reports:
PA Chairman Mahmoud Abbas gave an interview to PA TV in 2005, just as the PA's terror campaign (the Intifada) was ending. In that interview, Abbas explained that the PA sees all Palestinian prisoners, including those who targeted and murdered civilians, as legitimate fighters who should be released because when they committed their attacks, they were only following orders:

Abbas: "I demand [the release of] prisoners because they are human beings, who did what we, we, ordered them to do. We - the [Palestinian] Authority."

Even when they killed - which Abbas refers to as "the duty of resistance" - they were fulfilling the PA leadership's orders.
Here is the video of Abbas' interview:
By Abbas' own admission, then, the Palestinian Authority sent murderers to kill civilians, and he defended those terrorists as legitimate "fighters."
This sort of doublespeak -- condemnation of terrorism to a Western audience while legitimizing terrorism to a Palestinian audience -- is glossed over or ignored by the media. Where is media coverage of Abbas' legitimization of terrorists?
Nor has there been reporting on the victims of the grisly murders committed by the 26 prisoners who were released.
However, CAMERA has reported all the details, including the story of Isaac Rotenberg's murder:
Holocaust survivor Isaac Rotenberg was born in Poland. Most of his family was murdered in the Sobibor death camp, but Isaac managed to escape and joined the partisans. After the war he tried to make his way by ship to mandate Palestine, but was interred by the British and sent to a detention camp in Cyprus until 1947. After his release Isaac arrived in pre-state Israel and fought in the War of Independence. He continued his work as a plasterer even after pension age and in March 1994 was at his place of work in Petah Tikva when he was attacked by two Palestinian labourers with axes. He died, aged 67, two days later.
In addition, the press hasn't shown you pictures of the victims like:



Murdered by terrorists: Revital Seri, Isaac Rotenberg, and Ian Sean Feinberg
Instead, a lot of the photos that accompany the stories feature jubilant Palestinians celebrating the release of the murderers such as this one from The New York Times...


And this one from the Associated Press..
Only the Israeli, Jewish or niche press has reported that Palestinian Authority President Mahmoud Abbas declared that "there will be no peace agreement with Israel until all prisoners are freed from Israeli jails. I will dedicate my life to releasing the prisoners." In other words, a peace agreement depends on the release of murderers. This is the context in which Israel's "goodwill gesture" should be reported.
Posted by SC at 08:49 PM | Comments (1)
Arab-Israeli Straight Talk - A Book for All Seasons
Student, busy lay person, concerned but misinformed news junkie -- anyone who would benefit from learning about the Arab conflict with Israel, and not only with the Jewish state but also other minorities in what is often referred to indiscriminately as "the Arab world" -- could benefit from reading The Quest for Justice in the Middle East: The Arab-Israeli Conflict in Greater Perspective.
By Gerald A. Honigman (disclosure: a long-time friend of CAMERA's and of this writer), The Quest for Justice in the Middle East brings the conflict's fundamentals to life in several dozen short, breezily written but nevertheless appropriately sourced chapters. Whether read straight-through or in brief installments, chapter-by-chapter, the book gives those who didn't know, or mistakenly thought they did, historical, legal, diplomatic and military basics with which to decipher today's often misleading news coverage.
Honigman did doctoral studies in Middle Eastern affairs at New York University's Kevorkian Center for Near East Studies and worked full-time as a consultant on the Middle East and antisemitism before a long career as an educator in Florida. He's lectured on numerous university campuses and published on Middle Eastern subjects in dozens of newspapers, magazines, academic journals and Web sites. In The Quest for Justice (Creation House, Lake Mary, Fla., 2009, 279 pages) he distilled this information to make it accessible for a broad readership.
Want to know a little more about the murderous Sheik Izzedine al-Qassam, Syrian-born "patron saint" of Hamas' "military wing" than one normally gets in media reports? Curious how Arab imperialism has underlain attitudes and actions toward not only Jews but also Kurds, Assyrian, Copts, Imazighen (Berbers) and other indigenous Middle Eastern peoples? Need a refresher on the connection between the ancient Roman effort to expunge Jewish ties to eretz Yisrael and Vladimir Jabotinsky's 20th Century formulation of stateless Jewish "starvation" versus landed Arab "appetite"? If so, The Quest for Justice in the Middle East provides it.
Honigman's work is not "political correct." It will singe anti-Zionists, intentionally. As the late comedian Jack E. Leonard used to challenge audiences, a minute or two into his acerbic routine, "Is there anyone here I haven't offended yet?" But for those who insist on the facts and take their defense of Israel's legitimacy straight up, with a dash of pepper, The Quest for Justice hits the mark. – Eric Rozenman
Posted by ER at 05:38 PM | Comments (0)
Newest New York Times Columnist Sees Israeli Conspiracies Everywhere
CAMERA's nine-month study of The New York Times Opinion pages found a dramatic slant toward anti-Israel material.
"Three quarters of all opinion pieces about the Palestinian-Israeli conflict during the study period were negative toward Israel. None were negative toward the Palestinians," the study found. Looking at pieces by Times-employed columnists specifically, it found passages critical of Israel overwhelmingly dominating (the newspaper's version of) the conversation.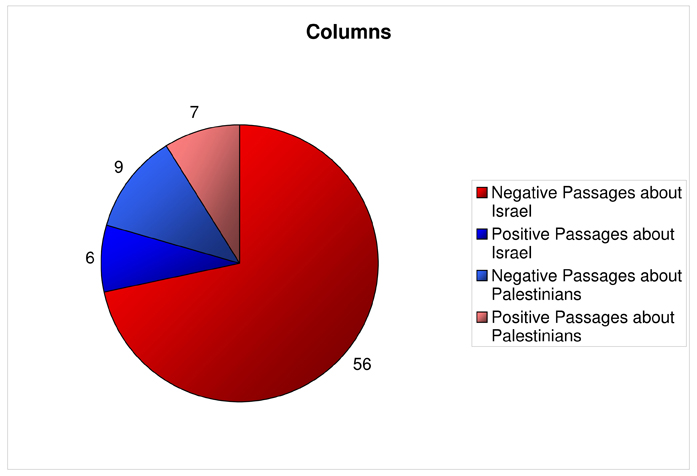 So how did The New York Times redress this imbalance? By hiring a new columnist who argues that a "massive Zionist organization rules America," of course!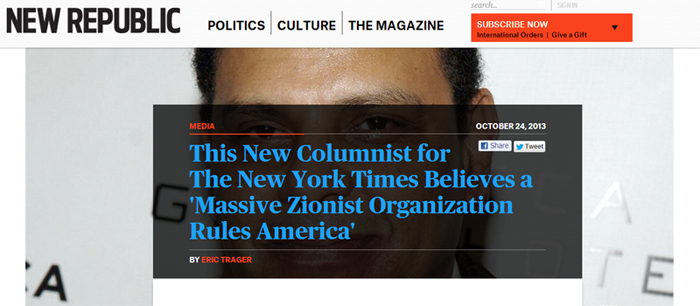 Read about Alaa Al-Aswany's radical and conspiratorial views at The New Republic.
Posted by GI at 12:26 PM | Comments (4)
October 29, 2013
Author of Book on Arab-Israeli Conflict Says Not Enough Space
Yesterday, CAMERA published on its main website an article about The Israeli-Palestinian Conflict: Tough Questions, Direct Answers published by the InterVarsity Press as part of its "The Skeptic's Guide (TM) Series."
Today, the book's author Dale Hanson Bourke graciously replied to this article with a tweet:
The main thrust of her response is that as a primer, her text was too short to include everything. This is excuse is simply too convenient. Properly educating neophytes about the problem of Muslim antisemitism -- a main driver of the conflict -- does not require a long entry. Following Bourke's format, it could be done as follows:
Does antisemitism (or Jew-hatred) contribute to Arab and Muslim hostility toward Israel?

Yes. Sadly, Jew hatred is not confined to Christian Europe, but has been a growing problem in Muslim-majority countries throughout the world. Political, religious and intellectual leaders have been fomenting anti-Jewish hostility by combining traditional anti-Jewish teachings present in the Koran, the Hadiths (the sayings of Muhammed, the founder of Islam), and in the Sunna (the life of the Muhammed) with anti-Jewish polemics from the West. Books like The Protocols of the Elders of Zion (an antisemitic forgery) and Hitler's Mein Kampf are best sellers in Muslim-majority countries. Muslim sources portray Jews as enemies of God, Islam and of humanity itself. Such portrayals have been used to promote violence against Jews in the Middle East, just as Christian teachings about Jews promoted violence against Jews in Europe.
This is a bare bones effort to inform would be peacemakers about Muslim antisemitism, one of the most crucial issues they face in the Holy Land. It is less than 140 words. Bourke simply has no excuse for failing to inform her readers about this problem.
Posted by dvz at 12:44 PM | Comments (1)
October 28, 2013
Al-Jazeera America Over All Other News Networks
The good news is that Al-Jazeera America (AJAM), a television news network that started broadcasting on Aug. 20, 2013 financed by the oil-rich Arab state of Qatar (pictured above is chief of state Sheikh Hamad Bin Khalifa Al Thani), so far has been superior to the satellite-cable news channels and over-the-air networks in terms of substantive news reports and analyses. This is especially so concerning those dealing with the Middle East. The bad news is the same: Al-Jazeera America's coverage appears to be deeper than that of its TV competitors, meaning Islamist inspired anti-American, anti-Israel propaganda might subtly or otherwise creep in to what the new channel offers American viewers.

In fact, this has already happened as reported by CAMERA here and here. These examples suggest a continuation of the type of sometimes blatant, sometimes more subtle anti-Israel propaganda film aired by AJAM's predecessor and sister network Al-Jazeera English.
The seemingly superior news coverage can be attributed largely to these factors:
• A number of skilled experienced hosts and a large roster of skilled, experienced on-site correspondents reporting and conducting interviews.
• News reports not interrupted or foreshortened by having to give way to frequent and at times lengthy commercials as is the case with the other news networks.
As we've noted previously, Al-Jazeera should be asked to answer this question: Why would Qatar's rulers – who have spent hundreds of millions of dollars to launch Al-Jazeera America – want to compete with other American cable networks such as CNN, Fox News and MSNBC and over-the-air networks including ABC, CBS, NBC and PBS? To give Americans yet another choice for television news, or to gain a platform for Qatari foreign policy?
Posted by MK at 05:37 PM | Comments (0)
The Tripod: CAMERA Links in 3 Languages -- Oct. 25-28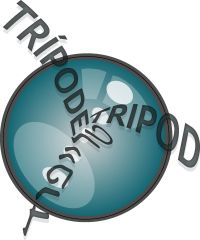 Among the Turmoil, Israel Can Be a Model For Stability
Our CAMERA Supported group at the University of Minnesota, Students Supporting Israel, publishes a letter to the editor in their campus paper educating their campus about Israel's democracy. (in Focus)
Rihanna, Haaretz and Palestine
Did Rihanna sing about Palestine in her Israeli concert? Only in Ha'aretz. (Presspectiva)
Missing: The Facts
Why did Amnesty International Israel not mention the facts about UNHRC anti-Israel bias in his op-ed? (Presspectiva)
A potpourri of errors
The Mexican newspaper El Universal misinformed its readers about the "Rihanna affair". (ReVista de Medio Oriente)
Where's the coverage?
A bomb hurled at an Israeli school bus is not deemed newsworthy for Spanish media. (ReVista de Medio Oriente)
Why report well when you can do some harm to Israel?
The Spanish state owned Radio Television Corporation managed to overshadowI srael's goodwill gestures in releasing Palestinian prisoners. (ReVista de Medio Oriente)
Middle East headlines in the Spanish speaking press
The Latin-American press focuses on the Israel-Gaza tension and on the release of 26 Palestinian prisoners. (ReVista de Medio Oriente)
Posted by RH at 04:41 PM | Comments (0)
Life Sentences Lost in Ha'aretz's Translation
It's been a rough few days for Ha'aretz's English edition. First, there was the page-one headline and article last week which falsely claimed that Rihanna changed lyrics of her song to reference Palestine. (Ha'aretz quickly corrected.) Today's front-page error is the result of yet another mistranslation from the original Hebrew article.
In the latest "Ha'aretz, Lost in Translation," the page-one article, also online, erroneously reports:
The Prime Minister's Office stated that all of the prisoners slated for release were involved in attacks before the Oslo Accords were signed, and all received sentences of between 17 and 27 years in prison.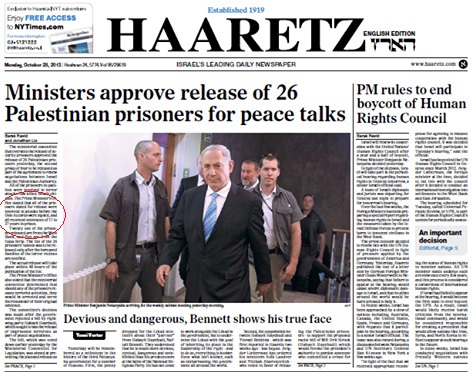 All of the prisoners slated to be released tomorrow received sentences longer than 27 years. While prisoners slated to be released served 19 to 28 years, almost all received at least one life term. The exceptions were Mukbal Mahmed Badawi Najach (38 years), Ashur Masabach Khalil Mhamed (30 years), and Karan Azzat Musa Musa (28 years, the shortest sentence). Thus, even the shortest sentence received was longer than the 27 years reported in the English edition. (The Israel Prison Service released a list, in Hebrew, of all of the prisoners to be released tomorrow, and their sentences.)

As for the statement from the Prime Minister's Office, it stated:
All of the prisoners slated for release perpetrated offenses before the Oslo accords and served prison sentences of 19-28 years. (Emphasis added.)

Finally, the more accurate Hebrew edition reported:


מלשכת ראש הממשלה נמסר כי כל האסירים המשוחררים ביצעו את הפיגועים שבגינם נכלאו לפני החתימה על הסכמי אוסלו וריצו תקופות מאסר של 17 עד 28 שנים בכלא
CAMERA's translation:
According to the Prime Minister's Office, the released prisoners carried out the attacks for which they were imprisoned before the signing of the Oslo Accords and served 17 to 28 years in prison.
CAMERA's Israel office has notified editors about the error, and they have promised to look into it.
Oct. 29 Update: Ha'aretz on Prisoners: A Correction, And An Error
Posted by TS at 09:25 AM | Comments (0)
October 27, 2013
Huffington Post Demonstrates How Not to Correct
The Huffington Post was one of the few major mainstream media outlets to run with Amy Klein's erroneous -- and now corrected -- Oct. 24 report in Ha'aretz that singer Rihanna swapped the lyrics of her song "Pour it Up" to state "All I see is Palestine."
On Thursday (Oct. 24), Ha'aretz removed the unfounded assertion from its online headline and article, and appended a clear correction. On Friday, in its print edition, the newspaper ran a correction on page 2.
And what about the Huffington Post, which ran with the initial incorrect story? Three days later, as of press time, the Huffington Post still features a completely false headline alongside an update.
Following an update at the top of the page noting that Ha'aretz has retracted the claim that Rihanna sang about Palestine, readers are told that "The original article continues below." Indeed, it does. With the false claim about the lyrics intact.
To sum up: The Huffington Post runs an update which makes clear that their earlier headline and article were based on a false report. The Post leaves those incorrect headline and article in place, as if they have not received information to the contrary.
Is somebody asleep at the helm of the Huffington Post? Or this what now passes for accountability at the sixth-leading English news site?
Posted by TS at 07:37 AM | Comments (3)
NYT's Rudoren Apologizes to Sara Netanyahu
Sara Netanyahu (above) receives apology from NYT Jerusalem bureau chief Jodi Ruderon
On Oct. 23, The New York Times published the following correction: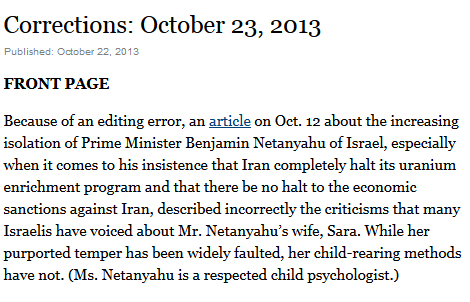 Barak Ravid reports in Ha'aretz today:
Sources close to the prime minister leaked to Israel Hayom that the New York Times bureau chief in Jerusalem, Jodi Rudoren, who had written the article, had sent a letter of apology to Sara Netanyahu. Netanyahu's people also leaked excerpts from the letter implying that she was "deeply apologetic," citing "an embarrassing editorial flaw," describing the piece as "outrageous." . . .

Rudoren declined to disclose the contents of the letter, saying, "I consider its contents to be personal, so I will not address them. The paper's published correction speaks for itself -- there was an editing error that led to the criticism being described improperly…"
For New York Times corrections prompted by CAMERA, see here. See also CAMERA's Monograph, "Indicting Israel: New York Times Coverage of the Palestinian-Israeli Conflict."
Posted by TS at 05:22 AM | Comments (0)
October 25, 2013
Author Asks "Will We Ever Be Forgiven for the Holocaust?"
Howard Jacobson, Man Booker Prize winner and author of such novels as "The Finkler Question," delivered this year's Jerusalem Address at the B'Nai Brith World Center in Jerusalem:
The question "When will Jews be forgiven the Holocaust," and its implied answer, "never," have political implications right enough, but there's an important nonpolitical lesson to be drawn from them. If it's not for anything they have done, but for what's been done to them, that Jews cannot be forgiven, then it's in vain for Jews to strive to alter the way the world sees them. In vain that they try to improve their public relations image, adopt a sweeter demeanor, or hang their heads in embarrassment.

It is vain to suppose we can thereby undo the twisted logic of being unforgiven for the Holocaust, unforgiven for who we are perceived to be, unforgiven for what has been visited on us — a perpetuity of being unforgiven, which, whatever its political effect, has a psychological cause, and so would not vanish tomorrow if Israel gave to its neighbors every blade of contested grass, and every wealthy Jew turned himself overnight into a pauper. For don't forget that being a light unto nations itself incurs the charge of spiritual arrogance.
He took on the subject of anti-Zionism, what many see as the "new" anti-Semitism:
The syllogism goes like this:

Not all critics of Israel are anti-Semites.

I am a critic of Israel.

Therefore I am not an anti-Semite.

In this way has anti-Zionism become an inviolable space. Question it and you are deemed to have cried anti-Semitism (this, whether you have or you haven't), and since to cry anti-Semitism is a foul, no position from which it is rational to question anti-Zionism remains allowable. By the infernal logic of this magic circle, the anti-Zionist is doubly indemnified, firstly against any criticism of his position whatsoever, since the status of such criticism has been reduced to that of "tactic," and secondly against the original accusation of anti-Semitism, which anti-Zionism cancels out.

I don't myself argue that anti-Zionism is a method for circumventing Jew-hating while indulging it, but were that to have been the intention, it could not have been better planned.

Criticism of Israel functions as a sort of antiseptic bath, or mikveh — no matter how mired in the impurities of anti-Semitism you might be when you go in, you come out as fragrant as a bride awaiting her groom.
Posted by SC at 02:50 PM | Comments (0)
October 24, 2013
The Tripod: CAMERA Links in 3 Languages -- Oct. 22-24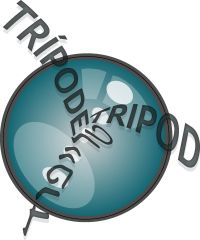 Where's the coverage? Jewish cemeteries defaced in Israel
Why does the Israeli media treat the defacing of Jewish cemeteries in Israel differently, (Presspectiva)
Letter to the Editor: "In Response to Nadine Aly"
SJP at FAU spreads inaccuracies. A CAMERA Fellow speaks up with a letter to the editor, and is published in his campus paper. (in Focus)
A Testimonial from a Cedarville University Alumna
CAMERA has had an enormous impact on my past two years in college, my current occupation, and my future career goals. As a Christian . . . (in Focus)
CAMERA Helps Bring Dr. Anat Berko to USF
As part of the Less Hamas More Hummus Campaign, Dr. Anat Berko spoke at the University of South Florida about her first hand research on suicide bombers and their handlers. (in Focus)
Accuracy and impartiality failures in BBC report on Jerusalem elections
The BBC misleads readers by suggesting that Arab Jerusalemites cannot be Israeli citizens and conceals the campaign of intimidation to stop them voting. (BBC Watch)
BBC terms bus bomb planner claimed as a member by 2 terror groups 'militant'
How many internationally recognized terror organisations have to claim a person as one of their members before the BBC will stop euphemistically describing him as a "militant"? (BBC Watch)
Why won't Harriet Sherwood tell readers about the suspected terror affiliation of Shawan Jabarin?
It seems reasonable to expect journalists who take their professional duties seriously would inform their readers when a so-called "human rights" organization they're covering is led by a suspected terrorist, which explains why the Guardian failed to do so in a report about the radical Palestinian NGO, Al Haq. (CiF Watch)
Inside The Mind of a Bomber
Our speaker is met with a few protesters at UF. CAMERA Fellow Avia Gridi has the final word when she writes about it for her school paper. (In Focus)
Posted by RH at 04:38 PM | Comments (0)
October 23, 2013
Where's the Coverage? Many Countries Have Nuclear Power but No Enrichment

The "P5+1" talks proceed, meaning Iran is negotiating on the issue of its nuclear program with the five permanent members of the United Nations Security Council (the United States, Great Britain, France, China, Russia) plus Germany. The next round will take place early next month in Geneva and the media are tripping over themselves to cover differences between the United States and Israel on the matter. And there are differences. According to Bloomberg:
In Moscow yesterday, Russia's chief negotiator at the talks said Iran and world powers may strike an accord allowing the Islamic republic to continue enriching uranium up to 5 percent purity. That level would require more time to turn into weapons-grade material than the 20 percent enriched uranium Iran is also producing.

[…]

Netanyahu has urged the U.S. and five other powers taking part in talks with Iran in Geneva to reject any proposal that would not ensure a halt to all uranium enrichment. Iran must also stop building a plutonium-producing reactor and curtail other capabilities to make sure it can't build a nuclear weapon, the Israeli leader says.
Iran is already in violation of a number of Security Council resolutions demanding it cease all uranium enrichment and heavy water activity – a process used to create weapons-grade plutonium. Furthermore, none of this activity is even remotely necessary if Iran, as it claims, only wants a peaceful nuclear program.
There are many countries that have nuclear power that do not have the capability to enrich their own fuel. They buy it from abroad and that's what Iran could do. And that's what the media are neglecting to tell you.
There are over thirty countries around the world that have nuclear power programs but according to the World Nuclear Association, only eleven have the capacity to enrich their own fuel.
Here are some of the countries that have nuclear energy but don't enrich their own nuclear fuel:
• Argentina • Armenia • Belgium • Bulgaria • Canada • Czech Republic • Finland • Hungary • South Korea • Lithuania • Mexico • Romania • Slovakia • Slovenia • South Africa • Spain • Sweden • Switzerland • Ukraine
The fact is that, of countries that have enrichment capabilities, the majority also possess nuclear weapons. Countries that enrich nuclear materials but do not have nuclear weapons include Germany, Japan and the Netherlands. Countries that enrich and do have nuclear weapons include Pakistan, Russia and China.
When you think of Iran, do you think it fits in with Germany, Japan and the Netherlands? Or, does it fit better with Pakistan, Russia and China?
If that isn't enough to make you uncomfortable, in a speech to the Supreme Cultural Revolutionary Council in 2005, Rouhani himself said:
A county that could enrich uranium to about 3.5 percent will also have the capability to enrich it to about 90 percent. Having fuel cycle capability virtually means that a country that possesses this capability is able to produce nuclear weapons.
Since Argentina, Armenia, Sweden and Spain can buy nuclear fuel from abroad, why can't Iran? Since our neighbors Canada and Mexico can pursue this policy, why can't Iran? And since numerous countries have nuclear energy without any enrichment capabilities, why don't the media include this in their reporting? Where's the context? Where's the background? Where's the coverage?



A nuclear power plant in Spain, a country that does not have nuclear enrichment capability.Notice it is not underground.
Posted by SC at 07:47 PM | Comments (1)
TIME Magazine Flacks for Iran
In an October 15 article entitled, "Four Good Reasons Why Iran Doesn't Trust America," TIME Magazine seems rather sympathetic to Iran's point of view:
As Iran and Western negotiators sit down in Geneva today, it's worth considering some of the reasons why Iran bears such animus toward America, and why cutting a deal with the U.S. won't be easy for Tehran either. Many of those reasons have to do with the basic Islamic fundamentalist philosophy of Iran's clerical leaders, to be sure. But as the nuclear talks move forward, it's worth remembering that the U.S. bears some blame for the poisoned state of the relationship between the two countries.
Each one of TIME's "good reasons" for Iran not to trust America is actually a reason America should not trust Iran. According to TIME, these include:
1. "The Coup and the Shah"
The Shah began his reign after a 1953 coup, which the CIA has recently acknowledged supporting. TIME reports:
"It it is easy to see now why many Iranians continue to resent this intervention by America in their internal affairs," Secretary of State Madeleine Albright conceded in a 2000 address, which also acknowledged that the U.S. gave "sustained backing" to the Shah's regime, which, she admitted, "brutally repressed political dissent."
The Shah may have brutally repressed political dissent, but the current regime of the ayatollahs puts it to shame in the brutal repression department. Iran incarcerates political and religious dissenters, executes untold numbers in secret prisons and, after the rigged re-election of Ahmadinejad in 2009, sent thugs into the streets to beat and murder peaceful demonstrators. This repression goes back to the early days of the regime when thousands of political opponents were murdered.
2. "Iraq and Chemical Weapons"
TIME argues that during the Iran-Iraq war of 1980-1988, the U.S. supported Iraq, which used chemical weapons against Iran. Ironically, Iran supports the Assad regime in Syria which has repeatedly used chemical weapons against civilians, including women and children.
3. "Iran Air 655"
In July of 1988, American forces patrolling the Straits of Hormuz came under fire from Iranian patrol boats. At the same time, an Iranian passenger jet, Iran Air flight 655, flew nearby and was mistaken by a Navy vessel for a hostile fighter. It was shot down killing 274 Iranian passengers and 16 crew members. This was clearly an accident.
On the other hand, Iran is the world's most active state-sponsor of terrorism. Thirty years ago today, Iran's proxy Hezbollah set off a truck bomb in Beirut, killing 241 American marines, sailors and soldiers. A court found Iran responsible with a U.S. judge ordering Iran to pay more than $7 billion to the families of victims. As of yet, they have not been paid. Iran continues to support terrorism around the world, even planning to kill a Saudi ambassador by blowing up a Washington, D.C., restaurant.
4. "The 'Axis of Evil' and Regime Change"
TIME cites President George W. Bush's 2002 State of the Union address, in which he described Iran as a member of the "axis of evil." Furthermore, the magazine claims that Iran believes the U.S. wants regime change in Tehran.
Meanwhile, at virtually every regime-sponsored demonstration in Iran, speakers repeatedly call the U.S. "The Great Satan" and lead chants of "Death to America!"
If Iran has "good" reasons not to trust America, then America has great reasons not to trust Iran. And the four above don't even scratch the surface. The Iranian regime has been hiding, lying about and violating international law regarding its nuclear program for decades. That sounds like a pretty darn good reason not to trust the regime as negotiations resume next month in Geneva.
As to why TIME Magazine would act as the public relations arm of the Iranian regime, there doesn't seem to be any good reason for that.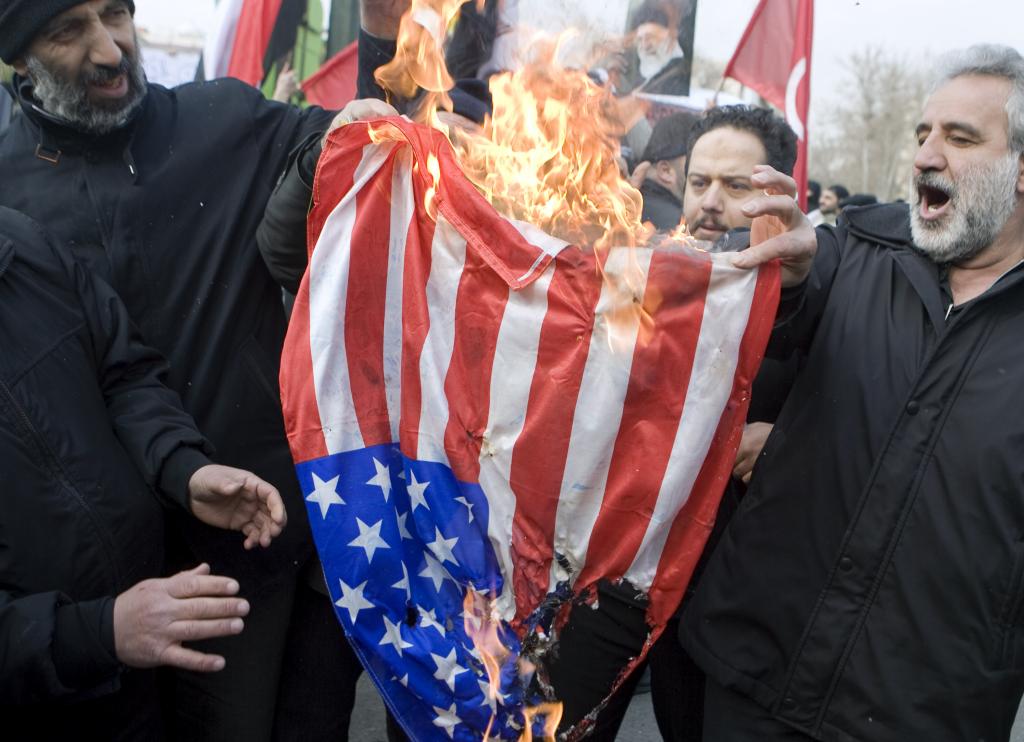 Iranian protesters burn the American flag in Tehran.
Posted by SC at 07:30 PM | Comments (0)
Washington Post Columnist Gets Iran Right
In the Oct. 17, 2013 print edition of The Washington Post, syndicated columnist Anne Applebaum ("A New Iran? Hardly.") highlights the fundamental issue when it comes to negotiations with Iran over its nuclear programs.
"We [the United States] oppose Iran's nuclear ambitions for one reason: because we object to the Islamic Republic of Iran, a quasi-totalitarian state that since 1979 has been led by brutal, volatile men with no respect for the rule of law." Exactly. And in their brutality and volatility, these quasi-totalitarian leaders have called for the destruction of Israel.
Applebaum provides one of the few relatively detailed analyses in mainstream media that calls for more caution than optimism following October 16 talks between the United States, Britain, Russia, France, China, and Germany (the "P5+1" countries) and Iran.
The columnist notes that President Hassan Rouhani does not "represent a new radical strand of Iranian thinking about nuclear power. After all", she writes, "he was Iran's nuclear negotiator from 2003 to 2005…. Nor does Rouhani's new cabinet mark a profound break from those who have run the Islamic Republic since its inception. As his justice minister, Rouhani has appointed Mostafa Pourmohammadi, a former high official in the Ministry of Information during the bloody and violent 1980s."

Moreover, among Pourmohammadi's greatest "achievements," says Applebaum, were "the mass execution of thousands of political prisoners in 1988…. the bombing of a Jewish community center in Buenos Aires and the assassination of dissidents in Iran and around the world." And during the week of September 23, "when Rouhani was at the U.N. General Assembly in New York, more than 30 Iranians were reportedly executed without due process of law".
Applebaum's timely commentary comes when words and rhetoric, not actions, are welcomed by some reporters and pundits as indications of change from the aggressive style of Rouhani's immediate predecessor, Mahmoud Ahmadinejad. "[A]s long as the Iranian judicial system is subverted by a politicized version of sharia [Islamic law], there will always be a limit to what can be achieved through any conversations with Tehran," Applebaum stresses.
She implies that Iran will say anything to lift international sanctions that have been crippling its economy. But will it agree to limit what appears to be a large, secret nuclear weapons program? Applebaum summarizes: "Talking is fine. But the negotiators in Geneva should leave any optimism at the door". -- by Lee Golan Fischgrund, CAMERA Washington research intern.
Posted by ER at 03:24 PM | Comments (1)
October 22, 2013
A Scathing Exposé of the World Council of Churches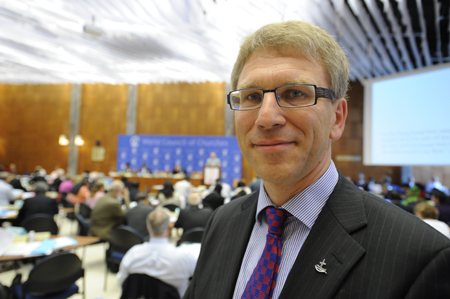 WCC General Secretary Rev. Dr Olav Fykse Tveit
The World Council of Churches is morally, ethically and intellectually bankrupt. That is the only logical conclusion one can draw after reading Malcolm Lowe's scathing essay published today in the Gatestone Institute. In the piece, Lowe highlights the WCC's failure to speak up forcefully on behalf of Christians suffering persecution in Muslim-majority countries in the Middle East.
Lowe, a New Testatment Scholar who resides in Jerusalem, also asks why the WCC has not set up an accompaniment program that allows human rights activists from the West to stand in solidarity with Christians suffering persecution in places like Egypt, Syria and Iraq.
Part of the answer, Lowe reports, is that the WCC has bought into "the preposterous lie … that Palestine is the central issue [in the region]" and "that solving this issue will rescue the Christians perishing elsewhere in the Middle East." Lowe continues:
Another answer is sheer cowardice. The main task of [WCC activists in the West Bank], apart from listening to unverifiable Palestinian tales, is to watch Palestinians go through Israeli checkpoints. The number of checkpoints has been drastically reduced in recent years and the Israeli authorities are introducing quicker and surer means of identification, so not much risk there. If the EAPPI internationals want a little whiff of danger, they can go on a Friday to watch – from a safe distance of course – a ritual battle between Palestinian youths throwing stones and Israeli soldiers responding with tear gas. In Egypt or Syria, on the other hand, they would have faced a real danger from machine guns, arson or bombardment with conventional and chemical weapons.
Posted by dvz at 01:03 PM | Comments (0)
October 21, 2013
The Tripod: CAMERA Links in 3 Languages -- Oct. 16-21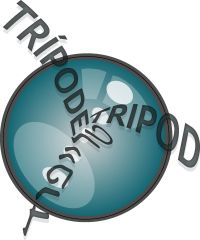 BBC not sure cross-border tunnel intended for terror?
The curious use of punctuation in reports on the discovery of a tunnel leading from the Gaza Strip into Israel implies that the BBC is not convinced of the project's purpose or location. (BBC Watch)
BBC R4 presents jaundiced account of San Remo conference
The BBC's reliance upon two activist academics to explain the San Remo Conference and the Balfour Declaration produces predictably subjective results. (BBC Watch)
Revealed: How Richard Silverstein was duped again by a phony "source"
When blogger Richard Silverstein isn't expressing support for the end of the Jewish state, or defending terror groups like Hamas, he's often busy peddling false "scoops" based on little or no evidence. (CiF Watch)
Transmutation of the reality
The Paraguayan newspaper Última Hora bids farewell to context, when it reverses the roles of the players. It is now Iran which is the threatened party. (ReVista de Medio Oriente)
The Politics of a Humanitarian Fundraiser
The surprising reactions of anti-Israel groups when a pro-Israel group tries to fundraise for Syrian refugees. (in Focus)
The Loneliness of Leadership
To what period in Churchill's life did Netanyahu compare himself? (Presspectiva)
Transforming speculation into fact
Argentinean media 26noticias.com.ar claims that Israel makes between 10 and 15 atomic bombs each year. (ReVista de Medio Oriente)
Spokesmen of an ideology
The Spanish news agency Europa Press has major problems with any fact or data that would invalidate or place in doubt its assumption of perennial Israeli guilt and evil. (ReVista de Medio Oriente)
CAMERA's Campus Team Visits Students in Florida.
CAMERA's Campus Director Aviva Slomich and Senior Campus Coordinator Samantha Mandeles have just returned from visits with our pro-Israel groups in Florida. Learn about the pro-Israel events happening now in Florida! (in Focus)

Posted by RH at 05:00 PM | Comments (0)
October 18, 2013
Archbishop Gets Award for Arming Terrorists
Melkite Archbishop Hilarion Capucci ran guns for the PLO in the 1970s. He got caught and was sentenced to 12 years in jail. He was released after serving a few years of his sentence. The Vatican, embarrassed by the presence of an Archbishop in an Israeli jail, secured his early release by promising that the Archbishop would not engage in any anti-Israel activism once he was out of jail. Capucci violated the terms of his release on a number of occasions, most recently participating in the so-called humanitarian flotilla into the Gaza Strip.
At the time of his trial, Capucci said he was forced into smuggling weapons for the PLO. If that was the case, then Capucci should be ashamed of his past actions.
Apparently, he isn't. He recently accepted an award the Star of Jerusalem Award from Palestinian Authority President Mahmoud Abbas. The award was given to him for his efforts on behalf of the Palestinian people, which according to a Google translation of an article published by WAFA, included "secret work in support of the Palestinian revolution."
Gun-running in other words.

The WAFA article caught the attention of Dr. Aaron Lerner at Independent Media Review and Analysis who provides some detail about Capucci's actions. He begins by quoting a passage from Capuchi, a book written by Shlomo Harary and Roni Shaked and published by Yedioth Ahronoth:
"On 14 May, 1974 three Katyusha rockets smuggled into Israel by Archbishop Hilarion Capucci were deployed near United Nations headquarters in Jerusalem by Fatah terrorists. At 06:31 that morning a local Arab called the police to report that friends of his just saw something dangerous that looked liked cannons. At 06:48 a sapper was already at the site of the rockets. The sapper discovered that the rockets had a timer set to launch at 07:00. The sapper completed neutralizing the launching mechanism at 06:56. They were aimed at the Western Wall, a group of buildings in southern Jerusalem and the King David Hotel - where Henry Kissinger was visiting."
Dr. Lerner then writes:
Archbishop Hilarion Capucci was convicted and then released on condition and with assurances from the Vatican that he would never engage in activities associated with the area. He broke his promise and the Vatican made no effort to honor its commitments. This action by Mahmoud Abbas at this time serves as a reminder to Israel that there is absolutely no respect for promises, assurances and guarantees.
For more information about Hilarion Capucci, the gun-running archbishop, read this article about his presence on board the Mavi Marmara in 2010.
Capucci is a convicted criminal, whose gun-running contributed to the death of a taxi driver in Jerusalem who was killed by the weapons he smuggled. He is a criminal who was given an award for his criminal actions by the Palestinian Authority.
Posted by dvz at 11:22 AM | Comments (2)
October 16, 2013
Where's the Coverage? Palestinian Incitement Violates Oslo Accords

Israeli minister of intelligence and international affairs Yuval Steinitz wrote an Op-Ed published in the International New York Times on October 16 headlined, "How Palestinian Hate Prevents Peace." (As of this writing, the column has not appeared in the widely-read flagship edition of The New York Times.) In the piece, Steinitz details:
...a few of the thousands of examples of Palestinian incitement against the Jewish state and the Jewish people. There are even numerous instances of the glorification of Hitler on the Facebook pages of some government-supported Palestinian schools and in children's publications funded by the Palestinian Authority. Such messages, propagated daily in P.A. media and classrooms, are internalized by the population at large — and children in particular.

[…]

The Palestinian Authority's television and radio stations, public schools, summer camps, children's magazines and Web sites are being used to drive home four core messages. First, that the existence of a Jewish state (regardless of its borders) is illegitimate because there is no Jewish people and no Jewish history in this piece of land. Second, that Jews and Zionists are horrible creatures that corrupt those in their vicinity. Third, that Palestinians must continue to struggle until the inevitable replacement of Israel by an Arab-Palestinian state. And fourth, that all forms of resistance are honorable and valid, even if some forms of violence are not always expedient.
Steinitz also explains:
The fact that this anti-Israeli and anti-Semitic indoctrination persists, despite the much-touted relaunch of Israeli-Palestinian peace negotiations, constitutes a huge obstacle on the road to peace. It should have disappeared 20 years ago, as a result of a clear Palestinian commitment to end all forms of incitement included in the Oslo Accords. And until it ends, the current round of talks cannot hope to reach a successful outcome.
Did you catch that? "A clear Palestinian commitment to end all forms of incitement included in the Oslo Accords." Yes, the unceasing hatemongering sanctioned and promoted by the Palestinian Authority – not to mention Hamas, the terrorist group that runs Gaza – is not only immoral and counterproductive, it is a violation of the Oslo Accords. The 1995 Interim Agreement on the West Bank and the Gaza Strip, commonly referred to as Oslo II, reads:
CHAPTER 4 - COOPERATION ARTICLE XXII

Relations between Israel and the Council

1. Israel and the Council shall seek to foster mutual understanding and tolerance and shall accordingly abstain from incitement, including hostile propaganda, against each other and, without derogating from the principle of freedom of expression, shall take legal measures to prevent such incitement by any organizations, groups or individuals within their jurisdiction.

2. Israel and the Council will ensure that their respective educational systems contribute to the peace between the Israeli and Palestinian peoples and to peace in the entire region, and will refrain from the introduction of any motifs that could adversely affect the process of reconciliation.
CAMERA has been covering incitement for years. Not so the mainstream media. "Where's the Coverage?" has asked the press to report on this odious provocation repeatedly. We haven't seen much response.
But even as the popular press harp on every porch that gets a new roof in a Jewish neighborhood in a Jerusalem suburb, they rarely if ever report that the vicious propaganda issuing from the Palestinian Authority is a bona fide violation of the Oslo Accords. Yes, journalists have incorrectly stated that "the United States, along with most of the world, considers these settlements illegal." But as for the actual violation of a treaty, of which the United States is a guarantor…? Crickets.
So… Where's the coverage?

The habitual vilification of Israel and Jews in official Palestinian media and promoted by P.A. leaders and agencies is documented by
Palestinian Media Watch
. The watchdog organization has a
well-annotated text of Steinitz' Op-Ed
that is worth seeing. It includes a link to this video which shows the P.A. giving an award to a writer whose poem contains the line "Zion is Satan with a tail":
Posted by SC at 07:54 PM | Comments (0)
October 15, 2013
The Tripod: CAMERA Links in 3 Languages -- Oct. 11-15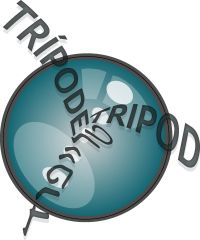 Kick Off Event at Drexel Draws In 40-60 Students
Dragons for Israel at Drexel University, a CAMERA supported group since 2011, held their first event of the semester, with 40-60 students attending. (in Focus)
The longest life imprisonment sentence?
Logical mistakes, lack of contextualization and bias in the Spanish news agency Europa Press. (ReVista de Medio Oriente)
13 years on: BBC website still misleads over 2000 Ramallah lynching
The BBC states that its online news articles are a 'permanent public record'. But what happens when those stories are inaccurate, biased or misleading? (BBC Watch)
BBC template response to audience complaints about Psagot
In response to complaints about its lack of coverage of an attack on a nine year-old Israeli girl, the BBC says it was the weekend. (BBC Watch)
The paper which hates Britain? Guardian leaks 'worst blow to British intel ever'
Several of Britain's top national security advisors have slammed the Guardian for their decision to disseminate extremely sensitive classified information - intel which one official warned would serve as a 'guidebook for terrorists' . (CiF Watch)
Palestinians will pay dearly for Hamas 'resistance tunnels'
The discovery of a Hamas tunnel stretching from southern Gaza into Israel, built with humanitarian construction materials, not only will harm Gaza economically, but will serve to erode Israeli trust that future territorial concessions will truly result in peace. (CiF Watch)
Finally a 3000 year old Palestinian village is found - Well only in Ha'aretz headline
Misleading headline implies Israel is about to evict a 3000 year old village. (Presspectiva)
From journalist to capital founders
For the European TV channel Euronews, Tel Aviv is Israel's capital city. (ReVista de Medio Oriente)
El País, recycling nothing
Under the headline "Swiss scientists confirm the possibility that Arafat was poisoned", the Spanish newspaper El Pais transformed a non-news item into a news-breaking event. (ReVista de Medio Oriente)
Selective journalism
When the World Bank blamed Israel for the Palestinian economic ills, Spanish press was eager to inform. But when an EU document pointing to Palestinian corruption was leaked, there was silence. (ReVista de Medio Oriente)

Posted by RH at 05:00 PM | Comments (0)
Cement to Gaza Used for Tunnels Instead of Schools and Houses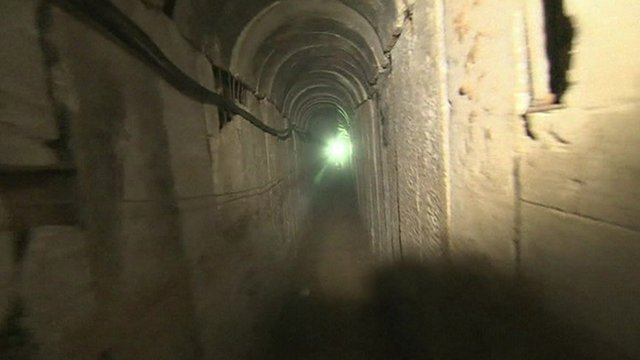 On September 26, Electronic Intifada published in its "human rights" section another of its endless depictions of Gazan deprivation caused by Israel's allegedly cruel policy of denying construction materials, mainly cement. The article states:
With the severe shortage of building supplies in Gaza, for example, construction has stopped on 13 government schools and tendering postponed on 26 others, the UN agency OCHA reported.

Rehabilitation of the 76 kindergartens that were damaged during Israel's November 2012 attacks on Gaza was also likely to be delayed or postponed, and the construction of a new building at Al-Aqsa University has stopped, OCHA added..."There are hundreds of construction projects pending in Gaza," including many badly needed housing projects...
Now we know the real reason why the cement was so desperately needed.
On October 13, Israeli officials reported that security forces had uncovered a large tunnel penetrating deep into Israeli territory. It is reportedly large enough to facilitate the transfer of a battalion sized military force. According to Israeli sources,
Security forces last week discovered the terminus of the tunnel some 300 meters inside Israel proper, near Kibbutz Ein Hashlosha... The tunnel, which began in Abbasan al-Saghira, a farming village near Khan Yunis, was described by officials as being 18 meters deep and 1,700 meters long. Officials estimate it took around a year to construct.
Officials estimated that 500 tons of cement was used to construct the tunnel. On October 14, the discovery of another tunnel was reported, rigged with explosives.
Revelations about what Hamas did with its cement exposes the sob stories about Gazan shortages as cynical deceptions. For years, so-called human rights groups have chided Israel for its caution in supplying construction materials to Gaza and mocked its concerns that such materials would be used for terrorism purposes. Meanwhile, the whole time, Hamas was diverting the supplies to build tunnels into Israel in order to launch terrorist attacks. Apparently the kindergartens and desperately needed homes can wait.
Posted by SS at 12:43 PM | Comments (1)
October 10, 2013
The Tripod: CAMERA Links in 3 Languages -- Oct. 9-10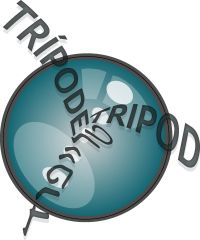 BBC backgrounder on Yom Kippur war misleads on Syria
In a backgrounder on the Yom Kippur war, the BBC claims that failed negotiations between Syria and Israel sparked the fighting, despite the fact that no such negotiations took place. (BBC Watch)
BBC Yom Kippur war accuracy failure perpetuated over years
BBC articles going back at least eight years cite grossly inflated Israeli casualty figures in Yom Kippur war. (BBC Watch)
Threat to the Well Balance of Peace at the University of Houston
CAMERA Fellow writes about the situation on his campus: "Students for a Democratic Society, the same student organization that was fighting for civil rights in 60's and 70's . . . this time they were involved in the so-called "Palestinian cause", their approach, more than humanitarian, is political agenda, with sparkles of antisemitism. . ." (in Focus)
Iran, from a nuclear threat to a disarmament champion
The press barely covered the designation of Iran as chair of the Disarmament Commission of the UN. (ReVista de Medio Oriente)
The Media and Netanyahu's Blue Denim Jeans
Should Reuters have been more careful with its report? (Presspectiva)
We Welcome The New ICC Executive Director: Jacob Baime, A Former CAMERA Fellow
Jacob Baime writes about his time as a CAMERA Fellows while an undergrad at Brandeis. (in Focus)

Posted by RH at 05:42 PM | Comments (0)
October 09, 2013
Where's the Coverage? Israeli Christians Declare "the State of Israel is Our Heart"

At a recent conference, "Israeli Christians: Breaking Free? The advent of an independent Christian voice in Israel," Israeli Christian leaders spoke about how their history, culture and heritage have been overwhelmed by Muslim Arabs.
As reported in Israel Hayom, Rev. Gabriel Naddaf, a Greek Orthodox priest in Nazareth, addressed the gathering:
Naddaf spoke of the Christian roots, planted deep in this land since the dawn of Christianity. This is where Jesus Christ's doctrine first emerged. The Christian faith, he said, came out of the Jewish faith and its biblical roots. As far as Naddaf is concerned, what happened in the seventh century was an Arab invasion from which the Christians also suffered. He added that he wasn't very proud of the Christian crusades either, and distanced himself from them.

He surveyed the dire situation currently faced by Christians in Arab states, and said that the realization that Israel is the only country in the region that protects its Christian minority has prompted many Arabic-speaking Israeli Christians to develop a desire to contribute to the state of Israel.
Lt. Shaadi Khalloul, spokesman for the Israeli Christian Recruitment Forum, an officer retired from the Israel Defense Forces Paratroopers Brigade, and a scholar of the Christian faith in the region, said:
"The typical Christian student thinks that he belongs to the Arab people and the Islamic nation, instead of speaking to the people with whom he truly shares his roots -- the Jewish people, whose origins are in the Land of Israel."
Rev. Naddaf declared:
"The State of Israel is our heart. Israel is a holy state, a strong state, and its people, Jews and Christians alike, are united under one covenant."
CAMERA could find no reporting on this conference in any mainstream media outlet. Instead some, for example 60 Minutes, promote a demonstrably false narrative that "Christians in the Holy Land" are persecuted by Israel.
But real, living, breathing Christians in Israel know the truth: Israel alone in the Middle East respects and protects the rights of the Christian minority. So… Where's the coverage?
Watch a CAMERA-produced video on the 60 Minutes story:
Posted by SC at 12:46 PM | Comments (0)
October 08, 2013
The Tripod: CAMERA Links in 3 Languages -- Oct. 5-8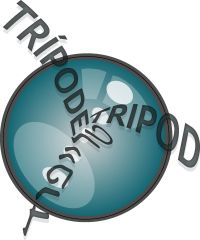 BBC's Simpson mainstreams trope used by anti-Israel campaigners
The BBC's veteran World Affairs editor uses a suspect idiom employed by anti-Israel writers . (BBC Watch)
Inaccuracy and distortion in BBC report of Netanyahu's UN speech
The BBC website's report on the Israeli PM's UNGA speech misleads audiences . (BBC Watch)
More evidence the Guardian got it wrong on Rouhani's "Holocaust" remarks
Contradicting the Guardian's account of the remarks to CNN's Christiane Amanpour by Iran's president Hassan Rouhani, Rouhani's own translator has recently confirmed that the word "Holocaust" was in fact never used by during the interview. (CiF Watch)
Fighting for Israel on College Campuses
CAMERA's Senior Campus Coordinator writes in The Algemeiner on bullying and harassment that she experienced at Hampshire College while trying to defend Israel. (in Focus)
He Just "Died"
Analysis of media coverage of the death of Rabbi Ovadia Yosef (Presspectiva)
Why do building materials so confuse the media?
Presspectiva corrects erronous reports on Israeli policy regarding the Gaza Strip (Presspectiva)
Middle East in the Spanish speaking press
The press was focused on possible political implications of the death of Rabbi Ovadia Yosef and land restitution to Palestinians from Burka. (ReVista de Medio Oriente)
On The Front Page!
IDF Lt. Colonel Anat Berko speaks to a crowd of over 100 students on how children and women are recruited by terrorist organizations. Article about event appears on front page of student paper. (in Focus)
Posted by RH at 05:27 PM | Comments (0)
October 07, 2013
Ha'aretz Errs on Facebook, Too
In May 2012, Ha'aretz publisher Amos Schocken boasted the launch of a "new era," "our new, multi-platform digital subscriptions" with "seamless integration with social networks."
Schocken spoke of "a significant enhancement of its online content, especially in English." But make no mistake: While the quantity of the online content may have been enhanced, the accuracy was not.
Ha'aretz's Facebook page currently features the following item with the heading "Women of the Wall compromise and agree in principle to move from Jerusalem's Old City to a new egalitarian space":
The Women of the Wall will agree to a compromise which will remove their monthly prayer group from the Old City? Hardly. As the hyperlinked article explains, the compromise would mean that the prayer group would be held "on the other side of the Mughrabi Bridge." In other words, according to the plan, the group would move southward along the Western Wall some 30 meters and pray in the area of Robinson's Arch and the southern excavations, a site rich in archeological treasures and well within the Old City, as any visitor can plainly see.
But don't take our word for it. Check out this Ha'aretz graphic, which was published along with an article by Nir Hasson's about the potentially problematic aspect of placing a prayer platform in an archeological site:
In his 2012 letter to readers, Schocken maintained that "Haaretz has an important role to play . . . .in promoting greater understanding between Israel and the Jewish Diaspora."
The Women of the Wall issue is of great concern for large numbers of Diaspora Jewry, many of whom have never visited Jerusalem and don't have a clue where the Mugrabi Gate and Robinson's Arch are in relation to the Kotel prayer plaza. When Ha'aretz's Facebook page falsely states that the group is agreeing to exile outside of the Old City, how exactly is "greater understanding" achieved?
(Hat tip: Judge Dan)
Update: (7:24 AM EST) Shortly after CAMERA contacted an editor concerning the editor, the post was removed from Ha'aretz's Facebook timeline.
Posted by TS at 04:54 AM | Comments (0)
October 05, 2013
Rouhani translator: "No, he did not use the word 'Holocaust.'"
We already know that Sohrab Ahmari, the Wall Street Journal, Arash Karami, Ali Alfoneh, two journalists who spoke with the New York Times blog The Lede, and Fars News Agency all concur that Rouhani did not use the word "Holocaust" in his interview with CNN and Christiane Amanpour. We already know, in other words, that CNN mistranslated him. And CNN also already knows.
Now, just to make matters more clear, Rouhani's own translator has weighed in. "No, he did not use the word 'Holocaust,'" Banafsheh Keynoush told NBC's Robert Windrem.
Note, too, how NBC's Windrem seems to gently imply at the end of the video that Amanpour, who has repeatedly stood by CNN's translation, would know enough Farsi to realize that Rouhani did not use the word "Holocaust." The corollary would be that she has been intentionally deceiving her audience.
Credit goes to NBC for investigating the issue. As for CNN, it is not to late to make the right journalistic move: Prominently correct the mistranslations — and while they're at it, demand an explanation from Amanpour.
Posted by GI at 11:17 PM | Comments (0)
October 04, 2013
The Tripod: CAMERA Links in 3 Languages -- Oct. 2-4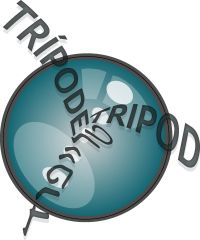 Debate widens on BBC avoidance of the word terrorist
The BBC's coverage of the recent terror attack in Kenya has sparked debate over its use of language. (BBC Watch)
BBC's Marcus promotes 'moderated' Iranian Holocaust denial
The BBC's diplomatic correspondent promotes the notion of 'moderated' Iranian Holocaust denial . (BBC Watch)
Guardian engages in Rouhani Revisionism in report on "Holocaust" remarks
Leave it to the Guardian to obfuscate the Iranian President's recent Holocaust Revisionism. (CiF Watch)
The Guardian tries out a new narrative: Islamist "dove" vs the Zionist "hawk".
Guardian headline claim that the Israeli Prime Minister has engaged in "anti-Iran" talk is not supported by the subsequent text. (CiF Watch)
El Universal of Mexico and its bias
Bias, lack of context and anti-Israeli ideology in the Mexican newspaper El Universal. (ReVista de Medio Oriente)
Middle East headlines in the Spanish speaking press
Israel warnings in regard to a nuclear Iran and promises by Rohani to "free" the internet access is his country was the focus of attention of the Latin American and Spanish press. (ReVista de Medio Oriente)
CAMERA Speaks at Indiana University
CAMERA leads writing and media workshops with Birthright students and pro-Israel students at Indiana University. (in Focus)
The Case of the Mysterious Fatwa
Did Iranian Supreme Leader Khamenei issue a fatwa banning nuclear weapons?. (Presspectiva)
OPINION Letter to the editor: Israel cannot be compared to Syria
CAMERA Fellow quickly writes a response to an anti-Israel piece at SUNY Binghamton, his published piece can be read here. (in Focus)
Posted by RH at 02:20 PM | Comments (0)
October 03, 2013
Hummus Envy
Hummus with minimal topping
Hummus (the word has a few alternative English spellings) is a popular food dip or spread made from cooked, mashed chickpeas generally blended with tahini (a thick paste made of ground sesame seeds), olive oil, lemon juice, salt and garlic. Hummus originated in the Middle East and the word itself comes from either the Arabic word for chickpea or the contemporary Hebrew word for chickpea.
Whose hummus?
An otherwise mouth-watering (includes full color photos), apparently innocuous article,"Jerusalem's Hottest Hummus," in the Wall Street Journal's weekend Sept. 21-22, 2013 edition (Adventure & Travel section), contains this little gem of a paragraph by the article's author, Nicolas Brulliard, an independent journalist based in Jerusalem:
Of course, in this region every cultural marker is a point of contention in some respect. Israel, a nation of Jewish immigrants who bring along their own culinary traditions, has adopted hummus as a de facto national dish. Many Palestinians view that development as yet another example of colonial overreach.
Brulliard's (colonial overreach) last sentence above is gratuitous. Europeans eat a lot of potatoes, which originated in the New World of the Western Hemisphere. Are the chips of British fish 'n chips "imperialist"? Palestinian and other Arabs have availed themselves of many Israeli innovations, including a variety of irrigation techniques. Do Israelis complain of "misappropriation"? Why mention "colonial overreach" here, especially when modern Jewish settlement in Israel marks not a colonial entrprise but an indigenous people's return?
One notes that the author has previously made snide jabs at Israel; for example, here where he wrote, "Livni has long been viewed as an honest and principled political figure – somewhat of an oddity in Israel's political landscape ..." Further, his writings don't seem to contain such innuendo aimed at Arabs or others.
As to the charge that Israelis unjustifiably claim hummus as a national dish, another example of colonialism, nonsense!
Hummus had been common food for at least the more than half of the Israeli population (and their Israeli-born descendants) that arrived from Arab countries in large numbers beginning in 1948-49. These Jews may have lost their homes and neighborhoods when forced to flee by their fellow (Muslim Arab) countrymen but they didn't lose their taste for their beloved native hummus.
Mr. Brulliard, there's plenty of fuel stoking the anti-Israel propaganda fire without adding hummus, which, in fact, burns poorly if at all. B'te avon! (Good appetite!).
Posted by MK at 05:46 PM | Comments (4)
October 02, 2013
Where's the Coverage? Israel is Important, Even Essential to American Jews

There has been a lot of coverage of the new Pew Study, A Portrait of Jewish Americans. It is interesting to note what the media chose to highlight.
Some of the reporting focused on American Jews' increasing secularity. CNN's blog headline read, "Study: American Jews losing their religion." The Los Angeles Times declared "Almost 1 in 3 Jewish Americans had a Christmas tree, poll finds". One Huffington Post article underscored comedy of all things, announcing, "Humor Essential To Jewish Identity, Pew Survey Reports".
In fact, the study reported that "having a good sense of humor" was actually less essential to what "being Jewish" means to American Jews than "caring about Israel." But caring about Israel did not make the headlines.
The Pew study revealed that for 87% of American Jews, caring about Israel is "essential" or "important" to what being Jewish means to them. Only 12% said caring about Israel is not an important part of what being Jewish means to them. Further, 69% of poll respondents said they feel emotionally "attached" or "very attached" to Israel. Only 9% do not feel attached at all to Israel.
These results largely coincide with the findings of a 2011 CAMERA study, conducted by pollster Frank Luntz, where 94% of respondents said if Israel "no longer existed tomorrow" it would be a tragedy. Nearly one in four said they would consider such an event "the biggest tragedy of my lifetime."
But, these Pew results and the CAMERA results do not fit with the popular narrative, often promoted by the media, that American Jews are disaffected or disengaged from Israel. That could be why a second Huffington Post article was headlined, "What Defines An American Jew? New Study Reveals Divides On Identity, Religion And Views On Israel." Eighty-seven per cent say Israel is important or even essential to their Jewish identity and 69% are emotionally attached to the Jewish state. Where's the "divide"?
The New York Times even tried to trump up some sort of divide by arguing:
While 69 percent say they feel an emotional attachment to Israel, and 40 percent believe that the land that is now Israel was "given to the Jewish people by God," only 17 percent think that the continued building of settlements in the West Bank is helpful to Israel's security.
As if these things are in opposition! As if those of us who feel an emotional attachment to the United States have to support drone strikes or NSA surveillance practices or any other American policy.
(By the way, 40% of those polled believe God gave the land of Israel to the Jewish people but that does not mean that 60% believe He did not. Actually, 27% do not agree, 5% don't know, and 28% don't believe in God.)
The fact is plain: American Jews are tightly and deeply connected to Israel. So… Where's the coverage?
Posted by SC at 08:37 PM | Comments (2)
October 01, 2013
The Tripod: CAMERA Links in 3 Languages -- Sept. 30-Oct. 1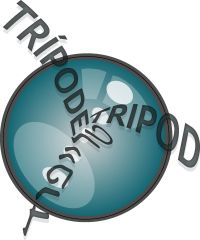 Not fit for purpose: BBC backgrounder on second Intifada
Factual inaccuracies in one of the BBC's backgrounders on the second Intifada. (BBC Watch)
BBC second Intifada backgrounders: 'Sharon started it'
BBC backgrounders promote Sharon's visit to Temple Mount as the cause of the second Intifada. (BBC Watch)
Why Public Events Work!
CAMERA helps bring Israel's highest ranking Muslim diplomat, Ishmael Khaldi, to Cornell. (in Focus)
Middle East headlines in the Spanish speaking press
Israel's criticism towards Iran's foreign policy has been highlighted in the media. (ReVista de Medio Oriente)
Amira Hass and the 15 Martyrs
Is there a moral equivalency between the killing of two Israeli soldiers and the deaths of 15 Palestinians killed during the year? (Presspectiva)
Abbas and media complicity
According to the Spanish press, Mahmoud Abbas is "committed" to peace, Israel is an obstacle to it, and there is no Palestinian incitement to hatred. (ReVista de Medio Oriente)
Rouhani Fever and CNN
As news organizations blatantly mischaracterize statements recently made by Iranian president Hassan Rouhani, a number of Farsi-speakers challenge CNN's account of his supposed "acknowledgment" of the Holocaust.. (ReVista de Medio Oriente)
Pro-Israel Activists Applaud the Destruction of Israel?
Speaker at J-Street conference advocates for policies that would lead to the end of the Jewish State of Israel, and the crowd replies with applause. (in Focus)
Posted by RH at 06:34 PM | Comments (0)