« Doing It Again: 'Our' terrorists are 'your' Islamists; Semi-Secret Identities at The Washington Post | Main | New York Times Repeats False Promises in Defense of Putin Op-Ed »
September 11, 2013
Where's the Coverage? Palestinian Support for Terrorism Highest in Muslim World

As many around the world remember the tragic terrorist attacks of September 11, 2001, Pew Research released a poll showing that, among Muslim populations around the world, support for terrorism was highest in the Palestinian territories.
According to the survey, a majority –actually 62%– of Muslim Palestinian Arabs believe suicide bombings can often or sometimes be justified while only 16% believe they can never be justified. This far outpaces the support for suicide bombings in other populations surveyed, including even in Lebanon or Nigeria.
In addition, support for Al Qaeda, the terrorist group that perpetrated the September 11 attacks, was higher among Muslims in the Palestinian territories than any other group surveyed.
When UPI reported on the poll, Palestinian support for terrorism did not make the headline and rated only a mention buried near the end of the story. Only some bloggers like Elder of Ziyon covered this story as did the Israeli press. Arutz Sheva reported:
The results should not be surprising given the widespread campaigns of incitement by both Hamas and Palestinian Authority, according to Itamar Marcus, director of Palestinian Media Watch (PMW), an NGO which monitors incitement in the Palestinian media.

"The Palestinian Authority, through its religious establishments, has been presenting the killing of Jews as an Islamic imperative for many years," Marcus said, speaking to Arutz Sheva.

"Just last year the [Palestinian Authority-appointed] Mufti of Jerusalem quoted the Hadith [Islamic teaching] which was quoted throughout the intifada period, saying that the end of days will only come when the Muslims kill the Jews.

"The constant brainwashing of Palestinians by their leadership... that killing Jews in the name of Islam is a duty, has clearly influenced them."
Indeed, the armed wing of Fatah, the party of Palestinian Authority President Mahmoud Abbas, just issued a leaflet urging Palestinian Arabs to conduct terrorist attacks against Israel on Yom Kippur, the holiest day of the Jewish calendar. The Jerusalem Post reported:
The group called on all its "units and sleeping cells" to start launching attacks against "the Zionist enemy."

It said that Palestinians should regard Friday as a "green light from our consciences to all our units and sleeping cells" to launch terror attacks against Israel.
Palestinian Muslim support for terrorism should surprise no one. After all, many celebrated the World Trade Center, Pentagon and Shanksville, Pennsylvania, terrorist attacks of September 11, 2001…
By contrast, last year when anti-American riots and protests were sweeping the Muslim world, and terrorists attacked the U.S. consulate in Benghazi, Israelis rallied in support of America.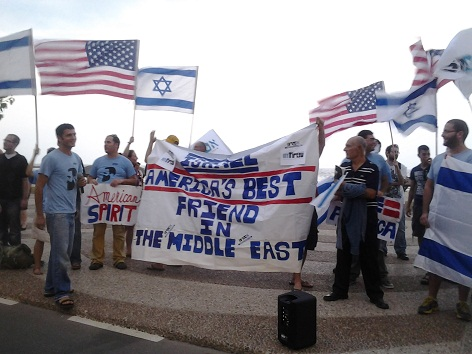 Though Palestinian Muslims support terrorism, suicide bombings and even Al Qaeda, Israel and Israelis share America's interests and values. Yet… where's the coverage?

Posted by SC at September 11, 2013 08:43 PM
Comments
Posted by: Ken Kelso at September 12, 2013 10:29 AM
I think Israel should announce a new policy that its response to every terror attack will be to break ground on a new settlement.
Posted by: Gary Katz at September 12, 2013 11:44 AM

This does not surprise me. I hope it surprises
many in the world.
Posted by: Selma Soss at September 12, 2013 12:53 PM
Guidelines for posting
This is a moderated blog. We will not post comments that include racism, bigotry, threats, or factually inaccurate material.
Post a comment