« Where's the Coverage? And the Flotillas? Egypt Cracks Down on Gaza | Main | NY Times Makes a Tweeter Out of Rouhani »
September 20, 2013
Israel-Detractor Roger Waters Promotes Irish "Educational Program" about Israeli-Palestinian Conflict
We don't need no education… Unless maybe it's an anti-Israel education?
Pink Floyd frontman Roger Waters, known broadly for his advocacy of the anti-Israel Boycott Divest Sanction movement but not for his expertise in Middle East history or international law, is sponsoring a curriculum in Ireland, entitled "Palestine and Israel: How will there be a just peace?"
Rob Harris, who lives in Ireland and blogs at eirael.blogspot.com, writes on Crethi Plethi:
Ireland's public service broadcaster, reported today that Roger Waters is sponsoring a "human rights" educational programme for second-level students, concerning the Middle Eastern Israeli-Palestinian conflict.

[…]

The broadcast did not make any mention of Roger Waters' prolific criticism of Israel. Some commentators, such as Dominic Lawson, deem Waters' stance to be highly antagonistic toward Israel, and perhaps, more broadly speaking, toward the Jewish race itself.

Waters' more recent performances of The Wall have been mired in controversy due to the use of what many deem to be traditionally anti-Semitic motifs, principally a pig embossed with a Star of David. Previously Waters stirred controversy when images of Star of David bombs associated with Dollar signs were used at his concerts.
Meanwhile, The Simon Wiesenthal Center is criticizing Amnesty International for selecting Roger Waters to present the group's upcoming 'Ambassador of Conscience' award. Rabbi Abraham Cooper, associate dean of the Simon Wiesenthal Center is quoted in a press release:
"Instead of denouncing Roger Waters for his bigotry, Amnesty International places him center-stage of their human rights celebration; the same Roger Waters who brazenly floats a pig with a Jewish Star of David at concerts across Europe, including Germany and Warsaw and who is a leading campaigner promoting a cultural boycott of Israel, the Middle East's only democracy," Cooper [said]. […]

"Today, instead of commending Israel for its humanitarian treatment of injured Syrian combatants and civilians; instead on focusing on the gassing of Syrian children and mounting human rights abuses in the Arab world; Amnesty Iinternational has chosen to elevate someone who abuses Israel and insults Jewish values and symbols," Rabbi Cooper concluded.
It seems like "human rights" groups and Roger Waters himself do need an education.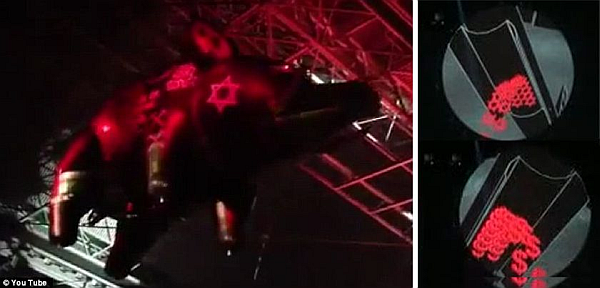 Roger Waters' anti-Israel and anti-Semitic imagery. Left: A pig-shaped balloon featuring the Star of David was released into the sky during a recent concert in Belgium, July 2013. Right: Images of planes dropping bombs in the shape of Jewish Stars of David followed by dollar signs during his 2010-2011 The Wall Live tour.
Posted by SC at September 20, 2013 02:19 PM
Comments
How can this singer defame Israel at this
time when the slaughter of Syrians and Christians
is so overwhelming ?
Posted by: Selma Soss at September 26, 2013 11:46 PM
Guidelines for posting
This is a moderated blog. We will not post comments that include racism, bigotry, threats, or factually inaccurate material.
Post a comment