« The Tripod: CAMERA Links in Three Languages -- Sept. 4-9 | Main | NBC Photo Flub »
September 10, 2013
Confounded on the Rehm Show
In the Friday, Aug. 30 edition of NPR's "The Diane Rehm Show," substitute host Steve Roberts allows an egregious false charge against Israel to pass without challenge. In a discussion about potential international strikes in Syria, the confounded "Frank" of Charlotte, N.C., who confuses Syria's Basher Assad with Egypt's Anwar Sadat, pipes in at 35 minutes, 29 seconds into the show:
Oh hi, okay. I was wondering where Sadat (sic) or the guy from Syria where he got his chemical weapons from and I'd like to make a comment. Okay, during the Israeli invasion of Gaza they used chemical weapons that actually killed children. That's a war crime. Are we going to be bombing them too? That's what I'd like...
Neither the host nor any of the three guests (Abderrahim Foukara, Washington bureau chief of Al Jazeera Arabic; Elise Labott, CNN foreign affairs reporter; and Howard LaFranchi, foreign affairs correspondent at The Christian Science Monitor) made any attempt to refute Frank's false charge.
Instead, taking a page out of C-SPAN's book, host Roberts states:
Thank you very much. What do you think, Abderrahim?
Al Jazeera's Foukara then addresses the question about the source of Assad's chemical weapons.
It's unfortunate that a caller who has trouble distinguishing between Sadat and Assad made it past the show's screeners. (Of course, it's possible that he misled about his intended comments.) It's also a pity that a show that promises "thoughtful and lively discussions" let a blatant falsehood stand.
As the British Observer stated in a correction Sunday (Sept. 8):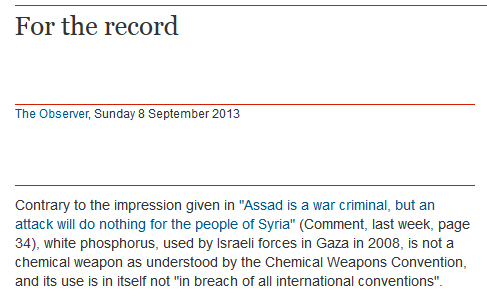 Yiftah Curiel, the spokesman at the Israeli Embassy in London who had urged the Observer to correct, was quoted in a Jerusalem Post article about the correction:
"This is an example of zero tolerance for disinformation,� the official said. "If this goes unchallenged, then it becomes the conventional and accepted wisdom. It needs to be corrected.�
The next time NPR, ensconced in its $201 million new luxury building, sends out the call for donations, recall the network's own little contribution to the growing attempts to defame Israel with bogus charges about chemical weapons.
For more on Israel's use of white phosphorus in Gaza, see here.
Posted by TS at September 10, 2013 03:04 AM
Comments
Guidelines for posting
This is a moderated blog. We will not post comments that include racism, bigotry, threats, or factually inaccurate material.
Post a comment