« Corrections Are Important | Main | The Tripod: CAMERA Links in Three Languages: August 6 »
August 06, 2013
Palestinian Leader Calls For Jews to Leave Jerusalem Or Be Shot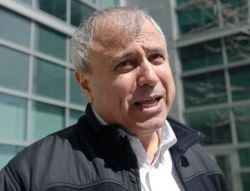 Elias Hazineh, former head of the Palestine House in Toronto
A Palestinian Canadian leader spoke at an Al Kuds rally in Toronto on Saturday and called for Jews to be shot dead after a two-minute warning. The JTA reports:
Addressing the annual Al-Quds Day rally on Saturday, Elias Hazineh, the former president of Palestine House in suburban Toronto, called for "an ultimatum� to Israelis: "You have to leave Jerusalem. You have to leave Palestine.

"We say get out or you're dead! We give them two minutes and then we start shooting. And that's the only way that they will understand,� Hazineh said to cheers from a crowd of approximately 400.
According to the Times of Israel, Canadian Jews are now asking for a police probe into the leader's incitement.
Oh my, such intolerance and in a Western country, no less. Just imagine what Palestinian leaders say when they are speaking only to their own people and in their own language...
Posted by RH at August 6, 2013 06:13 PM
Comments
I believe in free speach, but to when it calls for people to be shot or there is a murderous threat. I know this was done in Canada, but he should be jailed!
Posted by: Sally DeCapite at August 8, 2013 07:34 PM
RH, you don't have to wonder what Palestinian leaders say to their own people. MEMRI.org has countless videos (with subtitles) of just exactly what you're looking for.
Posted by: Hypatia at August 8, 2013 10:12 PM
He is presently being investigated by the Toronto police.
Unfortunately, the Toronto police have a habit of turning a blind eye to Muslims who do violent acts (i.e.: attack people on the street for having a camera that may or may not have been aimed in their general direction), or arresting people for walking their dogs near Muslims (who demand that the police arrest the dog walk because it insults Muslims). I'm not joking.
Posted by: Stephen at August 12, 2013 04:46 AM
Guidelines for posting
This is a moderated blog. We will not post comments that include racism, bigotry, threats, or factually inaccurate material.
Post a comment