« July 2013 | Main | September 2013 »
August 30, 2013
The Tripod: CAMERA Links in Three Languages -- August 29-30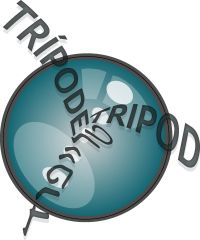 BBC R2 promotes and mainstreams anti-Israel Greenbelt Festival
A BBC live broadcast from the recent 'Greenbelt Festival' avoided all mention of its anti-Israel campaigning agenda. (BBC Watch)
BBC presentation of Israeli view on Syria intervention replete with inaccuracies
Saddam Hussein only attacked Tel Aviv; Israelis have to buy gas masks – just two of the inaccuracies in a three paragraph BBC presentation of Israel's view of intervention in Syria. (BBC Watch)
EFE: impartiality, credibility and immediacy
The Spanish wire agency has difficulties offering a complete account of an event, devoid of opinion. (ReVista de Medio Oriente)
Reflections on Interning with the CAMERA Campus Department
Life as an intern at CAMERA. (In Focus)
CAMERA Fellow Published in Tulane Paper
Ben Kravis writes that one can be a passionate pro-Israel activist and be pro-Palestinian. (In Focus)
Farewell to Journalism
Spanish news agency Europa Press bids farewell to journalism, and promotes pro-Palestinian activism. (ReVista de Medio Oriente)
The lies of George Galloway
British MP George Galloway advanced a bizarre anti-Israel conspiracy theory on Iranian TV regarding the use of chemical weapons in Syria, and then, when challenged on it in the House of Commons, flatly lied about it. (CiF Watch)
Posted by RH at 05:48 PM | Comments (0)
August 29, 2013
AP Returns Golan Heights to Syria
AP's online "interactive" item entitled "Syria's civil war" contains a map (below) placing the Golan Heights, in their entirety, within Syria.
Israel gained most of the Golan Heights from Syria in the 1967 Six Day War, and annexed the territory in 1981.
As is clear from the CIA Factbook map (below), most of the Golan Heights are within Israel. (Though the CIA map does not color the Heights white, the color used for Israel, it indicates that the territory is "Israeli occupied.")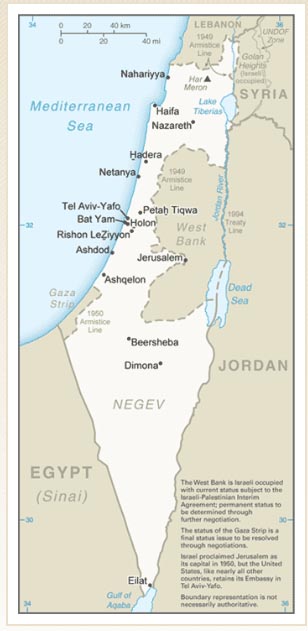 In light of the fact that the map is part of an item meant to explain Syria's civil war, the erroneous location of the Golan Heights within Syria is particularly misleading. There is, of course, no Syrian civil war in the Israeli Golan Heights.
Sept. 1 Update: AP Amends Map with Golan Heights
Posted by TS at 04:29 AM | Comments (8)
August 28, 2013
Where's the Coverage? Israel Surrounded by Threats

CAMERA has reported:
Recent statements by U.S. President Barack Obama and Secretary of State John Kerry portend a forceful American response to the Syrian government's alleged use of chemical weapons.
Should the United States –and allies– strike Syria, both Iran and Syria have threatened to retaliate against Israel. This has received coverage in the popular press. The news media have also reported that Israel has had to call up reservists and deploy extra missile defenses, and even recounted:
In addition to [gas] masks, the Israeli government handed out small plastic tents designed to protect newborns and was running videos with step-by-step instructions on how to correctly don the gear.
What the media have missed are the multiple threats that Israel confronts beyond this immediate crisis. Israel literally faces peril on every border and Israelis are in danger from terrorists even when they travel abroad. This infographic from the Israeli embassy in Washington D.C. depicts some of the dangers: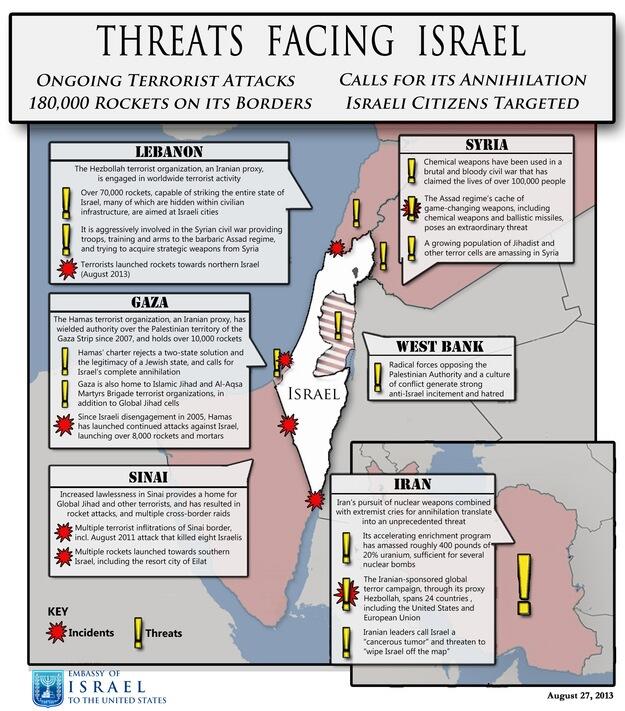 The embassy maintains:
It's because of these threats Israel is ever more committed to maintaining our existing peace agreements with Jordan and Egypt, and reaching an historic peace agreement based on the principle of two states for two peoples – Israel the nation-state and homeland for the Jewish people and an Arab Palestinian state as the homeland for the Palestinian people.

Israel and Israelis yearn for a peace that allows Israel to be able to invest in ourselves, building a better society for our children, and creating a prosperous future.
Israel committed to peace with its neighbors? Israel interested in reaching an agreement with the Palestinian Arabs? Well you certainly haven't heard much of that from the media. As for the multiple, persistent threats all around... Where's the coverage?
Please spread the word by posting the infographic to your Facebook page and by tweeting the link on Twitter.

Posted by SC at 09:55 PM | Comments (0)
The Tripod: CAMERA Links in Three Languages -- August 27-28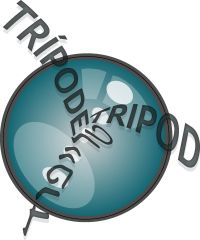 Not Boycotting. Terrified.
Ynet was quick to report on another cultural boycott. However the artist himself declared that he's not boycotting - he's terrified of BDS bullying (Presspectiva)
The Line That Turned Into A Border
Another instance of Ha'aretz "lost in translation" (Presspectiva)
BBC backgrounder on peace process erases twenty years of terror
A BBC Q&A article charts the Middle East peace process – without any mention of Palestinian terrorism. (BBC Watch)
BBC's Knell amplifies Hamas propaganda, downplays its terror designation
The BBC reverts to form by presenting Hamas as a terrorist organization designated only by Israel. (BBC Watch)
Indy legitimises ludicrous charge that Israel is 'ethnically cleansing' Jerusalem
Population statistics in Jerusalem alone easily disprove the hyperbolic charge by pro-Palestinian propagandists that Israel is 'ethnically cleansing' Arabs from Jerusalem. (CiF Watch)
Jeff Jacoby at CAMERA Conference
Why be a proud Zionist? (in Focus)
The "bureaucracy" of media activism
The Spanish news agency Europa Press has come up with a formula to help it comply with its journalistic obligation to present balanced, impartial information. At least it seems to think so. (ReVista de Medio Oriente)
Middle East headlines in the Spanish speaking press
Headlines focus on Israel's display of the Iron Dome and the threat of a Western attack in Syria. (ReVista de Medio Oriente)
Where's the coverage?
Spanish media reported on the death of three Palestinians during a raid by Israeli border police in Qalandia checkpoint; but did not bother to report on the death of another man killed by Palestinian security forces. (ReVista de Medio Oriente)
Looking Forward to Advocate for Israel; 2013-2014 Academic Year
Reflections from a student on CAMERA and the student conference. (In Focus)

Posted by RH at 05:34 PM | Comments (0)
Norwegian FM Calls for Palestinian Concessions
Remember when Palestinian president Mahmoud Abbas told a Washington Post reporter that he's content waiting for Israeli concessions? He famously told Jackson Diehl that he can sit back and wait because "in the West Bank we have a good reality . . . the people are living a normal life."
Norwegian foreign minister Espen Barth Eide seems to agree with one part of Abbas's assessment. In an interview with the Jerusalem Post, Eide said that when looking at a map of the Middle East, "there are two small points of land that are more peaceful," a reference to Israel and the West Bank.
But he seems to disagree that this is reason for Abbas or anyone else to sit around. "The donors will not be ready to keep funding Palestinian state-building much longer if we are not seeing a political horizon," he told the Post.
"I think this is important for the Palestinians to know, because if anyone there thought they could sort of just fall back to the comfort of an internationally subsidized state-building endeavor, that may be wrong," he said in an interview. "And I think that it is important for some people on the Israeli side – living in reasonable comfort [given] that cooperation with the pseudo-state in the West Bank is quite good – to know that this cannot continue forever."
He also called for Palestinian concessions in the wake of Israel's prisoner release involving Palestinian terrorists:
The Norwegian foreign minister said he had been misquoted by his country's press before his arrival as saying that Israel's release of Palestinian terrorists was not "an especially big sacrifice."

He stressed to the Post that he believed the exact opposite – that the release of 26 terrorists was a "very important and very difficult concession which I know was hard to make."

Then, saying something that European leaders do not often articulate, he added: "I also think that the Palestinians must now be ready to make some concessions, first and foremost on contributing a sense of security for the people of Israel."
Norway has been widely criticized for its harsh anti-Israel and even anti-Jewish attitudes. Whether his statements will be unpopular back home, or signal a change in the political climate of the country, remains to be seen.
Posted by GI at 04:47 PM | Comments (2)
August 27, 2013
Syrian Chemical Weapons Use and the Impact of Media Coverage
Aftermath of Iraqi Chemical Weapons Attack on Kurdish village of Halabja in 1988 that killed up to 5000 civilians
Recent statements by U.S. President Barack Obama and Secretary of State John Kerry portend a forceful American response to the Syrian government's alleged use of chemical weapons.
It is worth noting that this is not the first, nor anywhere near the most significant alleged use of chemical weapons in the Middle East, or even by the Syrian regime. As CAMERA previously described, the use of chemical weapons by Arab regimes goes back to the 1960s with the Egyptian intervention into the civil war in Yemen. Saddam Hussein used chemical weapons against Kurdish civilians in Iraq and current Syrian President Bashir Assad's father allegedly used them against rebellious citizens of Hama in 1982.
Back then coverage of the use of these weapons was limited. Today, with cellphone cameras and Twitter, images of the immediate after-effects of a chemical weapons attack have flooded the Internet. The ability of the media to magnify or diminish conflict is once again evident.
The Israeli-Palestinian conflict offers a classic example of disproportionate media amplification of a conflict. As CAMERA has documented, the media's fixation over many years on the Israeli-Palestinian conflict fed the illusion that it was at the core of the region's instability. This exaggerated media attention pressured government officials to prioritize activities addressing the Israeli-Palestinian conflict.
Media attention on the Syrian regime's use of chemical weapons is certainly warranted, but the outcry and call for action again demonstrates the influence the media has in shaping our views on the relative importance of conflicts and in motivating action.
Posted by SS at 11:17 AM | Comments (2)
August 26, 2013
The Tripod: CAMERA Links in Three Languages -- August 25-26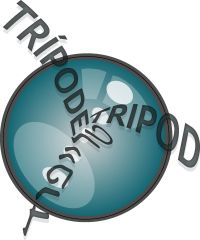 BBC Arabic reports on Syrian patients in Israeli hospitals – but not in Arabic
After months of ignoring the subject of Syrian patients being treated in Israeli hospitals, the BBC finally got round to reporting the story – but not to its Arabic Service audiences. (BBC Watch)
BBC describes known terror finance man as 'activist'
A senior Palestinian Islamic Jihad official with a record of terror financing is described by the BBC as an 'activist'. (BBC Watch)
Israel's most deadly war?
There are historical facts, and there are Gidon Levy's facts. (Presspectiva)
3rd time's a charm: CiF Watch prompts correction to Telegraph "correction" on refugees
After two unsuccessful attempts, The Telegraph finally published accurate information on the number of Palestinian refugees from the 1948 war. (CiF Watch)
The Little Activist that Could
A Canadian student's reflections on the CAMERA Training Conference: "The day before my flight to Boston for training, I almost backed out. . ." (In Focus)
Middle East headlines in the Spanish speaking press
Headlines focus on Palestinians walking out of the negotiation process and Israel's opinión about the Sirian conflict. (ReVista de Medio Oriente)

Posted by RH at 05:26 PM | Comments (0)
Ha'aretz's Amira Hass Attempts to Justify Her Obsessive Focus
Anyone familiar with Ha'aretz columnist Amira Hass knows that she is obsessive in her hostility toward and vilification of Israel. Her journalistic career focuses entirely on presenting the Jewish state in the worst possible light -- as one that continuously harms and plots against Palestinians. And she let no facts get in the way of her mission.
A recent column by Hass about a Palestinian widow who was supposed to be deported from eastern Jerusalem (but wasn't) because her temporary residency permit had expired prompted a reader to comment that Hass spends "too much time on trifles." Given the cruelty with which Arab residents are treated in neighboring countries by their own leaders, the story of an illegal resident who faced deportation but was ultimately not deported does appear to be absurdly trifling. But Hass uses the criticism of her column as yet another opportunity to repeat her condemnation of Israeli authorities for even considering deportation. In a burst of self-righteous fury, Hass justifies her obsession and attacks her critics:
There are those who say Rajbi's fear of being deported from her home in the Old City of Jerusalem is dwarfed by the suffering of the million Syrian children who have become refugees. Some would even go so far as to say that the history of Israeli domination over the Palestinians is dwarfed by the incomprehensible slaughter taking place in the region. According to that logic, men can tell the women in Israel and Italy not to complain about gender discrimination because their sisters in Africa still suffer the practice of female genital mutilation, while in India, the selective abortion of female fetuses is still widespread. Westernized Jews can tell Arab-Jews and Sephardi Jews that they should stop complaining because they're doing far better than residents of favelas in Brazil.

Ranking injustices, atrocities and discrimination on a scale of horrors is just one more technique employed by those in power to retain their power, to justify their excessive privileges and to belittle any public or civil struggle for equality.
Posted by RH at 02:45 PM | Comments (3)
Syria Threatens to Make Israel a Scapegoat
Israelis order gas masks Sunday as threats from Syria grow
Israeli daily Yediot Aharonot reports that "that Damascus views Israel as behind the aggression and therefore it will come under fire should Syria be attacked by the United States."
In an interview for the American radio station Sawa in Arabic, President Bashar Assad's fellow party member said: "We have strategic weapons and we can retaliate. Essentially, the strategic weapons are aimed at Israel."

[Syrian Ba'ath national council Halef] al-Muftah stressed that the US's threats will not influence the Syrain regime and added that "If the US or Israel err through aggression and exploit the chemical issue, the region will go up in endless flames, affecting not only the area's security, but the world's."
Similar threats were made by another senior Syrian official, an interview with AP.
Meanwhile, a senior official for the Syrian rebels blamed Israel "for giving the Syrian regime 'diplomatic cover' " and declared that Israel must urge world intervention in the Syrian war if iit "wants to show the Syrian people it is not assisting the Syrian regime and the Syrian terror."
The Algemeiner reports a huge Israeli increase in demand for gas masks on Sunday as the possibility of a military intervention in Syria became more likely.
Posted by RH at 10:56 AM | Comments (1)
August 23, 2013
The Tripod: CAMERA Links in Three Languages -- August 22-23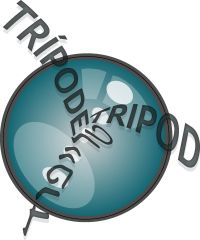 BBC documentary on Tel Aviv gay pride fails to keep up with the news
A BBC World Service radio documentary on Tel Aviv's Gay Pride parade paints a picture two months out of date . (BBC Watch)
Inaccuracy corrected in one BBC Rouhani article, left standing in another
Two BBC articles made the same erroneous claim but, following complaints, the BBC corrected only one of them . (BBC Watch)
Telegraph revision to false claim on Palestinian refugees is still misleading
Despite a revision made by editors at The Telegraph to a story which grossly inflated the number of Palestinian refugees from the 1948 war, the passage in question still fails to accurately convey the accurate number of refugees. (CiF Watch)
Setting the Pace to Finish a Marathon
What You Missed at the CAMERA Student Leadership and Advocacy Training Conference. (In Focus)
My Life Has Taken an Interesting Turn
A Students' Reflections from the CAMERA Student Conference. (In Focus)

Posted by RH at 05:23 PM | Comments (0)
Novelist Cites Media Complicity in Persecution of Christians in the Middle East, Links to CAMERA
As churches and Christian institutions burn across the Middle East and Christians flee Muslim countries, novelist Noah Beck cites Western media complicity in this disturbing phenomenon. In an article about Crucified Again: Exposing Islam's War on Christians by Raymond Ibrahim, Beck, author of The Last Israelis, a novel about Iranian nukes and an Israeli submarine with a crew including a Christian Israeli, writes:
Ibrahim shows how the Western media, academia, and the Obama administration have all whitewashed Muslim oppression of Christians and/or supported Islamists like the Muslim Brotherhood to the point of enabling anti-Christian persecution and obscuring it from the public. Indeed, of Ibrahim's 680+ cited news sources reporting on Muslim abuse of Christians, only about 6% were from the mainstream media. Biased media coverage of the Middle East deserves a book of its own, but to cite one powerful example (not mentioned in Crucified Again), consider how CBS's "news" program, Sixty Minutes, defamed the only Mideast country where Christians are actually safe (Israel) while missing the real story of Mideast Christian persecution so thoroughly documented in Crucified Again.
Here Beck links to CAMERA's work on the misleading 60 Minutes story of April 2012. CAMERA has not forgotten this biased story, with Christian Media Analyst Dexter Van Zile confronting Executive Producer Jeffrey Fager, a follow-up campaign, and an advertisement in the Wall Street Journal.
Watch a CAMERA-produced video on the subject:
Posted by SC at 01:39 PM | Comments (0)
August 22, 2013
Even more artists call out BDS Bullying
It's time to update to our post from last January, "More Artists Call Out BDS Bullying":
Italian author Umberto Eco called their ideas "absolutely crazy" and "fundamentally racist."
Irish writer Gerard Donovan referred to them as "idiots" who try to bully and cajole and are guilty of "outright intimidation."
The band Dervish was on the receiving end of their "avalanche of negativity", "venom" and "hatred." (Irish justice minister Alan Shatter described it as "cyberbullying.")
The manager of Jazz musician Jack Terrasson condemned their "obnoxious" comments, "sheer harassment" and "blatant denigration," calling them "intellectually dishonest" and saying their intolerance is "abominable" and their hatred "pathological."
And now, Salif Keita, along with his wife Coumba Makalou, have torn into the BDS movement, which seems to have successfully bullied the Malian singer and songwriter into cancelling or postponing a performance in Israel.
Their statement, which appears on Keita's Facebook page, notes that
the cancellation is not one which was made by Mr. Keita, but by his agents who were bombarded with hundreds of threats, blackmail attempts, intimidation, social media harrassment and slander stating that Mr Keita was to perform in Israel, "not for peace, but for apartheid."

These threats were made by a group named BDS, who also threatened to keep increasing an anti-Salif Keita campaign, which they had already started on social media, and to work diligently at ruining the reputation and career that Mr. Keita has worked 40 years to achieve not only professionally, but for human rights and albinism.

Of course, we do not agree with any of these tactics or false propaganda, but management's concern is to protect the artist from being harmed personally and professionally. Although, we love Israel and all his fans here, and the fantastic spirit of unity of the Sacred Music Festival, as well as the important work your hospital is doing for albinism, we did not agree with the scare tactics and bullying used by BDS; therefore management decided to act cautiously when faced with an extremist group, as we believe BDS to be.

In addition, Mr. Keita is not a politician who plays for governments, but a musician who performs for his fans who are of all faiths and origins in Jerusalem. It is unfortunate that artists like him are threatened by this group who falsely claim to defend human rights, when they should take their concerns to governments or ask for support of their cause in a lawful way, and not by endangering the freedom of expression of artists, or using harassment and intimidation of artists who play for peace and for all people, in order to bring some kind of justice to the Palestinians they claim to represent.
Keita, the statement explains, is following through on a planned donation to Hadassah Hospital in Jerusalem, and his management is seeking to "determine a future time to be able to perform in Israel."
It may be that the proper response to such extremism is to criticize BDS without backing down in the face of their intimidation. But Israel can certainly withstand the unfortunate cancellation. The question is, can the BDS movement withstand many more "victories" like this one?
Hat tip Elder of Ziyon.
Posted by GI at 04:48 PM | Comments (1)
August 21, 2013
Where's the Coverage? Pervasive and Systemic Bias against Israel at the U.N.

When speaking to a group of students in Israel last week, United Nations Secretary General Ban Ki-moon reportedly admitted that, "Unfortunately because of the conflict, Israel has been weighed down by criticism and suffered from bias – sometimes even discrimination" at the U.N.
This week, Ban contradicted that statement saying, "I don't think there is discrimination against Israel at the United Nations."
Yes, you heard that right. He added:
The Israeli government maybe raised this issue that there's some bias against Israel, but Israel is one of the 193 member states. Thus, Israel should have equal rights and opportunities without having any bias, any discrimination. That's a fundamental principle of the United Nations charter. And thus, Israel should be fully given such rights.
Obviously Israel should be given equal rights but the fact remains that Israel suffers from pervasive and systemic bias within the world body. Beginning in the 1960's, according to the watchdog UN Watch:
The campaign to demonize and delegitimize Israel in every UN and international forum was initiated by the Arab states together with the Soviet Union, and supported by what has become known as an "automatic majority" of Third World member states.

In 1975, […] the majority of the General Assembly adopted the "Zionism is Racism" resolution. At the same time, it instituted a series of related measures that together installed an infrastructure of anti-Israel propaganda throughout the UN. Years later, after strenuous efforts by democratic forces, the infamous resolution was repealed.

However, the legacy of 1975 remains fully intact: UN committees, annual UN resolutions, an entire UN bureaucratic division, permanent UN exhibits in New York and Geneva headquarters – all dedicated to a relentless and virulent propaganda war against the Jewish state. Together, they have made the UN into Ground Zero for today's new anti-Semitism, which is the irrational scapegoating of Israel with the true intended target being Jews. Not only do these anti-Israel measures incite hatred against Israelis and Jews everywhere, but they have done not a thing to help the Palestinian situation. On the contrary: they give strength and succor to extremists.
The U.N. Commission on Human Rights was so biased and, frankly, ridiculous that it had to be disbanded. It was replaced in 2006 with the U.N. Human Rights Council. UN Watch observes:
Obsessed with condemning Israel, the Council in its first year failed to condemn human rights violations occurring in any of the world's 191 other countries. In its second year, the Council finally criticized one other country when it "deplored" the situation in Burma, but only after it censored out initial language containing the word "condemn." It even praised Sudan for its "cooperation."
In 2007, the Council added a special, permanent agenda item targeting only one country, Israel. Around the globe, countries commit human rights abuses –Syria, Iran, North Korea, Cuba, China, Sudan and Saudi Arabia spring to mind immediately– yet only Israel, a democracy, is singled out for consistent examination and censure.
In 2001, the U.N. sponsored the World Conference against Racism, Racial Discrimination, Xenophobia and Related Intolerance which quickly became a conference to condemn Israel. Now known as the infamous Durban Conference, the Conference Draft declaration contained so much anti-Jewish and anti-Israel language that the United States and Israel walked out of the conference. Israeli ambassador Mordechai Yedid delivered a statement on behalf of Deputy Foreign Minister Michael Melchior saying "Can there be a greater irony than the fact that a conference convened to combat the scourge of racism should give rise to the most racist declaration in a major international organization since the Second World War?"
The statement continues:
Despite the vicious anti-Semitism we have heard here, I do not fear for the Jewish people, which has learned to be resilient and to hold fast to its faith.

Despite the virulent incitement against my country, I do not fear for Israel, which has the strength not just of courage, but also of conviction.

But I do fear, deeply, for the victims of racism. For the slaves, the disenfranchised, the oppressed, the inexplicably hated, the impoverished, the despised, the millions who turn their eyes to this hall, in the frail hope that it may address their suffering. Who see instead that a blind and venal hatred of the Jews has turned their hopes into a farce. For them I fear.
And indeed that is the cost of the pervasive anti-Israel bias: any potentially good work of the United Nations is left undone while its twisted and perverted anti-Israel mission is doggedly pursued.
In the years since the 2001 conference, there have been two more similar conferences. At a counter-conference sponsored by Eye on the UN in September of 2011, Simon Deng, a former South Sudanese slave, declared:
So, yes… I came here today to tell you that the people who suffer most from the UN anti-Israel policy are not the Israelis but all those people who the UN ignores in order to tell its big lie against Israel: we, the victims of Arab/Muslim abuse: women, ethnic minorities, religious minorities, homosexuals, in the Arab/Muslim world. These are the biggest victims of UN Israel hatred.

Look at the situation of the Copts in Egypt, the Christians in Iraq, and Nigeria, and Iran, the Hindus and Bahais who suffer from Islamic oppression. The Sikhs. We – a rainbow coalition of victims and targets of Jihadis — all suffer. We are ignored, we are abandoned. So that the big lie against the Jews can go forward.
Here is a brief video overview of this issue from Anne Bayefsky, director of the Touro Institute on Human Rights and the Holocaust:
And here is Mr. Deng's complete speech:
Posted by SC at 11:08 PM | Comments (1)
The Tripod: CAMERA Links in Three Languages -- August 20-21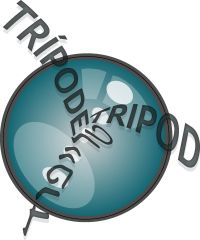 BBC provides platform for claim that Palestinian terrorists are 'political prisoners'
BBC presenter makes no attempt to correct claim by Robin Wright of US Institute of Peace . (BBC Watch)
BBC's 'Israeli building threatens peace talks' meme in numbers
How many times over the last week have readers of the BBC News website been told that Israeli building tenders in Jerusalem and Judea & Samaria threaten to "sabotage" peace talks? . (BBC Watch)
Maariv's Double Error
Maariv not only mistranslated Jeffery Goldberg's column, they made it factually incorrect. (Presspectiva)
Iran uses its embassies in Latin America to recruit young people
Different studies in Argentina, Mexico and the US point out that Iran has recruited young Latin Americans in order to promote its interests in the region. (ReVista de Medio Oriente)
The forgotten incitement
Incitement to hatred, according to experts, creates an enabling atmosphere for violent criminal activities that may lead to genocide. (ReVista de Medio Oriente)
Subtle dual coverage
Apparently, when Israel is part of the news, the word "terrorist" - applied to those who attack it, or threatens its citizens security - has no place in the Spanish newspaper elperiodico.com. (ReVista de Medio Oriente)
Where's the coverage?
While the peace talks continue its course, the Palestinian Authority official radio expressed its certainty that Israel – which is referred as "occupied Palestine" – will cease to exist. (ReVista de Medio Oriente)
Former Fellow Speaks at CAMERA Student Conference
Former CAMERA Fellow and IDF Veteran Abir Gitlin shares his experiences and how he tackled challenges on campus with participants at the CAMERA Student Leadership and Training Conference. (In Focus)
Peace through martyrdom: Muslim Brotherhood leader poses as a liberal at 'Comment is Free'
The Guardian provides a platform for an Egyptian Muslim Brotherhood leader with a record of advocating the virtues of jihad to pose as a champion of peace, democracy and non-violence. (CiF Watch)
Posted by RH at 06:40 PM | Comments (0)
August 19, 2013
The Economist: Advocating for Palestinian Killers
The Economist continues to go off the rails in its treatment of the Israeli-Palestinian conflict. Its overt bias violates all journalistic norms. The latest article about the topic of the Palestinian prisoner release, "Why they count,"" essentially advocates for Palestinians who have violently attacked or murdered Israelis. Subtitled "The release of prisoners touches Palestinians to their core," the article starts by complaining that the number of Palestinian prisoners released by Israel has declined and then faults Israel for allegedly detaining "eight times as many Palestinians as it has just released" -- with the implication that, with some exceptions, many Palestinians are randomly detained and held in prison for no good reason.
When the two sides sat down to negotiate two decades ago, after signing the Oslo accords in 1993, Israel freed 2,000 Palestinians in a single year. For the next couple of years it released, on average, around 1,000 a year. In later years that number slumped to a few hundred. Now, to coincide with the fresh round of talks that started in Jerusalem on August 14th, Israel's prime minister, Binyamin Netanyahu, has freed just 26.
And:
Since July 19th, when America's secretary of state, John Kerry, announced that peace talks would restart, Israel—say human-rights campaigners—has detained eight times as many Palestinians as it has just released.
Citing Palestinian President Abbas' "critics," the column goes so far as to suggest that violence and kidnapping, Hamas' tactic of choice, is most effective against Israel:
Mr Abbas's Palestinian critics say his non-violent policy is plainly less effective than that of Hamas, the Islamist faction that runs the Gaza Strip. In 2011 Hamas got Mr Netanyahu to release more than 1,000 prisoners in exchange for a single Israeli soldier, Gilad Shalit, who had been captured by Hamas and held for five years.
The article exudes sympathy for the Palestinian prisoners, falsely suggesting that most are innocent:
Few issues stir Palestinian emotions as fiercely as the fate of prisoners. Almost every Palestinian has a relative in jail—or has been there himself. Human-rights groups estimate that 750,000 Palestinians have passed through Israeli prisons since the West Bank and Gaza were conquered in 1967. Some 2,300 Palestinians were detained in the first six months of this year alone. Whereas Israelis generally dub them terrorists, Palestinians call them asra, or prisoners of war, and devote large chunks of their public broadcasts and budget to supporting them and their families. Some have been sentenced for complicity in the 100-plus suicide-bombings which shook Israel during the intifada (uprising) that fizzled out in 2005. But many of those that languish in 17 special Israeli jails have no such blood on their hands.

They include 14 members of the Palestinian parliament and hundreds of non-violent protesters who have tried in vain to stop Israel's army and settlers from acquiring their land.
But as Elder of Ziyon points out, the article is based on deception and lies. Read his analysis here.
And read the real story about who these Palestinian prisoners are and what they have done here and here.
Posted by RH at 07:34 PM | Comments (0)
The Tripod: CAMERA Links in Three Languages -- August 16-19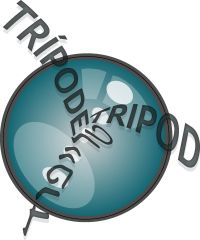 BBC's Knell reports on prisoner release without mentioning their crimes
What are the millions of viewers of BBC television news being told about the recent early release of 26 Palestinian prisoners? . (BBC Watch)
BBC report on prisoner release is mostly about something else
Once again, the BBC shoehorns the subject of building tenders into a report ostensibly about another subject altogether . (BBC Watch)
Magic Carpet Ride: Yemen to Israel
Jews from Yemen continue to seek refuge in Israel. (In Focus)
The unbearable lightness of journalism
The Spanish news agency, Europa Press, has decided that the Israeli version is unnecessary. Even when reporting about the peace talks between Israelis and Palestinians. (ReVista de Medio Oriente)
Collection of Corrections From Around The World
A Hebrew collection of worldwide newspaper corrections from. the previous week. (Presspectiva)
Indy's Matt Hill engages in cynical smear about Netanyahu and the Rabin murder.
The Independent published a commentary by Matt Hill which included a completely baseless accusation against Israeli Prime Minister Binyamin Netanyahu. (CiF Watch)
Middle East headlines in the Spanish speaking press
UN's opinión about the peace talks and turmoil in the Sinai, Egypt, centered the attention of the press. (ReVista de Medio Oriente)
Posted by RH at 05:39 PM | Comments (0)
August 16, 2013
Deduction: Electronic Intifada Thinks Electronic Intifada are "Shameless Liars"
The anti-Israel hate site Electronic Intifada and its founder Ali Abunimah spent much of the past two days letting their Twitter followers know that an Israeli army blog mistakenly labeled a photo of Malaysian shopping mall as being in the Gaza Strip. Between the two, on Aug. 14 and 15, over 20 tweets and retweets shared news of the error, which was subsequently corrected by the IDF Blog.
One Twitter post by Abunimah announced that the Israeli army was caught in the act of "fakery and lying." Another exclaimed that "shameless liars" were "caught red-handed."
Let's see what else we can deduce from this way of thinking:
• Because the IDF Blog posted a photo from Malaysia and mistakenly described it as being in Gaza, Abunimah called the Israeli army "shameless liars" and "fakers."
• He believes those who publicize inaccurate information are shameless liars and fakers.
• On Electronic Intifada, Abunimah used a hoax quote, telling his readers that Israeli official Moshe Ya'alon said, "the Palestinians must be made to understand in the deepest recesses of their consciousness that they are a defeated people." Abunimah based an entire article on the quote, but CAMERA discovered that Ya'alon never said such a thing.
• Abunimah thinks Electronic Intifada are shameless liars and fakers.
The IDF Blog, by the way, pulled the offending photo and published a correction at the top of the blog post. Abunimah kept the offending quote in the article, relying on an editors note at the bottom of the post to inform readers that the quote was "unverified."
And Electronic Intifada and its founder certainly didn't tweet and retweet 22 separate times about Abunimah's use of a hoax quote.
Israel army publishes fake image of huge "Gaza shopping mall" | @AliAbunimah http://t.co/WTXboZjqeI via @intifada

— Ali Abunimah (@AliAbunimah) August 14, 2013
Thanks to @sallyidwedar for spotting this particularly stupid piece of "IDF" fakery and lying http://t.co/paqRH3fF58

— Ali Abunimah (@AliAbunimah) August 14, 2013
Israel army publishes fake image of huge "Gaza shopping mall" | @AliAbunimah http://t.co/WTXboZjqeI via @intifada

— Ali Abunimah (@AliAbunimah) August 14, 2013
Has "IDF" terror gang member and rubbish hasbarist @AviMayer condemned @IDFSpokesperson's latest use of fake photos? http://t.co/WTXboZjqeI

— Ali Abunimah (@AliAbunimah) August 15, 2013
Shameless liars caught red-handed: Israel army publishes fake image of huge "Gaza shopping mall" | @intifada http://t.co/PSeopusTXy

— Ali Abunimah (@AliAbunimah) August 15, 2013
Israel army publishes fake image of huge "Gaza shopping mall" | @intifada http://t.co/PSeopusTXy

— Ali Abunimah (@AliAbunimah) August 15, 2013
בין היתר התנוססה בו תמונתו של קניון מפואר, אולם, באתר אלקטרוניק אינתיפאדה http://t.co/YgUoeU0bgw

— Ali Abunimah (@AliAbunimah) August 15, 2013
הקניון העזתי המפואר בבלוג הצה"לי התגלה כמלזי http://t.co/vjkc9A6mdB

— Ali Abunimah (@AliAbunimah) August 15, 2013
Israel army publishes fake image of huge "Gaza shopping mall" | @intifada http://t.co/PSeopusTXy

— Ali Abunimah (@AliAbunimah) August 15, 2013
"IDF blog" uses image from Malaysia to claim Gaza is thriving http://t.co/wtpNyaTU2o

— Electronic Intifada (@intifada) August 15, 2013
Israel army publishes fake image of huge "Gaza shopping mall" | @AliAbunimah http://t.co/JoLyrkKvIZ

— Electronic Intifada (@intifada) August 15, 2013
"IDF blog" uses image from Malaysia to claim Gaza is thriving http://t.co/zD0o9Tnlwm

— Electronic Intifada (@intifada) August 15, 2013
Israel army publishes fake image of huge "Gaza shopping mall" | @AliAbunimah http://t.co/Opk8F3pa5u

— Electronic Intifada (@intifada) August 15, 2013
Israel army publishes fake image of huge "Gaza shopping mall" | @AliAbunimah http://t.co/CakCsnoJZq

— Electronic Intifada (@intifada) August 15, 2013
Israel army publishes fake image of huge "Gaza shopping mall" | @AliAbunimah http://t.co/Io5pHcBSzA

— Electronic Intifada (@intifada) August 15, 2013
Israel army publishes fake image of huge "Gaza shopping mall" | @AliAbunimah http://t.co/CCqGRarXzI

— Electronic Intifada (@intifada) August 15, 2013
Hey look, @IDFSpokesperson caught using fake photo to peddle pro-blockade propaganda. The IDF lying? Well, I never: http://t.co/HodeSEiDNr

— Oliver Farry (@ofarry) August 14, 2013
Israel army publishes fake image of huge "Gaza shopping mall" http://t.co/xDYrEZTAoj via @intifada

— Ofer N (@ofer_n) August 15, 2013
Israel army publishes fake image of huge "Gaza shopping mall" | @AliAbunimah http://t.co/z1cEzEgdzG

— Electronic Intifada (@intifada) August 15, 2013
Israel army publishes fake image of huge "Gaza shopping mall" | @AliAbunimah http://t.co/rL05DVw9Gf

— Electronic Intifada (@intifada) August 15, 2013
Israel army publishes fake image of huge "Gaza shopping mall" | @AliAbunimah http://t.co/4yigiJ8xBr

— Electronic Intifada (@intifada) August 14, 2013
Israel army publishes fake image of huge "Gaza shopping mall" http://t.co/Q7MqzAx5BF

— Electronic Intifada (@intifada) August 15, 2013
Posted by GI at 11:39 AM | Comments (0)
August 15, 2013
The Tripod: CAMERA Links in Three Languages -- August 14-15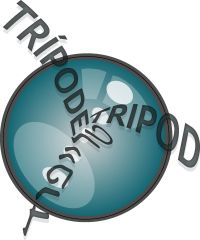 BBC coverage of building tenders reaches hysterical highs
With three reports on the subject in one day, the BBC is doing its level best to persuade audiences that Israeli building plans are sabotaging peace talks . (BBC Watch)
BBC finally gets round to (briefly) reporting crimes of Palestinian prisoners
A BBC profile of some of the Palestinian prisoners scheduled for release and their crimes was rapidly demoted to the status of 'related articles'. (BBC Watch)
Middle East headlines in the Spanish speaking press
The media focuses on Israel's "bombing" in Gaza, but tends to ignore the provocation and the rockets fired from there. (ReVista de Medio Oriente)
CAMERA speaks at the Israel on Campus Coalition National Training
Thirty five ICC Interns attended a CAMERA Writing Workshop, where they learned how to better recognize bias in the media and practiced writing letters to the editor. (In Focus)
Minorities serving in the IDF
Christians, Muslims and Druze all serve in the Israeli Military, learn about some of their stories. (In Focus)
The Guardian faces stiff competition for most sympathetic depiction of murderers
The Guardian, Independent, Irish Times, Telegraph and Times (of London) all recently published photos sympatheticallly depicting the 26 murderers (pre-Oslo prisoners) recently released by Israel, and yet didn't mention the brutal crimes they committed, nor a word about the victims. (CiF Watch)
Erasing the victims, polishing the killers
Spanish media reported on the liberation of the first Palestinian prisoners, but they omitted to inform about their crimes and to report about the victims. (ReVista de Medio Oriente))
Posted by RH at 04:42 PM | Comments (0)
August 14, 2013
Where's the Coverage? PA Minister Admits Peace Talks a Ploy

Last month, as preliminary negotiations were set to begin between Israel and the Palestinian Authority (PA), PA Minister of Religious Affairs Mahmoud Al-Habbash delivered a Friday sermon. PA Chairman Mahmoud Abbas was present and it was broadcast on official PA-TV on July 19, 2013.
Did he talk about peace? Did he preach about achieving a treaty? Well, yes… Sort of.
Palestinian Media Watch posted and translated a video of the sermon, in which Al-Habbash starts off well:
We hate war. We don't want war. We don't want bloodshed, not for ourselves, nor for others. We want peace. We say this because our culture is founded on this, and because our religion is based on this. Yes, we want peace, but not any peace. We want a peace based on justice, therefore the Palestinian leadership and the PLO have not missed any opportunity for peace...

The Palestinian leadership's sense of responsibility towards its nation made it take political steps about 20 years ago (i.e., signing the Oslo Accords). Despite the controversy, despite much criticism and much opposition by some, it brought us to where we are today: We have a [Palestinian] Authority and the world recognizes the [Palestinian] state.

All this never would have happened through Hamas' impulsive adventure, but only through the wisdom of the leadership, conscious action, consideration, and walking the right path, which leads to achievement, exactly like the Prophet [Muhammad] did in the Treaty of Hudaybiyyah, even though some opposed it...
What is the Treaty of Hudaybiyyah? After Muhammad and his followers were driven out of Mecca by the Quraish tribe, there continued to be fighting. Muhammad and his followers wanted to return to Mecca. Rather than battle, they made a ten-year peace treaty with the Quraish.
Al-Habbash explains the rest:
The hearts of the Prophet's companions burned with anger and fury. The Prophet said: "I'm the Messenger of Allah and I will not disobey Him." This is not disobedience, it is politics. This is crisis management, situation management, conflict management...

Allah called this treaty a clear victory...

Omar ibn Al-Khattab said: "Messenger of Allah, is this a victory? Is this logical? Is this victory? We are giving up and going back, and not entering Mecca. Is that a victory?" The Prophet said: "Yes, it is a victory."

In less than two years, the Prophet returned and based on this treaty, he conquered Mecca. This is the example, this is the model.
So, according to PA leadership, the "model" is to make a peace treaty and then come back and breach it through violence. This strategy is pretty newsworthy and yet only the Israeli and Jewish press reported it.
When the Israeli government publishes bids for the construction of apartments in Jerusalem, the mainstream press writes literally thousands of stories. Naturally, there was a New York Times editorial calling these potential apartments "a fresh cause for pessimism about the prospects for successful peace negotiations." Yet, when PA leaders brag about faking their way through the peace talks… nothing. When they boast about their insincerity and malicious intent… zero.
Where's the outrage? Where's the New York Times editorial? Where's the coverage?

Posted by SC at 10:58 PM | Comments (2)
Allah's 'Law of the Land' - You've Heard (Something Like) This Before
Nidal Hasan, the psychiatrist and U.S. Army major charged with premeditated murder in the deaths of 13 people and wounding of 32 others in a 2009 shooting rampage at Ft. Hood, Texas explained himself thusly:
"My complicity was on behalf of a government that openly acknowledges that it would hate for the law of Almighty Allah to be the supreme law of the land" ("Spotlight: Fort Hood Shootings; In statement to Fox, Hasan accuses U.S. of war on Muslims," The Baltimore Sun, July 28, 2013). For more:
Twenty years earlier, on April 4, 1993 Ibrahim Hooper, long-time spokesman for the Council on American Islamic Relations (CAIR), was quoted by The Minneapolis Star Tribune as saying "I wouldn't want to create the impression that I wouldn't like the government of the United States to be Islamic sometime in the future," Hooper says. "But I'm not going to do anything violent to promote that. I'm going to do it through
education."
The former implicitly attempts to justify multiple murders. The latter speaks of a non-violent aspiration. But both point in the same direction—toward the United States governed not as a constitutional republic but rather as an Islamic theocracy under shari'a law.
Posted by ER at 02:35 PM | Comments (1)
August 13, 2013
The Tripod: CAMERA Links in Three Languages -- August 13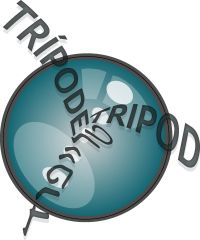 The Palestinian TV show the BBC will not tell you about
Despite having shown a keen interest in Palestinian TV shows recently, the BBC has not reported on cash prizes for denial of Israel's existence in a PA TV Ramadan special. (BBC Watch)
BBC's Donnison returns – with an old party trick
The BBC's former Gaza correspondent revives old myths – from his new patch in Australia . (BBC Watch)
No human being is illegal: The Guardian's vilification of settlers is immoral and illogical
The Guardian's secular faith in the proposition that Israeli communities across the 1949 armistice lines are illegal has little basis in hisotry or international law. (CiF Watch)
Please leave us alone to murder in peace
Amira Hass demands israel not interfere with the Palestinians activities to "expose collaborators and end their services to you" Is this what she meant? (Presspectiva)
Middle East headlines in the Spanish speaking press
The focus is on settlements, the lack of hope regarding peace talks and the rockets fired from Sinaí to Eilat. (ReVista de Medio Oriente)
Página12 o PalestinianPágina?
In an article about the release of the first Palestinian prisoners, Argentinean newspaper Página12 polished the image of the perpetrators while it relegated or disavowed the victims. (ReVista de Medio Oriente)
Inaccuracies in El Pais
Palestine is not a state, nor is the occupation the root of the problem. (ReVista de Medio Oriente)
Posted by RH at 05:26 PM | Comments (0)
August 12, 2013
The Tripod: CAMERA Links in Three Languages -- August 9-12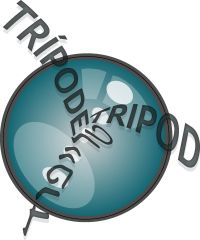 Violence and hate in a TV movie broadcasted by the official PA TV channel
Yassin and Abu Yasser play the main roles in a movie where Palestinian kids and adolescents attack a gruop of Israelis. (ReVista de Medio Oriente)
EFE:highest score in activism
The victim has a name too: Sarah Sharon. She was 38 years old when she was stabbed to death while walking in the city. (ReVista de Medio Oriente)
Fixation and omissions
The main Spanish-language media echoed the Israeli decision to build new homes in the "settlements", omitting mention of the Oslo Agreements that do not contain any prohibition to build. (ReVista de Medio Oriente)
BBC template article on ME talks turns 878 houses into 'around 1,000′
Recent BBC reports on peace talks include a collection of misleading template statements. (BBC Watch)
BBC still failing to report missile fire from Gaza Strip
The majority of missile fire from the Gaza Strip continues to go unreported to BBC audiences . (BBC Watch)
Presspectiva Prompts 'The Marker' Correction
'The Marker' corrects a story that falsly claimed that Dutch retailers were boycotting products from the West Bank. (Presspectiva)
Presspectiva Prompts 'Ha'aretz' Correction
'Ha'aretz' corrects graphic incorrectly stating that the new EU guidelines applied to all EU member states. (Presspectiva)
EFE: Fiction or journalism
EFE repeats and spreads inaccurate information. (ReVista de Medio Oriente)
CAMERA Presents at AEPi Israel Amplified Conference
Over 120 students, the largest ever, attended this years only all Greek Israel advocacy and engagement conference. (In Focus)
CAMERA helps sponsor the AEPi Israel Amplified Conference
CAMERA Fellow Rita Usher discusses how CAMERA helped her write about Israel. (In Focus)
Harriet Sherwood parrots false charge of 'Water Apartheid'
The Guardian's Jerusalem correspondent charges Israel with hoarding Palestinian water, based on completely erroneous data by a radical NGO. (CiF Watch)
Posted by RH at 04:34 PM | Comments (0)
New York Times Map Puts Eilat in Sinai
The entire city of Eilat has infiltrated the Egyptian border, and is now in the Sinai peninsula — at least according to the map that appeared alongside a recent article in the New York Times.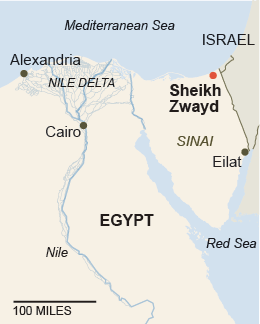 Posted by GI at 03:22 PM | Comments (3)
August 08, 2013
The Tripod: CAMERA Links in Three Languages: August 8
More BBC whitewashing of 'Al Quds Day'
A BBC guide to Iran's Al Quds day presents it as an eccentric local custom . (BBC Watch )
Manipulating BBC audience opinions with pictures
The caption to a photograph showcased by the BBC omits vital context and includes a politically loaded adjective . (BBC Watch )
Are Jews the most incompetent "ethnic cleansers" in the world?
Of all the hateful anti-Zionist narratives, few are more easily disprovable than the smear that Israel is attempting to "exterminate" the Palestinians. (CiF Watch)
Middle East headlines in the Spanish speaking press
Israel-EU cooperation, gender policies in the IDF and the authorization of new settlements centered the attention of the media. (ReVista de Medio Oriente)
Arab TV Shows Incite Anti-Semitism
Anti-Semitic rhetoric continues to spread to children within the Arab and Muslim through the use of social media and Disney characters. (In Focus)
Posted by RH at 05:31 PM | Comments (0)
Polishing Jibril Rajoub's Image
Jibril Rajoub
The Spanish soccer team, FC Barcelona, visited Israel and the West Bank as part of its Peace Tour. Much of the media presented Fatah official and Palestinian Soccer Association head Jibril Rajoub as a peace lover opposed to hatred and hostility. According to AP, for example:
Rajoub described the visit as a historic moment for his people. "We are hugely respectful of this visit being paid by Barça (FC Barcelona)," he said. "It is a big step towards our desire for peace."
Ha'aretz attributed similar comments to Rajoub:
"Sport is the best way to overcome hate and hostility," said Rajoub, who described the visit as a "historic day."
But is Rajoub really such a peace advocate?
According to the Times of Israel, Rajoub's attitude toward Israel was far from peaceful. He took advantage of "the most important event in the history of Palestinian sports" to express hositlity toward and call for a sports boycott against Israel:
At a press conference in Ramallah last Wednesday, [Rajoub] told journalists that he had withstood immense pressure to produce a joint photo of Israeli and Palestinian players with the Catalan team.

"You have no idea what pressure was placed on me so that a photo emerge with Shlomo, Muhammad and Messi. We insisted that the photo include Messi and Muhammad. Shlomo — [representing] this occupation — will not be present that day, only Barcelona and the Palestinians.

"We are not racist, we are realists. We will not give this occupation a fig leaf with which to cover its nudity, to cover its crimes against the Palestinian people and especially against the Palestinian sports movement," Rajoub said.

Rajoub, went on to justify his objections and subsequent cancelation of a match between Barcelona and a mixed Israeli-Palestinian Team, saying that it was "impossible for [the Palestinians] to permit any joint activities with the symbols of our suffering and pain, the Israeli occupation."
The Jerusalem Post quoted an Israeli official who commented on the implications of Rajoub's stance toward Israel :
"Despite public proclamations about the desire for peace and reconciliation, the Palestinians refused to entertain the idea of a joint football team, and refused to have Israelis go to the West Bank to watch a match," the official said. '"This just shows the challenges we face now in moving the process forward.'"
But the mainstream media glossed over this, preferring to romanticize him as a peace advocate.
There's nothing romantic and peace loving about the Fatah official. Rajoub's comments to a non-Western press make this abundantly clear. Palestinian Media Watch describes how during an interview with Lebanese TV channel, Rajoub explained that the only reason negotiations were being held with Israel was because the Palestinians currently lack military strength. He declared:
"I swear that if we had a nuke, we'd have used it this very morning."
Posted by mw at 03:17 PM | Comments (2)
Hate Speech Out of the Mouth of a Child
The hateful incitement offered by Elias Hazineh, the former president of Palestine House in suburban Toronto, at an Al Quds rally in Toronto has attracted a lot of attention, as well it should. The man openly called for the murder of Israelis in the public square of Toronto.
At the same rally, a young boy who could not have been much older than 11 or 12 years old described the Jewish state as the enemy of humanity. No, that is not an exaggeration. He said it: "Israel is an illegal, terrorizing racist group which works for the destruction of humanity and peace in the world." During his rant, he referred to Israel as "cancers." This is incitement to the destruction of the Jewish state.
And the crowd cheered him on.
A blogger who goes by the name Blazing Catfur caught it on video and posted it on Youtube. (Click on the video above.) This kid has been taught to hate and encouraged to preach hate.
Do not watch the video after dark. It is that frightening.
Posted by dvz at 12:17 PM | Comments (0)
The New York Times Tries to Smooth Over Tom Friedman's Incredible Blunders
On August 7, Times columnist Thomas Friedman argued that Israel needed to get on board with U.S. Secretary of State John Kerry's initiative to restart the peace process to head off increasing isolation of the Jewish state. To bolster his point he cited the alleged cancellation of a performance in Israel by Eric Burdon, former lead singer of the British rock group, the Animals. Friedman quotes the British newspaper the Independent as writing,
but now Eric Burdon is not even turning up at all having deciding to withdraw from a planned concert in Israel.
Unfortunately for Friedman, a week before his piece appeared, Burdon's performance in Israel took place without a hitch. Worse still, he didn't get the alleged quote from the Independent right.
Friedman also got another fact wrong in his column. In order to further cast aspersions on Jewish settlers in the West Bank, he wrote,
One should never forget just how crazy some of Israel's Jewish settlers are. They assassinated Prime Minister Yitzhak Rabin when he tried to cede part of the West Bank for peace.
In fact, Rabin's assassin, Yigal Amir, lived inside the Green Line in the the Israeli city of Herzliya. In November 2005, The New York Times itself had corrected the very same mistake. Here is the correction posted on Nov.9, 2005:
A report in the World Briefing column on Saturday about commemorations of the 10th anniversary of the assassination of Prime Minister Yitzhak Rabin of Israel misstated the assassin's background. He was a militant Orthodox opponent of the government, not a settler.
As CAMERA has documented in the past, fact-checking for his column is not Thomas L. Friedman's strong suit. But to make matters worse, The New York Times seems unperturbed by such blatant errors. It could not even fess up and issue a proper correction. Here is the correction it posted on Aug. 8, 2013:
Thomas L. Friedman's column on Wednesday about peace talks between Israelis and Palestinians misattributed a sentence about a singer, Eric Burdon, to The Independent of Britain. The sentence -- ''Burdon was just the latest of a rising number of artists and intellectuals who have started boycotting Israel over the occupation issue'' -- was by Mr. Friedman. (After withdrawing from a planned concert in Israel, Mr. Burdon decided to go ahead with it, despite pressure not to.)
Notice that the correction soft-pedals the fact that Burdon never actually supported the boycott of Israel and performed as planned. The Times didn't even bother to correct its sweeping defamation of Jewish settlers as responsible for Rabin's murder.
The Times should be embarrassed and a forthright correction should have been posted. But that did not happen. Instead it is up to others who monitor the Times errors, like CAMERA and Adam Kredo at the the Washington Free Beacon who wrote an amusing and scathing rejoinder to Friedman's sloppy column. Kredo concludes,

It could not be learned if Friedman obtained this incorrect information from a taxi driver.
Posted by SS at 11:45 AM | Comments (1)
August 07, 2013
Where's the Coverage? Victims of Stone-Throwing Terrorists

CAMERA recently reported:
Stones kill, maim, wound and change people's lives forever. Israeli infants have been slain, toddlers critically wounded and adults too have been killed, sustained severe head injuries or were hospitalized with lighter injuries, all due to Palestinian stone throwers.

But the story of Israeli victims is not the one the New York Times prefers to tell and is certainly not the one Middle East correspondent Jodi Rudoren chose to recount in her latest front page, above-fold article about Palestinian stone throwers, entitled "'My Hobby Is Throwing Stones': In a West Bank Culture of Conflict, Boys Wield the Weapon at Hand."
And since the media does not tell the story of the victims, we must.
According to the Israel Defense Forces blog post, "Rocks Can Kill":
Rock throwing is common in Judea and Samaria, and along with Molotov Cocktail and booby-trapped tire throwing, is a terror act that comes under the definition of 'popular terror'. These incidents happen daily, and are easily ignored by the mainstream media, because they don't seem that serious. But did you know that a simple rock can kill?

January 29, 1983: Esther Ohana (21)
Killed by a rock thrown at her car while driving near the Palestinian village Dahariya, on her way from Be'er Sheva to Jerusalem. The rock hit her head and put her in a coma. On February 12, after two weeks in a vegetative state, she passed away.

February 24, 1989: Stf. Sgt. Benny Meisner (25)
Killed when he was struck in the head by a concrete block in Nablus.

October 6, 2000: Bachor Jean (54)
Killed during the second Intifada by rocks thrown at his vehicle while he was travelling from Haifa to Rishon Lezion. The rocks shattered the windshield and struck his chest. His brother, who was driving the car, sped to the hospital but was too late. The perpetrators were found to be from the nearby Arab village Jisar a-Zarka.

May 7, 2001: Koby Mandell (13) and Yosef Ishran (14)
Were beaten to death with rocks when they were hiking in the outskirts of their village, Tekoa, in Judea and Samaria. Their bodies were found in a cave, covered with stones. The perpetrators have still not been found.

June 2, 2001: Yehuda Haim Shoham (5-month old baby)
Died of his wounds after rocks were thrown at his parents' car while driving near the Palestinian village of Isawiya. The family was returning from relatives at Ra'anana to their house in Shiloh, when a Palestinian threw a rock at the front windshield, went through, and hit the baby in the back seat.

September 23, 2011: Asher Palmer (25) and his infant son Jonathan (12-month old baby)
Killed when their car veered and crashed into a tunnel after rocks were thrown at their front windshield while driving near Kiryat Arba. Later on, two Palestinians from the nearby village of Halhul admitted to instigating the attack.

[…]

Rock throwing may seem harmless, but rocks can kill. If we ignore rock throwing, we potentially encourage even more severe hate crimes and higher-scale terror attacks.
Speaking of higher-scale terror attacks, the Meir Amit Intelligence and Terror Information Center documents that, in addition to the "dozens of stone throwing events":
During July 2013 there was a slight decrease in the number of terrorist attacks in Judea, Samaria and Jerusalem. There were 76 attacks in July (as compared with 99 in June). Of them 50 were carried out in Judea and Samaria and 26 in Jerusalem. Most of the attacks (about 60) involved Molotov cocktails. Eleven involved IEDs, four involved shots fired from light arms and there was one stabbing attack (at the Nablus Gate in Jerusalem, July 16, 2013), which resulted in injury to an Israeli civilian (Israel Security Agency website, August 6, 2013).
To repeat, sixty firebombs, eleven IEDs, four shootings and a stabbing in a single month represent a decrease in terrorist attacks from the previous month, when there were more than three terrorist attacks per day – again, not including stone throwing. These, just in the area of Judea, Samaria and Jerusalem – the same region covered by the Times article. Imagine stones, firebombs, IEDs and shootings on your morning commute. How long would Americans tolerate such violence?
And these attacks were not without effect. According to another report, in July alone:
In just one month, no fewer than 38 Israeli Jews were injured in acts of Palestinian terrorism.

Among the victims is a small child who suffered a head injury when Arab stone throwers operating in Jerusalem's Old City attacked a Jewish family. Another eight-year-old Jewish boy was similarly wounded by stone throwers, and yet another baby was hurt when Palestinians hurled rocks at an Israeli passenger bus.

Three Israeli Border Police officers were wounded when a bomb exploded in the Jerusalem suburb of Abu Dis, and an ultra-Orthodox Jewish man suffered serious injuries when an Arab stabbed him in the capital.
The Times article does not mention Asher and Yonatan Palmer by name, but does refer to them obliquely. Is it possible that author Jodi Rudoren and New York Times editors were not aware of their story? They should be, since Asher Palmer's father is suing the murderer of his son and grandson in a highly publicized case covered by the Jerusalem Post, repeatedly.
Below are the real, human faces of men, a woman and children murdered by stone-throwing terrorists. Where are their stories? Where are their names? Where are the heart-rending tales of their families' suffering? Where's the coverage?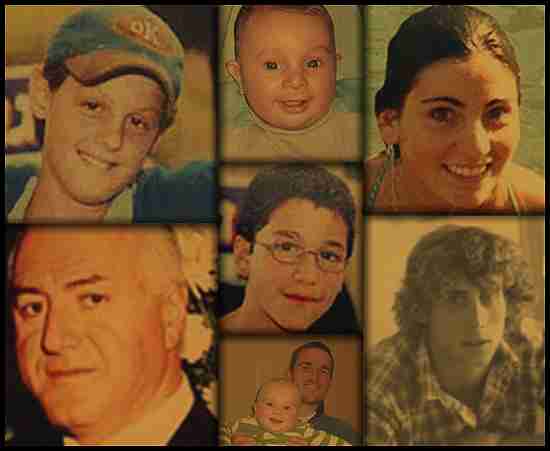 Top Left to Right: Koby Mandell, Yehuda Haim Shoham, Esther Ohana
Center: Yosef Ishran
Bottom Left to Right: Bachor Jean, Asher Palmer and his infant son Jonathan, Stf. Sgt. Benny Meisner
Posted by SC at 06:10 PM | Comments (4)
The Tripod: CAMERA Links in Three Languages: August 7
BBC Weather doesn't know in which country Jerusalem is located
On the BBC Weather website Jerusalem is presented as not being in any country. (BBC Watch)
BBC's Knell misleads on entry of construction materials to Gaza
Once again the BBC fails to inform audiences why restricting the entry of dual-purpose building materials to Gaza is necessary. (BBC Watch)
CAMERA Prompts CNN Correction on Jerusalem
In response to correspondence from CAMERA staff, CNN editors correct an article which incorrectly reported that eastern Jerusalem had been annexed from "the Palestinian territories." (CAMERA)
Ha'aretz Doesn't Live Up To Its Own Standards
In the case of fire zone 918, Ha'aretz reaches its own conclusion without bothering to wait for the court's decision on disputed facts. (Presspectiva)
Irish Times report includes false claim about BDS impact on Jerusalem Light Rail
An article in the Irish Times included a false claim about Jerusalem's Light Rail system, and was so slanted that it could have been written by the Palestinian Ministry of Information. (CiF Watch)
Middle East headlines in the Spanish speaking press
The media's attention is focused on the turmoil in Egypt and on Netanyahu's opinion about Iran's nuclear program. (ReVista de Medio Oriente)
Peace Treaties with Rockets?
During the renewed peace process rockets have been fired from Gaza into Israel. (In Focus)

Posted by RH at 05:24 PM | Comments (0)
August 06, 2013
The Tripod: CAMERA Links in Three Languages: August 6
BBC self-conscripts to Peace Now campaigning yet again
The BBC tries to persuade audiences that Israel's National Priority Areas plan is a spoke in the wheel of peace talks . (BBC Watch)
CiF Watch prompts correction to Guardian publication claim about Israeli immigrants
CiF Watch prompted The Observer and EPA Photo Agency to correct the false claim that most Israeli immigrants move to "settlements" in the West Bank . (CiF Watch)
Where's the coverage?
The PA official TV added a new ingredient to the denial of Israel's right to exist: monetary incentivea. (ReVista de Medio Oriente)
What Makes a Rainbow Beautiful
Our student at Baruch College writes how Jews from all over the world have helped Israel become the multicultural society that it is today. (In Focus)
Mad, bad and dangerous: BBC stereotypes half a million Israelis
The BBC visits a community in Judea & Samaria - and then paints a picture of half a million potentially violent Israelis. (BBC Watch)
Getting the Facts Right, Before Lecturing on Morals
Even those attacking the new EU guidelines, should get their facts straight (Presspectiva)
Headlines on the Middle East in the Spanish speaking press
Read what the press in Latin America and Spain is publishing about the Middle East region. (ReVista de Medio Oriente)
Posted by RH at 06:25 PM | Comments (0)
Palestinian Leader Calls For Jews to Leave Jerusalem Or Be Shot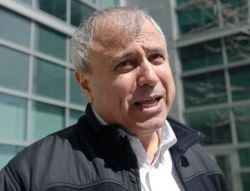 Elias Hazineh, former head of the Palestine House in Toronto
A Palestinian Canadian leader spoke at an Al Kuds rally in Toronto on Saturday and called for Jews to be shot dead after a two-minute warning. The JTA reports:
Addressing the annual Al-Quds Day rally on Saturday, Elias Hazineh, the former president of Palestine House in suburban Toronto, called for "an ultimatum" to Israelis: "You have to leave Jerusalem. You have to leave Palestine.

"We say get out or you're dead! We give them two minutes and then we start shooting. And that's the only way that they will understand," Hazineh said to cheers from a crowd of approximately 400.
According to the Times of Israel, Canadian Jews are now asking for a police probe into the leader's incitement.
Oh my, such intolerance and in a Western country, no less. Just imagine what Palestinian leaders say when they are speaking only to their own people and in their own language...
Posted by RH at 06:13 PM | Comments (3)
Corrections Are Important
If The New York Times is ever reluctant to correct a substantive factual error, remind them that even the slightest errors require correction.
This article has been revised to reflect the following correction:

Correction: October 19, 2012

An earlier version of this article misidentified the beverage that Ahmed Abu Khattala was drinking at the hotel. It was a strawberry frappe, not mango juice, which is what he had ordered.
Posted by GI at 05:13 PM | Comments (0)
August 05, 2013
The Tripod: CAMERA Links in Three Languages: August 5
BBC showcases convicted anti-Israel activist in context-free illustration
Photo of known amateur dramatics provocateur from Bil'in used by BBC to illustrate 'the conflict' . (BBC Watch )
BBC advertising revenue from countries restricting press & internet freedom
Non-UK visitors to the BBC website see advertising which in some cases promotes countries with a less than pristine record on internet and press freedom . (BBC Watch )
BBC tones down Iranian rhetoric and extremism
The BBC portrayed Hassan Rouhani's Al Quds day comments as though they related only to certain parts of Israel . (BBC Watch )
BBC Israel focus in numbers – July 2013
Over a thousand people were killed in terrorist attacks in Iraq during July, but Israel still got more coverage on the BBC News website. (BBC Watch )
Difficult to Trust Those Who Advocate for Terrorists
The Palestinian Authority continues to praise terrorists. (In Focus)
The Media Continues to Invent Boycotts
A recent erronous report of a Dutch boycott of settelment goods was little more than bad journalism. (Presspectiva)
The Guardian or PressTV? Iran's president to export the Iranian Revolution "peacefully"
Guardian continues to run interference for the largest exporter of state sponsored terrorism in the world. (CiF Watch)

Posted by RH at 05:30 PM | Comments (0)
Op-Ed by CAMERA's Executive Director: "NYT Warps Kerry's Message"
CAMERA's Executive Director Andrea Levin
In a Times of Israel op-ed, CAMERA's Executive Director Andrea Levin writes:
Admittedly, there have been few details released about the nascent Israeli-Palestinian peace talks. Secretary of State John Kerry's July 30th briefing with Palestinian negotiator Saeb Erakat and Israeli Justice Minister Tzipi Livni offered up only carefully calibrated diplomatese.

Nevertheless, The New York Times' rendition of Kerry's remarks is a dramatic example of the paper's penchant for molding stories to advance a political agenda by recasting what was said to highlight its preferred views.
Levin continues:
The net message of (Michael) Gordon's story was the familiar New York Times one, documented in detail in CAMERA's study of 6 months of Times coverage, that Israel is the cause of the conflict and is responsible to provide the solution. Palestinians are walk-ons in the play and certainly not culpable for anything serious. The essence of the solution lies in creation of a Palestinian state and whether this will mark an end to the conflict is, for The Times, seemingly an incidental matter.
Read the entire op-ed here.
Posted by at 03:13 PM | Comments (2)
August 03, 2013
CNN's Zakaria Predictably Promotes Palestinian Journalist's Propaganda
Fareed Zakaria and Daoud Kuttab
Palestinian Journalist Daoud Kuttab, who uses reasonable sounding language to promote an erroneous Palestinian line (see, e.g., here and here), appeared on the July 28, 2013 edition of CNN's "Fareed Zakaria GPS" to discuss the latest negotiations between Israelis and Palestinian Arabs. Zakaria, who had interviewed Michael Oren, Israel's ambassador to the United States earlier in the program, enabled Kuttab's anti-Israel propaganda as he has done previously (see, e.g, here and here).
At the outset, Kuttab, replying to Zakaria, opined that the factors prompting the Palestinian Authority to participate in a new round of negotiations with the Israelis were mainly the persistence of Secretary of State Kerry and President Obama – but also the fact that the European Union declared the "settlements not part of Israel." But the E.U. anti-settlement position is political rather than legal since international law supports the legitimacy of settlements, anti-Israeli propaganda and the latest European Union sanctions against them notwithstanding.
Characteristically, Zakaria prompts but does not scrutinize any of Kuttab's questionable assertions, including:
KUTTAB: The Palestinian citizens of Israel are not Jewish and so by declaring Israel a Jewish state, I think it's a slap to fellow Palestinians who are living in Nazareth or in Haifa or in the Negev. So, it's an emotional issue and actually – the feeling is that it would add to the discrimination against citizens of Israel who are not Jewish.

[…]

The Jewish people are respected by the Palestinians, by the Islamic faith. There's no problem with the Jewish people. The question is whether the state of Israel is a state for its citizens or a particular religious group and I think this is where the problem is.

[…]

The [Palestinian Arab] right of return, I think, has to be divided into two parts. The recognition that there is a historical and moral right for Palestinians to return and Israel needs to accept responsibility for the creation of the refugee problem.

[…]

ZAKARIA: What about the question of Hamas? Here you have still Hamas ruling the Gaza Strip. They do not recognize Israel's right to exist … Isn't that a problem?

KUTTAB: I don't believe the Hamas issue is a problem. Hamas has already agreed with the PLO that the PLO should represent the Palestinians in negotiations. They've also agreed with the PLO that there should be some kind of a referendum where all Palestinians vote on the package deal that will be agreed upon between Israel and the PLO…. On the Hamas side, they might say a few things against it, but at the end of the day most Palestinians, by polls, have shown that they are in support of a two-state solution.

Refuting Kuttab's distortions and falsehoods:
• The assertion that Israel's insistence on declaring itself as a Jewish state is a "slap to Palestinians living in Nazareth or in Haifa or in the Negev" is ironic on at least two levels. First, there are dozens of countries in the world that have declared themselves Islamic states despite the presence of sizable non-Muslim minorities. Christians in Egypt or Iraq for example, who have been fleeing their ancient homelands, might envy the rights and opportunities accorded to Arabs in Israel. It is also ironic that Kuttab, himself a professed Christian, is a proponent of the creation of a state whose 2003 draft constitution, declares "Islam is the official religion of Palestine" and that "Shari'a shall be the main source of legislation." It seems likely that Kuttab's complaints about Israel's status as a Jewish state is not rooted in human rights, but opposition to Jewish sovereignty. It should be noted also that Kuttab is semantically conscripting Israeli Arabs as "Palestinians." There appears to be little or no sentiment among Israeli Arabs to divest themselves of Israeli citizenship and relocate to a West Bank and Gaza Strip "Palestine," if one is established.
• The assertion, "The Jewish people are respected by the Palestinians, by the Islamic faith...," is dubious. For example, in the face of archeological and historical evidence to the contrary, plus biblical references, Palestinian Arabs often deny the Jewish connection to Jerusalem's Temple Mount, Judaism's holiest site, or in fact, to the land of Israel at all. Furthermore, hatred of Jews is fueled by a steady stream of antisemitic, anti-Israel incitement from Palestinian media, mosques and schools in violation of Article 26 (2) of the U.N. Universal Declaration of Human Rights, as well as in violation of Israeli-Palestinian agreements. Article 26 (2) implicitly condemns incitement to hatred/violence against other ethnic/religious groups in textbooks but Palestinian textbooks inculcate such hostility against Jews and Israel. The U.N. Commission on Human Rights resolution 2003/37 (No. 4) "Condemns incitement of ethnic hatred, violence and terrorism." Regardless, the P.A. continues its hate-indoctrination. And, in general, Jews (and Christians) as "dhimmis" are second-class people under Islamic law, tolerated as "people of the Book" so long as they accept their subordinate status to Muslims.
• The assertion of the Palestinian refugees' "right of return" is an Orwellian inversion of reality. The Arab states that rejected the U.N.'s 1947 partition plan and the five Arab armies plus Palestinian "irregulars" who invaded Israeli in 1948 bear primary responsibility for creating the Arab refugee problem. The Arab states and Palestinian leadership that prevented resettlement and compensation for those refugees perpetuated the problem. As for an Arab "right of return to what become Israel," no such "right" exists – which is one reason all Arab countries at the United Nations voted against General Assembly Resolution 194 in 1948, against resolutions 393 and 394 in 1950, and 513 in 1952. These called for either peaceful return when practicable or compensation, resettlement of the refugees in the neighboring Arab countries and their integration into the local societies and economies. The comprehensive CAMERA article, Palestinian Arab and Jewish Refugees, describes the fate of refugees in the wake of Israel's War of Independence in 1948.
• The claim about Hamas ("I don't believe the Hamas issue is a problem ..."), in connection with genuine support of a two-state solution, is contradicted by reality. Hamas' existence is based on hatred of Jews, Christians and Israel. The Hamas charter includes the following wording: "They [Jews and Christians] incurred upon themselves Allah's wrath, and wretchedness is their lot, because they denied Allah's signs and wrongfully killed the prophets, and because they disobeyed and transgressed." (Koran, 3:110-112). "Israel will exist, and will continue to exist, until Islam abolishes it, as it abolished that which was before it. [From the words of] The martyr, Imam Hasan al-Banna', Allah's mercy be upon him." Hasan al-Banna' founded the Muslim Brotherhood in Egypt in 1928 to restore the Sunni Muslim caliphate abolished by the newly-secularized Turkey and to "purify" Egypt of Western – especially British and American – influences. Al-Banna' was anti-Christian and anti-Jewish as part of his general hostility to Europe and North America, hostilities Hamas perpetuates. Zakaria's failure to press Kuttab on any of this is glaring.


Posted by MK at 12:52 PM | Comments (2)
August 02, 2013
The Tripod: CAMERA Links in Three Languages: August 2
BBC continues to mislead on Middle East talks
Audiences are denied information on aspects of the peace talks which do not fit the BBC narrative . (BBC Watch )
Harriet Sherwood yawns as Hamas orders closure of Gaza media outlets
The Guardian's Jerusalem correspondent continues obsessing over every Israeli sin, real and imagined, while consistently ignoring egregious human rights abuses by Palestinian authorities. (CiF Watch)
Taybeh's Population Fluctuates Wildly
The population of the all-Christian village of Taybeh changes from one report to the next. (CAMERA)
Made- up reality
Europa Press news agency is committed to whitewashing Hamas. (ReVista de Medio Oriente)
Rohani's apocryphal statements and the media's impulse
It seems that the media outlets are satisfied with blindly reproducing any information, without taking the trouble to corroborate it. (ReVista de Medio Oriente)

Posted by RH at 05:30 PM | Comments (0)
BBC: We've Never Heard Netanyahu Say What We've Reported He Said
The BBC's Lyse Doucet
On BBC World Service's Newshour today, correspondent Lyse Doucet interviewed Israeli President Shimon Peres.
During the interview, a soft-spoken Doucet peppered Peres with questions clearly meant to cast Israel as uninterested in peace. In the process, the interviewer also misled readers with an erroneous claim about the Israeli Prime Minister.
After asking Peres whether he believes Palestinian leader Mahmoud Abbas is a partner for peace and listening to Peres reply in the affirmative, Doucet asserted: "And yet we've never heard Mr. Netanyahu describe him as a partner for peace."
Except the BBC, along with anyone else who pays attention, has indeed heard such a statement from Netanyahu.

As the BBC reported on Sept. 2, 2010, "Mr Netanyahu described Mr Abbas as his 'partner in peace,' and said he would not allow the latest attacks to 'block our path to peace.'"
The full quote from Netanyahu's Sept. 1 speech:
President Abbas, you are my partner in peace. And it is up to us, with the help of our friends, to conclude the agonizing conflict between our peoples and to afford them a new beginning.
It may be true that the Israeli prime minister hasn't used such language too many times since then. In the years that followed, the Palestinians embarked on provocative unilateral moves at the United Nations meant to isolate Israel. Abbas has given inflammatory speeches at the UN rife with hostility toward Israel. And for years, Palestinian leaders refused to heed Netanyahu's calls for an unconditional renewal of negotiations.
Still, Netanyahu continued to urge Abbas to talk peace.
In September 2011, for example, Netanyahu said before the United Nations, "Ladies and gentlemen, I continue to hope that President Abbas will be my partner in peace."
And just last month, Lyse Doucet pointed out on Twitter that the Israeli leader told his Palestinian counter part that he hopes they will soon speak to each other and restart peace talks.
Good interview questions should come from careful research and deep knowledge about the topic. Easy interview questions, it seems, come from the certainty that everything is Israel's fault.

Posted by GI at 03:39 PM | Comments (2)
The Boston Globe's Berger
For those who remember Alan Berger's infamous February 18, 1988 comparison of an incident involving the non-lethal injury of four Palestinians -- who did not even require hospitalization -- to the mass graves at Babi Yar, his distorted commentary on why there have been recent challenges in the Arab-Israeli peace efforts will be no surprise.

He traces the current peace delay to Israel's prime ministers having to "fear the fury of settler zealots," and remembering "an Israeli fanatic assassinating Yitzhak Rabin at a peace rally in 1995..."

"Fear" of Jewish zealots didn't seem to affect Ehud Barak or Ariel Sharon or Ehud Olmert who all pursued peace efforts, including in Sharon's case, withdrawing from Gaza.

Berger's earlier editorial, denounced as "stunningly stupid" by then New Republic Editor Martin Peretz, lamented the episode of intifada violence by IDF reservists, saying it: "called up the collective memories from the history of the Jewish people...the czarist pogroms, the centuries of homelessness and persecution, the mass graves at Babi Yar, the piled bodies found at Nazi death camps."

Babi Yar was the site of the slaughter of 35,000 Jews, executed and dumped in a mass grave.

Berger continued at The Globe for decades after his Babi Yar column, its shameful
analogy not, apparently, a concern of the editorial department.
Berger's Aug. 2, 2013 column puts Hamas and Israel's government on two opposite poles depicting them as equal obstacles to a peace agreement, an analogy as bereft of reason or balance as his analogizing four Palestinian youths beaten up by Israeli soldiers with the machine-gunning of thousands of Jewish families at the ravine in Babi Yar.
Berger had no shame then. He still has none today.
Posted by SS at 03:23 PM | Comments (1)
August 01, 2013
The Tripod: CAMERA Links in Three Languages: August 1
BBC Persian Service promotes antisemitic Holocaust denier Atzmon
The BBC's promotion of Gilad Atzmon is not novel, but translation into Farsi for broadcast in Iran is a new low. (BBC Watch )
BBC resurrects Knell's 'one-state' campaigning article
An old article promoting the 'one-state solution' as a panacea to the troubles of the peace process is revamped by the BBC . (BBC Watch )
There's No Boycott? Lets Just Ignore That Fact
Ha'aretz op-ed by Zvi Bar'el mistakenly claims there is a EU boycott of produce from the settelments. (Presspectiva)
Sometimes Stories Are Embarrisingly Wrong
Ma'ariv lets a glaring factual mistake slip by. (Presspectiva)
Wishful Thinking
The Deutsche Welle in Spanish distorted reality to explain the reasons for "scepticism and hope" in the negotiations between Israelis and Palestinians. (ReVista de Medio Oriente)
Irish Times fawns over mother of an Arab who murdered a Holocaust survivor
A story in the Irish Times focusing on renewed Israeli-Palestinian negotiations, and the impending release of Palestinian prisoners, included a photo sympathetically depicting the mother of a terrorist who brutally murdered an Israeli Holocaust survivor. (CiF Watch)
Página 12 Published Biased Iinformation About Peace Talks
Read how the Argentinian paper manages to quote only negative opinions and comments about the Israelí-Palestinian talks.(ReVista de Medio Oriente)
The Plight of Nigeria's Christians Ignored By Many
Radical Islam in Nigeria is not getting much press or attention.(In Focus)
Be an Activist: Write Your Own Anti-Israeli Article
10 simple guidelines for a successful biased report. (ReVista de Medio Oriente)

Posted by RH at 05:20 PM | Comments (0)
The Media Perpetuates Myth About Israeli-Palestinian Peace Talks
Israeli Prime Minister Benjamin Netanyahu
Why does the media routinely perpetuate the myth that responsibility for the success or failure of Israeli-Palestinian peace talks lies with Israel and not the Palestinians?
A recent Reuters article describes the Israeli Prime Minister "returning" to negotiations once he realized he could not afford to "take the rap for cold shouldering U.S. efforts to revive the talks."

Pressured by Washington, worried about its international standing and perturbed by Middle East turmoil, Israel had many reasons to return to peace talks with the Palestinians this week after a three year hiatus.
But it wasn't the Israeli prime minister who needed convincing. He has repeatedly expressed his willingness to resume negotiations without any preconditions. And it was the Israeli prime minister who made all the concessions in advance of the last round of peace talks, risking domestic opposition by agreeing to a 10-month moratorium on building in the West Bank.
By contrast, it is the Palestinian president who continuously refuses to negotiate without preconditions, demanding concessions from Israel that are meant to be the result of talks. It is the Palestinian president who dismissed Israel's moratorium last time as inadequate. And it was the Palestinian president who after finally yielding to American pressure to join peace talks, immediately walked away from negotiations when the moratorium expired.
Yet all mention of Palestinian responsibility for the failure of peace talks is concealed from readers:

The last round of U.S.-brokered negotiations collapsed barely after they began in 2010 in a row over continued Jewish settlement building in the occupied West Bank and East Jerusalem on land the Palestinians want for their future state.
Posted by RH at 05:00 PM | Comments (2)
Arab MK Envisions End of Israel... Nothing Happens
On August 1, an Arab member of Israel's parliament, or Knesset, Jamal Zahalka, stood at the podium and declared, "We [Arabs] were here before you and we'll be here after you." In response, Prime Minister Benjamin Netanyahu indicated that he wanted to speak, went to the podium and answered, "The first part is not correct and the second part will not happen."
It is clear that this could not happen if Israel were an "apartheid" state because there would be no Arab members of Knesset. And, if Israel were not a free state, certainly no member of the Knesset could openly declare a desire for the end of the state without fear of prison or even censure.
Imagine even the most radical member of Congress, from anywhere across the political spectrum, standing on the floor of the House or Senate and envisioning the end of the United States. It would cause an uproar. But in Israel, it only elicits a brief remark from the Prime Minister.

Posted by SC at 03:21 PM | Comments (1)
Karl Vick Emphasizes Palestinian Narrative of Imprisoned Terrorists as National Icons
The sad thing about Karl Vick's Time piece on Israel's release of 104 Palestinian Arab criminals as a gesture to restart peace talks is that the article is probably not intended to be a partisan pro-Palestinian piece. Rather Vick evidences a journalist so immersed in Palestinian victimization that he has adopted its corrupt moral universe as the central narrative of the conflict.
Concealed evidence of shocking moral inversion appears in the photograph published with the article. It shows released Palestinian prisoner Ateya Abu Moussa being greeted by his mother, who sadly, but gratefully, stares skyward. Time magazine did not tell its readers why Moussa was in prison. He murdered an Israeli civilian named Isaac Rotemberg in cold blood in order to gain acceptance as a member of a terrorist organization.
The lead paragraph then establishes a disturbing distorted moral equivalency. Vick writes,
For Israelis, the prisoners recall civilians killed in militant attacks. For Palestinians, divided as they are by geography and politics and challenged by a lack of a unifying leader, the captives play a crucial rallying role in Palestinian struggle for nationhood.
Notice the terminology; "militant attacks", not terrorism, justified as part of the "struggle for nationhood", not brutal acts of criminal violence motivated by extreme prejudice against Jews.
The article contains 1224 words. Most of it presents the Palestinian perspective of the symbolic importance of these prisoners as national icons. The large numbers of Palestinians who at one time or another have entered Israeli prisons, the fact that some are minors and that many are arrested in night-time raids by Israeli military evoke the image of Israeli brutality and oppression.
It is not until word 931, more than 3/4 of the way through the piece, that Vick finally gets around to describing one of the horrific acts of terrorism carried out by a prisoner. He mentions three children and a teacher immolated by one of these "militants." All told, he gives 76 words, about 6 percent of the entire article, to disclosing just a glimpse of the horrific crimes committed by these prisoners. And then just as quickly, the subject shifts back to the competition between Hamas and Fatah over who can squeeze more prisoners out of the Israelis.
To be sure, Vick can point to the fact that the Israelis themselves play this morbid horse-trading game of releasing violent criminals for an opportunity to talk face to face. In most Western countries, rule of law would constrain such arbitrary decisions and ensure that murderers are not used as pawns in a political game. But that doesn't excuse Vick for devoting the bulk of his piece to the Palestinian portrayal of these killers as national icons, and concealing the fact that a component of these murders represent a horrific right of passage celebrated and condoned by Palestinian society.
Posted by SS at 03:13 PM | Comments (0)
Where's the Coverage? Abbas' Nazi Rhetoric

Just as this week's preliminary negotiations between Israel and the Palestinian Arabs got underway in Washington, across the globe in Cairo, Palestinian Authority President Mahmoud Abbas laid out his vision for the end result:
"In a final resolution, we would not see the presence of a single Israeli – civilian or soldier – on our lands," Abbas said in a briefing to mostly Egyptian journalists.
This was reported by Reuters, UPI and made its way into The Chicago Tribune, Los Angeles Times and other media outlets. This is good as far as it goes.
But what about the implication of such a statement? The statement – and the idea behind it – is so blatantly racist, that it's hard to believe only a few media outlets have mentioned the real meaning. Giulio Meotti writes in Arutz Sheva:
This is not "peace", but pure Nazism, it is ethnic cleansing. And instead of the expression "final resolution", Abbas should have said what he really means, "final solution".

Addressing a session of Arab League in Doha, Qatar, Abbas in 2011 declared that "when an independent Palestinian state with Jerusalem as its capital is established, we won't allow the presence of one Israeli in it".

A Palestinian Arab State on Western Eretz Israel would be "jüdenrein", or cleansed of Jews. A state founded on the ethnic cleansing of every single Jewish man, woman and child.
No one should be surprised by Abbas' sentiments. CAMERA has reported on Abbas' Nazi sympathies and media analyst Tom Gross wrote about this subject ten years ago:
When negotiating with Abu Mazen [another name for Mahmoud Abbas], politicians should ask what kind of a man would choose to write his entire PhD thesis (at Moscow's Oriental College) on the subject and follow it up with a book in 1983, "The Other Side: The Secret Relationship Between Nazism and the Zionist Movement," which denies the Holocaust occurred. Abu Mazen has never specifically repudiated his book, which purports to refute "the fantastic lie that six million Jews were killed" in the Holocaust.

Abu Mazen has written that the German gas chambers were never used to kill Jews, but only to disinfect them and to burn bodies of others to prevent the flow of disease (quoting a "scientific study" to that effect by French Holocaust-denier Robert Faurisson), and to the extent that Jews did die in World War Two (Abu Mazen cites a figure of 890,000 dead), he says this was a joint effort between Jewish leaders and the Nazis. Abu Mazen claimed that Hitler did not decide to kill the Jews until David Ben-Gurion provoked him into doing so when he [Ben-Gurion] "declared war on the Nazis" in 1942. These were not some throwaway lines, but the result of three years spent studying a pseudo-academic science. (Just in case anybody on this list needs reminding, these claims are complete nonsense.) Surely in relation to someone who lies so easily and deeply, we need to be a bit cautious as to his ability to be trusted and tell the truth.
In addition, as recently as January of this year, Arutz Sheva reported:
Palestinian Authority chief Mahmoud Abbas spoke glowingly last Friday of the "legacy" of the infamous Hajj Amin al-Husseini, who was a collaborator with the Nazis, and was prepared to conduct the mass murder of the Jews of the Land of Israel in the event of a Nazi invasion. The Mufti, Abbas said, was a great man whose ways should be emulated by all PA Arabs, and was worthy of great praise.
Far from being, as the popular press often calls him, "moderate," Abbas is expressing views that are far outside the mainstream. Imagine for a minute what would happen if Prime Minister Benjamin Netanyahu said something like "As part of the final settlement, we envision not a single Arab living in Israel." Front page of The New York Times, above the fold. Guaranteed.
Yet, the president of the Palestinian Authority denies the Holocaust, praises a notorious Nazi collaborator, and freely expresses his desire to make his envisioned state "jüdenrein", not once but on several occasions, and the media yawn. Where's the opprobrium? Where's the condemnation? Or at the very least… Where's the coverage?
Grand Mufti of Jerusalem Haj Amin al-Husseini meets with Adolf Hitler
Posted by SC at 04:14 AM | Comments (4)