« Ha'aretz On Willis, Ryan Bogus Boycotts | Main | Where's the Coverage? Abbas Already Spurned Everything Palestinians Demand »
July 16, 2013
Wall Transits From MLK to David Duke
This photo appeared in the September-October, 2000 issue of The Link, a newsletter published by the Saudi-funded organization Americans for Middle East Understanding.
By now, the descent of James M. Wall into anti-Semitic depravity has been pretty well documented. The former editor of Christian Century, a magazine that caters to mainline (liberal) Protestants in the United States, is now listed as associate editor at Veterans News Now, a magazine that traffics in nakedly anti-Semitic imagery and argumentation.
It's a long way from where Wall started out. At the beginning of Wall's career as a journalist, he was an ardent proponent of the civil rights movement in the United States. He was a fierce critic of white racists. He had his picture taken with Martin Luther King in 1967.
Now he helps edit a magazine that recently published an article written by White Supremacist David Duke. In the article, Duke blames American Jews for the Iraq invasion. (Sorry no link, but it's there. You can go to Viola Larson's blog for proof.)
Let's make no bones about it. Veterans News Now is an anti-Semitic publication. The hostility the publication exhibits towards American Jews is on particularly shameful display in an article published in June. The article, titled "Zionist Washington Ensuring End of America," is an ugly screed that depicts American Jews as an enemy within American government.
Here is one particularly ugly passage of the article:
Together, with their domination of the media, financial system, Washington, think tanks, the educational system and corporate America, Zionists are able to manipulate the minds of Americans, commit collosal fraud on Wall Street and use this money to buy off Washington which effectively functions to enrich this powerful group and position the U.S. as a puppet nation of Israel.

Here, I focus on the control of Washington by Zionist Jews using the Obama administration as an example. Although a similar level of control by Zionist Jews can be seen in previous administrations, one could argue that their power has never been greater, as evidenced by the current administration.
The images that accompany this article are simply horrific. Here are two.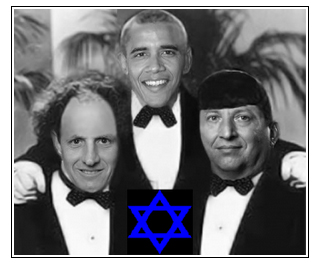 The images speak for themselves.
How is it that a contributing editor for a putatively mainstream Christian publication can also serve as associate editor for a magazine that publishes stuff like this?
How much longer will Wall's name stay on Christian Century's masthead?
Posted by dvz at July 16, 2013 03:40 PM
Comments
Guidelines for posting
This is a moderated blog. We will not post comments that include racism, bigotry, threats, or factually inaccurate material.
Post a comment