« IHT Rezones Tourist Destination as Military Training Area | Main | Jerusalem Report Reports on Anti-Jewish Incitement »
May 07, 2013
Western Intellectuals Who Praised Hezbollah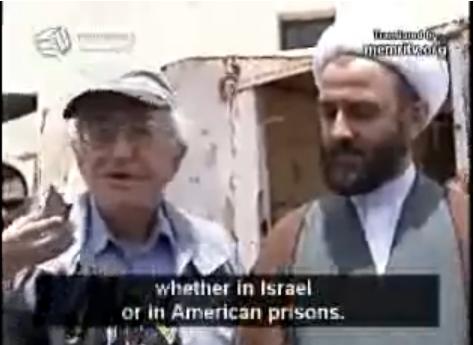 The Israeli air strike on Iranian missiles intended for Hezbollah on May 2 and May 3, 2013, highlights the increasing role of Iran and Hezbollah in the Syrian conflict. The Jerusalem Center for Public Affairs published a report on May 2, 2013, by retired Israeli general Shimon Shapira describing Iranian plans to take over Syria. Two days earlier, Hezbollah chief Hassan Nasrallah pledged that the Syrian regime's friends would not allow it "to fall into the hands� of America, Israel and Islamic extremists.
Arab commentators too are increasingly blunt about how they view Hezbollah. Abdulrahman Al-Rashed, general manager of Al Arabiya News Channel, wrote,

Hezbollah is merely an Iranian brigade which has been founded for more than 30 years to serve the aims of the Ayatollah's regime in Tehran.
In this new spirit of refreshing openness about the Iranian-backed group, it is worth recalling the praise heaped on it by Western intellectuals when its main target was Israel.
There's former U.S. ambassador and Gaza flotilla spokesman, Edward Peck, who was effusive in his praise for Hezbollah and its current leader Hassan Nasrallah. In a July 2006 interview with Fox News, Peck equated Hezbollah fighters with American soldiers parachuting into Germany during World War II.
Former professor Norman Finkelstein told a Lebanese Future TV "I do want to express solidarity with them...I am going to honor Hezbollah... they show discipline, I respect that..."
But no one tops radical icon Noam Chomsky, who, with his wife in tow, paid a visit to Hezbollah in 2005. Chomsky has long been comfortable embracing genocidal groups; he was a defender of the Khmer Rouge during their brief murderous reign in the 1970s. Hezbollah leaders warmly embraced the beaming Chomsky. He in turn made a point of exclaiming that he didn't care what his fellow American citizens thought of his visit and support for Hezbollah.
One wonders what the Syrians facing the Hezbollah onslaught would have to say to professor Chomsky.

Posted by SS at May 7, 2013 10:34 AM
Comments
The Syrians facing the onslaught of Hezbollah? You make these Syrians sound like their law abiding citizens! So who are these Syrians? Jabhat al nusra? Islamic state of Iraq? They're no angels themselves the only difference Hezbollah smashes the occupying state of Israel!
Posted by: Sam at May 7, 2013 06:20 PM
On the contrary: it is Hizbollah's own foul language that describes themselves rather well.
AS for the excessive attention paid to Chomsky who was good at algebra, and reasonably innovative on linguistics; he only proves the common advertising fraternity's fallacious behaviour in attributing to a celebrity false expertise or taste in something they have not worked in down to experimental research.
Posted by: Frank Adam at May 9, 2013 10:36 AM
Interesting how fragmented intellectuals can be.
Chomsky is a textbook case. Although some of his linguistic analyses have been recently questioned, there is no doubt that he has done (ovular) work in his chosen field.
His "Manufacturing Consent" is a must-read for any citizen/voter who wants to understand how he/she is manipulated.
He has denounced the worst of America's foreign ventures, but in terms that indicate he hates America, period.
Public intellectuals often "mellow" as life goes on. But Chomsky's obdurate hatred of Israel has never abated over time; in fact it has gotten uglier. Theories abound: Revolt against his father, a rabbinical scholar? Disgust at what is happening to our country? Your choice of these and other theories.
Fact is, a brilliant mind is perverted by one irrational hatred. Pity.
Posted by: Hypatia at May 9, 2013 12:20 PM
Dear Sam,
Please go cheerlead for genocide at a site like Veterans Today or Press TV, where they don't do anything well but at least are consistent with their hope that they can have Hezbollah and Syria carry out the kind of mass murders they aren't evil/strong enough to enact themselves.
Posted by: Ben at May 11, 2013 01:54 PM
Guidelines for posting
This is a moderated blog. We will not post comments that include racism, bigotry, threats, or factually inaccurate material.
Post a comment