« Israeli Defense Ministry: Al Dura Was Unharmed | Main | Update: CAMERA Op-Ed: Newseum Discredits Itself »
May 13, 2013
Toronto Star Claims Bruce Willis is a BDSer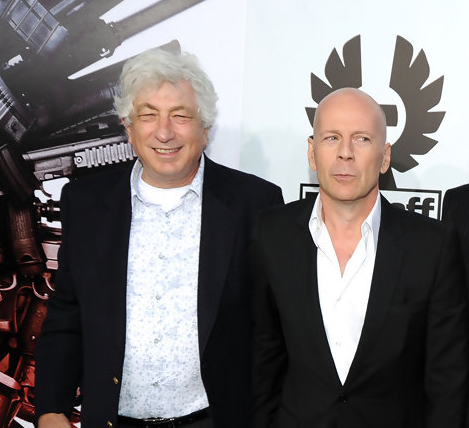 Willis (right) poses next to Avi Lerner, the Israeli-American chairman and founder of Millennium Films, which produced "The Expendables 2" (Photo by Kevin Winter/Getty Images)
In reporting on Stephen Hawking's boycott of the Israeli Presidential Conference, Raveena Aulakh of the Toronto Star alleges that Bruce Willis supports the cultural boycott of Israel. The environment reporter writes:
Celebrities from around the world have refused to perform in Israel in recent years as part of an effort to promote the Palestinian cause, including musicians Elvis Costello and Stevie Wonder, and Hollywood actors Bruce Willis and Meg Ryan.
Aulakh is apparently relying on the Palestinian Campaign for the Academic and Cultural Boycott of Israel (PACBI) as her source, and that's her mistake. Indeed, according to PACBI, in July 2012:
Anti-apartheid fans of Hollywood actors Bruce Willis and Jean Claude Van Damme were relieved the two stars cancelled their planned visit to Tel Aviv, where they were scheduled to attend a local premiere screening of their latest film Expendables.
Reports indicate that Mr. Willis, Mr. Van Damme and Mr. Stallone, along with Avi Lerner, the Israeli-born chairman and founder of Millennium Films, canceled their trip to Israel in which they had planned to promote their film "Expendables II" due to the untimely death of Mr. Stallone's son -- and not due to any cultural boycott of Israel in support of Palestinians. As reported in the Algemeiner:


In an email, a spokesman from the film's production company explained the cancellation of the premiere.




"I'm sure you heard about the Stallone family's tragedy that happened in recent weeks," he wrote. "In response to the unfortunate event we are forced to cancel our Israel premiere, because Sly will not be able to attend, as well as the other actors, due to changes in schedule."

"Please accept our apologies for cancelling at such short notice," he added, noting a promise to make it up to Israeli fans. "We will do our best to bring the actors to Israel at a later date in the future."
And, as reported by the Los Angeles Times, Stallone canceled all of his public appearances following the July 2010 untimely death of his son Sage.
Finally, given the fact that Mr. Willis has come out in the past publicly expressing strong support for Israel, by signing, for instance a 2006 ad (below) in the Los Angeles Times condemning Hamas and Hezbollah, on what basis does the Star allege that his 2012 cancellation was intended to promote the anti-Israel boycott?
In response to a reader complaint, the Globe and Mail has already commendably corrected the unfounded assertion that Bruce Willis is a supporter of the anti-Israel boycott. The Globe clarification follows:
Editor's Note: This story has been edited to reflect the fact that although Bruce Willis postponed a promotional trip to Israel, there is no evidence he is boycotting the country.
CAMERA has contacted Toronto Star editors to request a correction. Stay tuned for an update.
(Hat tip: Joseph)
May 18 Update: Toronto Star Corrects: Bruce Willis Never Boycotted Israel
Posted by TS at May 13, 2013 04:49 AM
Comments
More erroneous reporting: not surprised from the Star.
Posted by: alana at May 13, 2013 01:05 PM
Guidelines for posting
This is a moderated blog. We will not post comments that include racism, bigotry, threats, or factually inaccurate material.
Post a comment