« Where's the Coverage? Former Egyptian Official: Hamas and Hezbollah Killed Tahrir Protesters | Main | 'Flaky' Evidence, False Flags and Ha'aretz's Front-Page »
May 05, 2013
Report: Fayyad Denies NY Times Interview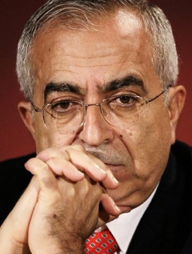 Salam Fayyad denied giving any interviews since his resignation
Khaled Abu Toameh of the Jerusalem Post reports today:
Palestinian Authority prime minister Salam Fayyad on Saturday denied statements attributed to him by The New York Times that criticized the Palestinian leadership and Fatah.

Fayyad said that he did not grant an interview to the Times or any other other newspaper or news agency since he submitted his resignation to PA President Mahmoud Abbas last month.

At the request of Abbas, Fayyad continues to head a caretaker cabinet until the formation of a new government.

Abbas was quoted last week as saying that he did not rule out the possibility that he would ask Fayyad to stay in his position and form a new government.

Fayyad was quoted by the Times over the weekend as saying "Our story is a story of failed leadership, from way early on. It is incredible that the fate of the Palestinian people has been in the hands of leaders so entirely casual, so guided by spur-of-themoment decisions, without seriousness. We don't strategize, we cut deals in a tactical way and we hold ourselves hostage to our own rhetoric." . . .

The attack on the PA leadership and Fatah clearly embarrassed Fayyad, who said in a statement that the Time's Roger Cohen had published an op-ed and not an interview.
(Cohen's piece reportedly citing Fayyad appears in today's print edition of the International Herald Tribune.) This bizarre episode raises at least two points for consideration. First, either the Times or Fayyad is not being truthful about an interview taking place. Second, if Fayyad gave an interview which provoked Fatah's wrath, resulting in the prime minister's subsequent denial, then this is yet another reminder about sources and journalists self-censoring when it comes to unflattering information about the Palestinian Authority.
Posted by TS at May 5, 2013 04:10 AM
Comments
Guidelines for posting
This is a moderated blog. We will not post comments that include racism, bigotry, threats, or factually inaccurate material.
Post a comment