« The Church of Scotland's Fatal Obsession With Israel | Main | Where's the Coverage? The Proper Way to Beat a Wife »
May 28, 2013
Enderlin's Revealing Statement Lost in Ha'aretz Translation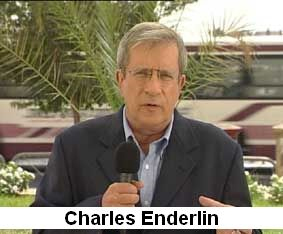 The Augean Stables has flagged an old, but very interesting case of Ha'aretz, Lost in Translation. In a 2007 interview with Adi Schwartz, France 2's Charles Enderlin speaks about the Mohammed Al Dura case. In the Nov. 1, 2007 interview, Schwartz asked Enderlin about his reporting from that fateful day in which he stated that the Israeli army shot and killed Mohammed Al Dura and injured his father:
In hindsight, is it possible that you were too hasty that evening?
According to the English edition, Enderlin responded:
I don't think so. Besides, the moment I saw that nobody was asking me anything officially, I started feeling more strongly that the story was true.
But the Hebrew edition has a longer answer which contains a very revealing statement.
"לא חושב. אם לא הייתי אומר שהילד והאב היו קורבנות לירי שבא מכיוון עמדת צה"ל, בעזה היו אומרים, ?איך אנדרלן לא אומר שזה צה"ל? חוץ מזה, ההתנהלות של ישראל אחרי האירוע חיזקה את התחושה שלי שהסיפור נכון. לא הזמינו אותי לבירור, לא פתחו בחקירה רשמית. ברגע שראיתי שאף אחד לא שואל אותי שום דבר באופן רשמי, התחזקה אצלי התחושה שהסיפור נכון.
This means (CAMERA's translation):
I don't think so. If I didn't say that the boy and father were victims of fire coming from the IDF position, they would have said in Gaza "How did Enderlin not say this was the IDF?" Aside from that, Israel's conduct after the incident reinforced by feeling that the story was correct. I wasn't called in for questioning, an official investigation was not opened. As soon as I saw that no one was asking me anything officially, my feeling that the story was correct strengthened.
About this startling revelation, Richard Landes writes in Augean Stables:
Here Enderlin reveals that in the journalist's daily and constant struggle navigating between loyalty to his sources, and loyalty to his audience, professional scruples of the most elemental sort – heavy accusations need heavy corroborating evidence – answered to the people of Gaza and neither to Israel, nor even to his professional standards. And the ease with which both he expresses it and Adi Schwartz accepts it, illustrates just how encrusted these bad attitudes had become.
Posted by TS at May 28, 2013 04:00 AM
Comments
To be sure, was Hebrew the language of the interview? If not, was it French? If so, is there a English translation from the original French?
Posted by: wayne at May 28, 2013 10:39 AM
Was Enderlin interviewed in English or Hebrew ?
Posted by: richardarmbach at May 28, 2013 10:52 AM
Guidelines for posting
This is a moderated blog. We will not post comments that include racism, bigotry, threats, or factually inaccurate material.
Post a comment