« Other Potential Awards For Carter | Main | Aren't Glorification of Terrorism and a Hamas Unity Government Obstacles to Peace? »
April 09, 2013
"Shame on Cardozo" Website Opposes Jimmy Carter Honor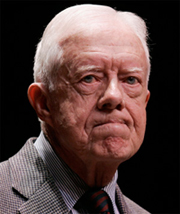 A CAMERA monograph, Bearing False Witness,details the falsehoods and errors about Israel by former US President Jimmy Carter and discusses his quest to demonize the Jewish State. The announcement of an upcoming event (April 10) at Yeshiva University's Cardozo Law School to honor Carter with a peace award was greeted with proposals by CAMERA for awards more accurately reflecting Carter's animus toward the Jewish State.
The Coalition of Concerned Cardozo Alumni suggests that continued support for Yeshiva University's Benjamin Cardozo Law School be conditioned on the cancellation of the event and urges those opposing the Carter award to contact the dean of Yeshiva University and its law school to voice their protests.
The coalition's website, "Shame on Cardozo", explains:
While Carter may be credited for the role he played in the Camp David Accords as President of the United States and the resultant cold peace between Israel and Egypt that ensued, that event took place close to 30 years ago. Since the end of his presidency, Jimmy Carter has exhibited extreme antipathy towards Israel – and by extension the Jewish people – that places him firmly in the camp of the likes of Walt and Mearsheimer.

It is simply unconscionable for a Jewish affiliated school to honor someone who has played such a high profile role in demonizing the Jewish state.
Posted by RH at April 9, 2013 12:57 AM
Comments
it is shameful that a Jewish organization should be so self deprecating that I gives awards to people like carter & tutu who are dishonest outspoken antagonists of our people
Posted by: Kenneth altman at April 12, 2013 09:36 AM
As a Holocaust survivor I have one thing to say about those who would Carter the award. CAPOS.
Posted by: Paul Kessler at April 12, 2013 10:16 AM
Lets be clear, while Carter was part of the peace between Israel and Egypt he was not part of how the peace was obtained.
Mr. Begin in a speech invited Mr Sadat to come to Jerusalem, Sadat accepted and that is how peace was created.
The peace treaty while it was signed in the USA had nothing to do with who carter as being the responsible party for peace.
Therefore, Carter has no merit on creating peace between Israel and Egypt. If anything he made a mockery of the USA in Iran. Certainly his anti-Semitism is exhuberant.

Posted by: Pablo N at April 12, 2013 02:48 PM
How many furious readers have sent the dean of the law school an email/letter stating that they will not pay to send their children to Yeshiva's law school.
How many young adults considering law school have decided to apply elsewhere, and have so notified the below authorities at Benjamin Cardozo?

Professor Matthew Diller, Dean of Cardozo: Tel - 212-790-0310; Email - mdiller@yu.edu
Professor Richard Joel, President of Yeshiva University: Tel - 212 960 5300; Email president@yu.edu

The squeaky wheel get the grease! Allow this horror to go unchallenged -- what's next?

Posted by: Hypatia at April 12, 2013 04:15 PM
Guidelines for posting
This is a moderated blog. We will not post comments that include racism, bigotry, threats, or factually inaccurate material.
Post a comment