« Where's the Coverage? Saudi Arabia Beheads and Crucifies Man | Main | Abbas Continues to Impose Preconditions for Negotiating with Israel »
April 04, 2013
The New York Times Disproportionate Focus on the Israeli-Palestinian Conflict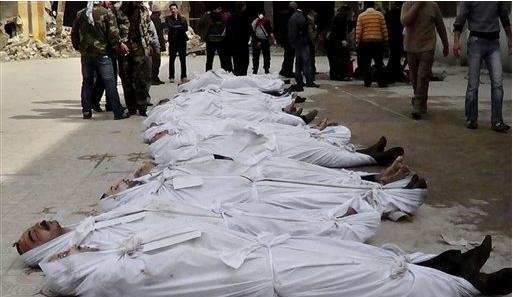 An Associated Press report published on April 1 noted that at least 6000 Syrians were reported killed in the civil conflict in March, the highest single month toll yet.
During this same period, the main news item of the Israeli-Palestinian conflict was the death of a single Palestinian hunger striker, a convicted terrorist, in an Israeli prison.
According to a tally from a Lexis-Nexis media search, The New York Times published a total of 39 articles (news articles, editorials, on its blog) in March that were mainly focused on Israel and the Palestinian conflict, plus an additional 24 on U.S. President Barack Obama's visit to Israel. The Nexis search turned up 59 pieces - a substantial proportion were brief blog items - focused on the conflict in Syria.
While acknowledging that The Times is not ignoring the Syrian conflict, considering the disproportionate toll in the two conflicts, 6000 to 1, it is striking that the number of articles is of a similar magnitude. However, even more significant than the number of articles is the disparity in the depth of coverage. Here the The Times continues to provide much greater amplification of the Palestinians plight in comparison to that of the Syrians.
In a month marked by accelerating slaughter in Syria, The Times chose to publish an 8000-word cover story for its Sunday magazine ("Is This Where The Third Intifada Will Start?"), by Ben Ehrenreich, who has called for an end to the Jewish state and waxes poetically about the Palestinian "resisters" from a West Bank town engaged in sometimes violent protests.
That story followed another extreme anti-Israel piece, a March 9 column by Joseph Levine arguing that "one really ought to question Israel's right to exist..."
The Times might have noted — but of course, did not — that the tally of fatalities in the past month alone in Syria exceeds the total number of Israeli and Palestinian lives lost during the 4 most active years of the second Intifada (September 2000-2004).
Posted by SS at April 4, 2013 11:07 AM
Comments
I agree that Israel gets disproportional coverage but aren't both sides guilty of this? I'm sure a more pro-Israel outlet like the WSJ also had more Israel stories than Syria stories this month.
Posted by: Ryan at April 6, 2013 11:12 PM
The New York Times managed to turn the Warsaw Ghetto uprising into and anti-Zionist screed:
"The Jewish Hero History Forgot"
By MARCI SHORE
"Not everyone who fought in the Warsaw Ghetto Uprising saw a Jewish state as the ultimate goal"
http://www.nytimes.com/2013/04/19/opinion/the-jewish-hero-history-forgot.html?pagewanted=all
The whole article by the historian Marci Shore is misleading. She didn't say was that Marek Edelman didn't leave Poland after the WW2 because he believed that since Shoah already occurred in Poland there wouldn't another Holocaust there.
Edelman not only didn't believe in a "Jewish State" he also didn't believe that Jews could be safe anywhere not even in the US.
I am hoping that someone from Camera will answer this latest anti-Israel diatribe.
Posted by: Jacob Arnon at April 19, 2013 03:04 PM
Guidelines for posting
This is a moderated blog. We will not post comments that include racism, bigotry, threats, or factually inaccurate material.
Post a comment