« Updated: Ha'aretz, Lost in Translation, Again | Main | Where's the Coverage? Saudi Arabia Beheads and Crucifies Man »
April 03, 2013
Where is Amnesty Stat Gideon Levy Cites?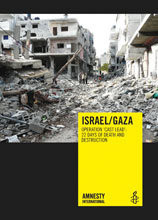 Not for the first time, Ha'aretz's Gideon Levy plays fast and loose with Palestinian casualty figures.
In his March 31 column, Gideon Levy attributes a Cast Lead Palestinian casualty figure to Amnesty International, though a thorough search of the organization's materials does not turn up any such figure. In particular, he wrote:
One can argue ad nauseam about the numbers, but even the official IDF records − 1,166 killed, including 709 "terrorists," 89 children and 49 women − leave no room for doubt. Amnesty International, for instance, enumerated only 92 Palestinian fighters among the dead. (Emphasis added.)
Yet, Amnesty's extensive report on Operation Cast Lead does not indicate that "only 92 Palestinian fighters were among the dead." Contrary to Levy's claim, the report, "Operation 'Cast Lead': 22 Days of Death and Destruction," states:
Some 1,400 Palestinians were killed in attacks by Israeli forces during Operation "Cast Lead" between 27 December 2008 and 18 January 2009. Some 5,000 were injured, many maimed for life. Hundreds of those killed were unarmed civilians, including some 300 children, more than 115 women and some 85 men over the age of 50.12 The figure is based on data collected by Amnesty International delegates in Gaza and on cases documented in detail by local NGOs and medical personnel in Gaza. According to Palestinian human rights NGOs two thirds of those killed were civilians. Amnesty International delegates who carried out research in Gaza in January-February 2009 did not have the time and resources to verify all the reported deaths, but investigated dozens of cases comprising more than 300 victims, more than half of them children and women, and gathered information from a wide range of sources. They concluded that an overall figure of some 1,400 fatalities is accurate and that, in addition to the children, women and men aged over 50, some 200 men aged less than 50 were unarmed civilians who took no part in the hostilities. In addition, some 240 police officers were killed in bombardment of police stations across the Gaza Strip in the first moments of Operation "Cast Lead" in the morning of 27 December 2008, including scores who were killed when the first Israeli air strikes targeted the police cadets' graduation parade in the central police compound in Gaza City. Even though some of the policemen who were killed in these bombardments were also rank-and-file members of Hamas' armed wing (in addition to being members of the police), many were not involved with armed groups and none were participating in hostilities when they were targeted and killed in the bombardments.13
While Amnesty acknowledges it did not have "the time and resources to verify all the reported deaths," it nevertheless somehow concluded that there were 1,400 Palestinian casualties, including 300 children, more than 115 women, some 85 men over the age of 50, and some 200 men under 50 they say took no part in hostilities -- a total of 700 uninvolved civilians, and an additional 250 Hamas policemen they say were not involved in hostilities when they were killed. According to Amnesty's own calculations, that leaves 550 unclassified Palestinian casualties out of 1400. Though Amnesty does not say so explicitly, presumably they are combatants. In any event, nowhere in its Cast Lead report does the organization cite only 92 Palestinian fighters killed. If Mr. Levy cannot substantiate his claim that Amnesty used that figure, a correction is in order.
April 4 Update: CAMERA Prompts Corrections on Gideon Levy Column
Posted by TS at April 3, 2013 05:51 AM
Comments
Guidelines for posting
This is a moderated blog. We will not post comments that include racism, bigotry, threats, or factually inaccurate material.
Post a comment