« British Jews Believe BBC Biased | Main | New Documentary Highlights NY Times' Holocaust Coverage »
April 29, 2013
Ha'aretz Time Travel at Ben-Gurion Airport
Not for the first time, the Ha'aretz English edition uses a year-old photograph without indicating it is a file photo, passing it off as if it is more current and more relevant to the accompanying story than it actually is.
The latest case is a page-one photograph from Thursday's paper (April 25):
The photograph in question accompanies an article headlined ("AG authorizes Shin Bet to read tourists' emails at Ben-Gurion"), and is captioned:
A left-wing activist being arrested at Ben-Gurion.
(A different version of the print article is available online.)
The article reports:
The Shin Bet security service has been authorized by Attorney General Yehuda Weinstein to continue inspecting toursits' emails upon their arrival at Ben-Gurion International Airport.

Weinstein formally authorized the procedure yesterday, stating that such searches "are procedure yesterday, stating that such searches "are performed only in exceptional instances, after other relevant inciriminating indications are found." . . .
The casual reader would reasonably understand, then, that the pictured activist was recently arrested given her refusal to open her email. (Yet, the article does not say that a foreigners' refusal to open email would result in arrest. Rather, it could result in being refused entry into the country.)
In fact, the pictured woman was not arrested, detained, or refused entry because of her refusal to open her email. Rather, as the caption to the very same photo in the Hebrew edition indicates (CAMERA's translation):
The arrest of foreign activists in Ben-Gurion Airport during the protest fly-in to Israel, a year ago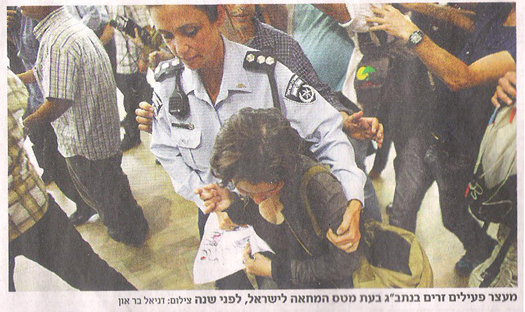 In other words, this photo is a year-old file photo unrelated to the email story, and editors failed to inform English readers. Indeed, a photo of the very same woman, taken by the same photographer, appeared on Ha'aretz's site a year ago:
It is standard journalistic practice to label file photos as such, by noting, for example, if the photo was taken a year ago. See, for example, Ha'aretz's page two photograph yesterday of haredim: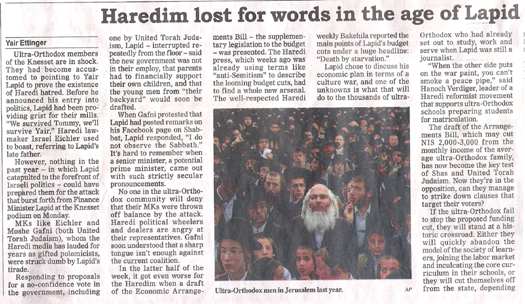 The caption states:
Ultra-Orthodox men in Jerusalem last year.
Finally, if the following AFP caption is correct in identifying the female activist as an Israeli, and not foreigner, then the file photo is even less relevant to a story about a ruling concerning the right refuse entry to foreigners if they refuse requests to open their email.
Israeli police arrest an Israeli left-wing activist at Ben Gurion airport near Tel Aviv on April 15, 2012 as hundreds of Israeli police, many undercover, are at the airport to block the arrival of pro-Palestinian activists taking part in a "Welcome to Palestine" fly-in. Israel vowed to prevent entry of activists, warning foreign airlines they would be forced to foot the bill for the activists' immediate return home in a move which saw many carriers toeing the line, prompting a furious response from passengers. AFP PHOTO/JACK GUEZ
Posted by TS at April 29, 2013 06:27 AM
Comments
Posted by: Barry Meridian at April 29, 2013 12:03 PM
So, this constant misleading of the public, by a well known media organization, while claming to be an objective and reliable source, is a legal(and even legitimate?) action in our society.
Too bad for us I guess...
Posted by: ofer at April 29, 2013 03:37 PM
Guidelines for posting
This is a moderated blog. We will not post comments that include racism, bigotry, threats, or factually inaccurate material.
Post a comment