« Where's the Coverage? Toddler Victim of Stone-Throwers Struggles for Life | Main | A Factual Error in the ... Title? Really? »
April 15, 2013
Deceiving C-SPAN's Viewers About Israel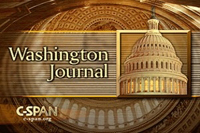 For C-SPAN's popular Washington Journal, a daily three-hour public affairs call-in broadcast, deception is generally in the air when comment is made about Israel (which is often). CAMERA has documented this chronic problem for several years in the feature C-SPAN Watch at CAMERA's Website. Millions of viewers (C-SPAN claims 28 million weekly viewers) are subjected to a steady dose of anti-Israel distortions and falsehoods which are rarely challenged. Recent examples:

• Guest Said Arikat (March 24 broadcast), Washington bureau chief for the Palestinian Arab daily newspaper al-Quds, blamed others for Hamas' belligerency (such as firing thousands of mortar shells and rockets into the Jewish state), saying that after coming to power in Gaza, Hamas was "immediately … isolated. That is not a situation which is conducive to good governance and begot the hostility between Israel and Hamas."
No mention was made of Hamas' pledge in its charter to the destruction of Israel and the Jewish people or the hundreds of Israelis murdered by Hamas terrorists, which "begot" Israeli hostility. Likewise, no mention of Hamas' rejection of "the quartet's" (the United States, Russia, United Nations and European Union) requirement for diplomatic contact: recognition of Israel's legitimacy, ending anti-Israeli terrorism, and agreeing to uphold previous Israeli-Palestinian agreements. Typically, the Washington Journal host failed to point out either fundamental omission. Likewise, the host should have properly identified guest's newspaper as being associated with the Palestinian Authority so that viewers would have context to interpret his allegations.

• Complaining about Israeli security measures in the West Bank (which are aimed at protecting the civilian population from terrorists intent on murder and mayhem), guest Arikat claimed that there are "something like 700 checkpoints." However, the U.N. OCHA (Office for the Coordination of Humanitarian Affairs occupied Palestinian territory) report (page 32) indicates that there are 86 permanent Israeli checkpoints (June 2012). But apparently on C-SPAN there's no need to quibble about the difference between 700 and 86 when Israel is targeted for negative comment. Likewise, there's no need to show the obvious parallel to security checkpoints in the United States at airports, government installations and border crossings which, while causing inconvenience or even discomfort, also are aimed in large part at protecting the civilian population against terrorists.
• A caller's (March 21) inflammatory claim "I think we spend more money per capita on the citizens of Israel than we do on American citizens" is unchallenged although it is clearly, and wildly, exaggerated. In fact, federal domestic per capita spending aimed at benefiting Americans is many times greater than per capita foreign aid to all nations combined.
Israel is the only country defamed on a regular basis on C-SPAN's Washington Journal broadcasts where Jews and other supporters of Israel are the only groups routinely targeted on air by bigots and conspiracy theorists. Cable television viewers should e-mail, call or write cable service providers and urge them to call for an end to indulgence of anti-Jewish, anti-Israel prejudice by Washington Journal. Keep in mind that a portion of your cable fees supports C-SPAN. For details, visit C-SPAN Watch.
Posted by MK at April 15, 2013 01:09 PM
Comments
listening to C-Span since the war against Jews in Israel accelerated in 2000 has been illuminating and left me deeply concerned about hatred of Jews from my "fellow Americans." One incident was slightly ironic when the guest Mark Katz, a professor of international politics at George Mason University some 10 years ago made his statement. Then a caller asked: Hi I'm from Cos Cob, Connecticut, How come you have so many Jews on C-Span? Prof. Katz answered, my name is Katz but I'm not a Jew. Am Yisrael Chai!!!!!!!!!!!!
Posted by: Herb Glatter at April 15, 2013 02:31 PM
Guidelines for posting
This is a moderated blog. We will not post comments that include racism, bigotry, threats, or factually inaccurate material.
Post a comment