« March 2013 | Main | May 2013 »
April 30, 2013
Updated: Headline Shows NY Times Predilection for Downplaying Palestinian Violence
The opening paragraph of today's New York Times story about recent violence in the Middle East explains,
A Palestinian man was killed in an Israeli missile strike in Gaza on Tuesday hours after an Israeli civilian was stabbed to death by a Palestinian in the West Bank. The two attacks, coming against a backdrop of growing tensions, were the first such killings in months and raised the specter of further confrontation.
Imagine you are an experienced and impartial headline writer at one of the most prominent newspapers in the world. What's your headline?
Surely something more impartial than the one the Times is currently going with: "Israeli Airstrike Kills Palestinian in Gaza."

In our monograph about New York Times bias in coverage of the Israeli-Palestinian conflict, we point out that, during a 6-month study period, "the newspaper's coverage of violence was marked by a double standard that highlighted Israeli attacks and de-emphasized Palestinian ones." Today's choice of headline language is case in point.
Update: The Times has updated its online headline so that it fairly reflects the content of the story. It now reads, "Gazan Killed After Israeli Is Stabbed to Death in the West Bank."
Posted by GI at 10:23 AM | Comments (4)
New Documentary Highlights NY Times' Holocaust Coverage
Emily Harrold, a 22-year-old filmmaker, has produced an 18-minute documentary about the New York Times' failure to adequately cover the Holocaust. Inspired by Laurel Leff's book Buried by the Times: The Holocaust and America's Most Important Newspaper, Reporting on The Times: The NY Times and the Holocaust was just screened at the prestigious Tribeca Film Festival as well as the Nashville Film Festival.
The executive summary of CAMERA's 2012 monograph, Indicting Israel: New York Times Coverage of the Palestinian-Israeli Conflict notes Leff's findings that, in the words of publisher Arthur Hayes Sulzberger, the paper "went to great lengths to avoid having been branded a 'Jewish newspaper.'" CAMERA continues: "The same mind-set continued to shape the news years later," citing the paper's reframing of the 1991 African-American violence against Jews in Crown Heights, as well as downplaying and distorting Palestinian violence against Israel, both in 2002 as well as in 2011, when CAMERA carried out studies.
(Hat tip: NDW)
Posted by TS at 04:33 AM | Comments (0)
April 29, 2013
Ha'aretz Time Travel at Ben-Gurion Airport
Not for the first time, the Ha'aretz English edition uses a year-old photograph without indicating it is a file photo, passing it off as if it is more current and more relevant to the accompanying story than it actually is.
The latest case is a page-one photograph from Thursday's paper (April 25):
The photograph in question accompanies an article headlined ("AG authorizes Shin Bet to read tourists' emails at Ben-Gurion"), and is captioned:
A left-wing activist being arrested at Ben-Gurion.
(A different version of the print article is available online.)
The article reports:
The Shin Bet security service has been authorized by Attorney General Yehuda Weinstein to continue inspecting toursits' emails upon their arrival at Ben-Gurion International Airport.

Weinstein formally authorized the procedure yesterday, stating that such searches "are procedure yesterday, stating that such searches "are performed only in exceptional instances, after other relevant inciriminating indications are found." . . .
The casual reader would reasonably understand, then, that the pictured activist was recently arrested given her refusal to open her email. (Yet, the article does not say that a foreigners' refusal to open email would result in arrest. Rather, it could result in being refused entry into the country.)
In fact, the pictured woman was not arrested, detained, or refused entry because of her refusal to open her email. Rather, as the caption to the very same photo in the Hebrew edition indicates (CAMERA's translation):
The arrest of foreign activists in Ben-Gurion Airport during the protest fly-in to Israel, a year ago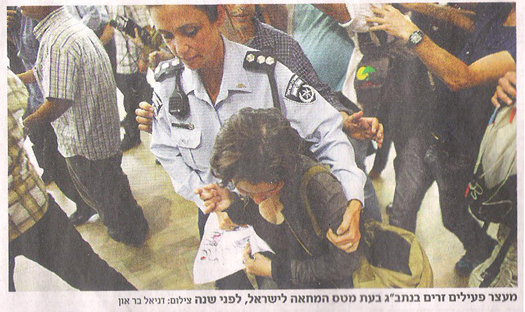 In other words, this photo is a year-old file photo unrelated to the email story, and editors failed to inform English readers. Indeed, a photo of the very same woman, taken by the same photographer, appeared on Ha'aretz's site a year ago:
It is standard journalistic practice to label file photos as such, by noting, for example, if the photo was taken a year ago. See, for example, Ha'aretz's page two photograph yesterday of haredim: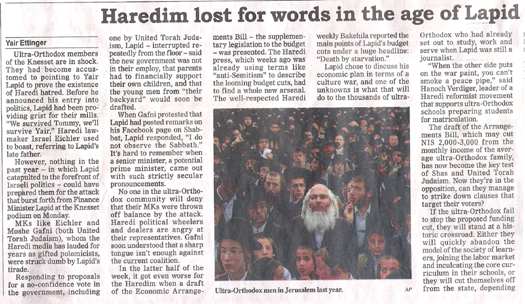 The caption states:
Ultra-Orthodox men in Jerusalem last year.
Finally, if the following AFP caption is correct in identifying the female activist as an Israeli, and not foreigner, then the file photo is even less relevant to a story about a ruling concerning the right refuse entry to foreigners if they refuse requests to open their email.
Israeli police arrest an Israeli left-wing activist at Ben Gurion airport near Tel Aviv on April 15, 2012 as hundreds of Israeli police, many undercover, are at the airport to block the arrival of pro-Palestinian activists taking part in a "Welcome to Palestine" fly-in. Israel vowed to prevent entry of activists, warning foreign airlines they would be forced to foot the bill for the activists' immediate return home in a move which saw many carriers toeing the line, prompting a furious response from passengers. AFP PHOTO/JACK GUEZ
Posted by TS at 06:27 AM | Comments (2)
April 26, 2013
British Jews Believe BBC Biased
Via the Jerusalem Post
A poll released this week by Jewish News One, an independent non-profit international Jewish news network, says that four out of five UK Jews believe the British Broadcasting Corporation (BBC) is biased against the State of Israel.
You can read about the poll here.
Posted by GI at 05:04 PM | Comments (2)
CAMERA's Andrea Levin is One of the Winners of The Algemeiner's Jewish Top 100
CAMERA's Executive Director Andrea Levin
The Algemeiner writes:
Andrea Levin

Director, CAMERA

As a global media watchdog group, Levin's CAMERA is unparalleled, and as an ambassador of the truth, it is indispensable. With erudition and eloquence, Levin's organization holds increasingly incompetent news outlets and reporters accountable for their inaccuracies and bias. In 2012 CAMERA continued its eagle-eyed work, prompting such global news outlets as The New York Times and Yahoo to issue corrections to their reports.
Posted by at 04:05 PM | Comments (2)
Imagine a Boston Bombing Every Week
In a piece in The American Thinker, novelist Noah Beck writes sympathetically about the tragic Boston Marathon bombing, calling victims "the epitome of innocent." He continues:
But imagine if this happened again next week, at a pizzeria, killing 15 diners. And again, a week later, on a bus, killing 19 passengers. Then at a discotheque, killing 21 teens. Then at a church, killing 11 worshipers. And so on, with a new bombing terrorizing us almost every week.

Israelis don't have to imagine; they just have to remember. Between 1995 and 2005, each year saw an average of 14 suicide bombings, murdering 66 victims. Two thousand two was the worst year, with 47 bombings that slaughtered 238 people. That's almost one Boston bombing every week. Adjusted for population differences, Israel's victims in 2002 amounted to the equivalent of three 9/11s in one year. And these bombing statistics don't include all of the shootings, stabbings, and other violent attacks by Palestinian extremists during those years.
Unfortunately, as Beck notes, "the incidents usually received only scant and perfunctory media coverage, if they were mentioned at all."
Posted by SC at 08:30 AM | Comments (0)
April 25, 2013
USA Today Spotlights Boston Marathon Suspects' Mosque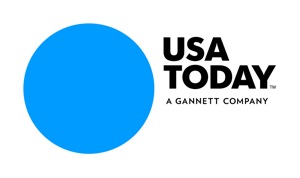 Much follow-up news coverage of Boston Marathon bombing suspects Tamerlan and Dzohkar Tsarnaev was, perhaps by necessity, repetitive. Many articles reported on those wounded by the blast, the brothers' family members and the status of the investigation.
But USA Today's April 24 feature, "Mosque that brothers visited tied to radicals; Older suspect was at odds with 'moderate' theology, official claims" broke new ground. Reporter Oren Dorell noted that "several people who attended the Islamic Society of Boston mosque in Cambridge, Mass., have been investigated in terrorism cases. … Its sister mosque in Boston, the Islamic Society of Boston Cultural Center, has invited guests who have defended terrorism suspects." (The online version is somewhat longer than the print article.)
These guests include, according to USA Today, Abdulrahman Alamoudi, "who signed the articles of incorporation as the Cambridge mosque's president, [and] was sentence to 23 years in federal court in 2004 for his role in a Libyan assassination plot against then-Saudi Crown Prince Abdullah."
Also: Tarek Mehanna, sentenced in 2012 to 17 years in prison for conspiring to aid al-Qaeda; Ahman Abousamra, wanted as Mehanna's co-conspirator; Aafia Siddiqui, serving 86 years after conviction in 2010 for planning a chemical attack in New York City; and Jamal Badawi, an unindicted co-conspirator in the 2007 Holy Land Foundation terrorism case, in which five men were convicted at retrial of raising more than $12 million for Hamas.
Spotlighting an important part of follow-up coverage of the bombing many other major news media had not yet reported, USA Today more fully informed readers and did so without pulling linguistic punches. The newspaper refers in its own words to "terrorism suspects," "terrorist activity" and "terrorism cases" without sanitizing euphemisms.
Posted by ER at 03:01 PM | Comments (0)
April 24, 2013
Where's the Coverage? As It Goes With Israel, So Will It Go With All Of Us

When terrorists bomb a public place in Israel, injuring dozens and even killing children, or when an Israeli police officer is killed by terrorists, it is not all that jarring to most of the world. Though it should be.
Last week, radicalized Muslim terrorists reportedly bombed the Boston Marathon, injuring dozens and killing three civilians including an eight-year-old boy. Subsequently, they allegedly also murdered a young police officer.
In the wake of this tragedy, both victims and the admitted terrorist are being treated by doctors who were trained in Israel, and in the case of Professor Kevin (Ilan) Tabb, the director of Boston's Beth Israel Deaconess Medical Center (the BI), an actual Israeli. Suspected terrorist Dzhokhar Tsarnaev is being treated at the BI as are 24 people who were injured in the attack, among them 16 who are in serious condition.
According to an article in Ynet:
"Unfortunately, I have had a lot of experience with these types of injuries after years of treating people injured in terror attacks in Israel," said the professor, who is a member of the board of Hadassah Ein Kerem hospital in Jerusalem, where he studied medicine and completed his residency. "We have a few Israeli doctors in the emergency room, and the director of the ER is also Israeli."

[…]

"It was very similar to what I was used to in Israel in that we had to admit many injured people in a short period of time," Professor Tabb said. "The fact that we are treating both the victims and the suspected terrorist also reminds me of similar situations in Israel. In Israel we had an injured soldier and a terrorist lying on adjacent beds. When an injured person is admitted to the ER, the doctor or nurse treats him without asking questions."
These facts have not received much coverage, except in the Israeli and Jewish press. No surprise there. Even more important, however, is their broader implication. Israel is not just a great friend and ally to the United States. Israel is on the front line of our own battle.
The tragic events in Boston call to mind an article published in The Los Angeles Times on May 26, 1968, after Israel's surprising triumph in the defensive war of 1967, known as The Six Day War. A career manual laborer and brilliant thinker named Eric Hoffer, frequently called the Longshoreman Philosopher, wrote a piece entitled, "Israel's Peculiar Position" that read in part:
The Jews are a peculiar people: things permitted to other nations are forbidden to the Jews.

[…]

Other nations when victorious on the battlefield dictate peace terms. But when Israel is victorious it must sue for peace. Everyone expects the Jews to be the only real Christians in this world.

Other nations when they are defeated survive and recover, but should Israel be defeated it would be destroyed. Had Nasser triumphed last June he would have wiped Israel off the map, and no one would have lifted a finger to save the Jews.

[…]

Yet at this moment Israel is our only reliable and unconditional ally. We can rely more on Israel than Israel can rely on us. And one has only to imagine what would have happened last summer had the Arabs and their Russian backers won the war, to realize how vital the survival of Israel is to America and the West in general.

I have a premonition that will not leave me; as it goes with Israel so will it go with all of us. Should Israel perish the holocaust will be upon us.
And this is a fact that is ignored by the media, academia, political and thought leaders alike. Israel is more than a friend and benefit to America and the West. Israel is the canary in the coal mine. And yet… Where's the Coverage?
To read Hoffer's brilliant and prescient piece in its entirety, please click here.

Posted by SC at 07:12 PM | Comments (2)
April 23, 2013
Ha'aretz Lost in Translation: A Shocking Holocaust Comparison
Once again, Ha'aretz translators are again engaging in creative, even shocking, translations, inserting text into the English edition which is diametrically opposed to the Hebrew original. In an article today regarding a judicial proceeding against Palestinian prisoner Samer Issawi, who is refusing food, the English edition reports online:
During the hearing, which took place next door to Issawi's hospital room, he stood up and removed his clothes. He looked very thin and skeleton-like, according to witnesses present at the hearing. "You showed this look a few days ago when you showed the victims of the Holocaust," Issawi then told the hearing, referring to Holocaust Remembrance Day earlier this month.

Those who attended the meeting report that Judge Kaufmann and the Military Prosecutor's Office representatives were shocked at how Issawi looked, and agreed to the comparison. (Emphasis added.)
The wording in the print edition is very similar, and includes the error:
But the original Hebrew article by Jack Khoury does not state that the judge and prosecutors agreed with Issawi's comparison of himself to Holocaust victims. Rather it says that they were shocked by it. The Hebrew reads:


נוכחים בדיון סיפרו כי השופטת ונציגי הפרקליטות הזדעזעו ממראה העציר וגם מההשוואה שעשה
It states (CAMERA's translation):
People who attending the hearing said that the judge and representatives of the prosecutor's office were shocked by the prisoner's appearance and by the comparison that he made.
CAMERA staff have contacted editors and requested a correction. (For earlier Ha'aretz corrections prompted by CAMERA, see here.) Stay tuned for an update.
Update: For the Hebrew version of this post, please see Presspectiva.
Update II, 2:40 PM EST -- Ha'aretz Commendably Corrects Online
Following communication from CAMERA staff, Ha'aretz editors promptly corrected the online article, which now states:
Those who attended the meeting report that Judge Kaufmann and the Military Prosecutor's Office representatives were shocked at how Issawi looked, and by the comparison that he made.
In addition, the following note appears at the end of the article:
Stay tuned for details about a correction in the print edition.
Update III, April 24, Ha'aretz Runs Print Correction
Posted by TS at 04:38 AM | Comments (0)
April 17, 2013
Where's the Coverage? Hamas Bulldozes UNESCO Heritage Site to Build Terrorist Training Camp

Monday, watchdog group UN Watch sent a letter to the Director General of UNESCO, the United Nations Educational, Scientific and Cultural Organization:
UN Watch is alarmed by the reported destruction by Hamas of parts of the ancient Anthedon Harbor in Gaza for use as a terrorist training camp. We urge you to bring the matter immediately before the UNESCO Executive Board, currently meeting at its 191st session in Paris, for protective action.

We note the tragic irony that this destruction by the rulers of Gaza comes exactly one year after the area was nominated by new UNESCO member state Palestine as a World Heritage site.

As you must know, earlier last month, despite criticism from nongovernmental organizations, the Izz ad-Din al-Qassam Brigades of Hamas bulldozed a part of the Anthedon Harbor in northern Gaza along the Mediterranean Sea, according to yesterday's report by Al Monitor Palestine Pulse.

Hamas damaged the harbor in order to expand its "military training" zone, which was initially opened on the location in 2002, according to your own UNESCO representative in Gaza, Yousef al-Ejla.
UNESCO itself describes Anthedon, the historical significance of which dates back to 800 BCE, as a port that continued to thrive thru Neo-Assyrian, Babylonian, Persian, Greek, Roman, Byzantine and early Islamic periods:
The present site consists of a variety of elements which spread in the area from the seashore, including the underwater archaeology, to the inland: the ruins of a Roman temple and a section of a wall have been uncovered, as well as Roman artisan and living quarters, including a series of villas, testifying of the city of Anthedon. Mosaic floors, warehouses and fortified structures are found in the area.
Despite the importance of the site, its at-least-partial destruction has attracted very little mainstream news media attention. Outside of the Jewish and Israeli press and some blogs, CAMERA could find coverage in only The Washington Times, The Washington Free Beacon, FrontPage Magazine, and TheBlaze.com. The New York Times, The Washington Post, USA Today, NPR, the network news, cable news channels... nothing.
Al-Monitor quotes Deputy Minister of Tourism in Gaza Muhammad Khela saying that the location was taken for "military" use:
"We can't stand as an obstacle in the way of Palestinian resistance; we are all a part of a resistance project, yet we promise that the location will be limitedly used without harming it at all," Khela explained.

[…]

"If the location was excavated already, I don't think it would have been possible for anyone to take it over," Khela explained, adding that "it should be UNESCO and other donating groups' job to do so."
Yet, UNESCO and Palestinian leaders have repeatedly failed to protect sites that have been excavated and that are even in use to this day. Though UNESCO's constitution, Article 1 Paragraph 2c, states that the organization's purpose is to "maintain, increase and diffuse knowledge by assuring the conservation and protection of the world's inheritance of books, works of art and monuments of history and science," UNESCO has been mute on repeated attacks on archeologically significant Jewish sites that were, if not allowed by, at least ignored by Palestinian authorities obligated to protect them.
Rachel's Tomb, described by some as the second holiest place of worship in Judaism, comes under frequent rock and Molotov cocktail attack as do the Jews who worship there.
Visitors to Joseph's Tomb report that vandals had urinated at the entrance to the tomb and there were indications on the wall and window of attempts to start a fire there.
Instead of protecting these and other sites from Palestinian damage, UNESCO, like many United Nations agencies, focuses disproportionate criticism on Israel. UN Watch notes in its letter to the organization:
According the current UNESCO session timetable, there are in fact four agenda items dedicated exclusively to Palestinian issues: Items 9, 10, 34, and 35, while Item 5 includes a fifth report on this issue. Israel is the only country in the world that is targeted for specific criticism in this session.
Though the United States withdrew funding for UNESCO when the organization admitted Palestine as a member state in 2011, the Obama administration seeks to restore $77.7 million in funding in the proposed 2014 budget:
The Administration seeks Congressional support for legislation that would provide authority to waive legislative restrictions that, if triggered, would prohibit paying U.S. contributions to United Nations specialized agencies that grant the Palestinians the same standing as member states or full membership as a state. Should the Congress pass this waiver legislation, the FY 2014 funding specifically requested for UNESCO would cover the FY 2014 UNESCO assessment and the FY 2013 and FY 2014 Contingent Requirements funding would cover arrears which accrued in FY 2012 and FY 2013.
Jewish heritage sites, which should be protected by the Palestinian Authority, are regularly desecrated and Hamas destroys a 3,000-year-old archeological treasure in Gaza yet UNESCO does nothing? Where's the outcry in the archeological community? Where's the outrage among academics? Where, oh where's the coverage?

Posted by SC at 02:01 PM | Comments (3)
April 16, 2013
A Factual Error in the ... Title? Really?
We've been warned since childhood not to judge a book by its cover. But we can probably be forgiven if we judge a book by its title, especially when it includes a factual error.
Yes, it happened. An American book publisher, Beacon Press, located in Boston, Mass. (and a department of the Unitarian and Universalist Association), has published a book that includes a factual error in its title.
The book in question is Light Without Fire: The Making of America's First Muslim College written by Scott Korb.
The book is about Zaytuna College, which CAMERA has written about here.
Zaytuna College, located in Berkley, California, is not, as the book's title states, "America's First Muslim College." That honor belongs to another school, American Islamic College, located in Chicago, Illinois.
AIC's website states the following:
History of the AIC:

The American Islamic College was established in 1981 as a private, not-for-profit, four-year college offering programs leading to the Bachelor of Arts degree in Arabic and Islamic Studies. In March 1983, the college purchased its present landmark building on Lake Shore Drive, and in September 1983 began its first academic semester.

The College has been the only Islamic institution of higher education with degree-granting authority in North America. In 1991 the College was granted the authority to offer the Associate of Arts degree in addition to the Bachelor of Arts degree; this authority was later removed by the IBHE (Illinois Board of Higher Education) due to the administration's inability to meet IBHE criteria. After significant reorganization and the installation of a completely new administration with the mandate of the Board of Trustees and the Executive Council, the American Islamic College has reinitiated the Operating Authority process via the IBHE. Until such authority is received, we continue to offer a variety of non-credit and non-degree classes that include: history, Islamic studies, art, music, and Arabic and Turkish language.
Currently, neither Zaytuna nor AIC are accredited institutions. Zaytuna's website states that it is "moving forward with our plans to establish the first accredited Muslim college in the United States."
AIC, which was founded in 1983 was previously accredited and has since lost its accredidation, which it is trying to recover. And more to the point, AIC was in existence prior to Zaytuna College, which was founded by Hamza Yusef in 1996.
It's kind of an egregious error for a publishing house that describes itself as "an independent publisher of serious non-fiction and fiction."
Just how "serious" can a book be if it publishes a book with a factual error in its title?
Posted by dvz at 04:55 PM | Comments (3)
April 15, 2013
Deceiving C-SPAN's Viewers About Israel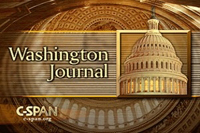 For C-SPAN's popular Washington Journal, a daily three-hour public affairs call-in broadcast, deception is generally in the air when comment is made about Israel (which is often). CAMERA has documented this chronic problem for several years in the feature C-SPAN Watch at CAMERA's Website. Millions of viewers (C-SPAN claims 28 million weekly viewers) are subjected to a steady dose of anti-Israel distortions and falsehoods which are rarely challenged. Recent examples:

• Guest Said Arikat (March 24 broadcast), Washington bureau chief for the Palestinian Arab daily newspaper al-Quds, blamed others for Hamas' belligerency (such as firing thousands of mortar shells and rockets into the Jewish state), saying that after coming to power in Gaza, Hamas was "immediately … isolated. That is not a situation which is conducive to good governance and begot the hostility between Israel and Hamas."
No mention was made of Hamas' pledge in its charter to the destruction of Israel and the Jewish people or the hundreds of Israelis murdered by Hamas terrorists, which "begot" Israeli hostility. Likewise, no mention of Hamas' rejection of "the quartet's" (the United States, Russia, United Nations and European Union) requirement for diplomatic contact: recognition of Israel's legitimacy, ending anti-Israeli terrorism, and agreeing to uphold previous Israeli-Palestinian agreements. Typically, the Washington Journal host failed to point out either fundamental omission. Likewise, the host should have properly identified guest's newspaper as being associated with the Palestinian Authority so that viewers would have context to interpret his allegations.

• Complaining about Israeli security measures in the West Bank (which are aimed at protecting the civilian population from terrorists intent on murder and mayhem), guest Arikat claimed that there are "something like 700 checkpoints." However, the U.N. OCHA (Office for the Coordination of Humanitarian Affairs occupied Palestinian territory) report (page 32) indicates that there are 86 permanent Israeli checkpoints (June 2012). But apparently on C-SPAN there's no need to quibble about the difference between 700 and 86 when Israel is targeted for negative comment. Likewise, there's no need to show the obvious parallel to security checkpoints in the United States at airports, government installations and border crossings which, while causing inconvenience or even discomfort, also are aimed in large part at protecting the civilian population against terrorists.
• A caller's (March 21) inflammatory claim "I think we spend more money per capita on the citizens of Israel than we do on American citizens" is unchallenged although it is clearly, and wildly, exaggerated. In fact, federal domestic per capita spending aimed at benefiting Americans is many times greater than per capita foreign aid to all nations combined.
Israel is the only country defamed on a regular basis on C-SPAN's Washington Journal broadcasts where Jews and other supporters of Israel are the only groups routinely targeted on air by bigots and conspiracy theorists. Cable television viewers should e-mail, call or write cable service providers and urge them to call for an end to indulgence of anti-Jewish, anti-Israel prejudice by Washington Journal. Keep in mind that a portion of your cable fees supports C-SPAN. For details, visit C-SPAN Watch.
Posted by MK at 01:09 PM | Comments (1)
April 11, 2013
Where's the Coverage? Toddler Victim of Stone-Throwers Struggles for Life

Last week, journalist Amira Hass authored an opinion piece in the Israeli newspaper Ha'aretz condoning and even encouraging violent Palestinian stone-throwing. In the editorial, Hass wrote that "throwing stones is the birthright and duty" of Palestinians and that it "is an action as well as a metaphor of resistance." Hass received quite a bit of criticism in Israel, and that criticism was covered by British newspaper, The Guardian:
A prominent Israeli journalist, Amira Hass, has been subjected to a wave of hate mail and calls for prosecution for incitement to violence since writing an article defending the throwing of stones by Palestinian youths at Israeli soldiers.
In paragraph six of the story, The Guardian finally got around to mentioning Adele Bitton, a toddler who remains in intensive care in Israel after the car in which she was riding was involved in an accident caused by a non-metaphorical stone.
Adele's mother, Adva Bitton, responded to Hass' article with an open letter published on the Hebrew Web site, NRG, translated here:
Amira, come to the intensive care unit, and see my Adele, a 3-year-old girl, attached to tubes. Experience with me the difficult trial with which I am coping. Amira, a rock does not distinguish between blood and blood, or between an adult and a 3-year-old girl. A rock kills. A rock is a deadly weapon in every way. Three weeks ago, I experienced on my own flesh how a single rock has caused the life of an entire family to be turned upside down.
Prior to Hass' editorial, The Guardian did not see fit to report on Adele Bitton. Neither could CAMERA locate much coverage in other major news media outlets. Though The New York Times focuses disproportionally on the Israeli-Palestinian conflict, and even ran an 8,000-word New York Times Magazine cover story glorifying stone-throwers, the newspaper found room for only a 94-word brief on page A-6:
An Israeli mother and three children were seriously injured in a car crash in the West Bank on Thursday after stones thrown by Palestinians apparently hit their vehicle, the police said. Several other vehicles were also hit. Tensions have increased in the West Bank recently, with Palestinians protesting against hardship and Israeli actions in Gaza, and in support of Palestinian prisoners. Israeli forces killed a Palestinian man in the Hebron area on Tuesday. Israeli authorities said the soldiers were chasing Palestinians who had thrown a firebomb when they were attacked by and opened fire.
And not one of the 94 words was the name of the beautiful, innocent baby who still struggles for life, Adele… Where's the coverage?
Posted by SC at 11:42 AM | Comments (1)
April 09, 2013
CAMERA Analyst Makes $5,000 challenge to CBS News Chairman Jeff Fager
Jeff Fager, Chairman of CBS News. Credit: CBS
CAMERA Analyst Dexter Van Zile made a $5,000 challenge to CBS News Chairman Jeff Fager during the questions and answer period after a presentation that Fager gave at his church in Connecticut, which included the airing of a controversial segment about Palestinian Christians that was shown on the CBS "60 Minutes" program in April 2012.
Van Zile states:
Jeff Fager, chairman of CBS News, has a problem. Either he doesn't know what he's talking about or he's lying about the security fence that Israel built to protect its citizens from suicide bombers coming from the West Bank during the Second Intifada.
Read all about it here.
Posted by at 01:12 PM | Comments (0)
Aren't Glorification of Terrorism and a Hamas Unity Government Obstacles to Peace?
Hamas leader Khaled Meshaal with Palestinian leader Mahmoud Abbas
Palestinian Media Watch exposes the continued glorification of violence and terrorism against Israeli Jews on Fatah's facebook page. Even while the media routinely casts Fatah, the movement to which President Mahmoud Abbas belongs, as the "moderate" wing of the Palestinians and a reliable peace partner for Israel, Fatah continues to memorialize the perpetrators of anti-Jewish terrorism on the anniversary of their attacks. According to Palestinian Media Watch:
17 year-old Ayyat Al-Akhras became the youngest female Palestinian suicide bomber, when she killed 3 and wounded 28 Israelis in a suicide bombing near a Jerusalem supermarket on March 29, 2002. On the 11th anniversary of the attack, Fatah chose to glorify her as a hero for Palestinians, calling her the "Bride of Palestine" on Fatah's Facebook page.
Other suicide bombers and their actions are similarly celebrated. But the push for peace negotiations moves forward, while the less than "moderate" stance of Israel's peace partner is ignored.
Meanwhile, a Palestinian Authority official has announced that PA President Abbas will be meeting with Hamas leader Khaled Mesha'al later this week in Doha to discuss the formation of a unity government with Hamas, a terrorist entity.
What does US Secretary of State Kerry, who is currently in the region to push the Israeli-Palestinian peace process forward, say to all of this? According to the PA official, the US appears to have softened its opposition to unity between Fatah and Hamas.
Don't glorification of terrorism and Fatah-Hamas unity constitute obstacles to peace? Apparently not, so long as the media plays along by glossing over and ignoring the inconvenient facts that cannot be blamed on Israel.
Posted by RH at 11:07 AM | Comments (1)
"Shame on Cardozo" Website Opposes Jimmy Carter Honor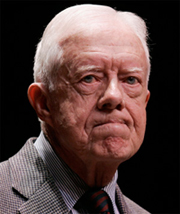 A CAMERA monograph, Bearing False Witness,details the falsehoods and errors about Israel by former US President Jimmy Carter and discusses his quest to demonize the Jewish State. The announcement of an upcoming event (April 10) at Yeshiva University's Cardozo Law School to honor Carter with a peace award was greeted with proposals by CAMERA for awards more accurately reflecting Carter's animus toward the Jewish State.
The Coalition of Concerned Cardozo Alumni suggests that continued support for Yeshiva University's Benjamin Cardozo Law School be conditioned on the cancellation of the event and urges those opposing the Carter award to contact the dean of Yeshiva University and its law school to voice their protests.
The coalition's website, "Shame on Cardozo", explains:
While Carter may be credited for the role he played in the Camp David Accords as President of the United States and the resultant cold peace between Israel and Egypt that ensued, that event took place close to 30 years ago. Since the end of his presidency, Jimmy Carter has exhibited extreme antipathy towards Israel – and by extension the Jewish people – that places him firmly in the camp of the likes of Walt and Mearsheimer.

It is simply unconscionable for a Jewish affiliated school to honor someone who has played such a high profile role in demonizing the Jewish state.
Posted by RH at 12:57 AM | Comments (4)
April 08, 2013
Other Potential Awards For Carter
Students editors of the Cardozo Journal of Conflict Resolution, a journal of Yeshiva University's Cardozo law school, will be presenting Jimmy Carter with their International Advocate for Peace Award.
There are a few days before the award is granted, so there is still time for the students to reconsider, and instead decide on a more appropriate award to give the former president. Some suggestions:
The International Advocate for Nazis Award, for Carter's intervention on behalf of an S.S. guard seemingly responsible for murdering at least one French Jew, Martin Bartesch, and eventually deported by the US Justice Department's Office of Special Investigations.
The International Advocate for Anti-Israel Misinformation Award, for the former president's dozens of errors in his book Palestine Peace Not Apartheid. The former field director for the Carter-Mondale campaign in Ohio described the book as a "deeply biased commentary on the Arab-Israeli conflict does a great deal of damage to the truth."
The Downsizing Award, for the spate of Carter Center resignations that followed the publication of Palestine Peace Not Apartheid. Kenneth Stein, the Carter Center's first permanent executive director, resigned from his position as the Center's Middle East fellow. Fourteen members of the Center's advisory board likewise resigned. And Melvin Konner, also disturbed by the book and the "irrevocably tarnish[ing]" of Jimmy Carter's legacy, declined a position on the Carter Center's advisory panel.
(For more commentary on Carter's book, see here.)
Posted by GI at 01:59 PM | Comments (1)
Abbas Continues to Impose Preconditions for Negotiating with Israel
Ma'an News Agency and the Jerusalem Post report that during the current talks with US Secretary of State Kerry, Palestinian Authority President Mahmoud Abbas is still demanding preconditions to joining Israel for negotiations. Despite US President Obama's urging Abbas to drop his preconditions, the PA continues to make negotiations contingent on Israeli acquiescence to prior demands, including:
a) halting all construction and renovation within the West Bank and eastern Jerusalem
b) immediately releasiing Palestinian prisoners held in Israel
c) submitting a map of the final borders
d) turning over parts of Area C, currently under Israeli security and civil control, to Palestinians
e) promising never to withhold Palestinian tax revenues for any reason in the future
According to Ma'an News Agency, the latter two conditions are "incentives" offered by US Secretary of State Kerry to the Palestinian leader to encourage him " to return to direct negotiations with Israel."
As President Obama stated during his recent visit to the region in March, "If the expectation is that we can only have direct negotiations when everything is settled ahead of time, then there is no point for negotiations..."
Indeed, with all the demands made of Israel prior to negotiating with Israel, what is left to negotiate? And will anyone in the mainstream take note?
Posted by RH at 12:46 AM | Comments (1)
April 04, 2013
The New York Times Disproportionate Focus on the Israeli-Palestinian Conflict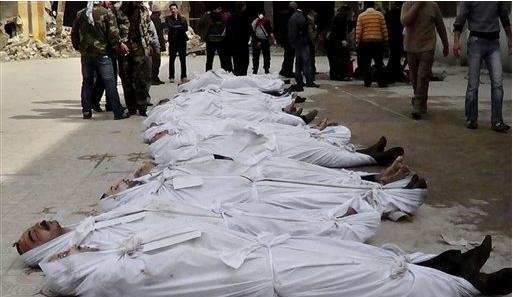 An Associated Press report published on April 1 noted that at least 6000 Syrians were reported killed in the civil conflict in March, the highest single month toll yet.
During this same period, the main news item of the Israeli-Palestinian conflict was the death of a single Palestinian hunger striker, a convicted terrorist, in an Israeli prison.
According to a tally from a Lexis-Nexis media search, The New York Times published a total of 39 articles (news articles, editorials, on its blog) in March that were mainly focused on Israel and the Palestinian conflict, plus an additional 24 on U.S. President Barack Obama's visit to Israel. The Nexis search turned up 59 pieces - a substantial proportion were brief blog items - focused on the conflict in Syria.
While acknowledging that The Times is not ignoring the Syrian conflict, considering the disproportionate toll in the two conflicts, 6000 to 1, it is striking that the number of articles is of a similar magnitude. However, even more significant than the number of articles is the disparity in the depth of coverage. Here the The Times continues to provide much greater amplification of the Palestinians plight in comparison to that of the Syrians.
In a month marked by accelerating slaughter in Syria, The Times chose to publish an 8000-word cover story for its Sunday magazine ("Is This Where The Third Intifada Will Start?"), by Ben Ehrenreich, who has called for an end to the Jewish state and waxes poetically about the Palestinian "resisters" from a West Bank town engaged in sometimes violent protests.
That story followed another extreme anti-Israel piece, a March 9 column by Joseph Levine arguing that "one really ought to question Israel's right to exist..."
The Times might have noted — but of course, did not — that the tally of fatalities in the past month alone in Syria exceeds the total number of Israeli and Palestinian lives lost during the 4 most active years of the second Intifada (September 2000-2004).
Posted by SS at 11:07 AM | Comments (2)
April 03, 2013
Where's the Coverage? Saudi Arabia Beheads and Crucifies Man

Virtually on the eve of Good Friday last week, Saudi Arabia beheaded a Yemeni national, Mohammed Rashad Khairi Hussein, convicted of sodomy and murder. Then, authorities crucified his body.
Shamefully, United Press International omitted mention of the crucifixion in its coverage of the execution. Only the British newspaper The Mail ran a full article on this story while Agence France-Presse published a brief. Sadly, barely any mainstream news outlets picked it up and none that we could find in the United States.
Here is the AFP brief in its entirety:
Saudi authorities have beheaded a Yemeni man and then crucified his body after he was convicted of murdering a Pakistani national, the kingdom's interior ministry says.

"The Yemeni citizen Mohammed Rashad Khairi Hussein killed a Pakistani, Pashteh Sayed Khan, after he committed sodomy with him," a statement carried by state news agency SPA said on Wednesday.

The Yemeni was also convicted of carrying out a series of attacks and robberies.

The execution in the southern city of Jizan was followed by crucifixion, implemented by the ultra-conservative country for serious crimes.

The beheading brings to 28 the number of people put to death in Saudi Arabia so far this year.

In 2012, the kingdom executed 76 people, according to an AFP tally based on official figures. The US-based Human Rights Watch put the number at 69.

Rape, murder, apostasy, armed robbery and drug trafficking are all punishable by death under Saudi Arabia's strict version of sharia, or Islamic law.
That is a total of 132 words. Yet, The New York Times, The Washington Post, NPR, network news and others could find no space or airtime for it. Meanwhile, when a convicted terrorist dies in an Israeli prison from cancer, The New York Times devotes six columns and a picture to the ensuing protests. While we are still waiting for the Times and others to cover the death of Ayman Samarah in a Palestinian Authority prison, is it too much to ask that the news media cover an event as extreme as a crucifixion? Two days before Good Friday?
There was coverage a number of weeks ago of Saudi Arabia's plan to crucify a jewel thief while six of his compatriots were to be executed by beheading. Even though these crimes were committed when the offenders were still minors, Saudi authorities in the end publicly executed all seven by firing squad. Some speculate the kingdom may have used a firing squad because there is a shortage of swordsmen to perform beheadings.
It seems there was one swordsman available for Hussein's beheading. However, apparently there weren't enough journalists available to cover his crucifixion. Crucifixion! Where's the coverage?

Posted by SC at 03:11 PM | Comments (1)
Where is Amnesty Stat Gideon Levy Cites?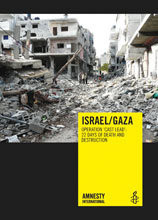 Not for the first time, Ha'aretz's Gideon Levy plays fast and loose with Palestinian casualty figures.
In his March 31 column, Gideon Levy attributes a Cast Lead Palestinian casualty figure to Amnesty International, though a thorough search of the organization's materials does not turn up any such figure. In particular, he wrote:
One can argue ad nauseam about the numbers, but even the official IDF records − 1,166 killed, including 709 "terrorists," 89 children and 49 women − leave no room for doubt. Amnesty International, for instance, enumerated only 92 Palestinian fighters among the dead. (Emphasis added.)
Yet, Amnesty's extensive report on Operation Cast Lead does not indicate that "only 92 Palestinian fighters were among the dead." Contrary to Levy's claim, the report, "Operation 'Cast Lead': 22 Days of Death and Destruction," states:
Some 1,400 Palestinians were killed in attacks by Israeli forces during Operation "Cast Lead" between 27 December 2008 and 18 January 2009. Some 5,000 were injured, many maimed for life. Hundreds of those killed were unarmed civilians, including some 300 children, more than 115 women and some 85 men over the age of 50.12 The figure is based on data collected by Amnesty International delegates in Gaza and on cases documented in detail by local NGOs and medical personnel in Gaza. According to Palestinian human rights NGOs two thirds of those killed were civilians. Amnesty International delegates who carried out research in Gaza in January-February 2009 did not have the time and resources to verify all the reported deaths, but investigated dozens of cases comprising more than 300 victims, more than half of them children and women, and gathered information from a wide range of sources. They concluded that an overall figure of some 1,400 fatalities is accurate and that, in addition to the children, women and men aged over 50, some 200 men aged less than 50 were unarmed civilians who took no part in the hostilities. In addition, some 240 police officers were killed in bombardment of police stations across the Gaza Strip in the first moments of Operation "Cast Lead" in the morning of 27 December 2008, including scores who were killed when the first Israeli air strikes targeted the police cadets' graduation parade in the central police compound in Gaza City. Even though some of the policemen who were killed in these bombardments were also rank-and-file members of Hamas' armed wing (in addition to being members of the police), many were not involved with armed groups and none were participating in hostilities when they were targeted and killed in the bombardments.13
While Amnesty acknowledges it did not have "the time and resources to verify all the reported deaths," it nevertheless somehow concluded that there were 1,400 Palestinian casualties, including 300 children, more than 115 women, some 85 men over the age of 50, and some 200 men under 50 they say took no part in hostilities -- a total of 700 uninvolved civilians, and an additional 250 Hamas policemen they say were not involved in hostilities when they were killed. According to Amnesty's own calculations, that leaves 550 unclassified Palestinian casualties out of 1400. Though Amnesty does not say so explicitly, presumably they are combatants. In any event, nowhere in its Cast Lead report does the organization cite only 92 Palestinian fighters killed. If Mr. Levy cannot substantiate his claim that Amnesty used that figure, a correction is in order.
April 4 Update: CAMERA Prompts Corrections on Gideon Levy Column
Posted by TS at 05:51 AM | Comments (0)
Updated: Ha'aretz, Lost in Translation, Again
Yesterday we noted how the "Ha'aretz, Lost in Translation" phenomenon made its mark on Land Day coverage. Today, it's illegal outposts which get the English-language makeover.
In print and online, the English edition incorrectly reports that every professional army officer not serving in a front-line unit must spend a week a year guarding an illegal outpost. A screen capture of the online article, as it now appears, follows, with the sentence in question highlighted yellow:
The word "these" is a mistranslation which introduces a serious factual error. "These settlements" clearly refers to the illegal outposts discussed in the preceding two paragraphs. Yet, the statement that every non-frontline career officer must spend a week protecting illegal outposts is incorrect.
As the reporter Gili Cohen correctly wrote in Hebrew:
כל קצין בשירות קבע ביחידות עורפיות מחויב לבצע במהלך כל שנה שבוע של אבטחת יישובים – פרק תורנות קבוע לשמירה על יישובים בגדה המערבית, בבקעת הירדן ובפתחת כרם שלום, כחלק מאבטחת האזור
This means (CAMERA's translation):
Every professional army officer not in a front-line unit must spend a week a year protecting settlements -- part of the regular tour of duty guarding settlements in the West Bank, in the Jordan Valley or the Kerem Shalom area, as part of securing the region.
Thus, while the Hebrew edition correctly reported that career officers in non-front-line units must spend a week a year protecting settlements, the English edition falsely reports that they must spend a week protecting illegal outposts. If every professional officer not in a front-line unit were required to guard an illegal outpost, the number of soldiers serving that function would be huge, in the thousands. But as the Hebrew headline correctly noted, the actual figure is relatively low -- more than 100.
CAMERA has contacted editors to request a correction. Stay tuned for updates.
Update, 8:25 EST: And now the Forward runs with the inaccurate English version.
April 4 Update: Ha'aretz Clarifies Online Article
Ha'aretz commendably has clarified the online article, which now reads:
In addition, the following clarification appears at the bottom of the article:
As of today, there has not yet been a print correction.
Posted by TS at 04:57 AM | Comments (0)
April 01, 2013
A Letter the New York Times Did Not Publish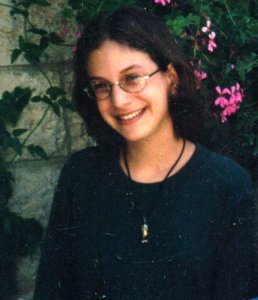 Malki Roth
The following letter was sent by Frimet Roth to the New York Times shortly after it published a one-sided magazine cover story, which one Ha'aretz reporter said could be seen as "encouraging a third intifada," about the town of Nabi Saleh.
A terrorist from Nabi Saleh murdered Frimet and Arnold Roth's daughter, Malki, several years ago. Be sure to also read this blog post by Arnold Roth, where the letter was first publicized.
Jerusalem March 20, 2013

The Editors,
NY Times

Ben Ehrenreich's article ["Is This Where the Third Intifada Will Start?"] is a brazen quest for confirmation of his preconceptions about the Palestinian Israeli conflict: politics blended with fantasy and embellished with every tear-jerking cliche in the book. Smiling, frolicking children; poetic "activists"; generous hostesses plying their delicacies at every turn. It is a bucolic scene that is frequently painted in anti-Israel publications. But how does the NY Times publish a piece that plays so fast and loose with fact and history?

Sadly, I am well-equipped to offer some corrections and details omitted by Ehrenreich.

Ahlam Tamimi, the villager whom Ehrenreich described as a woman who "escorted a suicide bomber", is in fact the self-confessed engineer and planner of a bloody terrorist attack. By her own account and after several scouting forays, Tamimi selected a target: the Sbarro restaurant in the heart of Jerusalem, on a hot August afternoon in 2001.

Tamimi has said she chose it because she knew it would be teeming at the appointed hour with women and children. She transported the bomb, enhanced with nails and bolts to maximize the carnage, from Ramallah across the Qalandia security checkpoint and into Israel's capital. Israeli soldiers still waived females through without inspection in those days.

Tamimi and her weapon, the bomber, both dressed in Western garb and chatting in English to appear as tourists, strolled through the city center. At the entrance to Sbarro, she briefed him on where and when to detonate, instructing that he wait 15 minutes to allow her a safe getaway. Fifteen men, women and children were murdered that afternoon. My teenage daughter Malki was among them. Ehrenreich, who writes warmly about Nabi Saleh's children, displays a cold detachment when relating to the bombing's victims, the youngest of whom was two years old: "Fifteen people were killed, eight of them minors."

Tamimi, on the other hand, has focused hard on the children. Filmed in an Israeli prison, she smiled broadly when an interviewer informed her that 8 children were murdered, and not merely the 3 she had known about. Since her release in the 2011 Gilad Shalit deal, Tamimi has repeatedly and publicly boasted of her deed, adding: "I have no regrets. I would do it again."

Tamimi has always lived in Amman, other than two years in Nabi Saleh while attending university. Israel 'exiled' (to adopt Ehrenreich's term) her to Jordan where her father and brothers reside. Since her release she married another Tamimi, also a convicted murderer freed in the Shalit deal. He too is a home-town hero in Nabi Saleh. The host of her own weekly show on Hamas TV, she travels freely throughout the Arab world to address her many fans, accepting accolades and trophies while urging others to follow in her footsteps.

For a mother to bury her loving, gentle child is torture. To watch the murderer walk triumphantly free and enjoy life rubs salt into that wound every day. But to see the NY Times gloss over this travesty of justice with a cover story that showcases this woman's many admirers in Nabi Saleh – that is journalism of the most amoral sort. You ought to be ashamed of it.

Frimet Roth - Jerusalem
Posted by GI at 12:20 PM | Comments (7)