« Interview with CAMERA's Alex Safian | Main | Updated: State Department Puts Award for Egyptian Activist on Hold »
March 06, 2013
Ha'aretz Replaces Irrelevant Photo
To their credit, Ha'aretz editors have replaced an irrelevant image which accompanied yesterday's online story about UNRWA's cancellation of a marathon in Gaza after Hamas banned female runners. The original image, which can only be viewed now through a cached page, (see screen shot below), had nothing to do with UNRWA or with runners in Gaza.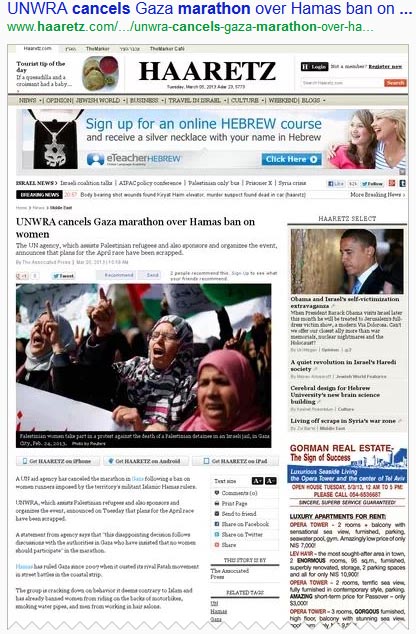 Instead, editors originally chose to illustrate the story about UNRWA's cancellation of the event with a photograph of -- what else? -- Palestinian women railing against Israel. The original caption read:
Palestinian women take part in a protest against the death of a Palestinian detainee in an Israeli jail, in Gaza City, Feb. 24, 2013
The article is now more appropriately accompanied by the following photograph of runners in the 2011 Gaza marathon:
Posted by TS at March 6, 2013 03:35 AM
Comments
Guidelines for posting
This is a moderated blog. We will not post comments that include racism, bigotry, threats, or factually inaccurate material.
Post a comment