« February 2013 | Main | April 2013 »
March 27, 2013
Where's the Coverage? Dis-Honor Killing in Gaza on International Women's Day

In the run-up to President Obama's visit to Israel, The New York Times found room on the front page to write about how Jews living in Jerusalem "fundamentally undermine" the so-called "peace process." The newspaper also found place for an 8,000-word New York Times Magazine cover story celebrating violent Palestinian protesters. What editors didn't find room for was any mention of the brutal murder of a young woman at the hands of her brother and father in Gaza.
Al-Monitor reports on Hiyam's murder, after a young man was found in the house:
According to the police and the family, the father and brother strangled Hiyam. The young man, Ahmed, was beaten and thrown from a high structure and presumed dead. Neighbors were asked to witness the act and reported it to the police.

[Hiyam's 13-year-old brother] Mohammed added, sadly, "The police came too late. They arrived after one and a half hours. If they had come earlier, they would have saved my sister Hiyam."

[…]

It was later revealed that the father and his son had first strangled Hiyam with a rope, and when that failed to kill her, they used a double wire instead.
The murder took place on March 8. That also happened to be International Women's Day. While The Christian Science Monitor, The Washington Post and other news outlets commendably covered the day, neither these nor other news media found time or space to report on Hiyam's murder. Other than Al-Monitor, only blogger Elder of Ziyon mentioned it.
The United Nations Web site declares the theme for this year's International Women's Day was "A promise is a promise: Time for action to end violence against women," yet it seems that most major media won't take the most minimal action, reporting.
According to the Palestinian Independent Commission for Human Rights:
Regrettably, women still suffer gender based discrimination in the Palestinian society. In 2012, ICHR registered (24) death cases of women, including (5) cases against the so called (honor killing) and (15) deaths under mysterious conditions. It still also monitors several patterns of violations against women, especially gender based violence.
The Palestinian Central Bureau of Statistics issued a report last year revealing that 37 percent of married women in Gaza and the West Bank admit to experiencing violence at the hands of their husbands. Over 65 percent say they never told anyone of the violence. (Isn't that the media's job?)
Where are the boycotters? Where are the flotillas? Where are the days of rage? And for the sake of decency... Where's the coverage?

Posted by SC at 12:07 PM | Comments (1)
March 25, 2013
USA Today Gets It Mostly Right
USA Today's "Palestinians not optimistic about Obama's agenda" (March 20) reminded readers that many Arab residents of eastern Jerusalem wouldn't want to live in a Palestinian state. Overall, the article was a relatively rare example of a major news outlet including essential context in an Israeli-Palestinian report.
Reporters Michele Chabin and Vanessa O'Brien noted "a recent survey conducted by Pechter Middle East polls showed that 35 percent of East Jerusalem residents said that in any two-state solution, they would prefer to live in Israel, while 30 percent preferred to live in a Palestinian state." In addition, the survey "showed that 40 percent would prefer to move to Israel if their neighborhood [of Jerusalem] became part of Palestine."
While only five percent of Jerusalem Arabs have opted for Israeli citizenship since 1967, the number applying to change their permanent resident status to citizen is rising, one resident of eastern Jerusalem told USA Today.
The dispatch also:
* Refers accurately to Hamas, which targets Israeli non-combatants and takes cover among the Gaza Strip's civilian population, as a terrorist group that desires to eliminate Israel instead of calling it a "militant" organization, and
* In the print edition correctly describes the Temple Mount in Jerusalem's Old City, not the adjoining Western Wall, as Judaism's holiest site. The longer, updated online version muddies the language in this regard. (CAMERA has obtained numerous corrections from media that have erroneously termed the Wall the most sacred physical location for Jews.) By accurately describing the importance of Temple Mount to Jews, USA Today's print report helps clarify why the site is a source of contention.
The article does err by saying that Israel's West Bank security barrier and checkpoints "bar all but a few thousand Palestinians from accessing jobs, universities and hospitals in Israel." The Israeli foreign ministry reports that last year more than 200,000 West Bank and Gaza Strip Arabs, patients and accompanying family members, were permitted to seek hospital treatment in Israel, and the Associated Press said recently that approximately 40,000 West Bank residents now are authorized to work in Israel, up from virtually none during the second intifada (2000 – 2005).
The newspaper commendably published a clarification in this regard in its March 25 print edition .
A reference to the "right of return for all Palestinians and their descendants to live in what is now Israel" should have been to the "alleged right of return …" No such right exists, as indicated by the early U.N. General Assembly resolutions on the subject, 194 (1948); 393 ('50); 394 ('50); and 513 ('52). That's one reason Arab delegations voted against them at the time.
But overall, "Palestinians not optimistic about Obama' s agenda" provides readers with important information routinely ignored in other major media. – Andy Wallin, CAMERA Washington research intern.
Posted by ER at 12:38 PM | Comments (1)
March 24, 2013
NY Times Tunes Up Israeli Apology Story
A couple of days ago, we critiqued an early version of a New York Times story about Israel's apology to Turkey, and contacted the newspaper about misleading language in the piece.
The article wrongly claimed Israel apologized for raiding the Mavi Marmara, a Turkish ship seeking to break the blockade of the Gaza Strip, when in fact the apology was not for the raid itself but for any mistakes that may have lead to the death of the passengers. The New York Times piece also mentioned that Israeli naval commandos killed several passengers on board, but failed to note that the commandos' resort to force came as they were being attacked by passengers.
To the newspaper's credit, the misleading passages were replaced with more precise language, so that the final version correctly notes Israel "apologized for deadly errors" and points out, somewhat more helpfully, that the passengers were killed " in clashes on board."
Posted by GI at 06:47 PM | Comments (1)
March 22, 2013
BBC Bests New York Times on Coverage of Israeli Apology
(March 24 update: After CAMERA contacted the newspaper, reporters improved some of the language for the final version of the article. See here for details.)
Question for the New York Times: Why be imprecise and risk misleading readers when it would be just as easy to be precise and accurate?
Consider the newspaper's sloppy summary in its report on Benjamin Netanyahu's apology to Turkey today. Twice in the first two paragraphs, reporters Jodi Rudoren and Mark Landler inform readers that Israel apologized "for a deadly commando raid" and expressed regret "for the raid." But by nearly all accounts, Israel did not apologize "for the raid" itself, but rather for operational errors potentially tied to loss of lives during the incident.
The difference is substantive. An apology for the raid suggests Israel believes it erred in stopping the ship. An expression of regret about what happened during the raid suggests it acknowledges it could have carried out the operation differently and apologizes "any errors that could have led to loss of life," as an Israeli statement put it.
The New York Times' obligation to avoid misleading readers about the scope of the apology is all the more important when considering that the wording and scope of the Israel's apology was surely a point of dispute between the two parties that had to be carefully negotiated.
An more accurate summary of the apology would have been simple. Consider the BBC's lead paragraph:
Israel's prime minister has apologised to Turkey for "any errors that could have led to loss of life" during the 2010 commando raid on an aid flotilla that tried to breach the Gaza blockade.
Even The Guardian, notorious for its hostility toward Israel, was clear in its lede that Israel apologized "for the loss of nine lives" on board the ship.
As it tends to do, the New York Times also avoided pointing out that the loss of lives on the boat were part of a intense and violent battle between Israeli troops and the activist passengers who attacked them as they boarded the ship. By withholding such context, it leaves the blatantly false impression that Israel simply boarded the ship and attacked peaceful non-combatant passengers.
The BBC report, on the other hand, noted that Israel says "its commandos used lethal force because activists had attacked them." The BBC's reference could have been better. They give equal weight to Israel's description of soldiers being attacked and the denial by some of the passengers, despite the fact that video footage shows the naval commandos being attacked as they were descending onto the ship with their hands still on the rappelling ropes. But nonetheless, its contextualizing of the deaths still bests the New York Times.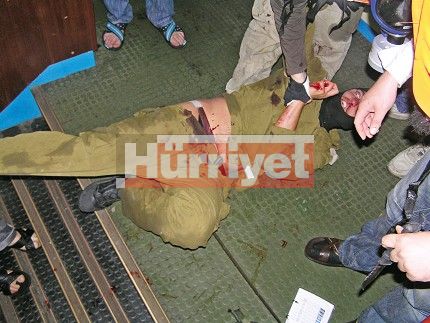 Posted by GI at 04:32 PM | Comments (2)
March 21, 2013
PBS Report Starts Off Well, Gets Caught in the Weeds
The March 19th broadcast of PBS News Hour included a segment by Margaret Warner about the Fatah-Hamas split. It started off pretty well with a look at how Hamas has worked to put Palestinians living in the Gaza Strip on a perpetual war-footing with Israel. The segment showed a fair amount of footage of Palestinian teenagers going through paramilitary training and provided some context for the imagery with Warner reporting that the training "is now offered in all of Gaza's high schools. It's further evidence of Hamas' entrenched grip on power here."
The report stumbles when Warner addresses the difference between Hamas and Fatah. Warner relies on analyst Mark Perry who states:
Abu Mazen has gambled very explicitly and he has said very explicitly that there will be no violence against Israel and he will negotiate in good faith with Israel. The problem is that hasn't gotten him anywhere. Hamas has a totally different approach, and their approach is resistance. They believe that Israel will only come to the table when they feel pain. (Emphasis added.)
What the report failed to do at this point was to assess whether or not Mahmoud Abbas (whose nom de guerre is Abu Mazen) has actually negotiated in good faith with Israel.
It's one thing to say you're going to negotiate in good faith, it's another thing to actually do it. And there's ample evidence indicating Abbas has not negotiated in good faith. For example, when Israel agreed to a 10-month settlement freeze in 2009 an effort to set the stage for negotiations, Abbas waited until the settlement freeze was almost over before coming to the table. Abbas has also imposed pre-conditions on talks with Israel. For a well-documented summary of Abbas' refusal to negotiate compiled by CAMERA analyst Gilead Ini, go here.
After Perry's testimony, Warner furthers the narrative by stating that "a growing number of Palestinians see justification for" the belief that Israel will not come to the negotiating table unless it feels pain. She adds: "Last November, a week of Palestinian rocket fire from Gaza and Israeli airstrikes led to an Egyptian-brokered cease-fire between Hamas and Israel."
It was a lot more than a week's worth of rocket fire that preceded the ceasefire. Israel had been subjected to increased rocket fire for months, not weeks prior to the ceasefire. In the 10 months prior to Israel's attack on Hamas in November, several hundred rockets were launched into Israel from the Gaza Strip.

Posted by dvz at 04:16 PM | Comments (0)
Where's the Coverage? Iran Systematically Oppresses Baha'is

Even though representatives of the government of Iran have testified that "any religious or political belief is guaranteed under the Constitution," that "no one can be put to trial or punished, or deprived of social rights owing to a particular belief," and that "the investigation of individuals' beliefs is forbidden, and no one may be harassed or taken to task simply for holding a certain belief," that's exactly what happens to Baha'is in Iran, according to two recent reports.
United Nations special rapporteur on the situation of human rights in the Islamic Republic of Iran, Ahmed Shaheed, announced a report which outlined systematic government oppression of Baha'is, "intimidation, arrest, detention and interrogation that focus on their religious beliefs," including psychological and physical torture.
A report from the Baha'i International Community, entitled "Violence with Impunity," explains that:
Since [the Islamic revolution in] 1979, more than 200 Baha'is have been executed, hundreds more imprisoned and tortured, tens of thousands denied employment, education, freedom of worship, and other rights—all solely because their religion is declared to be a "heretical sect."

This persecution has intensified in recent years. Since 2005, more than 660 Baha'is have been arrested, and, by the end of 2012, at least 115 Baha'is were languishing in prison. The increase in arrests has been accompanied by a rising tide of violence against Baha'is, marked by incidents that include arson attacks, anti-Baha'i graffiti, hate speech, the desecration of Baha'i cemeteries, and assaults on schoolchildren.
After detailing numerous violent attacks, the report concludes that:
...the Iranian government has apparently made it official policy not to investigate, prosecute or otherwise punish those who assault Baha'is or their properties. Indeed, the evidence shows that police officers, prison guards, local officials, the clerical establishment, and individual citizens have not only been encouraged to attack Baha'is through incitement in the media—they have also been given to understand that such attacks can be undertaken with complete impunity.
While, to their credit, UPI and The New York Times did cover the U.N. briefing, both focused almost exclusively on a crackdown on journalists and did not mention persecution of Baha'is. No other major media outlet even did that much.
The Baha'i International Community report received even less media attention. Only The Jerusalem Post covered both reports.
The Baha'i faith was established in Iran in 1863 and recognizes the universality of all religions. There are an estimated 350,000 Baha'is in Iran but the religion's international headquarters, the Baha'i World Centre, is located in the Middle East's only free country. You guessed it, that's Israel.
The Baha'i International Community report concludes that, "the only real protection for Iranian Baha'is comes from continued international outcry and action." Therefore it is even more urgent that we demand… Where's the coverage?

Posted by SC at 07:43 AM | Comments (0)
March 20, 2013
Report: PA Bans Photos, Video from Hebron
The Times of Israel reports:
The Palestinian Authority issued a ban on releasing photos and videos from the West Bank city of Hebron ahead of US President Barack Obama's visit, which begins Wednesday, Channel 10 reported Tuesday night. The Palestinian media is expected to comply with the PA's directives, according to reports.

Hebron residents are reportedly opposed to the US president's visit and the Palestinian Authority is attempting to avoid embarrassment over hateful displays in the city.
Posted by TS at 08:25 AM | Comments (0)
March 19, 2013
Will Donald Miller Correct?
Donald Miller
Four months ago, Donald Miller, a Christian writer who has a large following among Evangelical (and post-Evangelical) young adults in the United States, wrote a blog entry about the Arab-Israeli conflict titled "The Painful Truth About the Situation in Israel."
The entry, which was posted on his blog which promotes his most recent book "Storyline," began with a reference to the death of Jihad Misharawi's 11-month-old son Omar and declares that he was killed by an Israeli airstrike in the Gaza Strip. To add drama to the entry, Miller posted a photo of Jihad Misharawi holding the body of his dead child and grimacing in agony.
Well, as it turns out, there's good reason to believe that Omar Misharawi was not killed by an Israeli airstrike, but by a Hamas rocket that fell short during the fighting.
CAMERA researcher Tamar Sternthal provides the detail in a CAMERA analysis published on March 13, 2013:
On March 6, the United Nations' Human Rights Council issued a report which found that Omar Masharawi and two relatives were likely killed by a Palestinian rocket that fell short. Many media outlets, including the Associated Press, New York Times, and theWashington Post (online) followed up with coverage of the U.N. report, noting its finding that Masharawi was likely killed by an errant Palestinian rocket. On March 11, AP commendably corrected […] its original caption of Jihad and Omar Masharawi, in which the infant's death was blamed on Israel.
There was doubt about the circumstances surrounding Omar Misharawi's death soon after it happened. Four months later, it appears that the boy was not killed by Israel, but by Hamas.
Will Miller correct or clarify his entry, or will he ignore the issue?
There are other troubling aspects about Miller's post. For example, he describes Hamas' actions as "troubling and unhelpful" but makes no attempt to describe the ideology Hamas uses to justify its violence against Israel.
He also blames the Second Intifada on Ariel Sharon's visit to the Temple Mount, when there is substantial testimony from Palestinians themselves that state the uprising was planned long before its started.
Is Miller going to address the facts of the Arab-Israeli conflict? Or is he going to stick to his story line?

Posted by dvz at 04:39 PM | Comments (0)
March 18, 2013
The LA Times' Crime of Omission
What the LA Times won't tell you about Sharawna: Imprisoned for his role in a Beer Sheva bombing and an attempted kidnapping (Photo from Ma'an)
In its online and print articles, the Los Angeles Times carefully omits the crimes of Ayman Sharawna, a hunger-striking Palestinian just released from an Israeli jail. The print article, a truncated Associated Press article, reads:
A freed Palestinian prisoner received a hero's welcome in the Gaza Strip on Sunday evening after ending his hunger strike in an Israeli jail and agreeing to a plea bargain that will confine him to the Hamas-run territory for 10 years.

Ayman Sharawneh arrived at the Erez Crossing in an ambulance with siren blaring and red lights flashing. Dozens of TV cameramen and photographers gathered around the vehicle as it crossed into Gaza. Palestinians waved national flags and chanted slogans calling for freedom.

Sharawneh, 53, appeared weak, shaky and shrunken. He was taken to a hospital in Gaza City.

A resident of the West Bank, Sharawneh had been refusing food since July to protest his incarceration. His lawyer, Jawad Bulous, said Sharawneh accepted the offer of confinement to Gaza, fearing he would be sent to prison for decades in a military court hearing set for Monday.

"The occupation committed two crimes," Sharawneh said, referring to Israel: "arresting me, and then keeping me away from my family. But in Gaza, I am also with my family."
While the Times finds space to quote Sharawneh about Israel's alleged "two crimes" of arresting him and keeping him from his family, it does not find the space to note why in fact Sharawneh was arrested. Indeed, if an innocent man was arrested, there is justification for calling it a crime.
But the full Associated Press story, from which Times editors lifted the first five paragraphs about Sharawneh's weak condition, his noisy release, the waving flags, freedom, and alleged Israeli crimes, actually does continue on to detail why Sharawneh was in jail in the first place. The Times' didn't see fit to include the following AP paragraphs:
Sharawneh, who was serving a 38-year prison sentence for participating in militant attacks, was among about 1,000 Palestinian prisoners freed in 2011 in exchange for an Israeli soldier held for five years by Hamas militants in Gaza.

In one attack, he detonated an explosives-filled handbag in the southern Israeli city of Beersheba, wounding more than a dozen people. He was also involved in a kidnapping attempt, according to Israel's Shin Bet security service.

He was arrested again in January 2012 after being accused of violating the terms of his release by making contact with members of the militant Islamic group Hamas. The military court could have ordered him to serve out the remainder of his original sentence.
Perhaps, one might argue, the Times simply had no space to include in print the released prisoners' crime (albeit room was available for the other aforementioned details). Well, then, what about the online article, which does not face the same kind of space constraints?
The Times' online article, by Maher Abukhater, also does not mention Sharawneh's involvement in the Beer Sheva bombing, in which more than a dozen were wounded.
The nine-paragraph also does not mention his alleged kidnapping attempt. Carefully avoiding the reason for his incarceration, Abukhater reports:
The court could have ordered him to serve the 28 years remaining in his sentence at the time of his release from prison in the October 2011 prisoners exchange deal between Hamas and Israel.
Thus, the online edition is just as guilty as its print counterpart.
Posted by TS at 07:32 AM | Comments (1)
March 13, 2013
Where's the Coverage? Prisoner Dies in Palestinian Custody

On March 2, Khaled Abu Toameh reported in the Jerusalem Post that Ayman Samarah, a 40-year-old Palestinian from Jenin, died while in custody at Jericho Prison, one of the Palestinian Authority's biggest prisons in the West Bank. Almost no major news outlet picked up the story. A Google News search turned up mostly blog posts and tweets.
Contrast that with the widespread coverage of the case of Arafat Jaradat, a 30-year-old Palestinian who died in Israeli custody. Actually you don't have to. In American Thinker, Leo Rennert does that for us:
…When it came to Jaradat's death, mainstream media, led by the New York Times and the Washington Post, went all out with a slew of articles – Israel claiming it was probably a heart attack and Mahmoud Abbas and the Palestinian Authority screaming "torture" even before the autopsy could be completed. Predictably, the Times and the Post also put more stock and gave greater prominence to Palestinian propaganda than to Israel's explanations and methodical autopsy.

But when it came to Samarah's death in a Jericho prison run by Abbas and the PA, there was no coverage at all in either the Post or the Times. Not a single word. Even though families of Palestinians detainees have held sit-in strikes at the Jericho prison, alleging torture of their kin. Sadly, this is all too familiar a pattern in Palestinian territories – in the West Bank, under Abbas control, Hamas prisoners can expect brutal treatment, while in Gaza, run by Hamas, it's Fatah detainees who tend to complain of torture. But there's no media interest.
Rennert wrote that on March 4. That was over a week ago. And still, no major news stories.
Why would the media cover the death of a prisoner in Israeli custody but not a prisoner in Palestinian custody? Is it possible that they are not truly interested in relaying the plight of Palestinian prisoners at all but only in focusing on something that might make Israel look bad? If not, one has to ask… Where's the Coverage?

Posted by SC at 08:41 PM | Comments (0)
March 12, 2013
Crickets at Electronic Intifada Over UN Finding Hamas Responsible for BBC Reporter's Baby Death
Electronic Intifada, the anti-Israel web site run by activist Ali Abuminah, was extremely agitated over what it saw as the failure of the BBC to vociferously condemn Israel for the murder of the 11 month old infant son of BBC journalist Omar Misharawi. In an article titled, When BBC ignores Israeli murder of its own cameraman's baby, what hope for other Palestinians?
Electronic intifada was shocked by the BBC's behavior:
One cannot possibly imagine the BBC underplaying the death of family of its own staff in a similar way if they had been killed by, say, Palestinian rocket fire.
Asa Winstanley, the web site's associate editor, expressed outrage that the BBC exhibited some caution about blaming Israel outright, commenting:
Israel only "accused" of killing 11-month-old son of BBC cameraman Jihad Misharawi by "what his father says was an Israeli shell."
Now that the UN investigation has concluded that it was a Hamas fired rocket that most likely killed the child, Electronic Intifada has been notably silent.
Posted by SS at 11:04 AM | Comments (1)
LA Times, IHT Follow Up on Gaza Baby?
In addition to the multiple media outlets we earlier noted which had wrongly blamed Israel for the death of 11-month-old Omar Masharawi, there are others. For instance, in print, on Nov. 16, 2012, Edmund Sanders wrote in the Los Angeles Times ("Israel and Gaza veering down familiar, bitter path"):


About the same time, bereaved young parents to the south in Gaza City buried their 11-month-old boy, who had just learned to say "Mama."

The boy, Omar Misharawi, was killed Wednesday in an Israeli attack. The explosion tore through the family's home, killing him and his pregnant aunt as the family dived for cover.

"He was just a few steps behind," said his stunned mother, Ahlam Misharawi, 24. "He was right behind me." (Emphasis added.)
Sanders also had this Nov. 15 online story, in which Israel is depicted as the culprit in Misharawi's death.
The International Herald Tribune also carried reports blaming Israel for the child's killing. Jodi Rudoren and Fares Akram reported Nov. 17:
Among the Palestinian fatalities were five children, two men over 55 and a pregnant 19-year-old, according to relatives and Gaza health officials.

"We heard an explosion that shook the house, and in a moment a shell hit the house," said Um Jihad, the mother-in-law of the pregnant woman, Heba al-Mash'harawi, and grandmother of one of the babies, 11-month-old Omar.
And, the International Herald Tribune, like its parent paper, the New York Times, ran this Op-Ed by freelance journalist Lara Aburamadan blaming Israeli bombs for Omar's death.
Robert Mackey, of the New York Times' blog The Lede, also featured the Omar Masharawi story, relying on BBC's claims that he was killed when an Israeli shell came through the roof. Now that the United Nations has determined that the boy was most likely killed by an errant Palestinian rocket, we call on these media outlets set the record straight.
Posted by TS at 07:51 AM | Comments (0)
March 11, 2013
Self Justifying Journalists Just Cannot Admit They Were Wrong
Jon Donnison, pictured on the left, and Max Fisher, pictured on the right
A previous blog entry, "Media Outlets That Promoted Story Wrongly Faulting Israel Should Now Post Full and Clear Corrections" called on readers to demand that journalists fully and forthrightly correct their earlier stories blaming Israel for the death of Omar Mashrawi, the baby son of a Palestinian BBC staffer. Among the worst offenders were the BBC's Jon Donnison and the Washington Post's Max Fisher who abandoned journalistic standards in their rush to indict Israel without sufficient substantiation. Now that even the UN Human Rights Council has shown otherwise, they are twisting themselves into knots to avoid admitting they were wrong.
Jon Donnison grasps at straws as he throws out excuse after excuse to avoid admitting his irresponsible error:
1. "The family, and human rights groups, said that the house was hit in an Israeli attack."

2. "The Israeli military ...never denied carrying out the strike."

3. "Privately, military officials briefed journalists that they had been targeting a militant who was in the building."
The UN Human Rights Council is hardly a supporter of Israel. It is known more for its unwarranted attacks on Israel than for ever defending Israel. But now that it has found that Israel was not to blame, Donnison makes every attempt to discredit its findings. According to Donnison, the UN finding:

1. comes "despite the fact that the Israeli military had reported no rockets being fired out of Gaza so soon after the start of the conflict. "

2. The UN representatives only visited the house "weeks after the attack."

3. "They said they did not carry out a forensic investigation..."

4. They said they "could not 'unequivocally conclude' it was a misfired Palestinian rocket."

5. One official said "it was also possible the house was hit by a secondary explosion after an Israeli air strike on Palestinian weapons stores."
And finally, Donnison quotes the father of the boy, a Palestinian BBC staffer who had insisted that Israel was to blame. Donnison defends himself by saying that "Jehad Mashhrawi dismissed the UN findings as 'rubbish'... "
Max Fisher, of the Washington Post, who rushed to highlight the original story on his blog in November is similarly loathe to admit he was wrong. So he resorts to the echo chamber tactic, quoting Donnison to cast doubt on the UN report. And then he launches into a song and dance about how apportioning blame for the death of the child is really irrelevant and meaningless:
Omar Mishrawi's death and his photo, like so many incidents before it, are treated as a microcosm of the much larger conflict that took his life. But, as I wrote in November when reports suggested that an Israeli strike had killed Mishrawi, does knowing which military's errant round happened to have landed on this civilian home really determine the larger narrative of one of the world's thorniest and most complicated conflicts? Does assigning blame for Mishrawi's tragic death, awful as it may be, offer us any real insight into who holds the blame for 60 years of fighting? And is partitioning blame really going to serve either side particularly well?

It's difficult to see how knowing whose rocket or missile killed Mishrawi would resolve the larger questions for which that debate is a proxy: responsibility for continuing the long-term conflict, for sparking the latest round of fighting in November, and for the Israeli and Palestinian civilians who suffer as a result.
And there you have it--journalists who eagerly bash Israel without substantiation and refuse to own up to their journalistic misdeeds when they are exposed.
Such tactics defy journalistic ethics and standards. Readers should not allow them to get away with it!
Posted by RH at 11:20 PM | Comments (4)
Media Outlets That Promoted Story Wrongly Faulting Israel Should Now Post Full and Clear Corrections
Viral photo of Jihad Mashrawi mourning his dead son. While Israel was blamed, the baby was killed by Hamas.
BBC Watch reminds readers of the chronology of a story by the BBC about a Palestinian baby, the son of a BBC staffer, Jihad Masharawi, alleged to have been killed in an Israeli air strike in November 2012. The BBC carried multiple inside stories about the death of the baby – all faulting Israel.
Last week, BBC Watch pointed out that despite the UN Human Rights Council's finding that the baby was actually not killed by an Israeli strike, but rather by a Hamas rocket that had fallen short, the BBC was still promoting the story that falsely indicted Israel.
And it wasn't only the BBC that advanced the story faulting Israel. The Washington Post's Max Fisher eagerly jumped in to present "the story behind the photo" and further publicize the account of BBC's Paul Danahar that blamed Israel.

Reporter Sara C. Nelson repeated the story in the Huffington Post.
CIF Watch demonstrated how the Guardian's journalists ran with the story multiple times.
Other media outlets that eagerly seized on the story faulting Israel include the Independent, the Daily Mail, the Sun, the Telegraph, MSN , Yahoo, and CBC News.
So now that the story was shown to be false, which media outlets corrected or covered the UNHRC findings negating their original story?
The BBC, whose stories by Jim Donnison were particularly notable in their departure from journalistic ethics broadcast a brief World Service report on radio and posted Jim Donnison's grudging referral to the UN's findings negating his assertions that Israel was responsible for the explosion. But unable or unwilling to acknowledge that he was wrong to advocate a story that was false, Donnison questioned the UN's findings, frantically sticking to any suggestion that Israel might still be to blame.
The AP covered the story, and this was picked up by The Huffington Post under the headline "Son Of BBC Reporter Jihad Al Masharawi Likely Killed By Palestinian Rocket In Gaza, Not Israeli Airstrike, UN Report Says."
The same story was picked up by other culprits, as well. The Washington Post, for example, carried the story under the headline "UN report: Errant Palestinian rocket most likely killed Gaza baby in November clash" but has yet to run a correction on Max Fisher's November story. CBC News posted the story under the headline "UN report: Errant Palestinian rocket most likely killed Gaza baby in November clash."
Yahoo ran the AP story under the headline "UN: Palestinian militants likely killed Gaza baby."
Readers should make sure to call or write to the errant media outlets that ran the original false story and make sure that they post full and clear corrections.
Posted by RH at 05:36 PM | Comments (1)
March 07, 2013
Updated: State Department Puts Award for Egyptian Activist on Hold
Update: Apparently much of the mainstream media did not consider this news. A search of Nexis and Google did not come up with any mention of the story on the BBC, NBC, NPR, PBS, The Los Angeles Times or the Wall Street Journal. CBS, CNN, ABC, The Washington Post, Washington Times did cover it. The New York Times covered it in its blog. It did not warrant a news article.
As for Samira Ibrahim - after first claiming her twitter account had been hacked, she decided to take a different approach. Many sources quote her as stating :

I refused to apologize to the Zionist lobby in America, under pressure from the U.S. government, for previous Anti-Zionist statements so that prize was withdrawn.
The State Department put on hold an award it intended to give to an Egyptian political activist after anti-Semitic comments she had tweeted were publicized.
Samira Ibrahim originally was selected to receive one of the International Women of Courage Awards on Friday when First lady Michelle Obama joins Secretary of State John F. Kerry in presenting the prizes at the State Department.
The Weekly Standard broke the story on March 6 that Ms. Ibrahim had tweeted,

An explosion on a bus carrying Israelis in Burgas airport in Bulgaria on the Black Sea. Today is such a lovely day with a lot of lovely news," referring to a suicide bomb attack that killed five Israeli tourists and a Bulgarian bus driver.
Earlier in the same month, Ibrahim quoted Adolf Hitler as saying
I have discovered by the passage of time that the Jews have hands in any act against morality and any crime against society.
She also called the Saudis "dirtier than the Jews."
Ibrahim has not just limited her discourse to Jews but to America as well. The Standard reports that
As a mob was attacking the United States embassy in Cairo on the eleventh anniversary of 9/11, pulling down the American flag and raising the flag of Al Qaeda, Ibrahim wrote on twitter: 'Today is the anniversary of 9/11. May every year come with America burning.
Ibrahim was slated to receive a Women of Courage Award on grounds that she had survived horrific abuses in Egypt, including being sexually assaulted by the Egyptian military. She recently was named by Time Magazine as one of the 100 most influential people of 2012.
State Department spokeswoman Victoria Nuland stated, "We as a department became aware very late in the process about Samira Ibrahim's alleged public comments."
Ibrahim denied that she sent those messages, claiming her account had been hacked. Nuland said the State Department is investigating.
The story is all over the blogosphere and has been covered by mainstream news sources like the Washington Post, Washington Times, ABC and Fox News. An AP piece by Bradley Klapper, which is less detailed than the Weekly Standard piece, has been published widely. As of the time of this posting, it has not yet been reported by The New York Times, NBC, CBS, NPR, PBS or CNN. We will update.
Posted by SS at 03:42 PM | Comments (2)
March 06, 2013
Ha'aretz Replaces Irrelevant Photo
To their credit, Ha'aretz editors have replaced an irrelevant image which accompanied yesterday's online story about UNRWA's cancellation of a marathon in Gaza after Hamas banned female runners. The original image, which can only be viewed now through a cached page, (see screen shot below), had nothing to do with UNRWA or with runners in Gaza.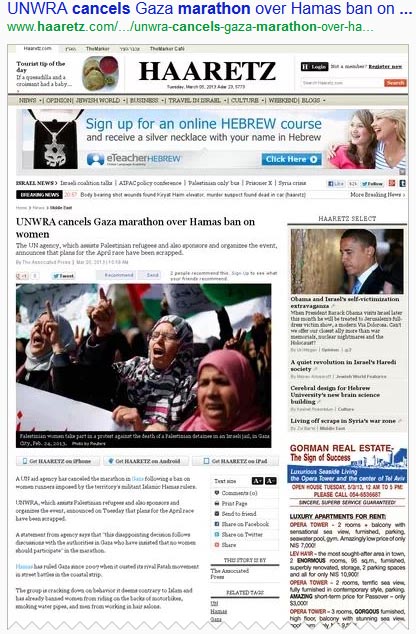 Instead, editors originally chose to illustrate the story about UNRWA's cancellation of the event with a photograph of -- what else? -- Palestinian women railing against Israel. The original caption read:
Palestinian women take part in a protest against the death of a Palestinian detainee in an Israeli jail, in Gaza City, Feb. 24, 2013
The article is now more appropriately accompanied by the following photograph of runners in the 2011 Gaza marathon:
Posted by TS at 03:35 AM | Comments (0)
March 04, 2013
Interview with CAMERA's Alex Safian
Alex Safian
Elder of Ziyon interviews CAMERA's Associate Director Alex Safian "about media bias, the "apartheid land policy" claim that got him involved in the field, and other topics."
Watch the complete interview here.

Posted by at 11:21 AM | Comments (0)