« Getting the Facts Straight About Ethiopian Jews and Contraception | Main | CAMERA Op-Ed: "Will we listen to the new Coptic Pope?" »
February 07, 2013
PressPectiva Notices "Two Headlines, one reporter"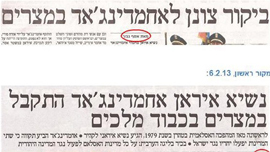 Headlines from Makor Rishon and Maariv on Wednesday about Iranian President Mahmoud Ahmadinejad visiting Egypt. (photo credit: Facebook/Presspectiva)
Times of Israel cites PressPectiva, CAMERA's Hebrew website, regarding very different headlines of the same report.
Ilan Ben Zion writes:
One writer's report about one event was given two very different treatments by editors Tuesday night.

A writer for Hebrew daily Makor Rishon reported on Iranian President Mahmoud Ahmadinejad's arrival in Cairo on Wednesday, but the article appeared in Makor Rishon and its subsidiary, Maariv, with two diametrically opposite headlines.
Read the entire article here.
Posted by at February 7, 2013 01:07 PM
Comments
Guidelines for posting
This is a moderated blog. We will not post comments that include racism, bigotry, threats, or factually inaccurate material.
Post a comment