« January 2013 | Main | March 2013 »
February 28, 2013
Hezbollah in a Slump
Hezbollah, the Iranian-backed Lebanese militia, has been thrust onto center stage of the Syrian civil war. Its new role as enforcer for the Assad regime is not playing well to the crowds. There is mounting anger directed against the Shiite militia for its brutality against Syrian insurgents and civilians. Incensed Syrian rebels threaten to exact retribution against the group. The Lebanese, themselves, express alarm that Hezbollah will drag Lebanon into a regional war.
Several senior Hezbollah commanders and an Iranian general who sat on the group's leadership council have been killed in recent weeks, and the Free Syrian Army today claims to have killed the group's deputy leader, Naim Qassem (unsubstantiated so far).
Arab sources openly denounce the organization as a subsidiary of Iran. Hanin Ghaddar, of the Lebanese web site, NOW, recently wrote:
Hezbollah is not, as it claims to its supporters, a Lebanese party whose mission is to protect Lebanese people and territories. It is a militia which uses Lebanon as a geographical base from which to launch attacks against Iran's enemies no matter where or who they are.
Hezbollah is not faring well on the diplomatic front either. Its alleged involvement in the murder of five Israeli tourists and a Bulgarian bus driver in 2012 may compel the European Union [EU] to designate Hezbollah a terrorist organization, despite the strong desire by EU members to avoid taking any action that might upset the group. Such a move threatens to shut down a major source of funding for its operations.
This is all a far cry from the adulation for Hezbollah in the Muslim world in 2006 after its summer war with Israel. It must also be a source of consternation to Hezbollah's admirers in the West. Former U.S. ambassador Edward Peck, journalists Robert Fisk of the Independent and The Nation's Adam Shatz, and British parliamentarian George Galloway were all deeply impressed with Hezbollah leader Hassan Nasrallah when he was taking on Israel. Elderly radical icon Noam Chomsky even trekked to Lebanon to pay homage to him. It's amazing what obsessive hostility towards Israel will do to blunt one's intellectual faculties. Today, Nasrallah's image seems a bit tarnished.

Posted by SS at 10:52 AM | Comments (0)
February 27, 2013
Where's the Coverage? 99% of Americans Believe Iran Is a Threat to the U.S.

We're always hearing that American society is terribly polarized and you can't get most Americans to agree that the sun rises in the east. But, apparently there is something that unites almost all Americans: the opinion that Iran is a threat. In fact, the latest Gallup poll shows that 99 percent of Americans believe that the development of nuclear weapons by Iran is a "critical" or "important" threat to the vital interests of the United States. Iran ranked as the top threat, followed by North Korea's development of nuclear weapons and international terrorism.
Commendably, UPI covered the story, reporting:
Gallup said the high level of concern Americans give to North Korea, Iran and international terrorism, could suggest these are areas on which the public would like the Obama administration and its new foreign policy team to focus.
However, CAMERA could find no other major national media outlet that felt this story merited coverage. The Chicago Tribune ran an analysis piece that mentioned Americans' concerns, only to completely discount them as "a totally irrational fear." Apparently, writer William Pfaff knows more about Iran's nuclear program than the IAEA and United Nations Secretary General Ban Ki-moon. Or possibly, like 99 percent of Americans, Mr. Ban and IAEA inspectors are "irrational."
But, how then does one dismiss satellite photographs indicating a newly-operational plutonium enrichment facility protected by "numerous anti-aircraft missile and artillery sites"? Can photographs be kooky? Nutzo, maybe?
CAMERA had previously reported that a nuclear-capable Iran is a threat to America, but put that aside.
Just the fact that 99 percent of Americans agree about anything makes this poll – in and of itself – worth reporting. Unless... the other one percent consists of members of the media. How else can one answer the perennial question... Where's the coverage?

Posted by SC at 10:26 PM | Comments (1)
Updated: Ha'aretz's Latest Lost in Translation
Palestinians in Ramallah await prisoners released Dec. 18, 2011 as part of the Shalit deal, which saw a total of 1,027 Palestinians go free (photo by Reuters)
"Ha'aretz, Lost in Translation" strikes again. For the benefit of less informed foreign readers, Ha'aretz's English translators are once again injecting erroneous information that does not appear in the original Hebrew.
The English version of an Op-Ed by Zvi Bar'el, in both print and online today, errs:
[Shin Bet chief Yoram] Cohen is the man who decided whether to arrest Samer Issawi last August after he had been released in the deal in which abducted soldier Gilad Shalit was exchanged for 477 Palestinian prisoners. (Emphasis added.)
In fact, as this screen grab of a Dec. 18, 2011 Ha'aretz headline indicates, a total of 1,027 Palestinian prisoners were released in the Gilad Shalit deal; 477 in the first stage on Oct. 18, 2011, and another 550 on Dec. 18, 2011.
The Dec. 18, 2011 DPA article in Ha'aretz correctly reported:
The second stage of an Israel-Hamas prisoner swap was completed Sunday, as Israel released 550 Palestinian prisoners into the Palestinian territories and Jordan. . . .

A spokesman for the Hamas armed wing told a news conference in Gaza City that Sunday's release completed the prisoner exchange, whereby Israel freed a total of 1,027 Palestinian prisoners in return for a soldier held captive in Gaza for more than five years.
Unlike the English edition, the original Hebrew version of Zvi Bar'el's Op-Ed today does not contain the egregious understatement of the number of prisoners that Israel released. Thus, today's English error is another fine example of Ha'aretz's "tailor-made" content for English-language readers.
Update: 11:15 a.m. EST: CAMERA Prompts Ha'aretz Correction on Palestinian Prisoners
Posted by TS at 03:26 AM | Comments (0)
February 23, 2013
In Loving Tribute - But Not to the NYT

A sharp-eyed reader spotted a moving - and wry - February 2, 2013 obituary for a New Yorker who likely reflected the views of many of the city's residents. The memorial notice included this:
Born in Tel Aviv in 1928, fought bravely in the Haganah. Loved his family, his birth and adopted countries, finance, skiing, opera, ballet and biking in Central Park. Loved everything about NYC, except the New York Times.(emphasis added)
It's notable that a patriotic American and a defender of Israel, so disliked The Times that his strong feelings were recorded in the brief death announcement.
The Times often argues that it's giving readers what they want, including intense scrutiny of Israel's every move and neglect of the relentless anti-Semitism in the media and political rhetoric of surrounding nations. Perhaps among those New Yorkers who dislike such obsessive and distorted focus on Israel was the recently deceased resident who relished so many of the citiy's riches...but not its leading newspaper. And, as CAMERA's recent monograph underscores, there's empirical evidence to support the perceptions of bias.
Posted by AL at 07:16 PM | Comments (1)
February 21, 2013
In Washington Post, Palestinian Oxymorons Threaten Israeli Archaeology
Several paragraphs of The Washington Post article "In Israel's Herod exhibit, Palestinians see cultural theft; Museum displays artifacts excavated from West Bank site" (February 14) read like they belong more appropriately in Through the Looking Glass and What Alice Found There.
The Post reports that the director-general of something called the Palestinian Authority's Department of Antiquities and Cultural Heritage faults the Jewish state of Israel for displaying artifacts from Herodium in the Israel Museum. Herodium was a palace-fortress built 2,000 years ago by Herod the Great, King of Judea. What's Arabic for chutzpah?
A few paragraphs are missing from this report by The Post's Joel Greenberg. They would be the ones from archaeologists and historians pointing out that the Arabs who began calling themselves Palestinians only in the 20th century have no historical, religious, ethnic or national connection to the Judean artifacts on exhibit in the Israel Museum.
The article's lead paragraphs make clear that material in the exhibit was found at Herodium, built by Herod, a Roman-era king of Judea—that is, king of the Jews and their land. Yet it relays with a straight face, without contradictory context,
criticism from Palestinian Arabs that Israeli removal of artifacts from Herodium for display in Israel "violates international law and appropriates cultural property that should remain in the West Bank, which the Palestinians seek as part of a future state."
The Post never mentions that "West Bank" is the term Jordan, during its illegal occupation from 1948 to 1967, applied to the territories widely known previously as Judea and Samaria. Likewise, the article quotes no source to point out the obvious: Even if the West Bank were to become part of a future Palestinian Arab state, the archaeological strata beneath it would not suddenly become "Palestinian."
That's because there was no Palestinian Arab antiquity. Prior to 1920, Palestinian Arabs were not a discrete national, religious, ethnic, or linguistic group (see, for example, Daniel Pipes' "1920: The Year The Arabs Discovered Palestine".)
The layers of archaeologically significant artifacts beneath the West Bank, under Judea and Samaria, include Canaanite, Israelite, Assyrian, Babylonian, Jewish, Byzantine, Islamic, Crusader, and Turkish. But they don't include Palestinian Arab, any more than pre-World War I layers of Balkan archaeology include Yugoslav. That identity, like Palestinian, was a 20th century political construct.
At some point in an article dealing with the past's loud echoes in the present, The Post usefully might have reminded readers that today's Palestinian Arabs have no connection to the ancient Philistines, a Mediterranean Sea people who settled in and around what today is the Gaza Strip. Babylonia defeated Judea, but it destroyed Philistia.
Too much history for one Post article? Yet the paper managed to quote an Israeli archaeologist from a group worried that the Israel Museum's Herodium exhibit "served efforts by the government and Jewish settlers to appropriate West Bank sites as part of Israel's national heritage."
No appropriation is needed. Jewish archaeological sites are by history and by definition part of the national heritage of the Jewish state and the Jewish people, regardless of any future political disposition of the surface above them.
Posted by ER at 05:12 PM | Comments (5)
February 20, 2013
Where's the Coverage? LGBT Community Suffers in Gaza and the Palestinian Authority

Here we go again.
The Jewish Daily Forward is reporting that New York's Lesbian, Gay, Bisexual & Transgender Community Center is going to allow a talk by gay professor and novelist Sarah Schulman about her new book that criticizes Israel, reversing a policy that had barred events about Israel.
Anybody who really cares about the rights of the LGBT community already knows that Israel is the best place in the Middle East for members to express themselves, that Tel Aviv was voted the Best Gay Travel Destination, that it boasts Asia's largest gay pride parade, and that parade is the only gay pride parade in the world that is part of the official municipal schedule, produced by the city and government-funded. (To see a video on Israel's gay scene, click here.) The government of Israel even funds LGBTQ Birthright trips.
British journalist Chas Newkey-Burden describes Israel's gay-friendly climate:
Workplace discrimination against gay people is outlawed; the Knesset (Israel's parliament) has many openly gay members; in schools, teenagers learn about the difficulties of being gay and the importance of treating all sexualities equally. The country's army, the Israel Defence Force has many dozens of openly gay high-ranking officers who, like all gay soldiers in its ranks, are treated equally by order of the government. The Supreme Court has ruled that gay couples are eligible for spousal and widower benefits. The country has many gay football teams. Nearly all mainstream television dramas in Israel regularly feature gay storylines. When transsexual Dana International won the 1998 Eurovision Song Contest as Israel's representative, 80 per cent of polled Israelis called her "an appropriate representative of Israel."
Despite these facts, Schulman authored the controversial New York Times Op-Ed "Israel and 'Pinkwashing,'" about which CAMERA reported:
Not only does [Schulman] insist Israel shouldn't be praised for its tolerance, she also suggests Muslims or Palestinians shouldn't be criticized for mistreating gays. And those reading the piece would be forgiven for concluding that such mistreatment is not really an issue, and that the worst that can happen to a homosexual in the Middle East is being temporarily held up at an Israeli security checkpoint.
But of course that is not the worst thing that can happen. In 2010, The International Lesbian, Gay, Bisexual, Trans and Intersex Association issued a report entitled "State-sponsored Homophobia". They report on the penal code in Gaza:
Criminal Code Ordinance of 1936 54 Section 152 Unnatural offences "(2) Anyone who: (a) commits sexual intercourse with another person against the order of nature, or (b) commits sexual intercourse with an animal, or (c) permits or allows the above mentioned acts is considered to have committed a felony punishable by imprisonment for a term of ten years."
Even ten years in prison for homosexuality is not the worst that can happen to a gay man in Gaza. Last year, the Hamas-run regime executed a gay man.
Gay Palestinians regularly seek to escape to Israel. In considering a case where a gay Palestinian man sought asylum, the Israeli High Court of Justice ordered the state to take into consideration the degree to which his life would be at risk due to his sexual orientation, should he be returned to the West Bank. According to a Ha'aretz report:
The Palestinian is asking for permission to remain in Israel because he fears for his life if he is expelled to the Palestinian Authority.

Speaking to Haaretz, he said that "in other times, when they brought me to the roadblock the entire village chased me and beat me, and nearly killed me. I prefer to sit in prison than to go back."
The San Francisco Chronicle reported in 2007 – 2007! – that "West Bank gays more at home in Israel", describing one West Bank man's life:
A 21-year-old university student with serious professional ambitions, Nawal wouldn't dream of performing [his drag show] in his hometown, where homosexuality, as in the rest of the Palestinian territories, is strictly taboo, sometimes violently so. Last year, a group of gay Palestinians visiting East Jerusalem from the United States were threatened and one of them badly beaten after they announced plans to join an Israeli gay pride rally. The Web site of ASWAT, an organization of Palestinian gay women, says Palestinian society "has no mercy for sexual diversity and/or any expression of 'otherness' away from the societal norms and the assigned roles that were formed for women. ... The Palestinian woman has no right to choose an identity other than the one enforced on her by the male figures in her family and surroundings."

So for Nawal and his friends, the only place where they can pursue a full social life is across the border in Israel.
But Schulman and others who put anti-Israelism ahead of LGBT rights don't care. They would rather use their activism to demonize Israel than to fight regimes that harass, oppress, brutalize or even execute members of the LGBT community.
And the media are doing nothing to expose this shameful betrayal nor are they shedding light on the brutality of Hamas and the Palestinian Authority toward gay, bisexual, trans-sexual and others. Years of virtual silence on this issue. Come on… Where's the coverage?
VERSUS
Posted by SC at 06:28 PM | Comments (2)
CAMERA Op-Ed: "Why so many got the elections wrong"
David Remnick, editor of The New Yorker
In his op-ed published in The Jerusalem Post, CAMERA Senior Research Analyst Gilead Ini writes about the media coverage of the recent elections in Israel. He observes:
In short, caricaturing Israel makes it possible to caricature the Palestinians. The false diagnosis of an Israel veering uncontrollably to the Right helps sustain the fashionable but unhelpful view the Palestinians have no active role in the conflict, and no responsibility for its course. How straightforward it all is to Remnick: "Israel's hard-liners harden further. The Palestinians grow more frustrated."

This might be an easier story to tell, and it might be an easier story to believe. But it is not what readers want and deserve: a fair assessment of the conflict.
Read the entire op-ed here.
Posted by at 04:35 PM | Comments (1)
February 19, 2013
Emirates' Money Wins a Washington Post Touch-Up
"Persian Gulf donor helps a rebuilding U.S. city 'think big'", announced a front-page headline in The Washington Post's February 18 print edition. The article highlighted the United Arab Emirates' help for Joplin, Mo. after the 2011 tornado that killed 161 residents, destroyed six schools and much of the rest of the city.
"Today, the nearly 2,200 high school students in Joplin each have their own UAE-funded MacBook laptop, which they use to absorb lessons, perform homework and take tests. Across the city, the UAE is spending $5 million to build a neonatal intensive-care unit at Mercy Hospital, which also was ripped apart by the tornado," reported The Post's Rajiv Chandrasekaran.
The reporter, a Pulitzer Prize-winner for his coverage of U.S. forces fighting in Iraq in 2003, told readers "the gifts are part of an ambitious campaign by the U.A.E. government to assist needy communities in the United States. Motivated by the same principal reasons that the U.S. government distributes foreign assistance—to help those less fortunate and to
influence perceptions among the recipients—the handouts mark a small but remarkable shift in global economic power."
Never mind that the principle reason the United States has distributed foreign assistance, from the post-World War II Marshall Plan to contemporary aid to Israel, for example, has been to advance U.S. national interests. The Post assisted, no doubt inadvertently, the U.A.E.'s effort "to influence perceptions" of Americans about the oil-rich country by omitting any mention of its non-democratic nature.
According to the U.S. State Department's 2011 Country Reports on Human Rights, the U.A.E.'s population is approximately 8.5 million, of whom only 950,000 or so are recognized as citizens. The seven federated emirates "are under patriarchal rule with political allegiance defined by loyalty to tribal leaders, to leaders of the individual emirates, and to leaders of the federation. … A limited, appointed electorate" chooses the Federal National Council, but it is a "non-legislative, consultative body."
The State Department says "three core human rights issues continue to be of concern: citizens' inability to change their government, limitations on citizens' civil liberties (including the freedoms of speech, press, assembly and association); and lack of judicial independence."
Freedom House, a private, Washington, D.C.-based organizations, ranked the U.A.E. as "not free" in 2011 and noted the government "continued to crack down on advocates of political change. … All decisions rest with the dynastic rulers of the seven emirates, who form the Federal Supreme Council, the highest executive and legislative body in the country."
Chandrasekhar did report that "the decision to accept the UAE money prompted an angry response from a few residents, and it sparked rants from some conservative radio commentators — one of them, Debbie Schlussel, accused the school system of taking 'Islamic blood money' — but [school Superintendent C.J.] Huff stood firm. 'I can live with the hate mail,' he said. "It's the right thing for the kids."
Joplin certainly needs help in rebuilding. It also deserves the full story about petro-dollar help from non-democratic Persian Gulf sheikdoms, allegations of "Islamic blood money" aside.
Posted by ER at 03:09 PM | Comments (0)
February 13, 2013
Where's the Coverage? Arab Discrimination Against Israeli Soccer Player

CAMERA has reported The New York Times' penchant for covering racism in soccer, especially where Israelis are concerned. In a Jan. 31, 2013 article about protests by Beitar soccer fans against the recruitment of Muslim players, bearing the headline "Some Fear a Soccer Team's Racist Fans Hold a Mirror Up to Israel," the "newspaper of record" used the event as an opening to indict all of Israeli society as racist.
In fact, The Times printed a second article in the span of ten days with the same false narrative – that because there are some intolerant Israelis, there is "a broad phenomenon of racism in all of Israeli society."
Of course, this is an example of how Israel is held to a separate and unequal standard because, as CAMERA noted:
When The New York Times reported on soccer racism in Europe on Jan. 5, 2013, the story was about the negative response to racism by European soccer fans. The article, headlined "Soccer Racism Prompts Walkout, and Outrage," noted that this was an acute problem in Russia, Ukraine, the Balkans, Britain, France and most recently Italy, and "hardly a new phenomenon." There was no suggestion that any of these fans represent their respective nation's values.
But when the soccer shoe is on the other foot, when there is discrimination against an Israeli soccer player, does The Times or indeed any major news outlet cover it? Well, that depends if you consider The South Wales Evening Post to be a major news outlet. That paper published a story on just such an occurrence. So did Wales Online, that media behemoth.
In the United States, so far only Jewish newspaper The Algemeiner reported:
Jewish Israeli soccer star and Swansea City (UK) striker Itay Shechter has been forced to miss his club's week-long training decampment because it's taking place in Dubai. The UAE and Israel do not have diplomatic relations and Shechter could have been arrested and deported if he tried to enter Dubai as the United Arab Emirates does not recognize Israel as a state.
The Algemeiner further reported that Schechter was once given a Nazi salute during a training session, a clear act of hate.
None of this soccer racism made it into the mainstream press. Is it not news fit to print? Is bigotry against Israelis and Jews not as bad as bigotry against Muslims? Is intolerance by a few individuals worse than state-sponsored and enforced intolerance by a government? Is discrimination in Dubai – and for that matter in the entire Arab world – not deplorable? So... Where's the coverage?
Posted by SC at 01:40 PM | Comments (2)
February 12, 2013
Abuse of Academic Freedom at Brooklyn College
Even before Spring Semester began, students at Brooklyn College in New York City were alerted to an upcoming hate-fest at their school. Students, community leaders, and elected officials expressed shock at being greeted back with the college's endorsement of an extreme anti-Israel event that bordered on anti-Semitic hate speech.
On Thursday, February 7th, Brooklyn College's Political Science Department sponsored a forum titled "BDS Movement against Israel," where speakers advocated the boycott of products associated with the Jewish state. At this hostile event, pro-Israel students who tried to attend found themselves deleted from the registration list, while others were arbitrarily expelled from the event. Given the details of the event (described below), it seems reasonable to ask if those expelled were targeted because they were visibly observant Jews.
Omar Barghouti and Judith Butler were the main draws at the forum. Barghouti is the founder and one of the main advocates of the Boycott, Divest and Sanctions (BDS) movement. He has stated time and time again that his goal is the end the state of Israel through BDS, and the establishment in its place of a greater Palestinian state.
Butler, a professor who is vehemently hostile to Israel, uses her Jewish heritage to give some legitimacy to the cause. She has spoken in support of terrorist groups, stating at a 2006 teach in at UC Berkeley that "understanding Hamas, Hezbollah as social movements that are progressive, that are on the Left, that are part of a global Left, is extremely important."
By sponsoring this event, Brooklyn University is promoting speakers who spew hateful rhetoric in praise of terrorists, espouse the end of Jewish sovereignty in the Middle East and compare the Jewish state to Nazis. This behavior it is akin to endorsing someone that is supportive of Al-Qaeda, as New York City Assemblyman Dov Hikind put it.
One claim of the BDS movement is that Israel is an Apartheid state like South Africa, where people were segregated by ethnicity.
This argument is rejected by those familiar with apartheid rule in South Africa, as explained by Richard Goldstone in his New York Times Op-ed "Israel and the Apartheid Slander."
The BDS movement's failure to cause economic harm has not prevented it from being used as a propaganda tool to delegitimize the Jewish state.
Even anti-Israel extremists such as Norman Finkelstein have condemned the BDS movement, calling it a "cult" and "dishonest" about its true intentions to destroy the country, adding that he "wouldn't trust those (BDS) people."
As Harvard Law Professor Alan Dershowitz noted in his January 30th column in the Huffington Post, "The BDS campaign accuses Israel of 'apartheid' and advocates the blacklisting of Jewish Israeli academics, which is probably illegal and certainly immoral. The two speakers at the event deny Israel's right to exist, compare Israel to the Nazis and praise terrorist groups such as Hamas and Hezbollah."
Shockingly, the Political Science department had neither been able to find the time to meet with students who had expressed concern about the event, nor been willing to endorse a pro-Israel speaker.
Prior to the event, Abraham Esses, president of the student government at Brooklyn College, reported that the school's Political Science department had "repeatedly turned down students' requests to meet and discuss the issue further. Student leaders with questions about the intent of the sponsorship were repeatedly denied meetings."
Esses added that "the Political Science Department has failed its students miserably. Like the right to free speech, academic freedom rights are not unbounded; the department has basically yelled 'fire' on campus, and locked the doors to their department after doing so."
Abraham Foxman, the national director of the Anti Defamation League (ADL) also weighed in the issue. In a recently published full page advertisement in the New York Times, Foxman drew parallels to sponsoring the Ku Klux Klan on campus, writing that "when a university department sponsors a blatantly anti-Israel program, or any discriminatory or hateful program, the event is afforded an added degree of legitimacy and credibility that is unwarranted."
The organizers of this event argued that the university should sponsor this event on the grounds of free speech and academic freedom. Yet these very principles that were used to justify such were quickly violated once the event commenced. One of the students evicted from the event, senior Melanie Goldberg, stated, "Someone came to me and said, 'Give me all your papers, or you'll be forcibly removed from the event,' . . . "Not only was it a violation of my freedom of speech, but they made sure to silence me." Reporters – one of whom wore a kippah – were evicted from this event as well.
Elected officials in New York City have expressed disappointment as well, among them Assemblyman Dov Hikind, Assemblyman Steven Cymbrowitz, Councilman David Greenfield, Lew Fidler, and several others, sending letters stating that as what the university was doing was "either anti-Semitic or simply ignorant" while "promoting the worst kind of hate."
Hikind went further, calling for the resignation of the president of Brooklyn College, President Gould, who has been supportive of the Political Science department. Hikind states "Gould's job demands having the guts to do the right thing," but supporting "a racist, anti-Semitic lecture series is not the right thing."
An ironic twist is that Barghouti has chosen to attend an Israeli university. Jon Haber, an activist that has fought against BDS initiatives, writes in his blog that "there is no getting around the fact that [Barghouti] exemplifies the 'do as I say, not as I do' mentality that is the Alpha and Omega of BDS. I've often wondered how Barghouti gets away with continuing his dual role as perpetual Tel Aviv University graduate student and leader of the movement to have people like himself boycotted."
This is hypocrisy at its worse. While Barghouti and Butler have invested considerable effort in encouraging an academic, economic, and cultural boycott of institutions in Israel, Barghouti has chosen to patronize an Israeli institution, where he is currently a PhD candidate. He was born in Qatar, grew up in Egypt and attended Columbia University; he certainly had options to study at many different institutions all over the world, including a Palestinian University. Although he is actively campaigning for Tel Aviv University's demise, the university has taken no steps in punishment for such actions.
This one-sided propaganda espoused by the university makes students feel uncomfortable in expressing their opinions, as Dershowitz notes, adding that "Students have a right to promote immoral causes on college campuses but not departments endorsing it."
The Political Science department created a hostile environment for its students by sponsoring this event, and in doing so delegitimized itself. It is hard to take the department seriously as it brings in speakers who spread hate and repeat absurd inaccuracies. Supporting BDS means standing against a two-state solution, it means standing against peace with Israel, and it means supporting an idea that will lead to a destruction of the state of Israel.
Although an academic department has the right to sponsor any speaker it may wish, there is a line between sponsorship of a speaker that promotes hate and academic freedom. It is for this reason that the university would never sponsor a speaker advocating for re-segregating public schools. Yet when it comes to calling for denying the right for Jewish self-determination and an aim that would surely lead to the suffering of millions, the university is fine with it. This is a double standard. What one has a right to do and the right thing to do are often two very different things. Brooklyn College did not go the responsible route befitting such an academic institution.
The online petition that the CCAP student group United4Israel and their president, CAMERA liaison Ahuva Kohanteb, put together opposing this event has attracted thousands of signatures. United4Israel students were active in putting together a respectful protest outside the event, speaking to the press about what has occurred at the university, and were some of the students who were evicted from the event, supposedly for holding a piece of paper with the "wrong" information on it. Now the question remains: How will Brooklyn College respond to the mistreatment of those who attended the forum in good faith, only to have their rights trampled by being ejected from the event?
Gilad Skolnick is CAMERA's Campus Regional Coordinator.
Posted by dvz at 04:15 PM | Comments (2)
More on the Textbook Study
Ben Dror Yemini
Ben Dror Yemini delves into the controversial study of Israeli and Palestinian textbooks, and makes some interesting points:
Let's leave aside the professor's political opinions for the moment and examine the research itself. I obtained memos written by two members of the study's Scientific Advisory Panel, Professors Amnon Groiss and Elihu Richter. While the research was still ongoing, these two scholars highlighted substantial methodological flaws and the "omission of more than forty significant texts" that appear in Palestinian school books. To be clear, the omitted texts are precisely those that contain the highest degrees of incitement ("invading snakes"; "the enemies that split open women's bellies" etc. etc.) The demand that these texts be included was turned down with the excuse that it was not clear that the words referred to Israelis or Jews. ...

And it only gets worse. When discussing negative portrayals of the "Other," the study includes the mere mention in Israeli textbooks of the Farhud – the 1941 pogrom against Iraqi Jews – and the massacre of Israeli athletes at the Munich Olympics as examples of negative portrayals of the Arab side. What exactly are the study's authors trying to say? That it is forbidden to mention these events? Or perhaps the books should be rewritten to state that "Muslim freedom fighters succeeded in striking Jewish criminals in Baghdad and Munich"? According to this logic, perhaps it should be forbidden to learn about the Nazis, since this creates a negative image of the Germans.

The Israeli textbooks, as the study notes, do mention the 1948 massacre by the Irgun militia at the Arab village of Deir Yassin (but not the majority of the pogroms that were carried out against Jews in Arab lands). In contrast, there is not a single instance of self-criticism on the Palestinian side. Not even of the Mufti Amin al-Husseini's support for the Nazis. There is also no mention of the fact that when the Palestinian texts refer to bringing an end to the occupation, they mean, almost without exception, the occupation of 'Greater Palestine' from the Jordan River to the Mediterranean Sea. Or to put it even more clearly: bringing an end to the State of Israel.

In the Israeli texts one finds humanizing descriptions of Islam and of Muslims, and a yearning for peace. The Palestinian texts are free of any such sentiments. Yet the report covers up and glosses over the complete contrast between the two educational systems.
Yemini also quotes the Institute for Monitoring Peace and Cultural Tolerance in School Education at Hebrew University explaining that they have "serious questions about the Council's report methodological choices and about some of the texts and quotes omitted from its analysis. Likewise, we find it difficult to reconcile the wide gap observed between the quotes mentioned in the report and the conclusions derived from them."
Be sure to read the rest of the illuminating piece at Times of Israel here.
Posted by GI at 10:58 AM | Comments (2)
February 07, 2013
CAMERA Op-Ed: "Will we listen to the new Coptic Pope?"
Pope Tawadros II
In his op-ed published in The Commentator, CAMERA Christian Media Analyst Dexter Van Zile asks:
Pope Tawadros, and the flock he leads, need the support of his co-religionists and human rights activists in the West. Will he get it?
Read the entire op-ed here.
Posted by at 04:19 PM | Comments (0)
PressPectiva Notices "Two Headlines, one reporter"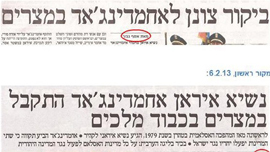 Headlines from Makor Rishon and Maariv on Wednesday about Iranian President Mahmoud Ahmadinejad visiting Egypt. (photo credit: Facebook/Presspectiva)
Times of Israel cites PressPectiva, CAMERA's Hebrew website, regarding very different headlines of the same report.
Ilan Ben Zion writes:
One writer's report about one event was given two very different treatments by editors Tuesday night.

A writer for Hebrew daily Makor Rishon reported on Iranian President Mahmoud Ahmadinejad's arrival in Cairo on Wednesday, but the article appeared in Makor Rishon and its subsidiary, Maariv, with two diametrically opposite headlines.
Read the entire article here.
Posted by at 01:07 PM | Comments (0)
Getting the Facts Straight About Ethiopian Jews and Contraception
A Jewish Ethiopian child holds an Israeli flag. Photo: Ethiopian Diaspora Forum.
In an op-ed published in the Algemeiner, CAMERA's Tamar Sternthal sets the record straight regarding Ethiopian Jews and contraception:
According to a sub-headline accompanying an Op-Ed in the English edition of Ha'aretz, "The revelation that Israel is sterilizing Ethiopian women adds to a shameful history of abuse of powerless women and communities." That's a shocking, horrifying assertion with its overtones of Nazi racism and Dr. Mengele's experimentation. It's also completely false. Although it was later corrected, the damage was done.
Sternthal continues:
Irresponsible, sensationalist reports distract from real social challenges facing Ethiopians in Israel, and do not help them.

There are those, however, who do benefit from this saga. In the digital era, where falsehoods long outlast yellowed news clippings, the lie about Israel's sterilization of Ethiopians will doubtless become another weapon in the arsenal used by extremists to delegitimize the Jewish state.
Read the entire op-ed here.
Posted by at 10:12 AM | Comments (0)
February 06, 2013
Where's the Coverage? Iran, #1 Worldwide in Executing Children, Elected to UNICEF Leadership

According to its Web site, the United Nations Children's Fund (UNICEF) "is the driving force that helps build a world where the rights of every child are realized." On January 23, the organization issued a press release announcing that its Executive Board had elected a five-member leadership Bureau to include the Permanent Representative of the Islamic Republic of Iran. You read that right.
Iran leads the world in executing child offenders, those convicted of crimes committed when they were under the age of eighteen. Just last month, Iran carried out such an execution. According to a report by Amnesty International:
Article 49 of [Iran's] Penal Code states: "[M]inors, if committing an offence, are exempted from criminal responsibility. Their correction is the responsibility of their guardians or, if the court decides, by a centre for correction of minors."

A minor is defined as "a person who has not reached the age of maturity as stipulated by Islamic jurisprudence". The age of majority in Iran is nine for girls and 15 for boys, implying that children of these ages and above can be sentenced to death. Amnesty International is aware of one girl on death row in Iran for a crime committed when she may have been only 13, and several cases of boys who were 15 at the time of the offence, and one who may have been only 14.

Officials from the Iranian Government and the Judiciary have repeatedly stated that Iran does not execute children, even though it is known that some offenders have been executed before they reached the age of 18. However, in most cases the authorities wait until child offenders have turned 18 before executing them.
Well, that's swell of them. By the way, you may want to amuse yourself by perusing the list of UNICEF Executive Board member states which includes China, of the infamous one-child policy with its attendant high infant abandonment rate, Russia, of the hellish orphanages, and Pakistan, where they pull young girls who want to be educated off buses and shoot them in the head.
Iran's election was reported by the Iranian news agency FARS, Iranian operation Press TV, and the Tehran Times. Naturally, none of these outlets reported the absurdity of the story. But, neither did the western media because the western press did not report it at all.
Neither is it widely reported that Iran sits on the U.N.'s Commission on the Status of Women (CSW), which, according to its Web site, "is the principal global policy-making body dedicated exclusively to gender equality and advancement of women." Currently, an unmarried woman in Iran cannot leave the country without her father's permission and a married woman without her husband's, but the parliament is considering tightening restrictions. Yes, you read that right. That's gender equality for you. And we aren't even discussing penalties for women accused of adultery or the prevalence of honor killings.
This is the perverse institution known as the United Nations. At the CSW's last meeting there was only one country-specific resolution and it condemned – you guessed it – Israel. Iran's representative used his speech to excoriate – you guessed it - Israel. The previous year, there was also only one country-specific resolution, aimed at – you guessed it, again - Israel.
What is the point of a council on children's rights that has a place for a country that sentences children as young as nine to death? What is the purpose of a commission on women's rights that seats a country where women are stoned to death? Where is the recognition of the hypocrisy of the United Nations and the caricature it has become? And, for heaven's sake… Where's the Coverage?
Posted by SC at 09:14 PM | Comments (2)
Whitewashing BDS
Brooklyn College (Flickr)
Over at Tablet Magazine, Yair Rosenberg notices a journalistic trend: Misinformation about the radical, anti-Israel BDS movement.
After pointing out that MSNBC and the New York Times editorial board have sloppily described BDS as little more than a group seeking to "pressure Israel to end its settlements and occupation" (MSNBC), he explained that "this is not, in fact, the entirety of what the BDS movement advocates."
On its "Call for BDS" page, the movement outlines three official goals for boycotts, divestment and sanctions against Israel. The first is the one acknowledged by Hayes and the Times: "Ending its [Israel's] occupation and colonization of all Arab lands and dismantling the Wall." The second: "Recognizing the fundamental rights of the Arab-Palestinian citizens of Israel to full equality."

And then there's the third: "Respecting, protecting and promoting the rights of Palestinian refugees to return to their homes and properties as stipulated in UN resolution 194."

This radical goal goes completely unmentioned by both Hayes and the Times, giving their audiences the false impression that the BDS movement merely seeks a non-violent way to end Israeli occupation and implement a two-state solution. But in fact, BDS's own materials and proponents oppose the very existence of the State of Israel as a Jewish state, and demand the return of 5 million Palestinians to the country, which would effectively abrogate its Jewish character.
A vice chair of Americans for Peace Now — a group whose dovishness and failure to take seriously Israeli security concerns puts it outside the American Jewish mainstream, but which can accurately be described as wanting to "pressure Israel to end its settlements and occupation" — noted that "BDS's prime motivation, if their messaging is to be believed, is not to end the occupation at all; rather, it is to end Israel."
Even Norman Finkelstein, who dedicates most of his time to bashing Israel, felt the need to call out the BDS movement for being coy about the fact that "they don't want Israel."
What Rosenberg doesn't mention is that it isn't only the Times editorial board that got it wrong, but also its news reporters. In two news stories, the newspaper described BDS in a way that erases the vast gulf between their views and the views of many of their critics — including those critics of BDS who are also critics of Israel.
Reporter Jenny Anderson described BDS as an "international group that advocates Israel's withdrawal from disputed territories where Palestinians live."
Vivian Yee's misreporting was even more striking:
Enter B.D.S., an international lobbying movement that advocates Israel's withdrawal from Palestinian territories — a demand that caused a furor in another unlikely enclave of Brooklyn last year when members of the Park Slope Food Co-op rejected a motion to boycott Israeli products.
It's safe to say that the BDS movement's call for Israeli withdrawal is not what "caused a furor." It was those other demands, and the ultimate goal.
Posted by GI at 12:23 PM | Comments (1)
Ha'aretz Admits 'Land Grab' Story Unfounded
There's good news and bad news about the latest Ha'aretz article which contains unreliable information. First, the background. Last week, Ha'aretz ran a page-four article with the startling headline (in print):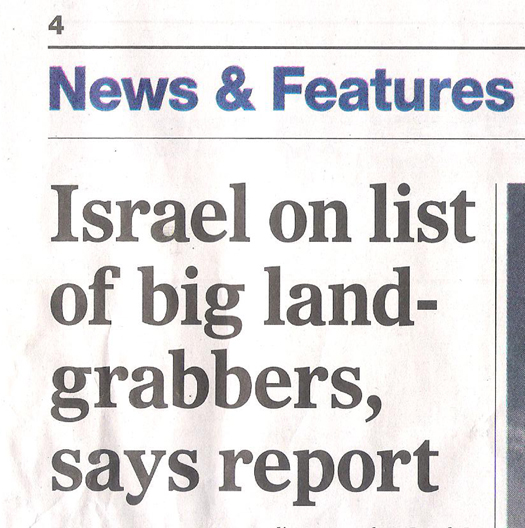 The online version appeared as follows:
According to reporter Zafrir Rinat:
Wealthy countries, and private companies from those countries, have been increasingly buying up land in poor areas for their own economic purposes, a new study says. And Israel turns out to be one of the leading land grabbers.

The study, conducted by Italian and American researchers and published in the journal of the U.S. National Academy of Sciences, warns that such land grabbing could cause environmental and economic damage to poorer countries.

The purchased land is generally used to grow crops for either food or biofuel. But the sales usually occur without the local population being consulted, and with no thought to the environmental or economic implications for the host country. . . .

The leading land grabbers are the United States, Britain and China. But smaller countries also make the list, among them Israel. Israel makes the list due to large-scale purchases of agricultural lands in Colombia, where sugar cane for biofuel is grown, and in the Democratic Republic of Congo, where jatropha, another plant used in biofuel, is grown.
Today, to its credit, Ha'aretz follows up with a story acknowledging that the study's findings are highly questionable.

Rinat reports today:
The authors of a study examining the phenomenon of "land grabbing" – land purchases in poor countries by wealthy ones – will reexamine their conclusion that Israel is one of the top-ranked culprits. They decided to do so after learning that their assessment was based on imprecise data about an alleged Israeli deal in the Democratic Republic of Congo. . . .

According to the study, Israel ranked among the top six land- and water-grabbing countries. The main source of information on which the researchers based their work was a database called Land Matrix, which provides information about land transactions. . . . .

The Land Matrix database contained information about a large land purchase supposedly made by Israelis in the Democratic Republic of the Congo. The size of the deal put Israel near the top of the land-grabbing list. The land involved in the deal is to be used to grow jatropha trees to produce biofuel. But a later look at the Land Matrix database failed to turn up any information about such a deal.

An Israeli contacted one of the researchers who conducted the study, Dr. Maria Cristina Rulli of the Polytechnic Institute of Milan. After reviewing the database, she admitted that the information about the deal was no longer there. She said she and her colleagues had checked Land Matrix on two occasions and found the deal that had been attributed to Israel listed there, though it had recently been removed.

Therefore, she said the research team will reexamine the data, and that they will modify their findings accordingly regarding Israel's place on the list of land-grabbing countries in the next scientific publication dealing with land grabbing.
That Ha'aretz followed up with a story acknowledging that the study's findings were unfounded is the good news.
The bad news is that the original article charging that Israel is one of the world's leading "land grabbers" remains online in its original form, without even a link to the new article. Stay tuned for an update.
Posted by TS at 05:17 AM | Comments (1)
February 05, 2013
Novelist Explores Media Bias in American Thinker Op-Ed
Noah Beck, author of "The Last Israelis," a military thriller about the Iranian nuclear threat, recently posted an article in American Thinker, "Mali Reveals the Media's Gaza Bias." In it, Beck compares press coverage of Mali and Gaza:
France can launch military attacks about 2,000 miles south of its border in response to an Islamist threat that endangers nobody in France, but Israel is vilified if it responds militarily to deadly rocket attacks targeting its civilians from two miles to its south.

[…]

So why is Palestinian victimhood prioritized? And if Hamas is similar to [Mali Islamist group] Ansar Dine, why does it get a pass?

Some might argue that – unlike Ansar Dine – Hamas represents its subjects. But Hamas represents only the power of its guns and its Iranian patron. Another argument: Mali's government and people wanted French help in ousting the Islamists. But Hamas would never seek assistance in dethroning itself and who knows what Gazans want when they're brutalized for speaking against Hamas?

Unfortunately, the media's double standard has a simple explanation: anti-Israel bias.
CAMERA knows a thing or two about the subject. Anti-Israel media bias on the pages of The New York Times is the subject of a new CAMERA monograph, "Indicting Israel: New York Times Coverage of the Palestinian-Israeli Conflict."

Posted by SC at 06:25 PM | Comments (0)
Not "Too Jewish": The Washington Post's Ed Koch Obituary

In his one-man Broadway show "The World According to Me," comedian Jackie Mason got laughs relating that after performances, Gentiles would congratulate him but some Jews would complain, "it's too Jewish."
The Washington Post's obituary on Ed Koch ("Edward I. Koch, 88: Three-term mayor was as colorful as the city he led; He revived New York when it was seen as a symbol of dysfunction," February 2) reflects that latter spirit—not "too Jewish."
The 1,304-word article by Post reporter Paul Schwartzman notes that the former congressman and mayor was "the son of a Jewish immigrant furrier" and that he campaigned "alongside Bess Myerson, the first Jewish woman to win the Miss America title." The obituary also says that "during the 1988 presidential campaign, he [Koch] caused a kerfuffle when he said Jews would be 'crazy' to vote for the Rev. Jesse Jackson because Jackson had voiced support for Palestinian leader Yasser Arafat."
But it omits Koch's epitaph, which other obituaries and appreciations noted. The former mayor chose the last words of Wall Street Journal reporter Daniel Pearl before he was beheaded by al-Qaeda terrorists: "My father is Jewish, my mother is Jewish, I am Jewish."
Rabbi Benjamin Blech of Aish HaTorah recalled Koch's "What's on My Tombstone and Why," posted at his Huffington Post blog two years ago. "So strongly did he feel about the importance of this recognition for every Jew," Blech noted, that the former mayor added "I believe these words should be part of the annual services on the Jewish High Holiday of Yom Kippur, and should be repeated by the congregants."
The Washington Post's obit leaves out more of the same, which helped define Koch. For example, as The New York Sun highlighted, he worked for free Soviet Jewish emigration, was honored by the Jerusalem City Council as a guardian of the city—a memento he displayed on his office wall—and closed one of his several memoirs by writing "he was fiercely proud of his Jewish faith. He fiercely defended the City of New York and he fiercely loved the people of the City of New York."
When Yisrael Meir Lau, a Holocaust survivor and then chief rabbi of Tel Aviv (later chief Ashkenazi rabbi of Israel) visited New York, Koch arranged to meet him. Again, according to Aish.com, the mayor told Lau of visiting Berlin and being shown Adolph Hitler's personal globe. The Jewish population, from one for Albania to six million for the United States, was marked on each country. Koch told the rabbi he
believed "I'm a Holocaust survivor too."
And according to an obit at Commentary online, Koch once informed the magazine Vanity Fair that the one living person he despised most was Jimmy Carter. The ex-president's anti-Israel animus has been well documented by CAMERA, for example. In commentaries in recent years the former mayor decried the international resurgence of antisemitism and warned against diplomacy, including by the United States, that might isolate Israel.
The Post acknowledged Koch's "unbridled candor and unyielding chutzpah …." Chutzpah of course, being untranslatable Yiddish but approximated by audacity, effrontery, guts and gall in various combinations, which the obituary lacked in conveying the Jewish intensity of Ed Koch.
Posted by ER at 12:06 PM | Comments (0)
Updated: LA Times Confuses Palestinian, Israeli Textbooks
Derech Hamilim 4, the Israeli book which discusses a Muslim Arab who helped an Israeli soldier. The LA Times wrongly reported that a Palestinian textbook mentioned this case
In an article today about the new Israeli-Palestinian textbook study (which itself appears to have some methodology problems), the Los Angeles Times' Edmund Sanders erroneously reports:
A fourth-grade Palestinian textbook includes a story of a Palestinian who helped rescue a wounded Israeli soldier because, he says in the text, it was "my obligation as a Muslim Arab." ("A textbook case of bias for both Israelis, Palestinians," emphasis added)
In fact, this positive example of a Muslim Arab helping an Israeli soldier appears in an Israeli textbook, not a Palestinian textbook. The name of the Hebrew Israeli textbook book is Derech Hamilim, Book Four. Under the heading "Examples of positive descriptions of the acts of the other from Israeli books," Page 21 of the study details:
Another example: "'I saw it as my obligation as a Muslim Arab to offer help to an Israeli soldier injured in an accident' said Abdullah Yusef Yunes… who offered help and drove an Israeli soldier in his vehicle" (State secular schools, Through the Words: Book D [ דרך המילים: ספר ד'. כנרת ], 2009, Grade 4, Part 4, p.203, LP1892).
CAMERA has requested a correction. Stay tuned for an update.
Feb. 6 Update: CAMERA Prompts LA Times Correction on Israeli Textbook
Posted by TS at 04:45 AM | Comments (0)
February 04, 2013
A Few First Impressions of Israeli-Palestinian Textbook Study
We have yet to thoroughly comb through the new study of Israeli and Palestinian textbooks, but meanwhile, here are a few first impressions.
The Framing (or Spin)
There are the findings, and then there are the ways they are presented. Notable, though hardly surprising, is the way the The New York Times chose to frame the study. For the newspaper it tends to be all about Israel looking bad, and its report in this case is no different: The study, they tell readers, is about Israel being wrong and Palestinians being vindicated. Its headline reads, "Academic Study Weakens Israeli Claim That Palestinian School Texts Teach Hate." (The article's URL, which refers to the study "belying" Israeli claims, suggests an earlier headline may have been even stronger and more off-base in its conclusions.
The newspaper could have more accurately reflected the contents of the researchers' press release, and of the study itself, if it chose any number of other headlines. One example: "Study Shows Israeli Improvement in State Textbooks; Ultra-Orthodox and Palestinian Texts Lag."

The press release, too, seems to tend toward symmetrical language, with the effect of minimizing the overall finding that "the negative presentation of the other, the positive, non-critical presentation of the self, and the absence of images and information about the other, are more pronounced in the Israeli ultra-Orthodox and Palestinian school books than in the Israeli State school books."
The Study
The study makes clear that "When the distribution or balance of positive, neutral and negative characterizations are compared, the Israeli State school books have a significantly less negative overall balance in characterization of the other than do the Israeli Ultra-Orthodox (difference significant at p=.004) and the Palestinian books (p<.0001)."
Israel's state textbooks come out ahead in the study, but perhaps not nearly as much as they should. There are serious questions about the way passages with clearly distinct qualities are unfairly lumped together. At first glance, at least, it appears that moderate, factual statements in Israeli texts are considered equal to much more extreme statements in Palestinian texts, while positive, humanizing assertions about Palestinians in Israeli textbooks are lumped with sterile passages praising biblical figures revered by both Jewish and Muslims.
For example, under the heading "Examples of negative descriptions of the acts of the other," a straightforward description of the Farhoud, a massacre of Jews in Iraq, is presented as being akin to a claim that "the Zionist entity" was engaged in "imperialism" and in "exterminating" the Palestinian people.
Examples from Israeli books:

Referring to a 1941 pogrom in Iraq: "On the holiday of Shavuot, Arabs attacked Jews and murdered them, including women and children…. The slaughter of the Jews of Bagdad continued for two days without interruption" ...

Examples from Palestinian books:

"…facilitating Jewish migration to Palestine to turn it into a Jewish state after evacuating or exterminating its people, and before this Zionist, imperialist plan... The struggle with the Mandate government and Zionism continued until the Nakba (Catastrophe) took place in 1948… The Palestine war ended with a disaster of which history had not seen the like, and Zionist gangs usurped Palestine and displaced its people from their cities, villages, land, and houses, and founded the state of Israel... The tragedy was exacerbated with the Zionist entity's occupation of what remains of Palestine...
Likewise, the "positive characterizations of the other" in Israeli books appear to be significantly more real, contemporary, and humanizing, whereas the one example the report provides of a positive characterization by Palestinians of the other is one about divine books being revealed to Abraham, Moses, David and Jesus. The study does not point out that all of these figures are considered prophets in Islam, which makes the classification of them as "the other" much more dubious.
Examples of positive descriptions of the acts of the other from Israeli books:

One example from an Israeli State school book when discussing the pogrom in Hebron in 1929: "If not for the brave stand of a British police officer and moderate Arabs who physically defended their Jewish neighbors, the slaughter would have been more awful" (State secular schools, National World 2 - Building a State in the Middle East [ עולם לאומי ב' - בונים מדינה במזרח התיכון ], Grade 10, Part 2, p.30, LP345).
Another example: "'I saw it as my obligation as a Muslim Arab to offer help to an Israeli soldier injured in an accident' said Abdullah Yusef Yunes… who offered help and drove an Israeli soldier in his vehicle" (State secular schools, Through the Words: Book D [ דרך המילים: ספר ד'. כנרת ], 2009, Grade 4, Part 4, p.203, LP1892).
"Abu Salah had long been our friend and neighbor. Only a low stone fence separated our cemetery and his house. In the summer, Abu Salah would bring us coal for the bakery oven, and in the winter, when our car got stuck in the mud, he would bring the milk on his camels" (State religious schools, Open the Gate: Anthology for 6th Grade,[ פתחו את השער: מקראה לכיתה ו '], Grade 6, p. 304, LP1254). ...

An example of positive description of the act of the other from Palestinian books

The following divine books: 1 - "The messages of Abraham (peace be upon him) and Moses call for belief in God Almighty, worshipping Him, and following noble morals". 2 - The Torah: Was revealed to Moses (peace be upon him) to guide the children of Israel. 3 - The Zabour: Was revealed to David (peace be upon him) with sermons and guidance for the children of Israel. 4 - The Gospel: Was revealed to Jesus (peace be upon him) to guide the children of Israel, and to reaffirm what Moses (peace be upon him) had brought". Islamic Education part 1 grade 3 p. 17
Other examples of the authors sloppily lumping together passages with glaringly different qualities, and equating straightforward factual descriptions with ideological or even flatly inaccurate assertions appear, at first glance, to be all too prevalent.
More to come...
Posted by GI at 04:51 PM | Comments (1)
CAMERA Op-Ed: Exposing Double Standards at The New York Times
A report about racism among Israeli soccer fans is turned into an indictment of Israeli society
CAMERA's Ricki Hollander writes in the Times of Israel:
Israel is the only country whose leaders, policies, and society are routinely singled out for condemnation in the newspaper. Take, for example, last week's report about racism among Israeli soccer fans. The article purported to cover recent protests by Beitar soccer fans against the recruitment of Muslim players for the team, but this was merely an opportunity to present a sweeping indictment of Israeli society.

Racism among soccer fans is not unique to Israel, nor does it reflect on society at large. In fact, The New York Times, only a few weeks earlier, published a story about racism among soccer fans and players in Europe, noting that it is "hardly a new phenomenon." The article pointed out that it is an acute problem in Russia, Ukraine, and the Balkans, as well as in Britain and France. It also mentioned that 25 racist incidents occurred during the latest soccer season in Italy. But there was no suggestion that European soccer fans represent their nation's values.

So how was a story about the deplorable message of some Israeli soccer fans, which provoked widespread condemnation within Israel, turned into an indictment of Israeli society?
The Op-Ed provides examples of the tactics employed by The New York Times to implicate Israel in wrongdoing.
Posted by RH at 02:10 PM | Comments (1)