« Berger's Monochrome View of a Bilateral Conflict | Main | Presspectiva Nominated for Israeli Prize for Media Criticism »
January 06, 2013
What to Expect from Al Jazeera on US Cable?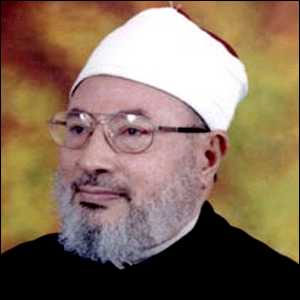 Sheik Qaradawi, a host on Al Jazeera, has been blamed for inciting the beheading of two Americans in Iraq
Writing in USA Today, Michele Chabin explores what American viewers can expect from Al Jazeera on its newly purchased American cable channel, Current TV. She begins:
Media watchers in the Middle East say the Arabic news network Al Jazeera is well known for promoting radical Islamist causes overseas, but it remains to be seen how it will present the news on its newly purchased U.S. cable channel.
She cites CAMERA among other media observing, noting:
The news media watchdog Committee for Accuracy in Middle East Reporting in America or CAMERA, which frequently takes U.S. outlets to task over errors in reporting on Israel, says the network has been assailed for bias even in the Middle East.

In 2004, interim Iraqi Prime Minister Ayad Allawi temporarily shut down Al Jazeera's broadcast in Iraq because he said it was inciting violence and racial hatred. In 2008, former ABC-TV Nightline reporter Dave Marash, brought on to anchor Al Jazeera English for American audiences, quit after two years and said the anti-American bias at the station was "reflexive."

"The agreement by Al Jazeera cable television network to buy Current TV is not necessarily a plus for U.S. cable operators or their audiences," said Andrea Levin, president and executive director of CAMERA. Al Jazeera Arabic "is not the Middle East equivalent of CNN, as it is often but mistakenly described," Levin said.

CAMERA says one of the network's most popular programs is Shariah and Life, hosted by Sheik Yusuf al-Qaradawi, a former "spiritual guide" of the Muslim Brotherhood. Al-Qaradawi has called for conversion of Europe and North America to Islam and a Muslim-led genocide of Israel and the Jews, Levin said.
Posted by TS at January 6, 2013 05:34 AM
Comments
Dont forget, Al Jazeera aired a Show glorifying the massacre Dalal Mughrabi commited in 1978.
Mughrabi led the worst terror attack in Israel's history in 1978, when she and other terrorists hijacked a bus and slaughtered 37 Israeli civilians.
Here's the show Al Jazeera presented about this terrorist Mughrabi.
http://www.youtube.com/watch?v=ROp9b9JR8ss&feature=relmfu

Posted by: Anonymous at January 6, 2013 07:55 PM
http://www.meforum.org/3147/al-jazeera
If there was any doubt about Al Jazeera's sympathies and lack of neutrality, it was effectively laid to rest with the channel's coverage of the release of Samir Kuntar. Kuntar had savagely murdered two Israelis in 1979, including a 4-year old girl, and had been jailed in Israel since then. On his 2008 release in an Israel-Hezbollah deal, Al Jazeera Arabic threw him a party: "Brother Samir, we wish to celebrate your birthday with you," crowed the station's Beirut bureau chief, hailing Kuntar as a "pan-Arab hero.
Posted by: Ken Kelso at January 9, 2013 03:42 PM
On Obama's trip to Israel, we see Al Jazeera posting a cartoon that unmistakeably anti-semitic with a hook-nosed Jew crucifying Christ-like victim, their hands dripping with the victims' blood, etc,
This is routine and pervasive in Arab (and Iranian) in the Arab world.
But the fact we have an Al Jazeera network in the U.N is sickening. These are the racists Al Gore sold his network to.
People must speak out against the Nazi blood libels of Jews by the Arabs and Al Jazeera.
Here's a link to the Al Jazeera cartoon showing a hook-nosed Jew crucifying Christ-like victim, and other Arab cartoons on Obama's trip to Israel.
Posted by: Barry Meridian at March 23, 2013 09:32 PM
Guidelines for posting
This is a moderated blog. We will not post comments that include racism, bigotry, threats, or factually inaccurate material.
Post a comment