« Huffington Post Publishes Photo of Pakistani Terrorist Bombing with Article Titled "US Ramps Up Pakistan Drone Strikes" | Main | Shlomo Avineri Calls for End to Palestinian Incitement »
January 12, 2013
There's the Coverage: Forbes Faults Media for Ignoring Egypt Hate Speech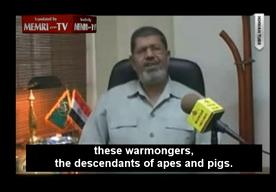 Investigative journalist Richard Behar was struck when he saw footage, from 2010 but recently publicized by MEMRI, of Muhammed Morsi calling his Jewish neighbors "descendents of apes and pigs," an anti-Jewish slur heard in the Arab and Muslim worlds.
Writing in Forbes, Behar states:
Needless to say, this was HUGE NEWS for American mass media! Only it wasn't. (Knock, knock, New York Times? Anybody home?) In fact, to be fair to the paper of record, not a single major outlet has covered it. Not AP or Reuters. Not CBS News or CNN. Not Time magazine or U.S. News & World Report. Not the Washington Post, the Wall Street Journal, or USA Today. Etcetera. And therein lies a story, which this column can only begin to skin open here.
Behar argues that major-media reporters "need to hold Morsi's feet to the fire over such comments – if not by asking him directly about them, then at least by reporting that he uttered them" But, citing CAMERA, he notes that
The New York Times rarely touches this stuff. In fact, a harshly critical mega-report about the newspaper's Middle East coverage was recently released by the Committee for Accuracy in Middle East Reporting in America (CAMERA). The Times can't be too happy about it. "The failure of the New York Times to cover the hate indoctrination leads the pack, in a way," CAMERA's head Andrea Levin told me yesterday. "The fact that they deem it to be so unimportant helps to lay down that news decision for others as well. And, to us, it's one of the greatest derelictions in current news coverage of the conflict."
The story also quotes a respected former news editor, an Israeli ambassador, and MEMRI staff and board members. Read it all here.

Posted by GI at January 12, 2013 10:41 AM
Comments
Thank You Camera for talking how the NY Times tries to avoid writing about the hate and genocidal media against the Jews in the Arab media.
Isn't it time Thomas Friedman and Roger Cohen speak out against the racist goals of the Arabs.
http://www.thegatewaypundit.com/2011/08/islamic-s…
Egyptians Protest Outside Israeli Embassy With Swastika Sign Saying "The Gas Chambers Are Ready"
August 22, 2011
http://www.israelnationalnews.com/News/Flash.aspx…
Egyptian Cleric: Obligation to Murder Israelis
A senior Egyptian cleric has issued a ruling declaring it permissible to murder Israeli citizens in Egypt. Dr. Salah Sultan, a lecturer on Islamic law (Sharia) at Cairo University, declared Friday that any Egyptian Muslim who meets a Zionist must kill him.
8/23/2011
http://www.israelnationalnews.com/News/News.aspx/…
Egypt: More Calls to Murder Israelis
A second call by a Muslim Brotherhood cleric to murder Israelis, this one targeting Israel's Ambassador to Egypt.
Maayana Miskin
8/28/2011
Senior Muslim Brotherhood cleric Dr. Salah Sultan has called to murder Israel's Ambassador to Egypt, Yitzchak Lebanon, Arutz Sheva's Dalit Halevy reports. Last week Sultan declared that all Israelis in Egypt should be murdered.
http://www.ynetnews.com/articles/0,7340,L-4110102…
'Mossad plotted to harm Egyptian fertility'
Egypt's Al-Ahram daily claims Israeli Ofir Harrari accused of spying for Israel, devised to sell Egypt hair products endangering reproductive abilities
8/17/11
http://www.telegraph.co.uk/news/worldnews/africaa…
Shark 'sent to Egypt by Mossad'
An Egyptian official has claimed that a shark that killed one person and left four others injured in Egypt could have been placed there by agents from Mossad, the Israeli spy agency.
This is the shark suspected of being responsible for the attacks in Egypt, which killed a German woman and left four others seriously injured.
Nick Collins
Dec 2010
http://elderofziyon.blogspot.com/2012/03/egyptian…
Egyptian clerics: "Hatred of Jews is a form of worship" (MEMRI)
March 12, 2012
This one's got it all: Jews are donkeys, "President" Benjamin Franklin (who was president 50 years ago) warned the US against them, calls to kill all Jews, and more.
But don't call them anti-semitic
http://www.timesofisrael.com/egyptian-presidents-…
Egyptian president's adviser describes Israel as 'occupied Arab Palestine''This will remain its name till the end of time,' aide to Morsi says in response to a question on Cairo's future relations with Israel
Elhanan Miller
Sep 20, 2012
Posted by: Ken Kelso at January 13, 2013 09:33 AM
In my regular letters to the editor of the NY Times (none published so far), I often point out the neglected obstacle to any peace in the Middle East is the endemic to the Arab/Muslim world. It is quite clear from the failure of the NYT to report on this issue that they are quite unwilling to see this hatred for what it is.
Posted by: Arthur Toporovsky at January 14, 2013 02:48 PM
Guidelines for posting
This is a moderated blog. We will not post comments that include racism, bigotry, threats, or factually inaccurate material.
Post a comment