« Where's the Coverage? PA Mayor Claims Israel Shapes Explosives Like Toys to Kill Children | Main | There's the Coverage: Forbes Faults Media for Ignoring Egypt Hate Speech »
January 11, 2013
Huffington Post Publishes Photo of Pakistani Terrorist Bombing with Article Titled "US Ramps Up Pakistan Drone Strikes"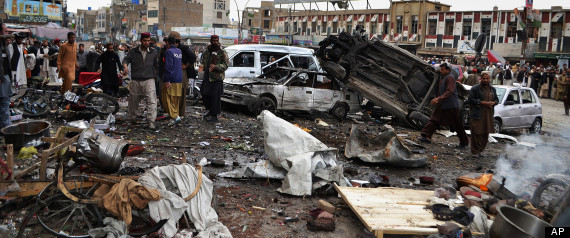 HuffWatch forwarded to CAMERA an example of gross journalistic malfeasance on the part of the Huffington Post. An article titled, "US Ramps Up Pakistan Drone Strikes" is accompanied by the above AP photograph from a sectarian bombing in Pakistan.
The article briefly mentions an unspecified explosion and a terrorist bombing along with the U.S. drone strikes, but the piece is mostly about the U.S. drone strikes. The confusing presentation is evidenced by the main thrust of the talkback commenters, who conflate the mass casualties shown in the photograph with U.S. actions.
Huffwatch, a web site that monitors and exposes the Huffington Post 's bias, confirmed that AP had correctly labeled the photograph and the scene shown in it. This suggests that the Huffington Post either intentionally misled its readers by failing to label the photograph and attaching it to a story on U.S. drone strikes or that it is guilty of negligence.
The Washington Post for example, carried the same photo with the story of a sectarian terrorist bombing that killed 81 Pakistani Shiites.
CAMERA has previously criticized the Huffington Post's coverage of Israel as marred by considerable inaccuracy and persistent anti-Israel bias. This example provides evidence of a more widespread problem at the Huffington Post.
Posted by SS at January 11, 2013 01:22 PM
Comments
It's really sad, Govt. can stop Drone attacks but not doing anything. Anyhow suicide attacks on Muslims & non-Muslims is not the right way...
Posted by: PPN Classifieds at October 10, 2013 06:55 AM
Guidelines for posting
This is a moderated blog. We will not post comments that include racism, bigotry, threats, or factually inaccurate material.
Post a comment