« December 2012 | Main | February 2013 »
January 31, 2013
Where's the Coverage? Jews Are the Indigenous People of Israel

There is a growing protest movement among the indigenous peoples in Canada, including the so-called First Nations, the Arctic-dwelling Inuit, and a group called the Métis. They are demanding a greater share of natural-resource royalties and more input on environmental issues. The story has made it into the U.S. press with stories on NPR's "All Things Considered" and in The Wall Street Journal, which wrote:
On a recent day, several members of the tribe gathered around a fire in a teepee to mark a hunger strike by the chief of another indigenous group. They pointed at the smoking chimneys of local refineries as a symbol of the land they believe Canada has taken from them and the economic benefits they say it has promised but not delivered.
Of course, the usual suspects have been quick to link the Canadian protests, known as Idle No More, to the Palestinian cause, Ha'aretz running an article under the headline "Lessons of a 'Canadian intifada'". The Electronic Intifada reported on a statement of solidarity signed by Palestinian activists:
As Palestinians, who struggle against settler colonialism, occupation and apartheid in our homeland and for the right of Palestinian refugees – the majority of our people – to return to our homeland, we stand in solidarity with the Idle No More movement of Indigenous peoples and its call for justice, dignity, decolonization and protection of the land, waters and resources.

We recognize the deep connections and similarities between the experiences of our peoples – settler colonialism, destruction and exploitation of our land and resources, denial of our identity and rights, genocide and attempted genocide.
The truth is quite different, naturally. Last week, Ryan Bellerose, the son of a Métis leader wrote an article in The Metropolitain:
My people, the Métis, came to Alberta after the American Revolution, at the government's request, to prevent the settling of the Americans in western Canada. We settled the land and followed the white man's rules. But we were eventually evicted, our homes given to white pioneers. No one wanted us. We were forced to live in hiding, on road allowances, in the bush. We had no rights, and we were killed out of hand, as "nuisances". Exile fractured our nation. Our people wandered with no hope and no home. Then, in the mid 1900's, our leaders managed to secure land for us, not the land we had wanted but land that would nonetheless allow us to build a better future. We took it, built our settlements and formed a government to improve the lives of our people. We still have many problems to solve, of course, but we also have more educated people than ever and are slowly becoming self-sufficient, as our leaders envisioned. In this, the Jewish people and the Métis have walked the same road.

The Jews also suffered genocide and were expelled from their homeland. They were also rejected by everyone and forced to wander. Like us, they rebelled against imperial injustice when necessary and, despite their grievances, strived for peace whenever possible. Like us they were given a tiny sliver of their land back after centuries of suffering and persecution, land that nobody else had wanted to call home until then. Like us, they took that land despite their misgivings and forged a nation from a fractured and wounded people. And like us, they consistently show a willingness to compromise for the good of their people.

[...]

Many claim that we Natives have more in common with the Palestinians, that their struggle is our struggle. Beyond superficial similarities, nothing could be farther from the truth. Beyond the facile co-opting of our cause, the comparison with the Palestinians is absolutely untenable. It trivializes our suffering.

[...]

The Palestinians are not like us. Their fight is not our fight. We natives believe in bringing about change peacefully, and we refuse to be affiliated with anyone who engages in violence targeting civilians. I cannot remain silent and allow the Palestinians to gain credibility at our expense by claiming commonality with us. I cannot stand by while they trivialize our plight by tying it to theirs, which is largely self-inflicted. Our population of over 65 million was violently reduced to a mere 10 million, a slaughter unprecedented in human history. To compare that in whatever way to the Palestinians' story is deeply offensive to me. The Palestinians did lose the land they claim is theirs, but they were repeatedly given the opportunity to build their state on it and to partner with the Jews -- and they persistently refused peace overtures and chose war. We were never given that chance. We never made that choice.
The entire article is worth reading. Please click here to see it.
Archeology, genetics... all scientific and historical evidence proves that the Jews are the indigenous people of Israel. And yet… Where's the coverage?
(h/t Elder of Ziyon blog)

Posted by SC at 08:34 AM | Comments (2)
January 30, 2013
Yahoo Runs Deceiving Photo with Reuters Article
WARNING: READER BEWARE! YAHOO IS NOT A TRUSTWORTHY SOURCE OF INFORMATION!
A Reuters article was posted today on yahoo.com,with the headline "Israel Hits Target in Syria Border Area: Sources" under which was posted a large photo of children carrying a dead body. The Israeli strike was on a Syrian convoy transferring weapons to the Hezbollah terrorist group in Lebanon. And the photo, in fact, had no connection whatsoever to the article about the Israeli strike.
We traced the origin of the photo. It was taken by a Reuters stringer on Jan. 25, 2012 and it showed children carrying the body of a friend killed by shelling during heavy fighting between the Free Syrian Army and the forces of Syrian President Bashar al Assad in the Jobar district of Damascus. Here is the screen capture of the article, as it appeared around noon, Jan. 30, 2013 on Yahoo's news site.
The question is which editor at Yahoo made the decision to run an old photo of an unrelated death to falsely insinuate that Israelis were responsible for the death of the child? It represents journalistic bias at its worst.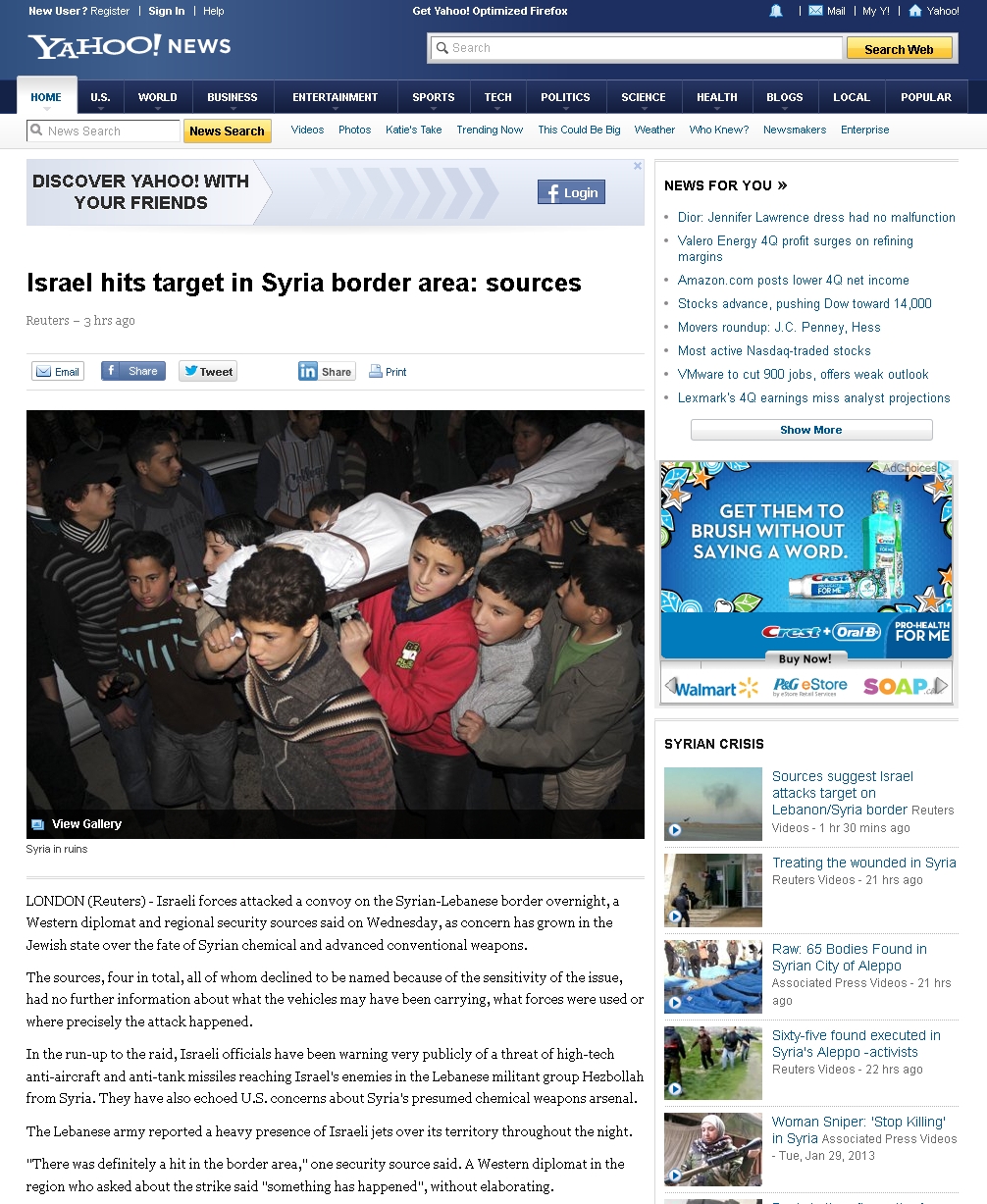 Posted by RH at 05:38 PM | Comments (3)
January 29, 2013
In Ha'aretz Ethiopian Contraception Story, Another Problematic Headline
Last fall, a false Ha'aretz headline and story -- later retracted -- that a majority of Israelis support apartheid policies gave great cheer and sustenance to the anti-Israel crowd, and also made some inroads in mainstream western media outlets. (Of course, among the former, the subsequent correction was ignored.)
Now, Ha'aretz brings a new story which excites those who like to write about "Nazi Israel." In a news story and Op-Ed a few weeks ago, and in another news article this week, Ha'aretz has reported that Israeli authorities forced Ethiopian women to receive shots of Depo Provera, a contraception that lasts three months, in order to immigrate to Israel.
The original headline of the December 2012 Op-Ed was:
The revelation that Israel is sterilizing Ethiopian women adds to a shameful history of abuse of powerless women and communities
Just like the case of the false apartheid poll headline, Ha'aretz editors were compelled to retract this one as well. The new subhead is:
Israel's patronizing and inhumane treatment of Ethiopian women is nothing new
The following correction appears at the bottom of the page:
The Op-Ed, by Efrat Yardai, still ends with the notion that Israel was forcibly sterilizing Ethiopian women:
If they tried to sterilize me or take my children away, I think I would be talking nonsense too.
The original news story generated thousands of Facebook likes and hundreds of tweets. And the follow up article yesterday, a page-one article alleging that for Israeli officials "first time acknowledged the practice of injecting women of Ethiopian origin with the long-acting contraceptive Depo-Provera," is gaining traction in the mainstream media, including the Los Angeles Times. The headline in Ha'aretz's print edition follows: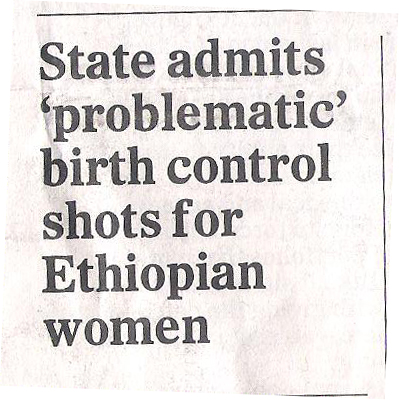 Ha'aretz reports:
A government official has for the first time acknowledged the practice of injecting women of Ethiopian origin with the long-acting contraceptive Depo-Provera.

Health Ministry Director General Prof. Ron Gamzu has instructed the four health maintenance organizations to stop the practice as a matter of course.

The ministry and other state agencies had previously denied knowledge or responsibility for the practice, which was first reported five years ago.

Gamzu's letter instructs all gynecologists in the HMOs "not to renew prescriptions for Depo-Provera for women of Ethiopian origin if for any reason there is concern that they might not understand the ramifications of the treatment."
The Los Angeles Times, in contrast, reports that Gamzu's letter is not a confirmation of claims that Israel forcibly administered the shots to Ethiopian women:
The ministry official's letter stressed the new guidelines did not constitute a position on the claims and relate to all women, not just those from Ethiopian
See also Elder of Ziyon's excellent post on this topic, in which he cites a 2005 study showing that Ethiopian women favored the Depo Provera shots, which could be administered without the husbands' knowlege:
Because contraceptives may introduce social discord, leading at times to intimate partners' violence amongst African couples, women of low bargaining powers often resort to family planning methods that are suitable to covert use.

Women can take injections of Depo-Provera while visiting a health facility and remain protected against unwanted pregnancies for three months. This may be done without their husband's knowledge and without the bother of having to remember to take the pill or to undergo clinical procedures that are involved when opting for implants or intrauterine devices. Consequently, a general pattern that has been observed in the contraceptive method mix in sub-Saharan Africa and elsewhere in the developing world is the predominance of injectables.
Posted by TS at 06:58 AM | Comments (2)
Rupert Murdoch Apologizes for Netanyahu Cartoon

Regarding Gerald Scarfe's cartoon in the Sunday Times, depicting Benjamin Netanyahu as building a wall against peace with Palestinian blood, the Telegraph reports:
Amid a storm of global condemnation, the 81 year-old media mogul offered the "major apology", for what he described as an "offensive cartoon" published in one of his major newspapers.

His apology on Twitter came despite the Sunday newspaper launching a staunch defence of the work by leading political cartoonist Gerald Scarfe, 76.

The cartoon, which depicted Benjamin Netanyahu, the Israeli Prime Minister, building a wall using what appeared to be the blood of Palestinians as cement, was published at the weekend, in the first full edition presided over by Martin Ivens, the new acting editor.

Jewish leaders said the cartoon, published on Holocaust Memorial Day with a caption: "Israel Elections: Will cementing peace continue?", was anti-Semitic.

The Board of Deputies of British Jews complained to the Press Complaints Commission, arguing the cartoon, was "shockingly reminiscent" of pictures used in "the virulently anti-Semitic Arab press". . .

Tonight the Australian-born News Corporation founder apologised, hours after stating that "what I have to say about Sunday Times cartoon will not be on Twitter. Sorry".

But later in a post to more than 400,000 followers, Mr Murdoch said: "Gerald Scarfe has never reflected the opinions of The Sunday Times. Nevertheless, we owe [a] major apology for [the] grotesque, offensive cartoon."
Posted by TS at 02:21 AM | Comments (4)
January 28, 2013
USA Today editorials on Israel fail reality check
USA Today's idea of editorial balance is unbalanced, at least when Israel is the subject.
The newspaper's editorial "Israel election leaves a glimmer of hope" (Jan. 24, 2013) asserted that an Israeli act of self-defense was the provocation for Palestinian terrorism. That is inverted, journalistically and morally. USA Today also argued that the political right in Israel right and construction of Jewish settlements in the West Bank is the biggest obstacle to peace.
But the primary obstacles are not in Israel: A 2011 poll indicated that nearly two-thirds of Israeli respondents thought a two-state solution acceptable, but two-thirds also told pollsters they did not think that a two-state solution will be reached, primarily because of Palestinian rejection. Palestinian Authority insistence on seeking a "unilateral statehood declaration" from the United Nations instead of resuming the direct negotiations with Israel it committed to in the Oslo accords bolsters Israeli doubts.
USA Today did offer an informed response, but only online. Instead of balancing the editorial in print, it let Alan Baker, a former legal advisor to the Israeli Foreign Ministry and Israeli ambassador to Canada rebut the paper's assertion that settlements are illegal. Baker's virtual appearance was necessary, but not sufficient. Now director of the Institute for Contemporary Affairs at the Jerusalem Center for Public Affairs, he offered a bit of historical context largely absent from the editorial. There was no justification for not publishing it alongside the editorial.
Contrast Baker's "virtualization" with the counter-point treatment given to the newspaper's editorial headlined "Latest warfare in Gaza reflects Hamas' miscalculation" (Nov. 20, 2012). It could be said to have stated a "moderately" anti-Israel opinion. But instead of publishing a pro-Israel "counter-point," the ostensibly balancing opinion came from the implacably anti-Israel polemicist Richard Falk.
In his commentary, "U.S. cheerleads Israel's assault," Falk—a 9/11 skeptic who asserted that an independent (non-U.S.) investigation was still needed and whose removal as U.N. special rapporteur on Israeli-Palestinian affairs has been recommended by the Obama administration—merely restated the editorial's view in stronger terms.
Why did USA Today think Falk had any credibility on the subject? He has endorsed terrorist violence in the pursuit of political ends, supported suicide bombings as a method of Palestinian "resistance" and opposed Western humanitarian intervention in Libya. A professor emeritus of international law at Princeton University—truth often is stranger than fiction in academia—Falk argued that no matter how distasteful the Gaddafi dictatorship was, it was the lawful government of Libya. He neglected to mention that Gaddafi came to, and stayed in power through violence, had no popular mandate and in the past promoted and conducted international terrorist acts.
In his USA Today "counter-point," Falk does not acknowledge the refusal by Palestinian leadership to recognize Israel's right to exist, sustained Palestinian violence targeting Israeli civilians and widespread hatred of Israelis that suggests genocidal intentions.
Meanwhile, USA Today's editorial presents Hamas' November conflict with Israel as a "miscalculation" rather than a reckless disregard for the safety and prosperity of Palestinian Arabs, let alone Israeli non-combatants. If it is the newspaper's intent to offer opposing viewpoints, the balance to its editorial blaming Prime Minister Binyamin Netanyahu's government for the impasse in Israeli-Palestinian negotiation should have been a commentary from someone who might argue, correctly, that the Gaza Strip's greatest impediment to peace is its Hamas leadership and that the Palestinian Authority in the West Bank is perhaps most notable for spurning "two-state" peace offers in 2000, 2001, and 2008.
USA Today's editorial page performance is oddly out of synch with the newspaper's generally well-balanced coverage of Middle East news in general, Arab-Israeli affairs in particular. Perhaps the former department doesn't read what the latter reports? –A. W.

Posted by ER at 04:35 PM | Comments (0)
Which One of These Anti-Semitic Cartoons Is Not Like the Others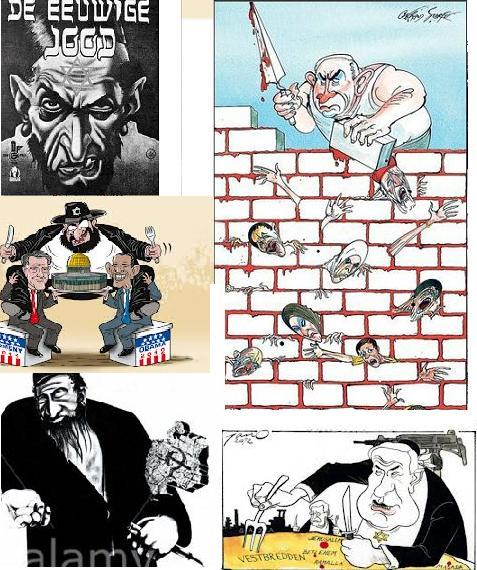 It's a trick question. They're all similar. The large one on the right was published in the Sunday Times of London on Jan. 27, 2013, a day designated as Holocaust Remembrance Day. The cartoonist is Gerald Scarfe.
Notice the stereotypical features; The large flapping ears, the exaggerated, unpleasantly shaped nose, the dark arched brow, the sneering expression, a large lower lip, the position of the face pointed downward while the eyes are looking upward to a evoke a menacing glance. All of these features are intended to create a demonic Semitic caricature. In fact, so classic are these features that one might suspect Scarfe studied the prior "art" to craft his cartoon.
Four of the comparison cartoons feature menacing sharp tools in at least one hand intended to evoke the classic blood libel charge against the Jews.
Of course, the Sunday Times of London denies any anti-Semitic intent. Banish that thought, the paper frequently publishes cartoons of non-Jewish world figures using classic anti-Semitic visual imagery. Oh sorry, actually it doesn't. Those collective features are reserved for depicting villainous Jews.
The cartoonist Scarfe has earned a place of distinction on Holocaust Remembrance Day, and a special salute from deceased Nazi propaganda minister Josef Goebbels, who commissioned many of the cartoons and films that popularized these stereotypical features. Here you can see the film poster for the "Eternal Jew" a Nazi propaganda film intended to incite the population to hate Jews. Notice the characteristic facial features that Scarfe emulated.
Posted by SS at 10:56 AM | Comments (11)
January 27, 2013
NPR's Bias is Showing Again
In NPR's "Weekend Edition" yesterday, Larry Abramson, covering the Israeli elections, reports:
Palestinian President Mahmoud Abbas said today that he's ready to work with any government that recognizes his people's right to have their own state. Many Palestinians that I talked to are still skeptical about any Israeli government because they feel like people from the left and the right have abused them in the past. And Netanyahu is still the prime minister and there's not a lot of trust between Netanyahu and the Palestinians.

The Palestinians are also continuing to push on some hot buttons that annoy the Israelis, like calling themselves a state, following last years United Nations vote, and they're threatening to bring Israel before the International Criminal Court. So there's a long way to go before peace talks can start again. (Emphases added.)
Got that? Israelis "abuse" Palestinians, while on the other hand Palestinians "annoy" Israelis. Reminds us of an equally skewed analysis by another flagship American media outlet. Covering the U.S. presidential debate, the New York Times' Steve Erlanger lamented the lack of "discussion" of internal Palestinian upheaval, and the lack of "criticism" concerning Israeli settlements.
Posted by TS at 07:56 AM | Comments (5)
January 23, 2013
Where's the Coverage? Israel the Only Free Country in the Middle East

Maybe they were too busy bemoaning the state of Israel's democracy to do any actual reporting, but the mainstream news media completely ignored a report by Freedom House, an independent watchdog group dedicated to the expansion of freedom around the world, that rated Israel as the only free country in the Middle East.
In the 2013 edition of its annual report, "Freedom in the World," the organization wrote:
Israel remains the region's only Free country. In recent years, controversies have surrounded proposed laws that threatened freedom of expression and the rights of civil society organizations. In most cases, however, these measures have either been quashed by the government or parliament, or struck down by the Supreme Court.
In other words, Israel's democracy works. By contrast, both Gaza, under Hamas, and the West Bank, under the Palestinian Authority were rated "Not Free," as was Jordan. Lebanon and Egypt ranked as merely "Partly Free."
In a section called "Worst of the Worst," Freedom House cited three of Israel's neighbors: Sudan, "ruled by a leadership that has elements of both radical Islamism and a traditional military junta," Saudi Arabia, "an absolute monarchy with severe social controls," and Syria, "a dictatorship in the midst of a bloody civil war."
To look at a map of world freedom, click on this link. You'll have to enlarge it quite a bit to see the sliver of green freedom that is Israel in the sea of yellow ("partly free") and purple ("not free") that is the Middle East and North Africa.
Given the hyper-focus on Israel by the press, one might expect news outlets to at least mention this positive evaluation of the Jewish State. However, although Israeli and Jewish outlets reported the Freedom House study, CAMERA could not locate any mainstream news media that covered it. More embarrassing still, even Egypt's Daily News wrote:
Egypt is now one of six countries in the Middle East that is classified by Freedom House as "partly free". Eleven are classed as "not free", while Israel is the region's only "free" country.
A newspaper in a country that has only recently been upgraded to "partly free" covered Israel's "free" ranking but news outlets in "free" countries did not. One has to ask, why the hesitancy to report something positive about Israel's democracy? And, as usual… Where's the coverage?
Posted by SC at 03:44 PM | Comments (1)
The ABC's of a Misleading News Brief
The ABC network has failed thus far to respond to CAMERA's request for a correction to a misleading news brief about Israel building "new settlements in the West Bank and Jerusalem, on land considered to belong to the Palestinians." The brief was read by "Good Morning America" (GMA) news anchor Ron Claiborne on Dec. 1, 2012.
This is the body of CAMERA's letter to ABC/GMA:
I am writing on behalf of CAMERA concerning a misleading news brief aired at 7:05 AM on the ABC GMA broadcast of Saturday, Dec. 1, 2012:

RON CLAIBORNE: "The U.S. is criticizing Israel's decision to build new barriers to a potential peace deal. Israel says it will build new settlements in the West Bank and Jerusalem, on land considered to belong to the Palestinians. The announcement was a quick response to the United Nations vote to recognize Palestine as a non-member observer state."

An accurate phrasing of this news brief would be:

"Following the U.N. General Assembly vote to recognize 'Palestine' as a non-member observer state, Israel's government announced plans to construct 3000 housing units in the West Bank and in Israel's capital of Jerusalem. The U.S. is criticizing this decision. The West Bank is in dispute as is a part of Jerusalem. These areas are considered by the Palestinians as part of their hoped-for future state."

In fact, while some argue that Jewish communities in the West Bank and in part of eastern Jerusalem are a hindrance to peace, it is erroneous to assert that they are "on land considered to belong to the Palestinians" since this implies that a sovereign Palestinian Arab state existed at some time in the past in the land that is at issue. But there never has been a sovereign Arab state in Palestine or Israel. Moreover, basic international law in this case, the League of Nations' Palestine Mandate, Article 6, calls for "close Jewish settlement" on the land west of the Jordan River. Article 6 is incorporated by Article 80 of the U.N. Charter, sometimes referred to as "the Palestine article." The United States endorsed the mandate, including Article 6, in the 1924 Anglo-American Convention.

The West Bank is not sovereign territory of any country, but rather land disputed by both Israel and the Palestinian Authority. Part of Jerusalem (which has never been the capital of any nation except Israel) and the West Bank were illegally occupied by Jordan from 1948 to 1967, when Israel took control as a result of successful self-defense in the 1967 Six-Day War. As Eugene Rostow, a co-author of U.N. Security Council Resolution 242 (1967), the keystone of all subsequent successful Arab-Israeli negotiations pointed out, 242 does not require complete Israeli withdrawal. Rather, the status of the territory, to which Jews as well as Arabs have legitimate claims, is to be resolved in negotiations as called for in the resolution and by U.N. Security Council Resolution 338 (1973). Meanwhile, Jewish villages and towns built in the West Bank (Judea and Samaria, the ancient homeland of the Jewish people) since 1967 are no more illegal than areas built since then in previously existing Arab villages and towns.

We urge ABC to correct the misleading news brief of Dec. 1, 2012.

Thank you in advance for your follow up on this matter.

Media entities often mislead the public on the matter of "settlements" failing to recognize that the opposition to Jewish communities in Jerusalem and the West Bank can only be legitimately made on political grounds; to do otherwise is legally without basis.
Should a response be forthcoming from ABC, it will be posted here.
Posted by MK at 02:19 PM | Comments (2)
Guess What? Israeli Democracy Alive and Well
The news media, led by The New York Times, have been sounding the death knell for Israeli democracy in the run-up to the recent elections. Of particular concern to The Times, USA Today, Public Radio International, The Economist, The Daily Beast and other outlets was the possibility that voter turnout among Israeli Arabs would fall below 50 percent.
In fact, this is not what happened in the Israeli elections at all.
According to Ha'aretz, though voter turnout across the country was almost 67 percent:
In [the Israeli Arab city of] Tira, the picture was the complete opposite: voter turnout was only 58.8 percent, similar to the rest of the Arab cities. Incidentally, the city of Sakhnin stood out with a voter turnout of almost 80 percent.
Only 58.8 percent. Not below fifty. Not even close. But, only 58.8 percent. Only.
For comparison, the Center for the Study of the American Electorate reported that, in the 2012 U.S. presidential election, voter turnout among all Americans eligible to vote was… 57.5 percent.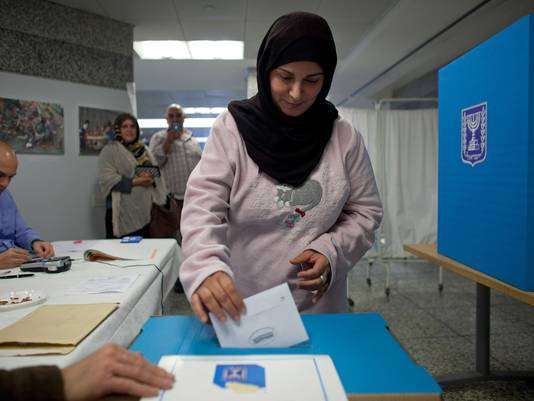 An Israeli Arab woman casts her vote during the Israeli General Election on Tuesday in Tel Aviv.
(Photo: Uriel Sinai, Getty Images)
Posted by SC at 11:13 AM | Comments (0)
January 18, 2013
Tearing off the Mask
Journalists like Ibrahim Eissa are working to expose the problems with the regime that currently governs Egypt.
Now that The New York Times has highlighted anti-Semitic statements made by Egyptian President Mohammed Morsi, it is becoming increasingly evident that something is seriously wrong with the people who currently call the shots in the largest Arab country in the world.
More evidence of how bad things are getting is available a piece published at the Gatestone Institute on Jan. 9 by writer Michael Armanious. Armanious draws attention to a recent invitation for Jews to return to the Land of the Pharoahs. The invitation was issued by one of Egyptian President Mohammad Morsi's closest advisors, Essam El-Erian. El-Erian invited Jews back to Egypt in an effort to promote his country's economic development. Armanious reminds his readers that it was the Muslim Brotherhood – which currently controls the Egyptian government – that drove Jews from Egypt in the 1950s. He writes:

Nonetheless, Mr. El-Erian failed to mention that in the late 1940s and the early 50s, the Muslim Brotherhood, active since 1928, was responsible for killing and wounding hundreds of Egyptian Jews; for bombing the Jewish quarter in Cairo; and in an effort to drive Jews out of Egypt, for firebombing many Jewish business, such as the Cicurel and Gatenio department stores in downtown Cairo. Further, they sent thousands of "Fedayeen" to fight Jews in the 1948 Arab-Israel war.

It important to note that El-Erian's invitation was directed solely at the Egyptian Jews living in Israel – not at Jews living in Europe or in United States.

Under questioning from his interviewers, El-Erian admitted that his invitation was just a tactic to achieve the Muslim Brotherhood's long-term objective of emptying Israel of Jews to make room for the Palestinians to return to their homes. He also predicted the demise of Israel in the very near future.

Why would Egyptian Jews come back to Egypt – the most populous country in the Middle East where more than 65% of the population is illiterate, where nearly half of the people live under or just above the poverty line, and other minorities are now facing elimination?
In another piece posted on his blog, The New Egypt, on Jan. 15, Armanious reports that a growing number of Egyptian intellectuals are expressing their contempt for Morsi's regime. One of them is Ibrahim Eissa, who is asking just how serious Morsi is at promoting peace between Israel and Hamas given the ugly anti-Semitic statements he made in 2010.
Posted by dvz at 12:25 PM | Comments (0)
NYT Indicts Israel's Democracy... Again

On January 17, on page A3, you might have seen yet another in the long line of articles in The New York Times questioning Israel's democracy. Jodi Rudoren's "As Israeli Vote Nears, Arab Apathy Is a Concern" was only into its fourth paragraph when the reporter stated:
With Israel heading to the polls on Tuesday, the two intensifying sources of apathy are raising new concerns here over the health of Israeli democracy. Experts say a social media campaign to boycott the election and a growing frustration with Arab lawmakers' focus on the Israeli-Palestinian conflict, rather than local concerns like crime, poverty and unemployment, threaten to depress Arab turnout below 50 percent.
A social media campaign by Arabs aimed at Arabs is not a sign that Israel's democracy is sick. It is evidence of the freedom of political speech enjoyed by Israeli Arabs. And a frustration with ineffective politicians is again not a symptom of a weak democracy. It's the universal condition of voters. The thesis of the article is that voter turnout among the Arab minority might dip below 50 percent and this is evidence that Israel's democracy is under threat.
Well then, the United States must be in a pickle. According to the Center for Voting and Democracy:
After rising sharply from 1948 to 1960, turnout declined in nearly every election until dropping to barely half of eligible voters in 1988. Since 1988, it has fluctuated, from a low of 52.6% of eligible voters (and 49.1% of voting age population) in 1996 to a high of 61% of eligible voters in 2004, the highest level since 1968.

[…]

Low turnout is most pronounced in off-year elections for state legislators and local officials as well as primaries. In many cities, for example, mayors of major cities often are elected with single-digit turnout ; for example, turnout was only 5 percent of registered voters in a recent Dallas mayoral election, 6 percent in Charlotte, and 7 percent in Austin. Congressional primaries have similarly low turnout; for example, turnout was only 7 percent in a recent Tennessee primary, and was only 3 percent for a U.S. Senate primary in Texas. A statewide gubernatorial election in Kentucky has a turnout of only 6 percent since Kentucky gubernatorial elections are held in the off-off-year between mid-term congressional election and presidential elections was scheduled at a time when there were no elections for federal office. North Carolina's runoff elections have seen turnout as low as 3 percent in statewide elections.
What about minority voters? According to the Pew Research Center, in the 2008 presidential election, voter turnout among Latino Americans was at an all-time high of 49.9 percent and among Asian Americans, another all-time high of 47 percent. Last time I checked, that's below 50 percent. (2012 figures are as yet unavailable.)
If low voter turnout and minority voter turnout below 50 percent means a democracy is sick, the United States needs to check into the hospital. Or maybe, The Times should just get off its kick of criticizing Israel's democracy. CAMERA suggested the news media resolve to do just that for 2013. Just two weeks into the year and already the Grey Lady has fallen short.
Posted by SC at 08:59 AM | Comments (4)
January 17, 2013
Why News Coverage of Incitement Matters
After the research organization MEMRI shared a video in which Mohammed Morsi, not long before he became president of Egypt, evoked an anti-Semitic slur by calling Zionists "the descedents of apes and pigs," the amount of attention to the comments themselves was nearly eclipsed by the amount of attention to lack of reporting on the incident.
At Forbes, Richard Behar called out American press for largely (though not entirely) ignoring the revelation, and cited CAMERA's new monograph documenting the New York Times' tendency to overlook anti-Israel and anti-Jewish incitement. And the Atlantic's Jeffery Goldberg referenced the Forbes story when asking why Morsi's anti-Semitic formulation had not been covered more widely.
The New York Times eventually did report on the video, along with another more explicit video showing Morsi calling on his countrymen to "nurse our children and our grandchildren on hatred for them: for Zionists, for Jews."
This is important for several reasons:
• This type of hate speech is bad for Egyptian children and grandchildren, bad for Jews, and bad for Mideast peace prospects.
• The coverage raises hopes that the New York Times might begin covering anti-Jewish and anti-Israel incitement with the prominence it deserves.
• The ripples spread from the Times, to the White House and State Department, to editorials in major newspapers, all the way to Egypt, where Morsi's office was forced to contend with the attention. (A spokesperson for Morsi probably didn't convince many when he insisted the calls for anti-Jewish indoctrination were taken out of context.)
• With criticism coming from all corners, Morsi is unlikely to repeat his anti-Semitic slurs. Imagine, then, how the interests of peace could be advanced if Palestinian hate speech, which is no less vile than Morsi's rant, was adequately covered in the US. More coverage could lead to more pressure on Palestinian leaders to cease the demonization of Jews and Israelis. Less incitement by the Palestinian governments (in both the Gaza Strip and West Bank) would mean less hate by the population of those territories, greater openness to compromise, and a future generation not nursed on hatred for the other.
Stay tuned for a CAMERA Op-Ed this weekend exploring the topic in greater detail.
Posted by GI at 11:32 AM | Comments (2)
January 16, 2013
Where's the Coverage? Rock-Throwing

When you think about throwing rocks, what comes to mind? Lazy summer afternoons skipping stones in a pond?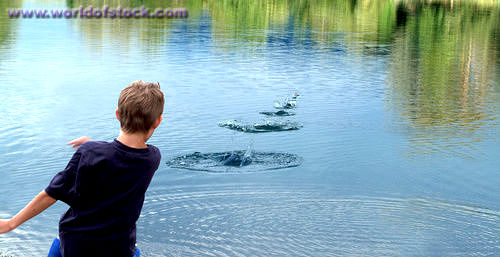 How about this?
On January 16, an Israeli child was injured when Palestinian Arabs heaved a rock through the windshield of the car he was riding in.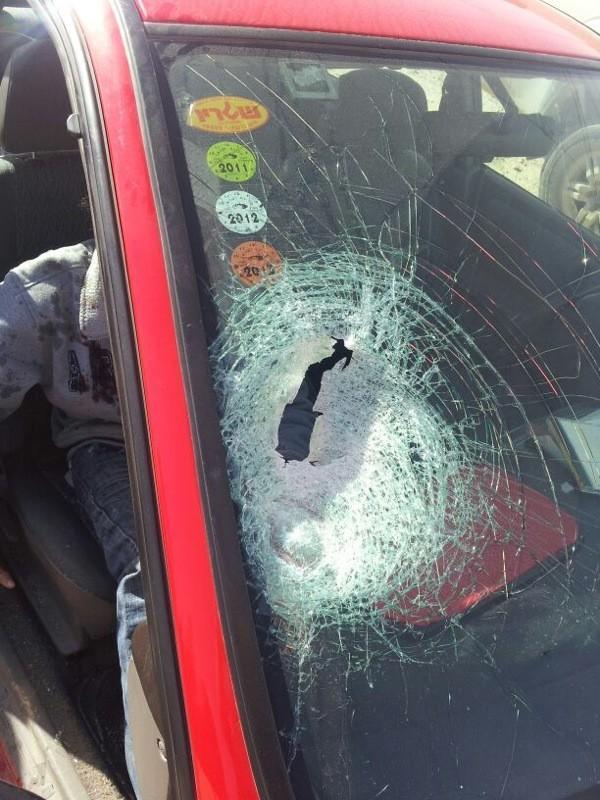 In December, an Arab teenager hurled a rock through the windshield of a car and nearly killed a baby when it crashed a few inches from the infant. In 2011, Asher Palmer and his infant son Yonatan were killed when their car overturned after being pelted with boulders.
In the pages of The New York Times, Tom Friedman recommended that West Bank Arabs engage in rock-throwing as part of "nonviolent opposition". Nick Kristof described how Palestinians are taking up "noviolent peaceful resistance" of the type "inspired by the work of Mahatma Gandhi and the Rev. Dr. Martin Luther King Jr." though, he reported, they sometimes define "nonviolence to include stone-throwing."
The columnists of The Times and other media must learn: nonviolence and rock-throwing are mutually exclusive. This is Palestinian rock-throwing: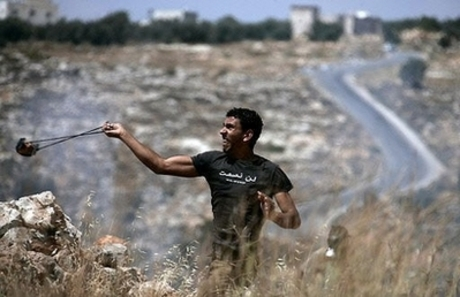 Rock-throwing is not exactly Tom Sawyer stuff, is it? It's violent and dangerous. So… Where's the coverage?

Posted by SC at 09:47 PM | Comments (1)
Ha'aretz's Burston Likens Israel's [Non-]Violation of Court Injunction to 'Naqba'
Given that the news pages of Ha'aretz are falsely reporting that Israel violated a High Court injunction by evacuating Palestinian protesters from a tent camp in the controversial E-1 area, it comes as no surprise that their Op-Ed columnists are doing no better. Columnist Bradley Burston takes the false charge to a new level, charging that Israel's alleged violation of Justice Neal Hendel's injunction is no less than a "Naqba"(!). He writes that according to Prime Minister Netanyahu the protest camp:
needed to be destroyed despite a High Court order that appeared to give the new villagers six days to remain on the site. But in a peculiarly contemporary reinterpretation of the Naqba, the police announced that the injunction only applied to the tents. The people could be taken out. In the dead of night.
It's a pity that Burston didn't actually read the court injunction before he spouted off hysterical "Naqba" comparisons. The Palestinian protesters' lawyer did read the document, and accurately characterized it. As the Jerusalem Post reported:
Attorney Tawfiq Jabareen who represented the Palestinians explain this to the High Court of Justice when he secured a temporary injunction against the outpost's removal on Friday.

But the court's language spoke of the tents, not the people, and added that security factors could shift the decision, Jabareen said.
So it's not just a police claim that the injunction applied only to the tents. In fact, this is the case. For the benefit of Burston and his colleagues, here is the link to Justice Hendel's injunction. The injunction states (CAMERA's translation):
After studying the petition I hereby impose a temporary injunction according to clause 1 -- preventing the removal or destruction of tents that were erected by the petitioners on a-Tur lands, east of Kfar al-Azeem, unless an urgent security need arises.

The respondents [the state] will respond to this temporary injunction within six days.
Traditionally, journalists read a court injunction before they report on it. Burston apparently prefers a peculiarly contemporary reinterpretation of journalism.
Posted by TS at 03:31 AM | Comments (3)
January 15, 2013
Where's the Coverage? Israel Leads the Fight against Desertification

You may have read some of the thousands of articles about the conflict in Mali. The United States may even get involved in the French operation there. The Council on Foreign Relations links the conflict to "food insecurity related to desertification." The Guardian's Comment is Free asserts in a headline "Mali crisis caused by development failures" and cites specifically "corruption, desertification, impoverishment, and the inability to lure investment." So, one would think the media would report on advances in combating desertification and the country that leads the world in doing so – unless, of course, that country were Israel, which it is.
In November, Israel hosted the fourth biannual International Conference on Drylands, Deserts and Desertification at the Sde Boker campus of Ben-Gurion University of the Negev. Israel also hosted the 2008 and 2010 conferences. This is not surprising since, according to Sharon Megdal, director of the Water Resources Research Center at the University of Arizona, "Israel is leading the way in water resources and management."
Yet, CAMERA could find no mention of the conference in the popular press though, since the conference, desertification has been covered in Forbes, The New York Daily News, again The Guardian, Agence France-Presse, BBC News, and many other news outlets. The Los Angeles Times ran a glowing 1,250-word profile of an Iranian environmentalist but of the world leader... not a word.
In the conference's opening plenum, Professor Paul Ehrlich of Stanford University declared that Israel, "as one of the most scientifically advanced countries, can play a major role in bringing all of these problems to global attention." Perhaps Professor Ehrlich hasn't noticed, but if there's a story that shows Israel in a positive light, one must almost unfailingly ask... Where's the coverage?

Conference delegates walk through the desert landscape of the Negev.
(Photo by Wolfgang Motzafi-Haller/BGU)
Posted by SC at 01:13 PM | Comments (3)
Updated: LA Times' Tent Tales
Contrary to the LA Times report, no tents were removed (Reuters photo)
Israel's evacuation of a Palestinian protest camp in the E-1 area this weekend has generated a number of headlines, and a number of errors as well (some of which have already been corrected, thanks to CAMERA and our affiliate CiF Watch). Here's another one yesterday from the Los Angeles Times:
Activists said the police carried the approximately 100 activists from the site, and then allowed them to return home. Police also removed 25 tents from the area. (Emphasis added.)
In fact, the police did not remove a single tent from the E-1 area protest camp this weekend, a fact reported in numerous media outlets including the Times of Israel, which stated: "The 25 tents at the site were left untouched, though soldiers remained at the site to keep any activists from returning."

Police spokesman Micky Rosenfeld has confirmed the information for CAMERA. We have contacted editors requesting a correction. Stay tuned.
Jan. 16 Update: CAMERA Prompts LA Times Correction: No Tents Removed
Posted by TS at 08:01 AM | Comments (0)
UPDATED: Facebook Closes Khaled Abu Toameh's Account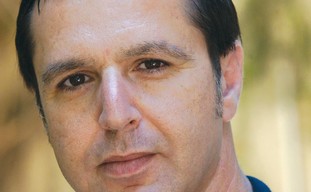 Khaled Abu Toameh reports he has been bombarded with hate mail and threats, and his Facebook account was closed (Photo by Ariel Jerozolimski)
UPDATE: Khaled Abu Toameh reports that his Facebook account has been reactivated, but that his posts about PA corruption have been deleted. (Jan. 15, 2013, 12:45 p.m.)
UPDATE 2: Facebook apologizes to Abu Toameh for the deleted article on Palestinian corruption, calling it an employee's error. (Jan. 16, 2013, 6:10 a.m. EST)
Jerusalem Post journalist Khaled Abu Toameh has informed us that Facebook has closed his account, apparently in response to complaints concerning articles he posted, including "The Palestinian Authority's Inconvenient Truths," as well as Jordanian article criticizing corruption in that country.
Abu Toameh, who has spoken at CAMERA events, reports; "In the past few days I have been bombarded with dozens of hate and threat messages because of the these postings and articles. Some anti-Israel folks in the UK are now publishing my photo with a Star of David on my forehead."
What are Facebook's criteria for closing an account? As he notes, Hamas and members of other terrorist groups continue to operate accounts. Abu Toameh has not yet received an answer from Facebook. Contact Facebook for clarification: why was Khaled Abu Toameh's account closed?
Posted by TS at 05:47 AM | Comments (4)
January 14, 2013
More Artists Call Out BDS Bullying

Christophe Deghelt
Italian author Umberto Eco called their ideas "absolutely crazy" and "fundamentally racist."
Irish writer Gerard Donovan referred to them as "idiots" who try to bully and cajole and are guilty of "outright intimidation."
The band Dervish was on the receiving end of their "avalanche of negativity", "venom" and "hatred." (Irish justice minister Alan Shatter described it as "cyberbullying.")
And now Jazz musicians Erik Truffaz and Jack Terrasson, and Terrasson's manager Christophe Deghelt are the latest artists to defy and speak out against the anti-Israel boycott, divestment and sanctions (BDS) movement.
Deghelt writes:
For some time now, artists invited to play a concert in Israel are routinely accosted by organizations urging them not to travel there, nor to support the Israeli government and its politics. ...

For the last several days, two jazz artists, Erik Truffaz and Jack Terrasson have been swept into a fierce controversy, a furious and passionate debate on Facebook and other social networks and websites regarding their participation at the Red Sea Jazz Festival in Eilat, Israel this month. ...

We noticed that Erik and Jacky's Facebook pages were overrun with intimidating comments, not from our fans, but from activists. Some of these comments are really obnoxious, rising to the level of sheer harassment and blatant denigration.
Addressing the BDS activists, Deghelt wrote,
Your attempt to railroad artists into a black-and-white dilemma is intellectually dishonest. To allege that by performing at the Red Sea Jazz Festival we are supporting the Israeli government, or that by cancelling our concert we'll be showing our compassion towards the Palestinian people, demonstrates an extremely reductive attitude. We refuse to be placed in either category. ...

Your activism and your intolerance are abominable. Phony Facebook "fans" have posted messages expressly asking our musicians not play in Israel. This is sheer harassment. Moreover, it's really quite surprising because these fans purporting to sway the artists are not fans at all, but simply your army of little soldiers polluting the calm and positive spaces of our artists'Facebook pages. ...

What bothers me the most about your effort...is your hatred of Israel, a pathological hatred, blind and most assuredly hidden behind a veil of "political correctness." Your actions don't demonstrate a love or defense of Palestinians but rather a hatred for Israelis.
Read Deghelt's entire post here, or in French here.
Posted by GI at 05:11 PM | Comments (4)
Shlomo Avineri Calls for End to Palestinian Incitement
Professor. Shlomo Avineri
Writing in Ha'aretz, Israeli professor Shlomo Avineri argue that negotiations between Israel and the Palestinian Authority are unlikely to bridge the gaps between the sides, and calls for reduced expectations, interim agreements, trust-building exercises, unilateral steps and other mechanisms.
There is a long list of steps Israel could take following this model. It could halt construction projects in the territories, ease up on the living conditions of Palestinians, and put a stop to the measures intended to punish the Palestinians for earning UN recognition. On the Palestinian side, such a list would include accepting the idea of two states for two peoples. This would mean a fundamental change in the Palestinian education system and in its propaganda, both of which evince a deep hatred toward Israel.
What Avineri perhaps forgets is that such an offer was on the table not long ago. Israeli Prime Minister Benjamin Netanyahu proposed to extend Israel's moratorium on settlement building if the Palestinians accepted the idea of two states for two people. The Palestinian leadership quickly said no.

Posted by GI at 12:48 PM | Comments (1)
January 12, 2013
There's the Coverage: Forbes Faults Media for Ignoring Egypt Hate Speech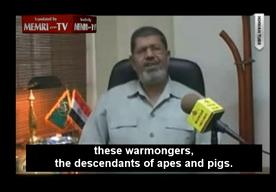 Investigative journalist Richard Behar was struck when he saw footage, from 2010 but recently publicized by MEMRI, of Muhammed Morsi calling his Jewish neighbors "descendents of apes and pigs," an anti-Jewish slur heard in the Arab and Muslim worlds.
Writing in Forbes, Behar states:
Needless to say, this was HUGE NEWS for American mass media! Only it wasn't. (Knock, knock, New York Times? Anybody home?) In fact, to be fair to the paper of record, not a single major outlet has covered it. Not AP or Reuters. Not CBS News or CNN. Not Time magazine or U.S. News & World Report. Not the Washington Post, the Wall Street Journal, or USA Today. Etcetera. And therein lies a story, which this column can only begin to skin open here.
Behar argues that major-media reporters "need to hold Morsi's feet to the fire over such comments – if not by asking him directly about them, then at least by reporting that he uttered them" But, citing CAMERA, he notes that
The New York Times rarely touches this stuff. In fact, a harshly critical mega-report about the newspaper's Middle East coverage was recently released by the Committee for Accuracy in Middle East Reporting in America (CAMERA). The Times can't be too happy about it. "The failure of the New York Times to cover the hate indoctrination leads the pack, in a way," CAMERA's head Andrea Levin told me yesterday. "The fact that they deem it to be so unimportant helps to lay down that news decision for others as well. And, to us, it's one of the greatest derelictions in current news coverage of the conflict."
The story also quotes a respected former news editor, an Israeli ambassador, and MEMRI staff and board members. Read it all here.

Posted by GI at 10:41 AM | Comments (2)
January 11, 2013
Huffington Post Publishes Photo of Pakistani Terrorist Bombing with Article Titled "US Ramps Up Pakistan Drone Strikes"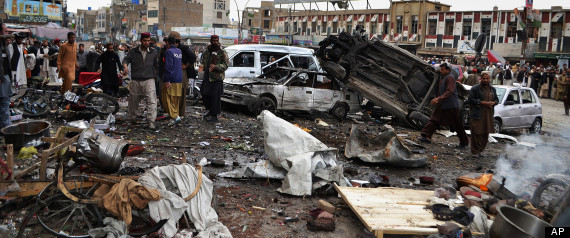 HuffWatch forwarded to CAMERA an example of gross journalistic malfeasance on the part of the Huffington Post. An article titled, "US Ramps Up Pakistan Drone Strikes" is accompanied by the above AP photograph from a sectarian bombing in Pakistan.
The article briefly mentions an unspecified explosion and a terrorist bombing along with the U.S. drone strikes, but the piece is mostly about the U.S. drone strikes. The confusing presentation is evidenced by the main thrust of the talkback commenters, who conflate the mass casualties shown in the photograph with U.S. actions.
Huffwatch, a web site that monitors and exposes the Huffington Post 's bias, confirmed that AP had correctly labeled the photograph and the scene shown in it. This suggests that the Huffington Post either intentionally misled its readers by failing to label the photograph and attaching it to a story on U.S. drone strikes or that it is guilty of negligence.
The Washington Post for example, carried the same photo with the story of a sectarian terrorist bombing that killed 81 Pakistani Shiites.
CAMERA has previously criticized the Huffington Post's coverage of Israel as marred by considerable inaccuracy and persistent anti-Israel bias. This example provides evidence of a more widespread problem at the Huffington Post.
Posted by SS at 01:22 PM | Comments (1)
January 09, 2013
Where's the Coverage? PA Mayor Claims Israel Shapes Explosives Like Toys to Kill Children

In an interview on Palestinian Authority TV News on December 29, PA Mayor Mustafa Fuqaha asserted that the Israeli army, after training exercises, leaves behind explosives "shaped like pens and toys ... to tempt children to touch them or pick them up." He flatly alleged that "the Israeli army targets children and young ones." (The video has been translated and posted by Palestinian Media Watch.)

CAMERA research has turned up no mainstream media coverage of this offensive and false accusation, made by a leader in the Palestinian Authority –often labeled as moderate by the press– and broadcast on official PA TV.
In the modern era, the traditional antisemitic blood libel that Jews murder children frequently appears in Arab media as accusations that Israel murders children. This falsehood is central to the pervasive demonization of Israel in the public sphere. CAMERA has reported numerous times on this modern blood libel though major media almost completely ignore it, when they are not abetting it.
CAMERA suggested to the media that they resolve in 2013 to report on the drumbeat of incitement to hatred of Jews and Israel in Palestinian media, schools and the public square. In this case, they are failing the test though it is yet early in the year. Let's hope that next year, on the issue of blood libel and incitement, we will not still be asking... Where's the coverage?

Posted by SC at 06:54 PM | Comments (2)
January 07, 2013
Presspectiva Nominated for Israeli Prize for Media Criticism
Presspectiva, CAMERA's Hebrew Web site, is delighted to announce that it has been nominated to receive Israel Media Watch's 2013 Abramowitz Israeli Prize for Media Criticism. Israeli citizens are invited to vote for Presspectiva by visiting the IMW site. One award is determined by the public vote, and another by a panel of judges. Earlier distinguished recipients include Dvorit Sargel, editor of the popular Israeli Velvet Underground blog (2012); Jerusalem Post reporter Khaled Abu Toameh (2011); and Dr. David Zangen, who challenged Mohammed Bakri's film "Jenin, Jenin," which had falsely accused the Israeli army of war crimes in the Jenin refugee camp during Operation Defensive Shield.

The prize entails a $5000 award.

Presspectiva was launched in May 2010 and since then has applied CAMERA's successful model for promoting accurate media coverage to the Israeli Hebrew-speaking realm. It has prompted numerous corrections in media outlets including Ha'aretz and Yediot Achronot, and won an Israel Press Council hearing against Ynet. Presspectiva's Op-Eds have appeared in the Seventh Eye, a prestigious journalism review in Israel; Yisrael Hayom, and Ha'aretz, and its work has been repeatedly noted by other media critics, including Ben-Dror Yemini of Ma'ariv.

Presspectiva has made the Israeli public aware of , Ha'aretz Lost in Translation, the well-documented phenomenon in which the media outlet's English translators wrongly translate the original, accurate Hebrew text, whitewashing Arab violence and misdeeds, and injecting false charges about Israel that did not appear in the Hebrew original. Thanks to Presspectiva, many of those shoddy translations, including some in which the English meaning is diametrically opposed to the Hebrew, have been corrected in print and online.

Presspectiva was the first Hebrew outfit to expose the many distortions and falsehoods in Gideon Levy's front-page "apartheid poll" story, which falsely charged that a majority of Israelis would support apartheid in the West Bank.

CAMERA commends Presspectiva's many accomplishments, and looks forward to many more in the years to come.
Posted by at 11:04 AM | Comments (0)
January 06, 2013
What to Expect from Al Jazeera on US Cable?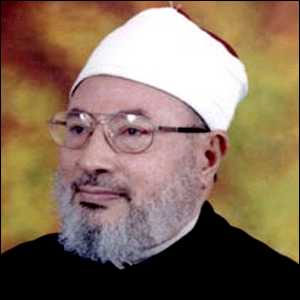 Sheik Qaradawi, a host on Al Jazeera, has been blamed for inciting the beheading of two Americans in Iraq
Writing in USA Today, Michele Chabin explores what American viewers can expect from Al Jazeera on its newly purchased American cable channel, Current TV. She begins:
Media watchers in the Middle East say the Arabic news network Al Jazeera is well known for promoting radical Islamist causes overseas, but it remains to be seen how it will present the news on its newly purchased U.S. cable channel.
She cites CAMERA among other media observing, noting:
The news media watchdog Committee for Accuracy in Middle East Reporting in America or CAMERA, which frequently takes U.S. outlets to task over errors in reporting on Israel, says the network has been assailed for bias even in the Middle East.

In 2004, interim Iraqi Prime Minister Ayad Allawi temporarily shut down Al Jazeera's broadcast in Iraq because he said it was inciting violence and racial hatred. In 2008, former ABC-TV Nightline reporter Dave Marash, brought on to anchor Al Jazeera English for American audiences, quit after two years and said the anti-American bias at the station was "reflexive."

"The agreement by Al Jazeera cable television network to buy Current TV is not necessarily a plus for U.S. cable operators or their audiences," said Andrea Levin, president and executive director of CAMERA. Al Jazeera Arabic "is not the Middle East equivalent of CNN, as it is often but mistakenly described," Levin said.

CAMERA says one of the network's most popular programs is Shariah and Life, hosted by Sheik Yusuf al-Qaradawi, a former "spiritual guide" of the Muslim Brotherhood. Al-Qaradawi has called for conversion of Europe and North America to Islam and a Muslim-led genocide of Israel and the Jews, Levin said.
For more on Al Jazeera's coverage, see here, here, here, here, and here.
Posted by TS at 05:34 AM | Comments (3)
January 04, 2013
Berger's Monochrome View of a Bilateral Conflict

Alan Berger
The narrow-minded refusal to see Palestinians as actors in the Arab-Israeli conflict continues to tempt some pundits. Look through today's Boston Globe, and it's there again: the stubborn, nuance-deprived narrative that fails to see Palestinian leaders as players with responsibilities, who are capable of making decisions that harm peace prospects, or who have and any role whatsoever in perpetuating the conflict.
In his column "Obama ought to meddle in Israeli vote," former Boston Globe editorial writer Alan Berger states:
Israel must choose between occupation of the land conquered in 1967 and a conflict-ending peace that preserves the state of Israel created in 1948.
Never mind that Israeli leaders have made the choice again and again.
Menachem Begin traded land for peace with Egypt. Ehud Barak made a land-for-peace offer that was rejected by Palestinian leader Yasir Arafat, and accepted a follow-up peace plan by Bill Clinton that was likewise shunned by Arafat. Ariel Sharon turned over the Gaza Strip to Palestinian control. Ehud Olmert sought to end the occupation in exchange for peace, but was rebuffed by Mahmoud Abbas, Arafat's successor. Abbas, meanwhile, has basically refused to even negotiate with current Israeli prime minister Benjamin Netanyahu.
The concept isn't very complicated: Palestinians, too, have choices to make. But apparently it is too complex an idea to make it into Berger's column.
Posted by GI at 10:42 AM | Comments (2)
January 02, 2013
NPR Also Must Correct Gaza Ban Error
NPR is another media outlet which must correct the false claim that Israel allowed construction materials into the Gaza Strip this week for the first time in five years. As noted yesterday on CAMERA's Web site, the ban applied only to the private sector, and according to the United Nation's Office for the Coordination of Humanitarian Affairs (OCHA), since June 2010, 40,041 truckloads of building goods entered the Gaza Strip from Israel, earmarked for construction projects sponsored by international aid groups.
The AP yesterday published a commendable clarification on the issue, and the International Herald Tribune informs us that their correction will appear tomorrow.
Listen to Sheera Frenkel's inaccurate report on "All Things Considered" yesterday:
Audie Cornish introduces the piece, erroneously stating:
For the first time in five years, Israel is allowing shipments of gravel, cement, and other construction materials into Gaza.
Later, Frenkel states:
Israeli officials says they banned construction material because they feared Hamas would use the goods to build bunkers and tunnels.
Listeners then hear from Guy Inbar, a spokesman for Israel's Defense Ministry, who states:
These new steps are especially for the private sector for the population in Gaza, in order to distinct [sic] between the civilian population and the Hamas terrorist.
Given that NPR's Cornish has already stated that "for the first time in five years, Israel is allowing shipments of gravel, cement, and other construction materials," listeners would have no way of understanding that Inbar, whose English is not perfect, actually means that the ban, in fact, only applied to the private sector. The NPR story gives no indication that contrary to Cornish and Frenkel's claims, tens of thousands of trucks loaded with construction material have crossed from Israel to Gaza in the last five years. NPR must follow the commendable lead of the AP, and broadcast a correction.
Posted by TS at 06:42 AM | Comments (1)
January 01, 2013
IHT Closes Out 2012 With Erroneous Headline
The International Herald Tribune closed out 2012 with the following erroneous page-four headline yesterday:
Actually, in the last three years, tens of thousands of trucks carrying construction material earmarked for projects implemented by international aid organizations have crossed from Israel to the Gaza Strip. For instance, in 2011, more than 10,000 trucks containing construction materials crossed from Israel to Gaza through Kerem Shalom: 102 trucks with infrastructure systems (piping, etc); 382 trucks with iron, 1,629 trucks with cement, and 8,782 trucks with aggregates.
As the accompanying article correctly noted,
For the first time in five years, Israel on Sunday allowed truckloads of building materials into Gaza for use by the private sector, according to Israeli and Palestinian officials. . . .

Israel has strictly controlled the entry of building materials, limiting them in recent years to internationally supervised projects.
(A similar but longer version of the article which appeared in yesterday's IHT print edition is available here.) May 2013 be a year in which headlines accurately reflect the correct information contained within the accompanying article.
Jan. 2 Update: AP corrects the identical error. Will the IHT now correct?
Jan. 3 Update: IHT Corrects Erroneous Headline
Posted by TS at 03:25 AM | Comments (0)