« The Guardian of Biased Christmas Coverage | Main | Pat Buchanan Rants Against "Wolves" Opposing Hagel, Cites E 1 Canard »
December 30, 2012
More Accolades for Young Palestinian Media Star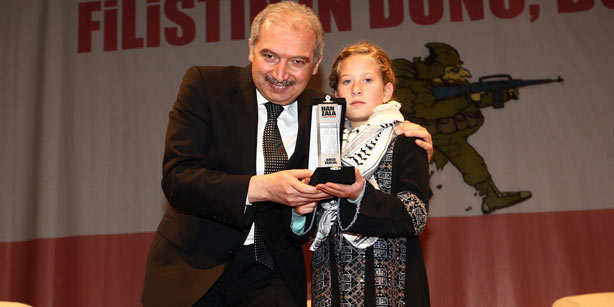 A'hd Tamimi receives the Handala Courage Award in Istanbul (Photo:Cihan)
A'hd Tamimi, the young Palestinian girl from Nabi Saleh who has repeatedly been featured in mainstream media photographs confronting Israeli soldiers, and who has been awarded by Palestinian Authority President Mahmoud Abbas for her "bravery," receives additional encouragement. According to Istanbul Today's Zaman:
Palestinian Ahed Tamimi, a girl who challenged Israeli soldiers as they arrested her brother, was presented with the Handala Courage Award in İstanbul on Wednesday.

Visiting Turkey as the guest of İstanbul's Başakşehir Municipality, 13-year-old Tamimi attended a series of events ahead of the award ceremony including the opening of an art exhibition titled "Being Children in Palestine."
Here is A'hd in her some of her most memorable moments: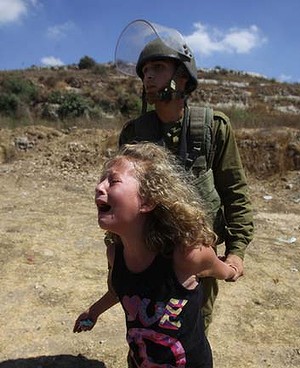 This Aug. 24 AFP photograph of an Israeli soldiers restraining A'hd Tamimi, 11, was featured in Australian papers, and was all over Facebook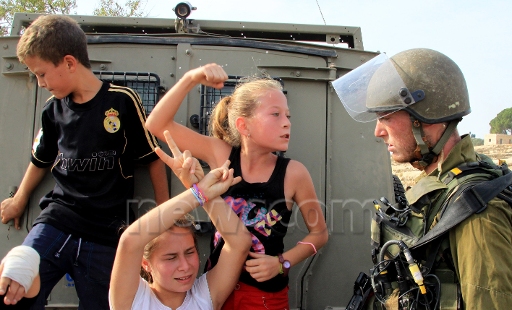 Palestinian protester during a protest against the expanding of Jewish settlements in Nabi Saleh village, near Ramallah on Nov. 2, 2012, the anniversary of the Balfour declaration. The Balfour Declaration was made on November 2, 1917, when then British Foreign Secretary James Balfour officially promised the leader of a Jewish community in a written letter to give the Jewish people all over the world a national homeland. Photo by Qais Abu Samra/AA/ABACAPRESS.COM
(Hat tip: J. Jones)
Posted by TS at December 30, 2012 04:54 AM
Comments
She does not look like Arab, more like Russian, as well as the rest of the kids. Probably a daughter of a Russian woman and Arab father, as there are many Russian women in Gaza and in the West Bank. What business she has there?
Posted by: Alex Shapiro at January 3, 2013 07:00 PM
yes, she is an Arab Palestinian. Where her family came from is rather moot, given that she claims she is Arab, and they come from Arabia.
Posted by: Mara Cohen at June 19, 2015 03:19 PM
Guidelines for posting
This is a moderated blog. We will not post comments that include racism, bigotry, threats, or factually inaccurate material.
Post a comment