« Hurriyet Daily News Questions Hamas Victory | Main | Ten Fake Signatures on Shrinking Soccer Petition? »
December 06, 2012
How Many Errors Can You Find on One CNN Page? (Updated)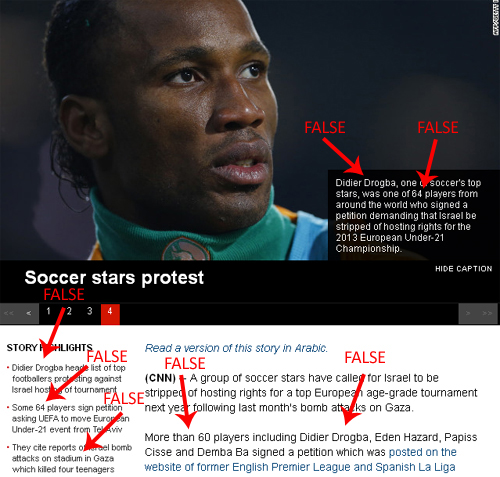 Details here.
DEC. 7 UPDATE: Following communication from CAMERA staff, CNN has corrected and clarified inaccurate claims that a soccer star signed on to an inaccurate anti-Israel petition.

Posted by GI at December 6, 2012 12:01 PM
Comments
CNN has updated and corrected on the petition. Remaining problems: Omission of rocket launches from soccer "stadium" and identifying persons killed as "players".
Posted by: wayne at December 7, 2012 09:41 AM
Photo caption still says "teenage players killed". They were mostly adults and not soccer "players"
Posted by: wayne at December 7, 2012 01:06 PM
Guidelines for posting
This is a moderated blog. We will not post comments that include racism, bigotry, threats, or factually inaccurate material.
Post a comment