« November 2012 | Main | January 2013 »
December 30, 2012
Pat Buchanan Rants Against "Wolves" Opposing Hagel, Cites E 1 Canard
President Obama's possible nomination of Senator Chuck Hagel as Secretary of Defense has prompted various pundits and analysts to weigh in for or against the move. Among those vehemently in favor of the candidate is Pat Buchanan who asked in a December 28 Townhall column ("Why the War Party Fears Hagel)":
If a senator or defense secretary believes an Israeli action -- like bisecting the West Bank with new settlements that will kill any chance for a Palestinian state and guarantee another intifada -- what should he do?

Defend the U.S. position, or make sure there is "no daylight" between him and the Israeli prime minister?
There WERE a lot of inaccurate media accounts of the E1 settlement developments to which he refers that may have confused Mr. Buchanan. But there were also lots of prominent corrections in places like The New York Times that clarified the issue and made clear the area would not be bisected, nor would a Palestinian state be prevented. Mr. Buchanan must have glided over the full, accurate story for some reason.

In an excellent piece in the February 2012 Columbia Journalism Review entitled "Pat Buchanan and His Enablers" journalist Jamie Kirchick recounted the departure of the commentator from left-leaning MSNBC in the wake of his recent book lamenting the decline of "White America." Kirchick also recalled William F. Buckley Jr.'s painstaking analysis years earlier of Buchanan's statements at the time of the first Gulf War when, among other things, he said:


"There are only two groups that are beating the drums … for war in the Middle East -- the Israeli Defense Ministry and its amen corner in the United States."
Kirchick notes Buckley concluded that it was "impossible to defend Pat Buchanan against the charge that what he did and said during the period under examination amounted to anti-Semitism." And he "wrote his old friend...out of the conservative movement."
Buchanan's latest rantings against "neocons" and "bellicose" Israelis and the "wolves" who want to throw Hagel overboard are a reminder that Buckley's moral leadership is sorely needed today.

Posted by AL at 09:44 PM | Comments (4)
More Accolades for Young Palestinian Media Star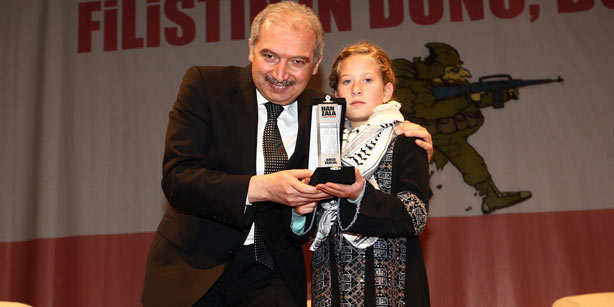 A'hd Tamimi receives the Handala Courage Award in Istanbul (Photo:Cihan)
A'hd Tamimi, the young Palestinian girl from Nabi Saleh who has repeatedly been featured in mainstream media photographs confronting Israeli soldiers, and who has been awarded by Palestinian Authority President Mahmoud Abbas for her "bravery," receives additional encouragement. According to Istanbul Today's Zaman:
Palestinian Ahed Tamimi, a girl who challenged Israeli soldiers as they arrested her brother, was presented with the Handala Courage Award in İstanbul on Wednesday.

Visiting Turkey as the guest of İstanbul's Başakşehir Municipality, 13-year-old Tamimi attended a series of events ahead of the award ceremony including the opening of an art exhibition titled "Being Children in Palestine."
Here is A'hd in her some of her most memorable moments: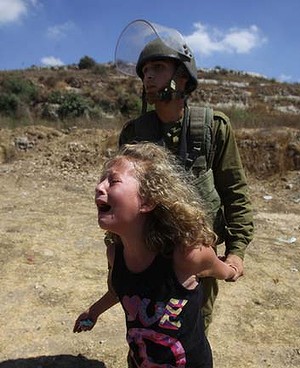 This Aug. 24 AFP photograph of an Israeli soldiers restraining A'hd Tamimi, 11, was featured in Australian papers, and was all over Facebook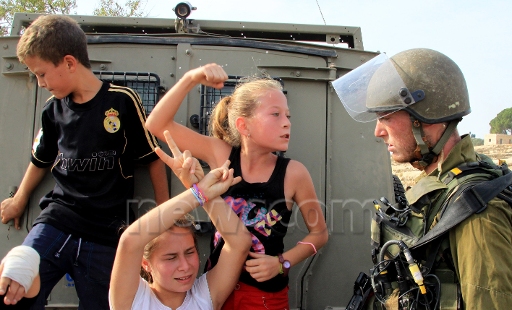 Palestinian protester during a protest against the expanding of Jewish settlements in Nabi Saleh village, near Ramallah on Nov. 2, 2012, the anniversary of the Balfour declaration. The Balfour Declaration was made on November 2, 1917, when then British Foreign Secretary James Balfour officially promised the leader of a Jewish community in a written letter to give the Jewish people all over the world a national homeland. Photo by Qais Abu Samra/AA/ABACAPRESS.COM
(Hat tip: J. Jones)
Posted by TS at 04:54 AM | Comments (2)
December 27, 2012
The Guardian of Biased Christmas Coverage



Harriet Sherwood
It just never gets old for some reporters -- the annual Christmas-in-Bethlehem bias-fest centered on Israel's alleged maltreatment of Christians. As CiF Watch's Adam Levick recounts in a December 25 Algemeiner piece:
Yet, like a holiday ritual, [The Guardian's] Harriet Sherwood, in the spirit of Phoebe Greenwood's ugly Guardian piece last year ('If Jesus were to come this year Bethlehem would be closed', Guardian, Dec. 22, 2011) chose to advance, as if by rote, a predictable Christmas tale of Israeli oppression against Christians.

Sherwood's piece, "Bethlehem Christians feel squeeze of settlements", avoids entirely any context about the comparative treatment of Christians in the Middle East, and myopically obsesses on the putative threat to Christians posed by Israeli "settlements" in the Jerusalem region.
The litany of bogus claims about demography, population density, economic conditions and, of course, settlements obscures, as Levick notes, the actual source of danger for beleaguered Christians.
That the place in the Middle East where the population of Christians is growing just happens to be the sole country where Islamism is not a serious threat is essential to understanding the fate of Christianity in that part of the world – context about the contrasting religious freedom, tolerance and democratic values in the Middle East which Harriet Sherwood's reports on the region do not provide.
It's so much easier (and safer) to join the media chorus and blame Israel than to report the facts on radical Islam's menace to non-Muslims.
Posted by AL at 12:35 PM | Comments (0)
December 25, 2012
'Tis the Season: The CBS Christians Story Resurfaces
It's the Christmas season, which traditionally has been marked by false claims regarding the Israeli and Palestinian Christian communities. It's no surprise, then, that media outlets are now dusting off Bob Simon's April 2012 "60 Minutes" story falsely blaming Israel for the Christian exodus from Palestinian-controlled areas.
Not to detract from the holiday cheer, here's a reminder to all: That "60 Minutes" report was riddled with factual problems.
See CAMERA's ad in the Wall Street Journal calling for corrections:
Posted by TS at 07:35 AM | Comments (1)
Ha'aretz Lost in Translation: Ma'aleh Adumim, It Sells
As the year comes to an end, it's time to catch up on examples of "Ha'aretz, Lost in Translation" that we didn't have time to post. Earlier this month, an article about funds earmarked for public housing which where not ultimately spent on that purpose appeared in Ha'aretz's Hebrew and English editions. In a column that covers various election issues, this time funding for public housing, reporter Or Kashti essentially recycled information that had appeared a year earlier in Calcalist. Here is how the Hebrew headline appeared in print:
The headline reads: "Who in the Knesset is looking after the housing shortage?"
The subheadline states: "The severe shortage of public housing does not encourage MKs to check where funds from the apartment sales, meant for those in need of public housing, have disappeared."
Like the original Calcalist article, Kashti details where the funds went, and at the end also notes:
funds were used for, among other things, paving an access road to Ma'aleh Adumim and funding the construction of public institutions.
In addition, it's noteworthy that the amount spent on the access road to Ma'aleh Adumim was 6 million NIS, or 0.21 percent of the 2.75 billion NIS in question. Kashti, appropriately, does not focus on the relatively negligible funding to Ma'aleh Adumim road, but on the MK's responses regarding how the funds were used.
Now let's see what Ha'aretz's English print edition did with the same piece:
Under the headline "Where did funds earmarked for public housing go?" reads the subheadline: "To pave a road to Ma'aleh Adumim, among other things."
Ha'aretz's English editors elevated funding for the Ma'aleh Adumim road to the subheadline, despite the fact that Kashti himself and his Hebrew editors did not at all emphasize this relatively insignificant recipient of funds, and did not mention it in a headline.
Thus, in a week in which the words "Ma'aleh Adumim, "E1," "contiguity," and "end of the two-state solution" were the talk of the international media, Ha'aretz's English editors exploit the hot button name "Ma'aleh Adumim," even though its role in this particular story issue is nominal. And thus, a story about the misuse of public housing funds, an internal Israeli issue, morphs into something much sexier for international consumption: once again, Israel is funding settlements over the Green Line.
For the Hebrew version of this post, please visit Presspectiva.
-- By Yishai Goldflam
Posted by TS at 06:13 AM | Comments (0)
Van Zile: How Ha'aretz Ruined My Christmas
Screen capture of Prime Minister Netanyahu's Christmas greeting on YouTube
On Christmas eve, Dexter Van Zile, CAMERA's Christian media analyst, writes in the Algemeiner "How Ha'aretz Ruined My Christmas Eve":
. . . I received a message from a colleague alerting me to Ravid's piece in Haaretz condemning Israeli Prime Minister Benjamin Netanyahu for radicalizing "his traditional Christmas greeting into an attack on Muslims in Arab countries."

Whoah, that's a serious charge.

Apparently, in his Christmas greeting, Netanyahu made the unforgivable sin of stating the obvious: That Christian populations are shrinking and are in danger in the Middle East. Netanyahu then added salt to the wound and reminded his listeners that Christians are safe in Israel.

According to Ravid, "Netanyahu did not specify in his greeting who is threatening to annihilate the Christians, but it's clear from the wording that he means the Muslims."

Earth to Barak Ravid: Netanyahu didn't have to say who was threatening the annihilation of the Christians because we already know.

Unless they've been living under a rock for the past few years, most Christians know that Muslim extremists throughout the Middle East have been attacking Christians on a regular basis for the past few years. Their churches have been bombed. Their pastors kidnapped, held for ransom and killed.

And moderate Muslims and secularists in the region do not have the power necessary to stop the attacks on their Christian neighbors. They can't even defend themselves.

In 2003, there were more than 1.5 million Christians living in Iraq. Now there are less than 500,000 living in that country. Why? Because Muslims have been attacking them on a regular basis since the ouster of Saddam Hussein!

Many of the Christians who fled Iraq went to Syria because it was safer. And guess what? Many of them are now heading back to Iraq to avoid being murdered by the Islamist rebels who are fighting against the Assad regime.

And with the ouster of Hosni Mubarak, Christians are under siege in Egypt. More than 100,000 have left the country since the ouster of President Mubarak in 2011.

Barak Ravid ignores all of this and writes that "Netanyahu did not go so far as to use the Christian holy figures for political purposes," but then some how tries to blame Netanyahu for the decision of Israeli diplomats in Ireland to post a now-deleted entry on the Embassy's Facebook page stating that the Holy Family would probably be lynched by Palestinians if they had tried to get into Bethlehem today.
It was a bit over the top. But Christians are being lynched and attacked on a regular basis in Muslim-majority countries throughout the world. They get little support from the secular human rights community and liberal Christian peacemakers in North America and Europe who have portrayed Israel as the singular threat to human rights and peace in the Middle East.

As a result of this obsession with Israel, time, energy and money that could be used to promote awareness of the plight of Christians suffering from Islamist oppression is wasted on portraying Palestinians as the quintessential victims of oppression in the Middle East.

They aren't. Not by a long shot.

People are screaming pretty loud in a lot of places in the Middle East, but their screams are not heard in the West because peace and human rights activists allow Palestinian leaders to hog the microphone. Every Christmas we see pictures of the Jesus and Mary blocked from getting into Bethlehem by the security barrier. (Maybe that's where the Israeli diplomats in Ireland got their inspiration.)

Yesterday, (Dec. 23) I watched a webcast of a Bethlehem Prayer Service that was organized in part by the National Cathedral in Washington, D.C. Not one word of solace or comfort was offered on behalf of Christians living under the threat of Islamist violence in Syria, where Christians are starving to death or Egypt where the Muslim Brotherhood is achieving a fascist takeover.

In light of this violence, Barak Ravid wants to take Netanyahu to task for stating that Christians are safer in Israel than they are elsewhere in the Middle East. Ravid says this is "radicalizing" a Christmas greeting.

No it isn't.

It's simply stating the obvious.
Barak Ravid's piece on Netanyahu's "anti-Muslim" Christmas greeting is here.
Posted by TS at 02:18 AM | Comments (0)
December 24, 2012
NY Times Editorial Repeats Falsehood Already Corrected on Its News Pages
The late U.S. Senator Daniel Patrick Moynihan famously said once, "Everyone is entitled to his own opinion, but not his own facts.'' New York Times editorial writers, however, do not believe this adage applies to them. In their obsession to indict Israel for allegedly obstructing peace in the Middle East, they freely use falsehoods upon which to base their opinion of Israeli guilt-- even falsehoods that were previously corrected on the news pages of their own newspaper.
CAMERA staff already demonstrated to New York Times news editors the falseness of alleging that Israeli building in the E1 corrdior cuts off the northern and southern West Bank and prevents a contiguous Palestinian state. And on Dec. 16, 2012, The New York Times, published a correction.
Nearly a week later, however, in an editorial entitled "The Fading Mideast Peace Dream," one in a slew of such columns blaming Israel, the editorial writer used the exact same misinformation to yet again indict Israel. The editorial got straight to its point:
So far this week, Mr. Netanyahu's hard-line government, defying the Western powers, has approved construction of more than 6,000 new housing units. The approvals follow an announcement late last month that Israel would continue planning for new development in the E1 area — a project northeast of Jerusalem that would split the West Bank and prevent the creation of a viable contiguous Palestinian state.
That editorial writers of the New York Times are obsessive in their quest to always blame Israel is not news. Nor is it news that they do not feel compelled to stick to the facts. What is new is that now they willingly contradict what their own news pages say for the sole purpose of indicting Israel. (See CAMERA's newest monograph on Indicting Israel: New York Times Coverage of the Palestinian-Israeli Conflict
Posted by RH at 01:32 PM | Comments (2)
December 20, 2012
Where's the Coverage? Christians Support Israel

The Atlantic's Jeffrey Goldberg recently wrote a column "Israel Relies on Evangelicals at its Moral and Political Peril" in which he stated:
Evangelical support always struck me as a narrow reed on which to rest Israel's fortunes in America, and not only because many evangelicals, in my experience, have no love for Jews as autonomous people, but merely as vehicles for the Christian redemption. I also thought it was odd to build a strategy around evangelicals because evangelicals don't represent a majority of Americans.

Now, according to an important op-ed in The Times by a young evangelical pastor, it seems as if evangelicals represent fewer Americans than ever. I hope those Israelis who believe they can ignore the wishes of their liberal brethren (and their increasingly-former allies among non-Jewish liberals in the U.S.) read the whole thing.
Keep in mind that the op-Ed Goldberg cites does not even mention Israel. Still, in the wake of the October 5 letter to Congress from a group of Christian leaders alleging "widespread Israeli human rights violations committed against Palestinians," it may seem that support for Israel in the broader community is diminishing.
This could be because the media refuse to cover the many Christians who do support Israel.
A recent poll conducted by The Pew Research Center after Pillar of Defense demonstrates that Americans, the vast majority of whom are Christian, sympathize with Israel at five times the rate they sympathize with the Palestinians. In fact, data shows that since 1978, support for Israel has gone up five percentage points while support for the Palestinians has gone down four points. CAMERA could find no media coverage of this important survey except in the Israeli press.
Furthermore, last month, Protestants from around the globe came together in Jerusalem to create the Protestant Consultation on Israel and the Middle East (PCIME). They issued "The Jerusalem Declaration" which vowed support for Israel and put that support in a broader context:
The future of 2,000-year-old Christian communities, and the future of pluralism, are at stake in the Middle East today. We cannot afford to ignore this big picture in which the conflicts around Israel occur. We are committed to stand with Israel and the Jewish people, as we also stand with persecuted Christians and other minorities in the region.
In attendance at this meeting was CAMERA's Christian Media Analyst Dexter Van Zile, but the meeting and the important declaration were ignored by the popular press.
So, while the media relish the opportunity to report any bad news for Israel, when it comes to the enduring support for Israel among people of good faith, we have to ask... Where's the coverage?
Posted by SC at 11:09 AM | Comments (1)
December 19, 2012
NYT Just Can't Help It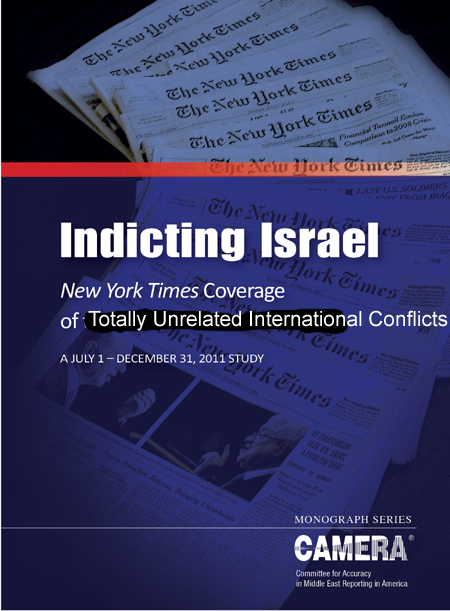 The New York Times just couldn't help itself. It just couldn't pass on yet another gratuitous swipe at Israel. Jeffrey Gettleman, the Times' east Africa bureau chief, published a lengthy story on the horrors of Congo's raging war, and half-way through has this to say about Rwanda's role in the conflict:
For years, the United States and Rwanda's other Western friends turned a blind eye to this meddling. Again, like Israel, Rwanda has succeeded in leveraging the guilt that other countries feel for not intervening in its genocide — in which almost a million people were killed when Hutu militias targeted Tutsis in 1994 — to blunt criticism of itself.
CAMERA recently released a new monograph, Indicting Israel: New York Times Coverage of the Palestinian-Israeli Conflict. Perhaps our next expose should be: Indicting Israel: New York Times Coverage of Totally Unrelated International Conflicts. It would make for disturbing reading.
Posted by TS at 07:30 AM | Comments (5)
December 17, 2012
NYT Corrected E1 Falsehood. Will the Economist?
The Economist was yet another media outlet which falsely reported that E-1 construction between Jerusalem and Maaleh Adumim would bisect the West Bank. The Economist wrongly writes about construction in
the E-1 corridor, a swathe of desert and rock separating Jerusalem from Maale Adumim, a large Israeli settlement to the east, which would bisect the West Bank's northern and southern halves (see map).
Funny thing, then, that the writer advises us to see the map. The map shows, in fact, that even if construction were to fill the entire E-1 area (and plans call for construction on only 1/3 of the land), an additional 15 kilometers of contiguous West Bank land exists east of Maaleh Adumim, and would be totally unaffected by the construction. Here's a screen capture of the Economist error, including the map, which refutes the writer's baseless claim:
As CAMERA explained:
On the above map, an arrow points to a blue mark indicating the rough location of the proposed E1 corridor between Jerusalem and Maaleh Adumim. This corridor sits within the proposed route of the security barrier encircling Ma'aleh Adumim and Jerusalem, indicated with a pink and purple line. The purple line shows the section of the security barrier that is already built and the pink line shows the section not yet built and subject to revision. The construction of homes would take place in a small subsection of E1.

The green line indicates a route between northern and southern West Bank cities that lies outside E1 and the territory that might be encompassed by the proposed security barrier. Those who charge that Israeli building west of Ma'aleh Adumim severs north-south contiguity disregard the fact that the northern and southern parts of the West Bank are connected by land east of Ma'aleh Adumim (marked on the map) that is at its narrowest point also about 15 km wide.
The New York Times has already responded to CAMERA's calls to issue a correction, commendably clarifying that E-1 construction "would not divide the West Bank in two." Will the Economist likewise set the record straight?
Posted by TS at 04:40 AM | Comments (3)
December 16, 2012
Ma'ariv's Yemini Cites CAMERA on NYT E1 Corrections
Before Ha'aretz and the Jerusalem Post woke up to the New York Times corrections, which first appeared last week, about E-1 construction, Ma'ariv's Ben-Dror Yemini noted Friday:
. . . Israel is not exempt from criticism. The continuation of construction in Judea and Samaria portrays Israel as sabotaging every chance for peace. That is Israel's weak point. It would have been possible to accept a substantial part of that building and/or expansion were Israel to say to the Palestinians: We are ready to talk with you on the basis of the Clinton plan, which was and remains the basis for any settlement [solution], so long as there is a chance of a settlement. There are two proposals from that time period. Ehud Barak's Camp David offer, and a later proposal known as the Clinton plan. Indeed, Dennis Ross refuted the Palestinian claims regarding Barak's Camp David offer, according to which the proposal did not allow for a contiguous state, but rather cantons. Ross displayed the map, and clarified that the offer was generous, and that it gave the Palestinians 91 percent of the West Bank. The E1 territory was included in the remaining 9 percent. Also according to the Clinton plan, as depicted in the map in Ross's book, Area E1 appears to lie on the Israeli side of the dividing line. And still, the plan gives the Palestinians 95 percent of the land in Judea and Samaria, and, at the same time, the vast majority of settlements remain on the Israeli side. Contrary to the myth which has gained widespread traction in international media outlets, construction in E1 does not bisect the West Bank (and thanks to Presspectiva for clarifying the matter). [Presspectiva is CAMERA's Hebrew site.] And construction does not destroy the possibility of a two state solution. That was what was published in, for example, the New York Times, which following communication with CAMERA, published a correction. (CAMERA's translation)
Posted by TS at 02:47 PM | Comments (0)
Ha'aretz, JPost Cover NYT E1 Corrections
Appearing on Ha'aretz's home page
Today, the Web sites of Ha'aretz and Jerusalem Post cover the New York Times corrections, prompted by CAMERA, noting that E-1 construction, between Jerusalem and Maaleh Adumim, would not cut the West Bank in half, and would not cut off Bethlehem and Ramallah from Jerusalem.
The first print correction (which also was posted online) appeared Dec. 8, and we noted it on CAMERA's Web site Dec. 10. Another more detailed correction, dated Dec. 7, appeared online Dec. 10, and we posted it to CAMERA's Web site that day. It appeared in print only today.
Posted by TS at 01:27 PM | Comments (0)
December 13, 2012
Where's the Coverage? Construction in Truly Occupied Territory

The media has been in a tizzy about potential Israeli construction of several thousand housing units on the outskirts of Jerusalem in an area known as "the E-1 corridor." Coverage has included two error-laden New York Times stories, columns by Maureen Dowd and Thomas Friedman, numerous op-Eds and an editorial. The Los Angeles Times ran multiple articles and an editorial that played fast and loose with the facts, Agence France-Presse misreported the story as did National Public Radio. Other media similarly either mangled the facts or, at the very least, flogged the story to death.
It's not a new story, either. CAMERA reported on the same misinformation in the media in 2005. While The New York Times made two corrections, prompted by CAMERA, the relentless focus on potential E-1 construction has been notable. And not a shovel has hit the ground yet.
The same cannot be said for the huge and numerous construction projects completed and underway in the truly occupied, once-independent state of Tibet.
On page 17, The Times ran an article about the dozens of recent self-immolations in Tibet protesting Chinese occupation but this article does not mention the construction at all. (The newspaper did publish an op-Ed about Tibet in which the writer describes asking for directions at a construction site.) There was a Times blog post which included a number of photographs of Tibet along with text saying that the region is changing and is basically... uglier. But there is nothing in the pages of the Grey Lady about the massive Chinese construction in Tibet that comes close to the reproach reserved for proposed Israeli construction in Jerusalem and Jerusalem's suburbs.
What about other media coverage of Chinese construction in Tibet? Virtual silence. Although Reuters reported that thousands took to the streets of New York City protesting Chinese occupation of Tibet, there was not a word about the construction.
How much construction is there? More than the 3,000 housing units contemplated for E-1? You betcha.
The Chinese government itself declares:
[Vice chairman of the Tibet Autonomous Region] Gong Puguang said that urbanization rate in Tibet had reached 25 percent by the end of 2010 from less than 3 percent during the initial post-liberation period. The urban infrastructure had continuously been perfected, road frames formed, urban water and gas supply further popularized, comprehensive capability for preventing disasters steadily improved.

Living standard of urban and rural residents has been steadily improved. Before liberation, over 90 percent of people in Tibet were homeless, but now 98.7 percent of farmers and herdsmen have their own houses, with per capita living space in urban areas and rural areas reaching 34.72 sq m and 22.83 sq m respectively. According to Gong Puguang, the urban housing security has basically been established in the whole region, with a rational housing supply system, effectively guaranteed right of habitation for urban and rural residents, and steadily improved residential quality.
Beijing boasts of constructing a vast system of highways, airports and railroads in Tibet. China admits to developing copper mines and at least one hydro-electric dam in the region.
The non-governmental agency Tibetan UN Advocacy, a pro-Tibetan group, published a speech from 1995:
[Tibet's capital of] Lhasa has seen extensive growth since the Chinese occupation. In 1959, the city had a population of 30,000, but by 1989 this had risen to 140,000 (plus a floating population of about 100,000) and is expected to reach some 200,000 by the end of the century. Much of this growth has been Chinese in character. The old Tibetan quarter of the city is now totally surrounded by Chinese concrete blocks and wide avenues. Since the reassertion of Deng Xiaoping's economic reforms in 1992, there has been an acceleration in growth. Lhasa has witnessed extensive construction work, much of which appears to be undertaken by Chinese labourers. Many economic activities are also increasingly falling under Chinese domination. Counting at the Tromzikhang Market in July 1994 revealed that over 70% of businesses were run by Chinese traders.

If Lhasa is an example of the Chinese transformation of a Tibetan city, the town of Bayi is an illustration of exclusive Chinese urbanisation in the middle of the Tibetan countryside. Bayi was constructed as a military-industrial town in the 1960s, and now has a population that is around 80-90% Chinese. There are only a handful of Tibetan shops in the entire town.
That was 1995. What has happened since? According to the Tibetan government in exile, led by the Dalai Lama (and by the way, be careful of this link as there may be a virus possibly planted by the Chinese government):
Under the guise of economic and social development, Beijing encourages the migration of Chinese population to Tibet, marginalizing the Tibetans in economic, educational, political and social spheres.

The railway between Gormo and Lhasa, which was officially opened in July 2006, has given further impetus to the vicious policy of flooding Tibet with Chinese migrants and thus making it demographically impossible for the Tibetans to rise up as in the case of Inner Mongolia and Xinjiang. It is estimated that the railway brings some 5,000 to 6,000 Chinese to Lhasa every day. Out of these, 2,000 to 3,000 return to their homes in China and the rest of them settle in Tibet indefinitely. If this trend continues unabated, it will not be long before what many perceive as Beijing's "final solution" to the question of Tibet will have achieved its desired goal.
That sounds like a big story. You'd think the press would cover it. Three to four thousand migrants from China arrive every day? They must need places to live – maybe even thousands of housing units. Unfortunately for the Tibetans, those housing units and the other construction are not outside Jerusalem. If they were, you can bet the Tibetans wouldn't have to ask... Where's the coverage?

Posted by SC at 07:48 AM | Comments (3)
December 11, 2012
FBI Figures: Still No 'Wave of Islamophobia'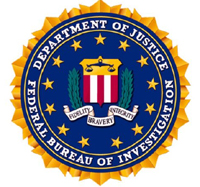 Hate crimes reported to U.S. law enforcement agencies declined six percent from 2010 to 2011, according to the Federal Bureau of Investigation's annual statistics. The 6,222 reported hate crimes were the fewest since 1994.
"Nearly half of hate crimes reported in 2011 were racially motivated," The Baltimore Sun noted ("U.S. hate crimes decline," December 11). Religious bias accounted for nearly one-fifth of the total. "Thirteen percent of the 936 religious bias crimes were anti-Islamic, but the large majority [63.2] were anti-Semitic in nature."
Washington Post blogger Jennifer Rubin ("Right Turn," "Hate-crime incidents down," December 11) asserted that the total number of religious hate crimes, for a nation of more than 310 million people, "is tiny."
This comparatively good news contradicts claims, like those made previously by CAIR and others that following al Qaeda's Sept. 11, 2001 terrorist attacks, the United States has experienced a wave of "Islamophobia." (See, for example, CAMERA's Special Report, "The Council on American Islamic Relations: Civil Rights, or Extremism?" page 9). If the statistics reported to the FBI are representative, then regardless of war in Afghanistan (and recently Iraq) and terrorism and attempted terrorism by Muslim extremists at home, America remains a pretty tolerant place.
Posted by ER at 03:28 PM | Comments (0)
December 06, 2012
Consensus on Der Spiegel Online: Israel Defies the World
The approval given by Israeli Prime Minister Benjamin Netanyahu to build new homes for residents of greater Jerusalem in the disputed E1 area has provoked a storm of outrage among German commentators in the English language version of Der Spiegel Online. Netanyahu's decision, coming shortly after the Palestinian Authority's successful effort to win a vote for statehood in the United Nations General Assembly, generated harsh recriminations from prominent German news sources.
Der Spiegel reports on Dec. 4 that "German commentators say it is time to get tough with Israeli premier Netanyahu." The Financial Times Deutschland writes,
One can only encourage the [German] chancellor to use Netanyahu's planned construction of settlements in the West Bank as an opportunity to take the hardliner to task. Because what Netanyahu is planning makes a two-state solution between the Israelis and Palestinians impossible.
The Frankfurter Allgemeine Zeitung goes further, stating,
... Israel's settlements on Palestinian land are a violation of international law, against which the Palestinians could take action within the framework of the United Nations... The prime minister is provoking both the Palestinians and the international community.
The newspaper apparently rejects the official interpretation of UN Security Council Resolution 242, that defines the territory as "disputed" not "occupied". This would mean that Israel was building on land of undetermined ownership, not Palestinian land. The UN resolution also establishes the firm precedent that the status of the territory would only be changed through negotiations, something the Palestinian Authority has turned its back on by going to the UN General Assembly. Furthermore, Israel took possession of the land from an illegal occupier, Jordan. In this regard, international jurist, Stephen Schwebel wrote:
Where the prior holder of territory had seized that territory unlawfully, the state which subsequently takes that territory in the lawful exercise of self-defense has, against that prior holder, better title. ("What Weight to Conquest," American Journal of International Law, 64 (1970))
The United States shares the interpretation of Resolution 242 framers concerning the disposition of the territories and also does not deem Israeli settlements as illegal, despite objecting to their expansion as being unhelpful to making peace. The German newspapers apparently have agreed upon their own interpretation of international law, most likely supporting their view with subsequent UN General Assembly resolutions that carry no legal weight.
The Suddeutsche Zeitung shares the Frankfurter newspaper's interpretation of the UN resolution and offers a stern rebuke, writing,
... Even though international law forbids the settlement of the Jewish population on Palestinian land occupied since 1967, around half a million Israelis live there now. Breaking the law has long since become routine -- and has even become a ritual with which every Palestinian transgression is punished. But this time, Israel hasn't just punished the Palestinians -- it has defied the whole world.
And Die Welt offers veiled threatening language,
Israel should acknowledge that the international community wants to find a two-state solution in the Middle East to finally put an end to the long-lasting conflict. The question is no longer whether, but how that will be accomplished.
Israeli settlement in the West Bank is held to be illegal by these newspapers, evidence that they view non-binding resolutions as having superceded UN Security Council Resolution 242 and reject the opinions of notable jurists who find Israeli settlements consistent with the requirements of international law.
The Palestinian decision to forego negotiations and seek statehood without making peace does not anger these commentators as much as Netanyahu's decision to build homes in contentious territory. The German commentators express fury at Netanyahu's actions. By holding Netanyahu's decision to build homes, not the Palestinian decision to circumvent the peace process, as defying the world's desire for Middle East peace, they display a bias that for some invokes the spectre of an old, chilling, sentiment that might be summed up as "the Israelis are our misfortune."
Posted by SS at 01:55 PM | Comments (3)
Ten Fake Signatures on Shrinking Soccer Petition?
Frédéric Kanouté.
Frédéric Kanouté's anti-Israel soccer petition is shrinking.
Maybe that shouldn't be a surprise — if the text of the petition is inaccurate, why wouldn't many of the signatures be, too?
Initial news stories claimed 62 players signed the petition. But then Didier Drogba and Yohan Cabaye, whose names originally appeared on the statement, announced that they didn't actually sign it.
Yesterday, we counted 59 names Kanouté's petition page — we didn't get a screen shot — suggesting that a third player's name was added without permission.
And as of this writing, there are 52 names.
The following ten "signatories" apparently never signed, and perhaps never even saw, the petition, as their names have been removed from the list of 62 purported signatories:
André Ayew, Olympique de Marseille (France)
Jordan Ayew, Olympique de Marseille (France)
Yohan Cabaye, Newcastle United (UK)
Soulaymane Diawara, Olympique de Marseille (France)
Didier Drogba, Shanghaï Shenhua (China)
Rod Fanni, Olympique de Marseille (France)
Charles Kaboré, Olympique de Marseille (France)
Anthony Le Tallec, AJ Auxerre (France)
Steve Mandanda, Olympique de Marseille (France)
Arnold Mvuemba, Olympique Lyonnais (France)
Posted by GI at 12:12 PM | Comments (2)
How Many Errors Can You Find on One CNN Page? (Updated)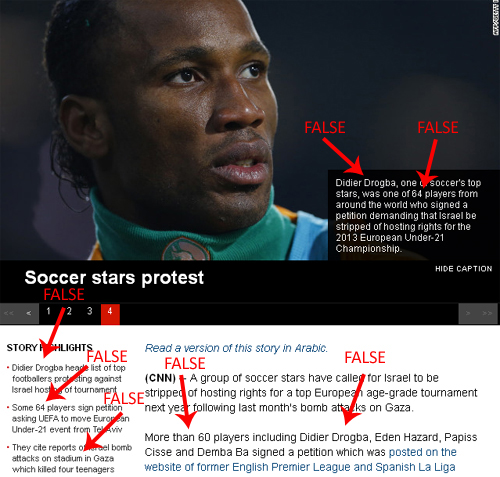 Details here.
DEC. 7 UPDATE: Following communication from CAMERA staff, CNN has corrected and clarified inaccurate claims that a soccer star signed on to an inaccurate anti-Israel petition.

Posted by GI at 12:01 PM | Comments (2)
Hurriyet Daily News Questions Hamas Victory
Burak Bekdil, a columnist for the Turkish Hurriyet Daily News, has had enough of the Hamas victory celebration over the recent hostilities with Israel and its claim to "love death more than they love life." In his column "Is Hamas real or a bad joke", Bekdil surmises,
Hamas' rhetoric stinks of death, nothing but death – indiscriminate death. Be it "our" death or "the enemy's." And it never metamorphoses into something more humane, something less nihilist.
Bekdil calls out Hamas Prime Minister Ismail Haniyeh for his hypocrisy:

Mr. Haniyeh claims that "with every [Israeli] attack we grow stronger." Since "Muslims don't cheat or lie," one cannot help but wonder if the Israeli Defense Forces are secretly conspiring for Hamas' jihad. If what Mr. Haniyeh says is true, why do the willing subscribers of the Palestinian cause across the world, including Prime Minister Recep Tayyip Erdoğan, complain of Israel's retaliatory attacks on Hamas targets? They should instead welcome every attack, thinking every attack will strengthen Hamas. Is that too cruel to say? Ask Mr. Haniyeh.
Bekdil also delves into the Hamas Charter, a document the mainstream media in the U.S. and Europe tend to shy away from discussing or dismiss as no longer relevant when questioned about it. Bekdil writes,
But Hamas can be amusing too. Its charter is must-read fun. My favorite section is the one which states: "The Day of Judgment will not come until Muslims fight the Jews, when the Jew will hide behind stones and trees. The stones and trees will say, 'O Muslims, O Abdullah, there is a Jew behind me, come and kill him.'"

Other pearls of humanity include holding Jews responsible for a wide range of events and disasters going as far back in history as the French Revolution. The Hamas covenant also provides justification for fighting and killing Jews, without distinction of "whether they are in Israel or elsewhere."
One can only wish that influential Western news organizations like The New York Times and the BBC would show the same boldness and integrity as Bekdil in addressing the declarations of Hamas leaders and prominent supporters.

Posted by SS at 11:17 AM | Comments (2)
December 05, 2012
Another Map Disproving E-1 Contiguity Claims
A few days ago, we posted a map demonstrating that Israeli development in the so-called E-1 corridor between Ma'aleh Adumim and Jerusalem doesn't preclude a contiguous Palestinian state in the West Bank — certainly no more than a Palestinian state in the West Bank would make Israel itself noncontiguous.
Below is another map showing the same thing. This map was drawn up by Dennis Ross, Bill Clinton's chief negotiator during the Camp David peace talks between Israeli and Palestinian leaders, for Ross's book The Missing Peace. The map represents Clinton's peace proposal, which was rejected by Palestinian leader Yasir Arafat.
The map clearly shows the E-1 area under Israeli control and a contiguous Palestinian state in the West Bank.
So although Thomas Friedman and Maureen Dowd in today's New York Times both repeat the mantra that Israeli building would (in Friedman's words) "sever any possibility of a contiguous Palestinian state," this is simply not true. The development of E-1 might impact Palestinian demands about the contours of a future state. It might impact the sides' conflicting claims on Jerusalem. But whatever the pros and cons, it does not prevent a contiguous Palestinian state, and it certainly does not prevent a viable Palestinian state.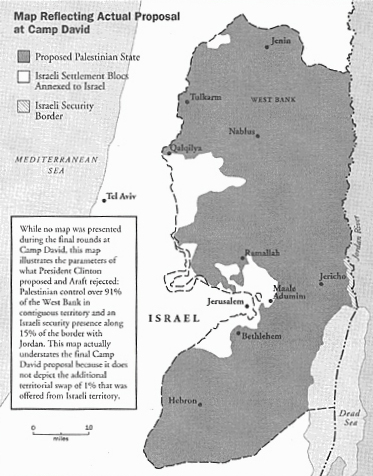 A map illustrating President Clinton's proposals at Camp David, from Dennis Ross's The Missing Peace.
Posted by GI at 02:32 PM | Comments (5)
Foul Play: Reuters' Gaza Stadium Captions
Captions for a series of Reuters photos yesterday featuring a Gaza soccer field hit last month in an Israeli airstrike ignore the widely noted IDF report that the field was used as a rocket-launching site. Some of the photos and captions follow:
Palestinian security guards pray at Palestine soccer stadium, which witnesses said was destroyed in an Israeli air strike during an eight-day conflict, in Gaza City December 4, 2012. Eight days of Israeli air strikes on Gaza and cross-border Palestinian rocket attacks ended in an Egyptian-brokered truce agreement last month, calling on Israel to ease restrictions on the territory. REUTERS/Suhaib Salem (GAZA - Tags: POLITICS CIVIL UNREST RELIGION)

A Palestinian girl looks at a soccer stadium, which witnesses said was destroyed in an Israeli air strike during an eight-day conflict, in Gaza City December 4, 2012. Eight days of Israeli air strikes on Gaza and cross-border Palestinian rocket attacks ended in an Egyptian-brokered truce agreement last month, calling on Israel to ease restrictions on the territory. REUTERS/Suhaib Salem (GAZA - Tags: POLITICS CIVIL UNREST)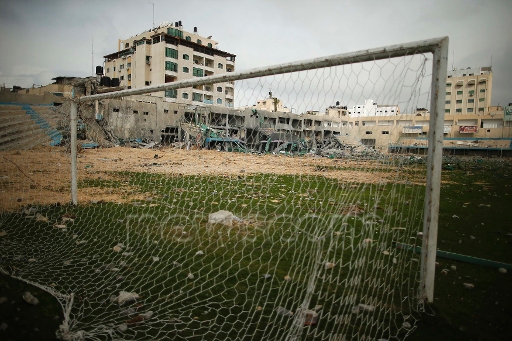 A soccer stadium, which witnesses said was destroyed in an Israeli air strike during an eight-day conflict, is seen in Gaza City December 4, 2012. Eight days of Israeli air strikes on Gaza and cross-border Palestinian rocket attacks ended in an Egyptian-brokered truce agreement last month, calling on Israel to ease restrictions on the territory. REUTERS/Suhaib Salem (GAZA - Tags: POLITICS CIVIL UNREST)
One of the photos, and its tendentious caption, is featured at the MSNBC Photo blog.
CiF Watch, a CAMERA affiliate, has compiled many of the sources noting that IDF report that Hamas launched rockets towards Tel Aviv and Jerusalem from the stadium.

IDF graphic

Posted by TS at 05:05 AM | Comments (2)
December 03, 2012
Global Ministries Finally Comes Clean on Makari Interview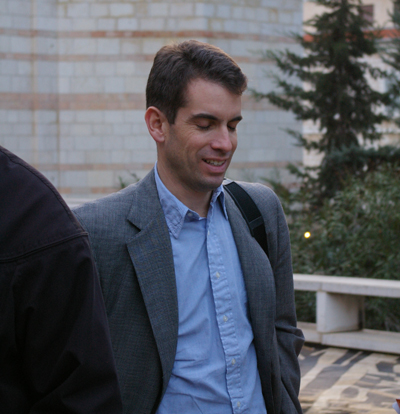 Peter Makari, Executive for the Middle East and Europe of the Common Global Ministries Board of the United Church of Christ and the Christian Church (Disciples of Christ)(Photo: Dexter Van Zile)
Rev. Dr. Peter Makari, area executive for Europe and the Middle East for Global Ministries for the United Church of Christ and The Christian Church (Disciples of Christ) spoke to a reporter from the American Free Press in earlier this year about a letter to Congress. The letter, sent to lawmakers on Oct. 5, 2012 was problematic, but the his decision to give an interview with the American Free Press was also a bad one. The publication was founded by Willis Carto, a man described by the ADL as "one of the most influential American anti-Semitic propagandists of the past 50 years."
The Simon Wiesenthal Center issued a press release calling for his ouster. CAMERA wrote about the interview, here and here and contacted the leaders of both the United Church of Christ and the Disciples of Christ, asking about the interview.
After getting no response, CAMERA began corresponding with Conference Ministers in the United Church of Christ and Regional Ministers with the Disciples of Christ.
After sending out more than 70 notes about Rev. Dr. Peter Makari's interview with the American Free Press, CAMERA obtained a statement from Global Ministries sent to officials in both the UCC and Disciples. It reads in part as follows:
In the flurry of press coverage … [Rev. Dr. Peter Makari] was contacted by a number of reporters seeking comment. A person purporting to be an independent writer contacted Peter, who conducted a cursory background check before speaking with him. No mention was made of American Free Press as the outlet. While the interview was factually accurate, Peter did not know that it was going to be published on the American Free Press site which is clearly a virulently anti-Semitic website. This was one of many interviews Peter did in his capacity as spokesperson for the 15 letter signatories and not specifically in his role within Global Ministries. It is not our intent to feed hate speech on either side of any issue.
It appears that Rev. Dr. Peter Makari did not know he was speaking to a writer for The American Free Press when he gave the interview.
Why didn't Global Ministries come right out and say this once they realized what had happened? Why didn't Rev. Dr. Peter Makari say this as soon as the interview was published?
Update: It should be noted that if you google the name of the writer who interviewed Rev. Dr. Makari, (David Gahary), the first link to come up (after his personal website) is to American Free Press. Rev. Dr. Makari's background check must have been very cursory.
Posted by dvz at 03:33 PM | Comments (1)
December 02, 2012
E-1 Contiguity Fallacy Returns
With Israel's announcement that it plans to proceed with construction in Area E-1, east of Jerusalem, earlier falsehoods about that land reemerge. Thus, Ha'aretz reports that construction in E-1
would effectively bisect the West Bank and sever the physical link between the Palestinian territories and Jerusalem.
Similarly, the New York Times reports:
Construction in E1, in West Bank territory that Israel captured in the 1967 war, would connect the large Jewish settlement of Maale Adumim to Jerusalem, dividing the West Bank in two. The Palestinian cities of Ramallah and Bethlehem would be cut off from the capital, making the contiguous Palestinian state endorsed by the United Nations last week virtually impossible.
So is it true that construction in E-1 would bisect the West Bank, severing Palestinian contiguity, and cutting off Palestinian areas from Jerusalem? The answer is no. As CAMERA pointed out in 2005 ("The Contiguity Double Standard"):
Palestinian contiguity in the West Bank would be no more cut off with the so-called E-1 corridor than would Israeli contiguity if Israel were to withdraw to its pre-1967 borders, even with slight modifications.
Here's why. First, take a look at this map of the region: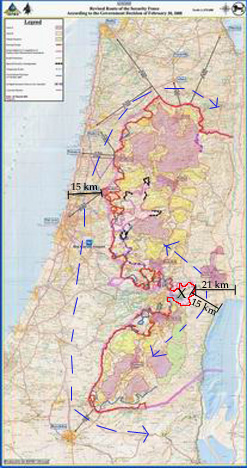 As CAMERA earlier explained:
The black X marks the approximate location of the new neighborhood near Ma'aleh Adumim. To the west of the X is Jerusalem. The red line surrounding the X is the planned route of the security barrier, which will encircle Ma'aleh Adumim and Jerusalem.

Those who charge that Israeli building in Ma'aleh Adumim severs north-south contiguity disregard the fact that Palestinian-controlled areas would be connected by land east of Ma'aleh Adumim (marked on the map) that is at its narrowest point ~15 km wide.

Moreover, Israel proposes to build tunnels or overpasses to obviate the need for Palestinians to detour to the east through the corridor.

Ironically, many of those who argue for greater contiguity between Palestinian areas, at the same time promote Israeli withdrawal to its pre-1967 boundaries, which (even with minor modifications) would confine Israel to a far less contiguous territory than that of the West Bank. As shown on the map above, there is a roughly 15 km wide strip of land separating the Green Line (and the Security Fence) from the Mediterranean Sea (near Herzliya). Also shown is the circuitous route necessary to travel via this corridor between northern and southern Israel. (e.g. from Arad to Beit Shean.)
Nor is it true that the construction would cut off Palestinian areas from Jerusalem. Access to Jerusalem through Abu Dis, Eizariya, Hizma and Anata is not prevented by the proposed neighborhood, nor would it be precluded by a string of neighborhoods connecting Ma'aleh Adumim to Jerusalem.
Posted by TS at 03:54 AM | Comments (7)