« CAMERA Op-Ed: AFP Accomplice to Hamas Lie | Main | Ha'aretz's Pfeffer Repeats Lie Blaming Israel for Boy's Death »
November 25, 2012
Washington Post Cites CAMERA on Photo Bias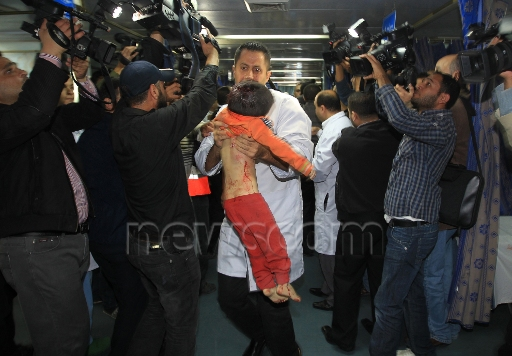 One of the AFP photos, not corrected, falsely attributing four-year-old Mahmoud Sadallah's death to an Israeli air strike
In his Nov. 23 Washington Post article "Photographs of Gaza conflict bring acccusations of media bias," Paul Farhi cites CAMERA's Eric Rozenman:
What's more, the asymmetrical nature of the conflict — pitting Israel's modern and well-equipped army against irregular fighters — produces its own image imbalance, said Eric Rozenman, Washington director of the Committee for Accuracy in Middle East Reporting in America (CAMERA), a watchdog group that has been critical of news portrayals of Israeli actions.

Israel's missile-defense system and shelters limit the number of casualties from rocket attacks, which results in fewer photos of Israeli suffering to balance the emotionally charged images of death and injury on the other side, he noted. At the same time, Israel's modern weaponry produces "a telegenic disproportion" that feeds the Israel-as-aggressor framing. "A big fireball coming up from an F-16 strike on a mosque" makes a more shocking picture than scattered rocket fire from the other side, he said. . . .

CAMERA last week criticized Western news organizations for their handling of another series of potent images depicting the death of a 4-year-old Palestinian boy in a Gaza hospital.

Wire services moved photos of the child — limp and lifeless in the arms of various adults — with captions that indicated he had died in an Israeli airstrike near his home. CNN aired video of the scene at the hospital as the child's body was carried by a doctor and held by a senior Hamas leader and Egyptian prime minister Hisham Kandil in front of a jostling media pack. Reporter Sara Sidner called the child "another victim of an airstrike."

Except it appears he wasn't. Subsequent reporting by media organizations indicated that the child more likely died as a result of an errant rocket launched from within Gaza. In effect, the photos may have revealed the opposite of what they purported to show — that the child's death was inflicted by Palestinian sources, not Israeli.

Reuters, which had circulated the photos, quickly issued a clarification saying the cause of the boy's death was in dispute. CNN cast doubt on its initial reporting, too, saying the incident could have been caused by "the misfire of a Hamas rocket intended for Israel."

Some news organizations, including The Post, declined to publish the photos because they suggested exploitation — and ma­nipu­la­tion of tragedy.

"Every single alarm went off in my head when I saw them," Golon said. "They looked like a media event around a dead child. They should not be parading this child's body around for PR purposes."
For more on Mahmoud Sadallah, whose death was falsely attributed to an Israeli air strike, see here and here.
Posted by TS at November 25, 2012 03:04 AM
Comments
Guidelines for posting
This is a moderated blog. We will not post comments that include racism, bigotry, threats, or factually inaccurate material.
Post a comment