« Where's the Coverage? Hamas Instructions to Human Shields | Main | CAMERA Op-Ed: AFP Accomplice to Hamas Lie »
November 21, 2012
Guardian Editor Defends Hamas "Resistance"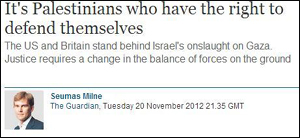 The latest from Cif Watch:
Guardian Associate Editor Seumas Milne just published an essay at 'Comment is Free' brimming with anger at Israel, and crowing about the glory of Hamas "resistance".

In 'Palestinians have the right to defend themselves', Nov. 20, Milne lashes out at Western leaders who have dared to proclaim that Israel has every "right to defend itself", mocks reports by the "western media echo[ing] Israel's claim that its assault is in retaliation for Hamas rocket attacks", and condemns Netanyahu for "unleash[ing] a new round of bloodletting" which he attributes, naturally, to the upcoming Israeli elections.
Read CiF Watch's entire post here.
Posted by at November 21, 2012 11:27 AM
Comments
Hamas is the devil at work and anyone who recognizes them as having rights to terroristic acts are in cohurts with the devil.
Posted by: Joy at November 21, 2012 12:25 PM
BUT THE ABOVE COMMENT INCLUDES RACISMBIGOTRY AND INACCURATE FACTS
Posted by: JOHN at November 24, 2012 07:16 AM
And the devil exists? Where exactly?
Posted by: Anonymous at November 24, 2012 05:49 PM
Guidelines for posting
This is a moderated blog. We will not post comments that include racism, bigotry, threats, or factually inaccurate material.
Post a comment