« October 2012 | Main | December 2012 »
November 30, 2012
West Bank and Gaza Residents Experience Among the Longest Life Spans in the Middle East


The intensive media coverage of the West Bank and Gaza creates the impression that the Palestinians experience unusually harsh levels of deprivation. Data collected by the United Nations has consistently shown for many years that the Palestinians, who benefit from enormous amounts of foreign aid as well as benefiting from close access to Israeli health services, are healthier and live longer than most of the people in the Middle East. A chart published by London's Daily Mail citing the CIA World Factbook (which uses UN data) shows the longevity rankings of different states and entities.
The West Bank at #90 ranks near the top of the Middle East region, ahead of Turkey, Saudi Arabia, Syria, Iraq, Yemen and most of the North African states. Even Gaza at #110, routinely portrayed in the media as suffering deprivation due to Israeli measures, experiences greater longevity at 74.16 years than neighboring Egypt at 72.93 years. Interestingly, most of these states rank well ahead of Russia and other former East bloc states.
Palestinians in the West Bank have greater longevity (and other favorable health metrics) than the majority of the world's population and yet have been among the largest recipients of humanitarian aid in the world for two decades.
Posted by SS at 11:34 AM | Comments (0)
November 29, 2012
Where's the Coverage? "Palestine" Doesn't Qualify as a State

There has been quite a bit of coverage of Palestinian Authority President Mahmoud Abbas asking the United Nations General Assembly to recognize a Palestinian state. But the media has focused mostly on the political angle: which nations will support this gambit and which nations will not support it. There has been coverage of the fact that the GA will almost certainly vote to approve and likely by a landslide. However, scant attention has been paid to the fact that "Palestine" does not qualify for statehood under international law. Other than CAMERA's backgrounder, we could find only one blog post on the subject.
According to article 4 of the United Nations charter membership is reserved for states (and "peace loving" states at that, but that's a whole other story). But Abbas is asking for "non-member state" status. This would presumably make it easier for "Palestine" to join the International Criminal Court with the intention of bringing cases against Israeli leaders. (This could backfire, of course, since Palestinian leaders would also be subject to the ICC – see "peace loving" above.)
The question remains, however, does "Palestine" qualify as a state? Article 1 of the Montevideo Convention on Rights and Duties of States provides the internationally recognized criteria of statehood:
The state as a person of international law should possess the following qualifications: a) a permanent population; b) a defined territory; c) government; and d) capacity to enter into relations with the other states.
Does "Palestine" have a permanent population? If so, why do Palestinian leaders frequently demand that residents be allowed to become citizens of another state, Israel?
Does "Palestine" have a defined territory? According to article 17 of the 1995 Israeli-Palestinian Interim Agreement on the West Bank and the Gaza Strip, signed by Israeli and Palestinian leaders, the Palestinian Legislative Council does NOT have jurisdiction over "issues that will be negotiated in the permanent status negotiations: Jerusalem, settlements, specified military locations, Palestinian refugees, borders, foreign relations and Israelis". No jurisdiction over borders? No defined territory.
Does "Palestine" have a government? You could argue it has two: one government in areas of the West Bank and one in Gaza. And they don't even get along with each other. That's not an effective government by any stretch of the imagination.
Does "Palestine" have the capacity to enter into relations with other states? Again, not under the Interim Agreement. Article 9, paragraph 5-a states clearly:
...[T]he [Palestinian Legislative] Council will not have powers and responsibilities in the sphere of foreign relations, which sphere includes the establishment abroad of embassies, consulates or other types of foreign missions and posts or permitting their establishment in the West Bank or the Gaza Strip, the appointment of or admission of diplomatic and consular staff, and the exercise of diplomatic functions.
So on all four counts, "Palestine" does not qualify as a state and hence cannot be recognized as such by the United Nations General Assembly. But then, as Abba Eban said, "If Algeria introduced a resolution declaring that the Earth was flat and that Israel had flattened it, it would pass by a vote of 164 to 13 with 26 abstentions."
No permanent population, no defined territory, no effective government, no capacity to conduct foreign relations, and yet... no coverage either!
(For a more complete and legally authoritative review of this subject, click here.)
Posted by SC at 04:50 AM | Comments (5)
November 28, 2012
Where's the Coverage? Egyptian Journalist Flees his Homeland

Here's another important story you haven't heard. A prominent Egyptian journalist, Amr Adeeb, known for his criticism of the regime led by President Mohammed Morsi, has fled his homeland and moved to London.
Once in London, he told his viewers that he fled the country after receiving death threats.
The story, which has been mentioned a number of times on Twitter, and has been highlighted by Michael Armanious, a Coptic Christian activist living in the U.S., has yet to receive any coverage in U.S. newspapers.
Egypt seems to be descending further and further into Islamism. Coptic Christians are not safe, nor are journalists who speak out against the regime.
Which mainstream media outlet in the West will be the first to tell their viewers about Adeeb's flight from Egypt?
Will anyone in the West cover this story?

Posted by dvz at 02:22 PM | Comments (0)
November 27, 2012
Aid for Gaza - A View from the Ground
A touching account by a young IDF soldier serving with COGAT - Coordinator of Government Activities in the Territories - underscores what agenda-driven journalists miss in casting Israel as allegedly seeking to inflict deprivation on Gazans. Nira Lee helps assure truckloads of supplies enter Gaza - when the convoys aren't attacked by Hamas. She also sees up close the efforts to spare civilian casualties:
In my position, I see the surgical airstrikes, and spend many hours with the UN, ICRC, and NGO officers reviewing maps to help identify, and avoid, striking civilian sites. One of our pilots who saw a rocket aimed at Israel aborted his mission when he saw children nearby -- putting his own civilians at risk to save Gazans. At the end of the day, what these "disproportionate numbers" show is how we in Israel protect our children with elaborate shelters and missile defense systems, whereas the terror groups in Gaza hide behind theirs, using them as human shields in order to win a cynical media war.
Posted by AL at 10:00 PM | Comments (1)
BBC's Donnison Summoned to GPO Hearing
BBC Watch, an affiliate of CAMERA, reports:
The BBC's Jon Donnison, together with the head of the BBC Jerusalem Bureau and head of the Foreign Press Association, Paul Danahar, has been summoned by the Government Press Office in Israel to a hearing this coming Wednesday (November 28th) on the subject of Donnison's Tweet of a picture of a child casualty from Syria as though it were from Gaza – as first publicised by BBC Watch on November 19th 2012. Potentially, this exceptional and unusual step on the part of the GPO could lead to Donnison's Press Credentials being revoked, which would make it very difficult indeed for him to work in the region.
.
Posted by TS at 07:53 AM | Comments (0)
November 26, 2012
Ma'ariv Cites CAMERA, BBC Watch


The Israel daily Ma'ariv cited CAMERA and BBC Watch, an independent project of CAMERA, in an article Friday (Nov. 23) about Hamas propaganda. Relevant excerpts of the article, by Sarah Leibovitz-Dar, follow (CAMERA's translation). Referring to the case of four-year-old Mahmoud Sadallah, whose death was falsely blamed on Israel, Dar writes:
CAMERA, an American organization which monitors inaccuracies in American media coverage of the Middle East, quickly sent complaints to the American media outlets which alleged that Sadallah was a victim of an Israeli strike. The organization reports on its Web site that after contacting editors, the Reuters news agency refiled the item which stated that the Palestinian Center for Human Rights, which documents the names of victims killed in Israeli attacks, does not list Sadallah. CNN reporters who spoke with Sadallah's relatives speculated whether an errant Palestinian rocket killed him, and even reported that CNN's crew in Gaza says it saw two such rockets passing overhead, apparently fired not far from where the boy lived.
Leibovitz-Dar wrote about BBC Watch's work on BBC reporter Jon Donnison who tweeted a photograph of a Syrian victim whom he said was a Palestinian in Gaza:
Decades after World War II, the BCC also does not always tell the truth. Several days ago, BBC reporter Jon Donnison posted to his Twitter account a photograph of a girl injured in the fighting in Syria and wrote that the girl was injured in Operation Pillar of Defense. "Heartbreaking, pain in Gaza," Donnison wrote. Later he apologized for the mistake and said the photograph was from another journalist. BBC Watch, which monitors BBC coverage, refused to accept the apology. Donnison's "decision to promote deliberate misinformation – either knowingly or as a result of a complete failure to check facts – indicates that he is not merely naïve," BBC Watch wrote on its site. The organization even found that the picture was taken from the Twitter account of Hazem Balousha, a Palestinian journalist and social activist.
Leibovitz-Dar also wrote about CAMERA's catch of an inaccurate Yahoo! News headline:
CAMERA found that the Yahoo! News Internet site was also inaccurate. A photograph of two Israeli children running for shelter last Thursday in Nitzan appeared under the headline "Gaza's children caught in crossfire." CAMERA contacted Yahoo! News requesting a correction. "Perhaps it's too much to ask for Yahoo! News to understand that, unlike Palestinian children suffering in Gaza, the Israeli children are not 'caught in the crossfire' but are intentionally targeted by Hamas and Islamic Jihad rockets," CAMERA wrote on its site.
The Yahoo! headline has since been corrected.
Posted by TS at 06:24 AM | Comments (1)
November 25, 2012
Ha'aretz's Pfeffer Repeats Lie Blaming Israel for Boy's Death
In a column ironically about "[c]hildren get[ting] used by politicians all the time" ("Turning a child's tears into war propaganda"), Ha'aretz's Anshel Pfeffer repeats the falsehood that an Israeli air strike killed 4-year-old Mahmoud Sadallah - even though this falsehood has been debunked and corrected for a week now. Pfeffer writes:
. . . . Egyptian Prime Minister Hisham Kandil, during his visit on Friday to Gaza, posed for a joint photograph with Hamas leader Ismail Haniyeh, holding together the body of a dead baby boy killed in an Israeli air strike.
For the benefit of those who missed it, Pfeffer among them, here is Reuters' correction from a whole week ago, making clear that an Israeli air strike did not kill this boy:
Friday (Nov. 22), the same day that Pfeffer falsely blamed Israel for Sadallah's death, Ha'aretz sent the following appeal to subscribers:

If Pfeffer's piece is representative of Ha'aretz "best analyses," it's no wonder management finds itself among the media outlets with financial difficulties.
Stay tuned for news of a Ha'aretz correction.
Posted by TS at 03:27 AM | Comments (2)
Washington Post Cites CAMERA on Photo Bias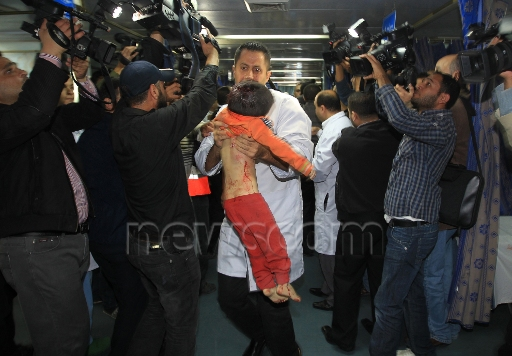 One of the AFP photos, not corrected, falsely attributing four-year-old Mahmoud Sadallah's death to an Israeli air strike
In his Nov. 23 Washington Post article "Photographs of Gaza conflict bring acccusations of media bias," Paul Farhi cites CAMERA's Eric Rozenman:
What's more, the asymmetrical nature of the conflict — pitting Israel's modern and well-equipped army against irregular fighters — produces its own image imbalance, said Eric Rozenman, Washington director of the Committee for Accuracy in Middle East Reporting in America (CAMERA), a watchdog group that has been critical of news portrayals of Israeli actions.

Israel's missile-defense system and shelters limit the number of casualties from rocket attacks, which results in fewer photos of Israeli suffering to balance the emotionally charged images of death and injury on the other side, he noted. At the same time, Israel's modern weaponry produces "a telegenic disproportion" that feeds the Israel-as-aggressor framing. "A big fireball coming up from an F-16 strike on a mosque" makes a more shocking picture than scattered rocket fire from the other side, he said. . . .

CAMERA last week criticized Western news organizations for their handling of another series of potent images depicting the death of a 4-year-old Palestinian boy in a Gaza hospital.

Wire services moved photos of the child — limp and lifeless in the arms of various adults — with captions that indicated he had died in an Israeli airstrike near his home. CNN aired video of the scene at the hospital as the child's body was carried by a doctor and held by a senior Hamas leader and Egyptian prime minister Hisham Kandil in front of a jostling media pack. Reporter Sara Sidner called the child "another victim of an airstrike."

Except it appears he wasn't. Subsequent reporting by media organizations indicated that the child more likely died as a result of an errant rocket launched from within Gaza. In effect, the photos may have revealed the opposite of what they purported to show — that the child's death was inflicted by Palestinian sources, not Israeli.

Reuters, which had circulated the photos, quickly issued a clarification saying the cause of the boy's death was in dispute. CNN cast doubt on its initial reporting, too, saying the incident could have been caused by "the misfire of a Hamas rocket intended for Israel."

Some news organizations, including The Post, declined to publish the photos because they suggested exploitation — and ma­nipu­la­tion of tragedy.

"Every single alarm went off in my head when I saw them," Golon said. "They looked like a media event around a dead child. They should not be parading this child's body around for PR purposes."
For more on Mahmoud Sadallah, whose death was falsely attributed to an Israeli air strike, see here and here.
Posted by TS at 03:04 AM | Comments (0)
CAMERA Op-Ed: AFP Accomplice to Hamas Lie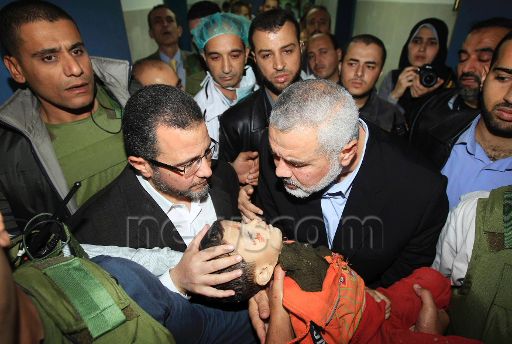 Reuters commendably corrected its erroneous caption blaming Israel for this boy's death. AFP, on the other hand, refused to correct (Reuters)
CAMERA's Tamar Sternthal writes in the Times of Israel:
[F]or Hamas, there's more than one way to exploit foreign media, and AFP has proven to be especially pliable. . . .

AFP alone did not respond to direct calls to correct or otherwise address the egregious misinformation. AFP Jerusalem bureau chief Philippe Agret and photo editor Marco Longari did not lift a finger to correct the record even when they were informed that the Telegraph reported that "experts from the Palestinian Centre for Human Rights who visited the site on Saturday said they believed that the explosion was caused by a Palestinian rocket." . . .

Mahmud Hams and his colleagues may not have served willingly as Hamas' human shields Tuesday night. But his editors, Agret and Longari, who refuse to clarify that Hamas apparently killed the child, serve as Hamas accomplices in its propaganda war against Israel.
Posted by TS at 01:39 AM | Comments (0)
November 21, 2012
Guardian Editor Defends Hamas "Resistance"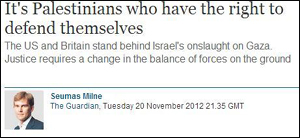 The latest from Cif Watch:
Guardian Associate Editor Seumas Milne just published an essay at 'Comment is Free' brimming with anger at Israel, and crowing about the glory of Hamas "resistance".

In 'Palestinians have the right to defend themselves', Nov. 20, Milne lashes out at Western leaders who have dared to proclaim that Israel has every "right to defend itself", mocks reports by the "western media echo[ing] Israel's claim that its assault is in retaliation for Hamas rocket attacks", and condemns Netanyahu for "unleash[ing] a new round of bloodletting" which he attributes, naturally, to the upcoming Israeli elections.
Read CiF Watch's entire post here.
Posted by at 11:27 AM | Comments (3)
Where's the Coverage? Hamas Instructions to Human Shields

While several media outlets reported on leaflets and text warnings from the Israeli army to residents of northern and eastern Gaza to flee certain areas, many ignored Hamas' counter-instructions to stay put, thereby setting up their own civilians as vulnerable human shields.
The IDF warnings read:
To the residents of Sheikh Ajlin, Tel Al-Hwa, Rimal South, Zeitoun, Sjaiya, Turkeman and Sajiya Jadida: For your safety, you are required to evacuate your residences immediately and move towards the central Gaza city, via Al-Khara, Jma'at Al Dul Al Arabia, Al Aqsa Al Qudsiya, Um Alaimoun, Salah A-din, Al-Maqsurra, Hal's Mjdad. In the central Gaza city, you are required to stay between the areas of Salah A-din from the west, Amar Al-Muchtar from the north, Al-Nasser from the east and Al-Quds St. from the south.
And:
To the residents of of the outskirts of Shati, Al-Atatra, Beit Lahiya and Beit Hanoun: for your safety, you are required to evacuate your residences immediately and move towards central Gaza city via Al-Falujah, Al-Udda and Salah A-din. In the central Gaza city, you are required to stay between the roads of Salah A-din from the west, Amar Al-Muchtar from the north, Al-Nasser from the east and Al-Quds St. from the south.
In response to the IDF effort to keep civilians out of harm's way, the Hamas interior ministry spokesman, speaking on Al-Quds Radio in Gaza, told his people to ignore the warnings. Israeli military intelligence provides the radio transcript:
Question: As the bombings go on, I want to address a specific issue: People have been receiving text messages urging them to evacuate their houses… Hamas Interior Ministry Spokesperson: This is all part of the psychological warfare held by the Zionist enemy… So by using this way of communication, our public radio, I address all our Palestinian brothers by saying: Please do not listen to the orders noted on these text messages, their only purpose is spreading fear and panic within our people.
The Los Angeles Times, the Daily Mirror, the Independent and the Washington Post all reported that Israel dropped leaflets, but ignored Hamas' call for civilians to stay in the line of fire despite the risk of an Israeli ground operation in these areas. Why the partial coverage? Why ignore Hamas' response which endangers Palestinian civilians?
Posted by TS at 04:19 AM | Comments (1)
November 20, 2012
Where's the Coverage? Deadly Airstrikes NOT Conducted by Israel

An American ally in the Middle East conducts airstrikes against fighters that it, the United States and the European Union consider terrorists. Its military uses U.S.-made F-16 jets, attack helicopters and artillery to go after the group this nation believes is supported by Iran, Russia and factions in Syria. For their part, the "militants" claim they only want to establish their own state. This decades-long conflict, in which thousands have been killed, has been escalating in recent months while attracting – and here's where it becomes clear we're not talking about Israel – little media attention.
Turkey sent troops on a multiple-day incursion into Iraq – a sovereign state – earlier this month targeting members of the Kurdistan Workers Party (PKK). Perhaps you read about it on the front page of The New York Times or heard a report on National Public Radio. No?
Turkey also sent ground forces into Iraq in 2008 and maintains an estimated 1,000 troops based there. Maybe you saw a story about this on CNN or read about it in The Washington Post. No?
To its credit, Reuters has covered this story at least twice, but the most extensive reporting has been done by a non-mainstream Web site called World Tribune which wrote:
"Turkey, without fanfare, has been striking PKK targets with a frequency not seen in years," a diplomat said.

The sources said the Turkish Air Force has been conducting nearly daily strikes on suspected PKK strongholds in northern Iraq. They said the operations were meant to prevent PKK fighters from crossing into Turkey and neighboring Syria. At the same time, the Turkish Army has designated 15 closed zones near the Iraqi border.

In October, the Turkish Air Force deployed about 25 U.S.-origin F-16 multi-role fighters to its base at Diyarbakir. Diyarbakir has been the launching pad for Turkish air strikes on the Kandil mountains in northern Iraq, believed controlled by PKK.

[…]

Turkey has acknowledged an offensive on the PKK. The government said more than 325 PKK fighters have been killed since July.
Since 1984, when the PKK launched an insurgency with the aim of establishing an independent Kurdish state, more than 40,000 people, mostly Kurds, have been killed. If only the Kurds were fighting Israel, they might get some media attention.
Near-daily airstrikes, terrorists, ground incursions, Iranian and Russian involvement, hundreds killed recently, tens of thousands over the years, and yet… Where's the coverage?

Posted by SC at 08:50 PM | Comments (1)
At LA Times, Slain Top Islamic Jihad Fighter is a "Journalist"
The Sharouk building, where Islamic Jihad military leader Ramez Harb was killed (EPA)
Nov. 25 Update: LA Times Correction: 'Palestinian Journalist' Was Islamic Jihad
The Los Angeles Times does it again. Last month it transformed a slain Hamas gunman into a "Palestinian man." Today Jerusalem bureau chief Edmund Sanders transforms a slain top Islamic Jihad commander into "a Palestinian journalist." He writes:
On Monday, Israel attacked the Sharouk communications building in Gaza City where it said four senior members of the Islamic Jihad militant group were meeting.

Among the dead was Ramez Harb, a Palestinian journalist. Israel said he was a legitimate target because he served in the information department of Islamic Jihad.
But it's not just that Israel "said" that Harb served in Islamic Jihad's "information department." Israel said he was a senior figure in Islamic Jihad's military wing. And you know what? Islamic Jihad said the same thing. As was widely reported elsewhere, Islamic Jihad itself texted reporters that its top military leader, Harb, was killed. As AP reported:
Palestinian militant group Islamic Jihad says an Israeli strike on a Gaza media center has killed one of its top militant leaders.

Monday's strike in downtown Gaza City was part of a widening 6-day-old offensive meant to quell Hamas rocket fire.

It's the second strike on the building in two days. The Hamas TV station, Al Aqsa, is located on the top floor.

Islamic Jihad has sent a text message to reporters saying that Ramez Harb was killed in the strike Monday. Harb is a leading figure in their militant wing, the Al Quds Brigades.
Furthermore, Sanders withholds from readers the fact that the Sharouk communications building houses the Hamas TV station Al Aqsa, as well as the Al Quds station, which the United States designated as a terror entity. (NPR's Leila Fadel was up to the same trick this week.)
But Sanders can't even bring himself to say that the U.S. has designated Hamas as a terror organization. He writes today: "Israel views Hamas as a terrorist organization. . . " So does the United States. So does the European Union.
But if you don't want to make Hamas or Islamic Jihad look bad, it's best to pass off the bad news about the two terror groups as Israeli claims. So Israel "said" Harb is an Islamic Jihad communications specialist. (Really, Islamic Jihad itself identified him as one of their top military leader.) Israel "says" Hamas is a terror organization. (And so it is, as the U.S. and E.U. have also recognized.)
Posted by TS at 08:04 AM | Comments (3)
November 19, 2012
Updated: Note to Yahoo! News: Israelis Seeking Shelter are not "Gaza Children"
Nov. 21 Update: Yahoo! News Corrects
What's wrong with this headline? Hint: That's Hebrew on the sign, not Arabic.

This shot, according to the caption, is of Israeli children running for shelter during a rocket attack from the Gaza Strip on November 15, 2012 in Nitzan, Israel. So why does the headline and subhead refer only to "Gaza's children" struggling in the crossfire?
Perhaps it's too much to ask for Yahoo! News to understand that, unlike Palestinian children suffering in Gaza, the Israeli children are not "caught in the crossfire" but are intentionally targeted by Hamas and Islamic Jihad rockets. But surely it isn't too much to ask for Yahoo! to put an accurate headline on its photo montage of Israeli and Palestinian children, so that it expresses concern for both Palestinian and Israeli children.
CAMERA has contacted Yahoo! News editors about the issue. We will update you if they correct their partial headline.
Posted by GI at 05:29 PM | Comments (20)
Tunisia - Much Larger than Israel - Still 'Tiny'; Jordan Still 'Small'

Never mind the oxymoronic phrase "moderate Islamists," a news media favorite rebutted by Daniel Pipes in an online posting,(National Review Online, Oct. 30, 2012, "Islamism's Unity"). Focus on The Washington Post's recurrent practice of describing countries larger than Israel as "tiny" but virtually never highlighting Israel's small area and limited population.
Once again, The Post has described an Arab country far larger than Israel as "small" ("Syrians in Lebanon and Jordan join exodus," Sept. 22, 2015). The Post stated "nearly 2 million of Syria's refugees reside in the small Arab countries" of Lebanon [the 170th largest country according to the CIA World Factbook] and Jordan [the 112th largest country], which "only" have populations of "about 4.2 million and 6.1 million people, respectively."
As noted above, Israel—ranked 154th in geographic size—is seldom referred to as "small" by major news media outlets. (There are 193 United Nations-member states; the CIA World Fact Book also includes several dozen dependencies and other territories including the West Bank and Gaza Strip.) Jordan's 34,450 square miles, as noted below, makes it about as large as South Carolina, while Israel's approximately 8,000 square miles puts it at roughly the size of New Jersey.
Israel's population of 8.32million, including 6.3 million Jews, is larger than that of Jordan, but "only" by a "small" amount.
Wrong end of telescope
Post readers could be forgiven for wondering why other countries that are similar or larger in size and population to Israel, are referred to as small whereas the world's sole Jewish state is not. Perhaps because when viewed through the wrong end of the telescope—known in this case as "the Palestinian narrative"—Israel looks like Goliath, Jordan and Lebanon like David.

Previously, reporting on tension between secularists, "the moderate Islamist party Ennahda," and Islamic fundamentalists known as Salafis, The Post described Tunisia as "tiny" for at least the third time in two years ("Violence ups ante for Tunisia's new rulers," September 21). Following the September 14 attack on the U.S. embassy in Tunis, Post foreign correspondent and Jerusalem bureau chief Karin Brulliard wrote: "Those questions [of religious authority versus secular freedoms] have become a defining battle of the democratic transition in tiny Tunisia [emphasis added] …."
As CAMERA had pointed out before, Tunisia is roughly five times larger than Israel in area, with about three million more
people. It is one of at least eight countries larger than Israel that The Post has referred to as tiny while withholding this accurate description from the Jewish state.
A Nexis search then indicated no "tiny Israel" reference in Post reporting for at least the past five years. At just over 8,000 square miles (the size of New Jersey) and (at the time) fewer than eight million people, it ought to have qualified. Next door, Jordan, with more than four times Israel's land mass, has been referred to as "tiny." In "Jordan hit by protests over fuel price increase; Muslim Brotherhood accused of exploiting public discontent" (Nov. 15, 2012), The Post described the Hashemite kingdom as "the small Arab country of six million …."
That Israel does not qualify for The Post's diminuitive designation may indicate how the newspaper perceives the Arab-Israeli conflict. This could include assumptions about which side is less vulnerable, more "naturally" able to make concessions, more likely to use excessive force and so on. Of course, Israel not only is tiny territorially, its constricted area is uniquely vulnerable, four miles wide just west of Jerusalem, barely eight miles wide north of Tel Aviv.
Journalism is based on who, what, when, where, why and how. Accurate journalism requires those six questions to be answered in context. Israel's lack of what military planners call minimum defensible depth ought to be reported as part of the context.
Update:
Then there was this:
The Post, in "Latvia gets go-ahead to begin using euro in 2014; Despite European crisis, Baltic state hopes move will boost its prosperity" (July 10, 2013) noted that "Latvia ... is about as large as West Virginia ...." A cutline for a photograph accompanying the article referred to Latvia as "the tiny Baltic nation ...."
At nearly 25,000 square miles, tiny Latvia is three times larger in land area than Israel. The Baltic state's population, 2.2 million people, is, however, not quite 3/8ths that of Israel. Of the world's nearly 200 countries, Latvia ranks 124th in area, 143rd in population; Israel stands at 154th and 97th, respectively, according to the CIA World Factbook. Perhaps The Post -- and other news media that miss this fact -- occasionally will see fit to describe Israel, especially in comparison to some of its much larger, and threatening neighbors, as, if not tiny, then "quite small." -- by Eric Rozenman and Sean Durns
Posted by ER at 04:17 PM | Comments (0)
Oops, 'Sorry': BBC Reporter Identified Syrian Victim as Gazan
Reporters tweeting false information, such as bogus Ha'aretz headlines about the "apartheid poll," is a creeping problem. Just days ago we called out BBC's Wyre Davies for falsely tweeting that of the 13 Palestinians killed in "Pillar of Defense," nearly all were civilians.
Now, Davies' colleague, Jon Donnison, tweeted some 8,000 followers the following:
Except, as BBC Watch, a CAMERA affiliate, points out, the photo didn't come from Gaza:
The original image is from here:
After he was called out, he issued an apology:
And what steps will the network be taking to rein in its reckless tweeters? Or can we expect another false tweet from a BCC reporter in three days time?

Posted by TS at 04:57 AM | Comments (0)
November 18, 2012
Rocket Perspective
Israel's outsized image on the world stage and in front-page media coverage can obscure the reality of its tiny physical size and the vulnerability of its citizenry. Gaza rocket fire doesn't affect only a distant corner of the nation -- but nearly half the populace is in range. An IDF comparison to the US, Britain and France underscores what would be a relative threat in those nations.
Posted by AL at 06:03 PM | Comments (2)
CNN Whitewashes Hamas
A feature about Hamas posted on the CNN website yesterday whitewashes the terrorist group by suggesting the group's charter has been replaced or amended, by ignoring the group's anti-Semitism, and by cherry-picking and misrepresenting statements made by the organization.
The piece, "Q&A: What is Hamas?" by Bryony Jones, inexplicably refers to Hamas's founding charter in the past tense, clearly suggesting that it is obsolete, and implies that Hamas leader Khaled Meshal "supports" a two state solution:
What are its aims?

Its original manifesto advocated the destruction of the state of Israel, and called for the raising of "the banner of Allah over every inch of Palestine."

Current Hamas president Khaled Meshaal has previously said the group would support a Palestinian state based on 1967 borders (prior to the Six-Day War, during which Israeli troops occupied Gaza), with East Jerusalem as its capital.
Again later, CNN states that "the founding charter of Hamas, published in 1988, called for jihad...."
So it would seem, according to the article, that Hamas's new manifesto does not call for the destruction of Israel. Except there is no new manifesto. Hamas has not renounced or amended its founding charter. If some apologists for the group have sought to cast the charter as a relic from the past, though, one can understand why. The document is replete with vile anti-Semitism — something CNN's feature outrageously conceals. The charter calls on Muslims to "fight the Jews and kill them," blames Jews for the two world wars, and approvingly cites The Protocols of the Elders of Zion, the infamous anti-Semitic forgery.
Nor is Hamas's anti-Semitism limited to its charter. Hamas officials on Hamas television continue to call for the destruction of the Jews, its representatives deny the Holocaust, and indoctrinates Palestinian children to hate.
Finally, Jones' claim notwithstanding, Hamas makes clear that it does not "support" a Palestinian state that would exist alongside Israel. Last May, Hamas leader Ismail Haniyeh said, "We must live up to our motto ... which says, we will not recognize Israel." He previously said that "we will never, we will never, we will never recognize Israel." Mahmoud Zahar recently asserted that "the expulsion will come, Allah willing, from Palestine, from the entire territory of Palestine," that the Jews "have no place among us…and no future among the nations," and that they are "about to disappear." And Meshal, whom CNN cites as supporting a Palestinian state that does not include Israel, told the Al Hayat newspaper that "Hamas' position is clear and it is non-recognition [of Israel]." When asked specifically if Hamas "will not oppose" a decision leading to a Palestinian state within the 1967 borders that recognizes Israel, he responded, "That is not what I said."
Posted by GI at 12:52 PM | Comments (1)
November 17, 2012
The "Diversity" of New York Times Op-Ed Page
A former New York Times Op-Ed promised that the newspaper tends to "look for articles that cover subjects and make arguments that have not been articulated elsewhere in the editorial space. If the editorial page, for example, has a forceful, long-held view on a certain topic, we are more inclined to publish an Op-Ed that disagrees with that view."
The current editorial page editor, Andrew Rosenthal, similarly asserted that editors "are not looking for people who agree with us all the time" and are aiming for "balance over time."
Let's take a look at the New York Times online Opinion page to see whether its arguments differ at all from the anti-Israel line taken by the newspaper's editorial board and columnists.

It's possible that the newspaper might publish an Op-Ed focused on Hamas's war crimes, or on Israel's need to defend its citizens from incessant rocket attacks. But history shows that if you're waiting for anything coming close to balance on the opinion pages, you'll be waiting in vain.

Posted by GI at 01:09 PM | Comments (3)
November 16, 2012
Do Copts Have a Future in Egypt?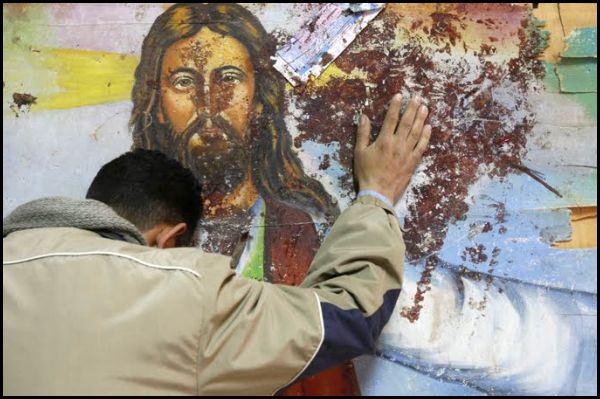 Coptic rights activist Michael Armanious reports at his blog, The New Egypt, that the day after the Coptic Church elected a new pope on Nov. 4, 2012, a few hundred Salafists attacked property belonging to a church in Shubra El-Kheima. The attack was precipitated by a rumor that Copts were building a church.
In his most recent blog entry, Armanious documents the legal and ideological obstacles to church construction in Egypt and goes onto report how prominent journalists are calling on the Muslim Brotherhood to be honest and admit that there is no room for Christians in the country. Armanious writes:
Amr Adeeb [a prominent Egyptian journalist] asked the Muslim leaders stop lying and to be transparent and tell the Copts that they are no longer welcome in their home land, so they can get ready to leave Egypt.

Think for a moment and let this sink in.

Prominent journalists and intellectuals are encouraging Coptic Christians to flee their homeland to avoid further Islamist oppression.

Do Copts have a future in their homeland?

Posted by dvz at 03:59 PM | Comments (0)
EoZ: Hamas "Opening Gates of Hell" Count
Elder of Ziyon provides a quick count of how many times Hamas has threatened to "open the gates of hell" in recent years.

November, 2001 - in response to Israel's killing of Mahmoud Abu Hanoud

January 2002 - Fatah warning Israel not to hurt a terrorist in custody

September 2003 - after an unsuccessful attempt to kill Sheikh Yassin

March, 2004 - after the successful attempt to kill Sheikh Yassin

July 2005 - after Israel killed 7 Hamas terrorists

November 2005 - After Israel killed a member of Fatah and Hamas

February 2006 - when Israel withheld money transfers to Gaza

June 2006 - by the PRC after their founder was killed

April 2007 - a general warning against an Israeli invasion of Gaza

May 2007 - after Israel fired at the house of Ismail Haniyeh

August 2008 - Islamic Jihad general warning against Israel

December, 2008 - Hamas threatened this before Cast Lead

March 2011 - threat against UNRWA if it started teaching about the Holocaust in Gaza schools
That is, 13 times before the latest threat, none of which worked out particularly well for them.
Posted by RH at 11:07 AM | Comments (1)
November 15, 2012
BBC Journalist on Twitter Misinforms
BBC's Wyre Davies told his 9,100 Twitter followers earlier today that "nearly all" of the Palestinians and Israelis killed during the fighting today were civilians.
To be sure, there are some discrepancies in the numbers being reported due to the fog of war. But does he believe the Associated Press was wildly wrong in reporting that "a total of 13 Palestinians, including four civilians, have been killed," or in its subsequent report that "a total of 15 Palestinians, including seven civilians" were killed?
Does he believe that even Hamas Ministry of Health spokesman Ashraf al-Qedra, who according to Deutsche Presse-Agentur told reporters that "seven of the 15 Palestinians killed so far were civilians, and eight ... militants," is inflating the number of civilian casualties?
Or perhaps he doesn't read BBC, whose web site states that "many" of the Palestinians were militants.
Here is Davies' (thus far uncorrected) Twitter post from early this morning:
In this "limited operation" at least 13 #Palestinians and 3 #Israelishave been killed - nearly all civilians. #Gaza

— Wyre Davies (@WyreDavies) November 15, 2012
Here is the BBC's account as of 3pm eastern time today:
15 Palestinians killed in Gaza during a two-day Israeli aerial and naval bombardment were members of militant groups, but civilians - including four children - were also among the dead.
(To read our recent piece showing journalists taking liberties on Twitter, click here.)
Posted by GI at 04:43 PM | Comments (0)
UCC Minister Enlists Help of Anti-Semitic Publication to Get Message Out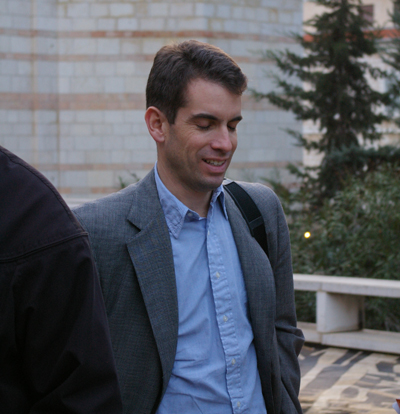 Peter Makari, Executive for the Middle East and Europe of the Common Global Ministries Board of the United Church of Christ and the Christian Church (Disciples of Christ)(Photo: Dexter Van Zile)
It just gets worse and worse.
On Oct. 5, 2012, a group of 15 Christian leaders issued a letter to Congress. The letter called on lawmakers to investigate Israel for its alleged violation of U.S. law concerning foreign aid. The letter, which was filled with propagandistic tropes, did not ask lawmakers to investigate Egypt for its human rights violations.
The letter was bad enough. But what was even worse was an irresponsible decision by Rev. Dr. Peter Makari, area executive for Europe and the Middle East for the Common Global Ministries of the United Church of Christ and the Disciples of Christ.
In his zeal to publicize the letter, Rev. Dr. Makari, who has a Ph.D. in politics from New York University, gave an interview to the American Free Press, which the Anti-Defamation League describes as an anti-Semitic publication, whose founder, Willis Carto has, according to the ADL, trafficked in Holocaust denial and anti-Jewish conspiracy theories.

In response, the Simon Wiesenthal Center issued a press release calling for Makari's ouster. The release includes the following details:
American Free Press (AFP) is regarded as the successor to the now defunct Liberty Lobby's Spotlight. Willis Carto, one of America's most notorious racists, is a founder of both. Carto is also the founder of the Holocaust-denying Institute For Historical Review. Some of the books that have been offered for sale by the AFP include The Judas Goats: The Enemy Within (details governmental infiltration of the American nationalist movement at the behest of "the alien force of international political Zionism"), The Conspiracy of the Six-Pointed Star, El Sicario: The Autobiography of a Mexican Assassin, and March of the Titans: A History of the White Race. The AFP site includes this quote in one of their essays: "Israel…is contributing to the unification and activation of the colored world for war against the colonial and other outsiders."
CAMERA spoke with the UCC's press office to see if it would be offering an official response to the Wiesenthal Center's challenge. No.
UCC Communications specialist Emily Mullins stated that Makari, (an ordained UCC minister), was not speaking on behalf of the denomination, but on behalf of the 15 religious leaders who signed the letter.
"He was serving as a spokesperson in that role," she said.
It is important to note that the leaders of the two denominations that pay Makari's salary – Rev. Geoffrey Black (UCC) and Rev. Dr. Sharon Watkins (Disciples) – both signed the letter. In other words, in his interview with the American Free Press, Makari was speaking on behalf of his two bosses, himself and a dozen other religious leaders in the U.S. including leaders from the National Council of Churches, the Evangelical Lutheran Church in America (ELCA), the Presbyterian Church (USA), the American Baptist Church and two Catholic organizations (Maryknoll and the Conference of Major Superiors of Men).
The UCC's response is very alarming because suggests that 15 religious leaders from a variety of institutions in the United States were so intent on getting their message out that they were willing to give an interview to a publication that traffics in anti-Semitic conspiracy theories.
Has it really come to this?
Really?

Posted by dvz at 02:32 PM | Comments (2)
Where's the Coverage? – The Truth About Hamas

On Nov. 15, under the headline "Israeli Assault into Gaza Kills a Hamas Leader," The New York Times ran a front page, above the fold, story about the recent fighting. (FYI: The online headline is the judgment-tinged "Ferocious Israeli Assault on Gaza Kills a Leader of Hamas".) The first paragraph reads:
Israel on Wednesday launched the most ferocious assault on Gaza in four years after persistent Palestinian rocket fire, hitting at least 20 targets in aerial attacks that killed the top military commander of Hamas, damaged Israel's fragile relations with Egypt and escalated the risks of a new war in the Middle East.
Just for starters:
• Palestinian rocket fire was persistent but the Israeli response was a "ferocious assault".

• Israel's retaliatory actions in defense of its citizens "damaged Israel's fragile relations with Egypt".

• Israel's actions "escalated the risks of a new war in the Middle East".
That's all in one sentence in the first paragraph of the story, possibly a record for efficiency in context-free reporting. (Well done?)
The fact is that the "assault," "damage," "escalation," and "risks of war" all stem from repeated terrorist attacks from Gaza into Israel, including the firing of thousands of rockets and mortars into civilian areas for years. (For a timeline of the recent Gaza-Israel cross-border violence, please click here.
The Times is not alone in this type of reporting. You are currently seeing and will continue to see much coverage of these events that utterly ignores the context, inverts the timing of actions and promotes a "cycle of violence" narrative that equates the illegal terrorist activities of Hamas with the legal and proper response to terrorism of the Israeli government and military.
In paragraph four, The Times defines Hamas as "the militant organization regarded by Israel as a terrorist group sworn to its destruction." Again, you are and will continue to see Hamas referred to as The Times does by other media.
So here's the unreported truth:
Hamas is not just regarded by Israel as a terrorist organization, but also by the United States and the European Union. State Department Deputy Spokesman Mark Toner said, "There is no justification for the violence that Hamas and other terrorist organizations are employing against the people of Israel. We call on those responsible to stop these cowardly acts immediately. We support Israel's right to defend itself, and we encourage Israel to continue to take every effort to avoid civilian casualties." [Emphasis added.]
Furthermore, it's not just that Israel regards Hamas as sworn to its destruction; Hamas is sworn to Israel's destruction. This is clearly outlined in the Hamas charter. Here are some choice excerpts:
• "Israel will exist, and will continue to exist, until Islam abolishes it, as it abolished that which was before it." [From the words of] The martyr, Imam Hasan al-Banna', Allah's mercy be upon him.

• [Hamas] joins arms with all those who wage jihad for the liberation of Palestine.

• …our fight with the Jews is very extensive and very grave, and it requires all the sincere efforts. It is a step that must be followed by further steps; it is a brigade that must be reinforced by brigades upon brigades from this vast Islamic world, until the enemies are defeated and Allah's victory is revealed.

• The Islamic Resistance Movement is a distinct Palestinian movement that is loyal to Allah, adopts Islam as a way of life and works to raise the banner of Allah over every inch of Palestine.

• …the Islamic Resistance Movement aspires to realize the promise of Allah, no matter how long it takes. The Prophet, Allah's prayer and peace be upon him, says: "The hour of judgment shall not come until the Muslims fight the Jews and kill them, so that the Jews hide behind trees and stones, and each tree and stone will say: 'Oh Muslim, oh servant of Allah, there is a Jew behind me, come and kill him,' except for the Gharqad tree, for it is the tree of the Jews."

• …the land of Palestine is Waqf land given as endowment for all generations of Muslims until the Day of Resurrection.

• The initiatives, the so-called peace solutions, and the international conferences for resolving the Palestinian problem stand in contradiction to the principles of the Islamic Resistance Movement

• There is no solution to the Palestinian problem except by jihad. Initiatives, proposals and international conferences are a waste of time and a farce.

• In the face of the Jewish occupation of Palestine, it is necessary to raise the banner of jihad.

• We demand that the Arab countries around Israel open their borders to jihad fighters from among the Arab and Islamic peoples, so they may fulfill their role and join their efforts to the efforts of their brothers - the Muslim brethren in Palestine. As for the rest of the Arab and Muslim countries, we demand that they facilitate the passage of the jihad fighters into them and out of them - that is the very least [they can do].

• Israel with its Jewish identity and Jewish people is challenging Islam and the Muslims.

• "Say to the unbelievers: You will surely be defeated and gathered in Hell. Most terrible shall be your resting-place." (Koran, 3:12)

• The current Zionist invasion was preceded by Crusader invasions from the west, and by Mongol invasion from the east. And just as the Muslims faced these invasions, made plans for fighting them and defeated them, they can [now] confront the Zionist invasion and defeat it.
You see, it's not Israel – or even the United States or the European Union – that regards Hamas' goal as the destruction of Israel. Hamas repeatedly states this goal in its own charter. So… Where's the coverage?

Posted by SC at 01:43 PM | Comments (2)
November 13, 2012
Ma'an Transforms Slain Hamas Fighter into 'Man'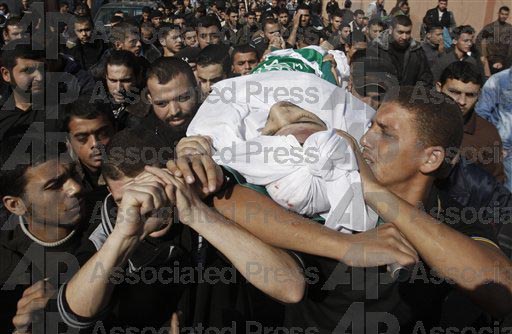 Palestinian mourners carry the body of Hamas militant Mohammed Quno during his funeral in Gaza City today (AP photo by Hatem Moussa)
Taking a page out of the Los Angeles Times' playbook, today it's the Palestinian Ma'an News Agency which identifies a Hamas fatality as simply a "man." Here is a screen capture of much of the Ma'an article as it currently appears: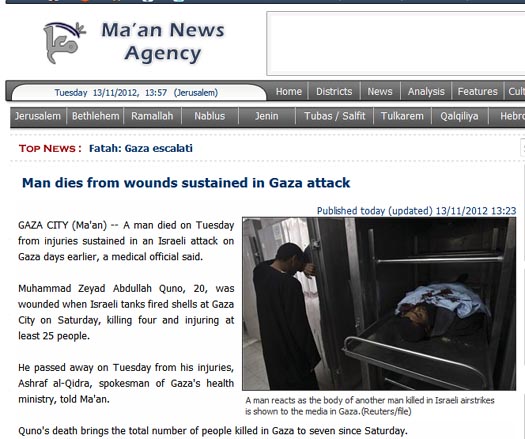 But Muhammad Zeyad Abdullah Quno is not just a "man," or an innocent civilian bystander. Hamas has already claimed him as one of their fighters, praising him for his "long bright path of jihad, hard work, struggle and sacrifice."
AP has already reported that today's Palestinian fatality is a "Gaza militant." Will Ma'an get with the program?
Posted by TS at 07:03 AM | Comments (0)
November 12, 2012
Brother of Toulouse Killer: Incitement Matters
Abdelghani Merah, whose brother murdered Jewish children in Toulouse, speaks out against anti-Semitism.
CAMERA has long pointed out that anti-Jewish and anti-Israel incitement, a phenomenon often ignored or downplayed in the Western media, helps fuel continued violence and prevents a peaceful resolution to the Arab-Israeli conflict.
If you're not sure incitement matters, ask Abdelghani Merah. His younger brother, Mohammed Merah, murdered three Jewish schoolchildren, a rabbi and three soldiers in and near the French city of Toulouse. Abdelghani wants to make sure people to know why this happened.
France 24 reports:
Mohammed Merah, the gunman who shot and killed a rabbi, three Jewish children and three paratroopers in the southwestern French city of Toulouse in March 2012, grew up surrounded by racial hatred and anti-semitism, according to a book written by his older brother.

"I will explain how my parents raised [Mohammed] in an atmosphere of racism and hate before the Salafis [ultraconservative Muslims] could douse [him] in religious extremism," 36-year-old Abdelghani Merah wrote in his book "My brother, the terrorist," due out on Wednesday.

"I am furious with my parents for bringing him up in violence and intolerance, with my sister Souad who applauded his fundamentalist delusions, with my brother Abdelkader who actively encouraged him," he wrote. ...

Entire Merah family responsible

At the opening of Sunday's broadcast Abdelghani said: "My mother always said 'we, the Arabs, we were born to hate Jews'. I heard this speech throughout my childhood."

In 2003, Abdelghani was stabbed by his younger brother Abdelkader because he had started a relationship with a woman with Jewish family connections. Abdelkader is the only person to have been arrested in connection with the March killings. He is accused of directly helping 23-year-old Mohammed plan and carry out the murders.

But according to Abdelghani, the entire Merah family bears responsibility for a crime that shocked France and lifted the veil on simmering anti-semitism within France's large Muslim community.

"I am furious with my maternal uncles ... who ceaselessly propagated hatred, racism and anti-semitism in front of us from a very young age," he writes in his book.
According to the Los Angeles Times, when guests at Mohammed's funeral praised his actions, Abdelghani stormed out shouting, "My brother is not a hero! He's a vulgar assassin!"
Posted by GI at 03:46 PM | Comments (1)
Today's Headlines: Israeli Aggression Hits Syria
Casual news consumers today cannot be blamed for thinking that on top of all the other troubles that Syrians face, they now have to worry about Israeli aggression. Here's the Associated Press headline at the moment in places like The New York Times, National Public Radio and MSNBC:


This is a classic case of "last-first" reporting, which was also on display, and subsequently fixed, at CNN earlier this week. The minority of readers who actually go beyond the misleading headline will learn from the accompanying AP story:
The Israeli military says it has fired into Syria for a second straight day in response to errant mortar fire that landed in the Israeli-controlled Golan Heights.

There were no reports of injuries on either side of the frontier Monday. But a series of similar incidents in recent days has raised fears that Israel could be dragged into the fighting in its northern neighbor.

Israel does not believe the mortar fire has intentionally targeted Israeli targets.

Still, Israeli officials have warned that they will respond harshly if the attacks persist.

Israel responded for the first time on Sunday, firing an anti-tank missile as a "warning shot."

The AFP, in places including the Lebanese Daily Star, shows the AP that an accurate headline is possible: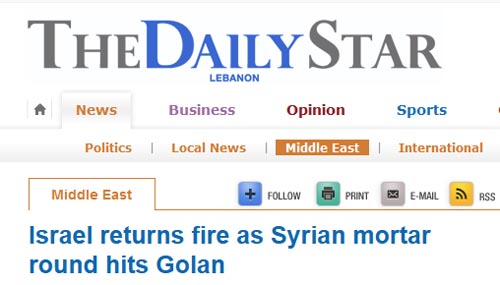 Posted by TS at 08:15 AM | Comments (1)
Sam Bahour, Palestinian Businessman-cum-'Analyst' in the LA Times
Sam Bahour, director of the Arab Islamic Bank
"Identify sources whenever feasible. The public is entitled to as much information as possible on sources' reliability," states the Code of Ethics for the Society of Professional Journalists. Indeed, accurate and useful descriptions of a source's background or affiliation give news consumers insight as to their objectivity and perspective.
Writing recently in the Los Angeles Times about Palestinian views concerning President Obama's second term, Maher Abukhater throws that rule of thumb out the window. He writes:
Analyst Sam Bahour said he expects Obama will have more leverage and face less pressure from lobbying groups in dealing with issues such as conflicts in the Middle East.

"On the one hand, he is more knowledgeable of the issues, and on the other he has to deal with the changing politics in the region, particularly with the emergence of two new powers in the Middle East — Iran and Turkey — which means the U.S. cannot afford to leave a political vacuum that could be filled by either of these two powers," Bahour said.
Bahour's views may be newsworthy. They may even be right. But they doesn't make him an "analyst" who necessarily has political insight into U.S. mideast policy. Sam Bahour is a Ramallah-based businessman, consultant and entrepreneur who currently serves as director of the Arab Islamic Bank. Thus, his expertise as an "analyst" lies in the business world, and the Times should have made that clear instead of passing him off as an expert on U.S. foreign policy.
This wouldn't be the first time that the LA Times had trouble properly identifying a prominent Palestinian.
(Hat tip: Joel C.)
Posted by TS at 06:54 AM | Comments (0)
November 08, 2012
Where's the Coverage? Israelis Help Hurricane Sandy Victims

On October 29, "Super-Storm Sandy" made landfall on the eastern coast of the United States. The storm destroyed thousands of homes, left millions without electric power, heat or hot water, and killed over a hundred. Gasoline, food and other necessities remain in short supply, particularly in some of the hardest hit areas of New York and New Jersey.
Given that Israel is often the country first on the scene with aid at major natural disasters, it should be no surprise to learn that various Israeli non-governmental organizations (NGOs) are working to bring relief to victims and supplies to emergency workers in New York and New Jersey. Except you wouldn't learn it from most of the popular press.
According to the Israeli Foreign Ministry, a delegation of about a dozen trained rescue volunteers from IsraAID is leaving Israel headed for the devastated areas of New York's Long Island and the New Jersey shore. Leading the group is Shahar Zahavi, who oversaw relief work in Haiti in the wake of the 2010 earthquake.
In addition, affiliated NGOs Israel Flying Aid and Israeli Humanitarian Aid-Latet, ("latet" means "to give" in Hebrew) are already at work. "We have been responsible for making fuel deliveries to hospitals in New Jersey, and going directly down into the South Shore of Long Island and delivering generators, food and providing other essential equipment and supplies," says Ra'anana resident and volunteer Joel Leyden. "We're talking about devastation close to a nuclear bomb having gone off, with hundreds of homes completely leveled and thousands of people without electricity, without food, without water, without shelter."
Residents and those working in the area have been happy to see the Israelis. Dr. Jason Mallin, who normally practices neurology at North Shore University Hospital but was volunteering with the Nassau County Department of Health, said, "We read about Israel and the great work you did in Haiti. We have thousands here that need you. It's awesome that you are here!"
Only The Wall Street Journal picked up an Associated Press brief mentioning this news. The story was also covered in more depth by some in the Jewish press.
Other than that, this news has been utterly ignored. Though Sandy wreaked havoc on their readership, neither The New York Times nor the New Jersey newspapers gave any space to a story about Israelis traveling half-way around the globe to help hurting Americans, instead deeming it more important to their readers to inform them about internal Israeli politics, Scientology attempting to make inroads in Israel and an Israeli flim festival.
Given that hundreds of thousands are still suffering, you'd think it would be helpful to them to know that someone is trying to help. But… Where's the coverage?
Roger Parrott, Jacob Parrott and Joel Leyden deliver a generator and gas to a Hurricane Sandy New York victim. Photo: Rebecca McCann /Israel News Agency

Posted by SC at 05:37 PM | Comments (4)
"Apartheid" and Ethics on Twitter: NPR, CNN Journalists Tweet Inaccuracies
What does it mean if a journalist shares factually incorrect information, if the article they share gets exposed as dishonest and distorted in a number of serious analyses, if somebody on Twitter brings to the journalist's attention one of those analyses, and if despite all this, the journalist opts not to inform his misled readers of the facts?
In the Times of Israel, we ask why NPR's Andy Carvin and CNN correspondents Ben Wedeman and Ivan Watson wanted people to read inflammatory falsehoods about Israeli support for apartheid, but were not so eager to to let them know that the story they linked to, and their own posts on Twitter, were substantively inaccurate.
Read it here.
Posted by GI at 11:35 AM | Comments (2)
November 06, 2012
Cheap Shots: Tamimi Girl Ups the Ante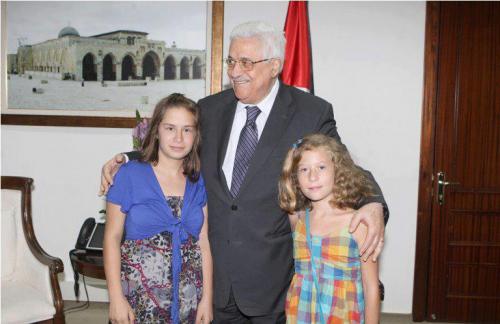 Mahmoud Abbas congratulates A'hd (right) and her cousin Marah for their "bravery" (From the Nabi Sabeh Solidarity blog, first posted by Snapshots on Sept. 11, 2012)
It was just a question of time. Two months ago, CAMERA described in a Times of Israel Op-Ed ("Cheap Shots: Palestinians Put Kids in the Line of Fire") how A'hd Tamimi, 11, and her cousin Marah took a lead role in the Nabi Saleh demonstration against the Israeli army. The weekly clashes often result in violence. Photographs of the girls being restrained by Israeli soldiers (see below, for example), subsequently were featured in Australian newspapers illustrating alleged Israeli abuse of Palestinian children.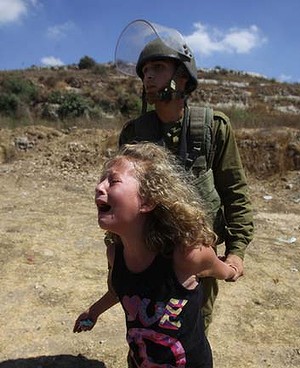 This Aug. 24 AFP photograph of an Israeli soldiers restraining A'hd Tamimi, 11, was featured in Australian papers, and was all over Facebook
We noted in the Times Op-Ed:
A'hd is the daughter of Narimen and Bassem, prominent activists in the Popular Resistance, and Marah's father is Naji, another leader in the weekly demonstrations.

In other words, the girls' parents are among those who determine the protests' strategies. Rather than keeping their children at a safe distance from the often-violent clashes, the parents encouraged their children to play highly visible roles in the confrontation with the army. . .

Though photographs of the crying and constrained A'hd and Marah are actually products of Palestinian manipulation and exploitation of children, the Australian media outlets publish them unquestioningly as ostensible evidence of Israeli abuse of Palestinian children.

In other words, the Tamimi girls pulled off a photographic coup, as their parents had hoped. For this, they were rewarded with a meeting with Laila Ghannam, the Palestinian Authority's Governor of Ramallah, and President Mahmoud Abbas, who congratulated them for their "bravery."
Encouraged by their parents as well as their national leader, the Tamimi girls are back again in front of the cameras. But this time A'hd ups the ante, kicking and hitting soldiers, as photographers crowd around to shoot dramatic images of a young girl wearing her iconic "love" t-shirt (again) confronting armed soldiers: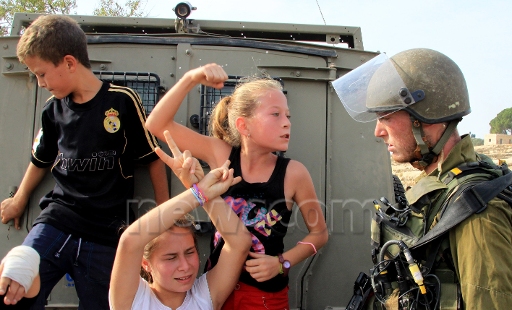 Palestinian protester during a protest against the expanding of Jewish settlements in Nabi Saleh village, near Ramallah on Nov. 2, 2012, the anniversary of the Balfour declaration. The Balfour Declaration was made on November 2, 1917, when then British Foreign Secretary James Balfour officially promised the leader of a Jewish community in a written letter to give the Jewish people all over the world a national homeland. Photo by Qais Abu Samra/AA/ABACAPRESS.COM
Update: Ynet reports:
A senior IDF source told Ynet that intelligence indicates that pro-Palestinian activists pay Palestinian children from Nabi Salih and the nearby villages to confront the soldiers.

The weekly protests in the areas used to involve hundreds of people, but over time the numbers have dwindled to just a few dozens. According to the officers, the majority of protesters are foreign pro-Palestinian activists.

"The soldiers are briefed on the fact that these protests are staged for the sake of provocation, so that they could be filmed acting violently and so that those videos could be distributed worldwide in an effort to harm the IDF's image," the officer explained.
Posted by TS at 05:49 AM | Comments (4)