« At Metro-North Railway, New Map, More Distortions | Main | Hezbollah's Special Forces in Syria »
October 16, 2012
Where's the Coverage? Israeli-Arab Woman Scientist Researches Treatment for Cancer

You may have read recently that IKEA airbrushed the women out of their catalogue pictures in Saudi Arabia. There was quite a bit of media coverage.
In fact, the airbrushing, though troubling, is just a metaphor for the way women are treated in many Arab countries. Egyptian-American journalist Mona Eltahawy wrote in her "Foreign Policy" article "Why Do They Hate Us?":
Name me an Arab country, and I'll recite a litany of abuses fueled by a toxic mix of culture and religion that few seem willing or able to disentangle lest they blaspheme or offend. When more than 90 percent of ever-married women in Egypt -- including my mother and all but one of her six sisters -- have had their genitals cut in the name of modesty, then surely we must all blaspheme. When Egyptian women are subjected to humiliating "virginity tests" merely for speaking out, it's no time for silence. When an article in the Egyptian criminal code says that if a woman has been beaten by her husband "with good intentions" no punitive damages can be obtained, then to hell with political correctness. And what, pray tell, are "good intentions"? They are legally deemed to include any beating that is "not severe" or "directed at the face." What all this means is that when it comes to the status of women in the Middle East, it's not better than you think. It's much, much worse. Even after these "[Arab spring] revolutions," all is more or less considered well with the world as long as women are covered up, anchored to the home, denied the simple mobility of getting into their own cars, forced to get permission from men to travel, and unable to marry without a male guardian's blessing -- or divorce either.
Civil society organizations from ten Middle East and North African countries have issued the first Arab Watch Report, focused on the rights to work and to education and launched by the Arab NGO Network for Development (ANND). Egypt's New Woman Foundation member Mona Ezzat acknowledged:
The unemployment rate among females amounted to three times higher compared to males, and that, over recent years. This was a major factor of the Revolution. Although the participation of women in revolutions was high, the proportion of their presence in leadership positions and decision-making positions is still weak and ineffective. They also suffer from inequality when it comes to professional upgrading opportunities.
While you are probably aware that women fare much better in Israel, you may not have heard how much better Arab women do in Israel. For example, there has been no coverage in the popular press about Arab-Israeli scientist Amal Ayoub, whose research shows promise in enhancing the efficacy of radiation therapy for cancer.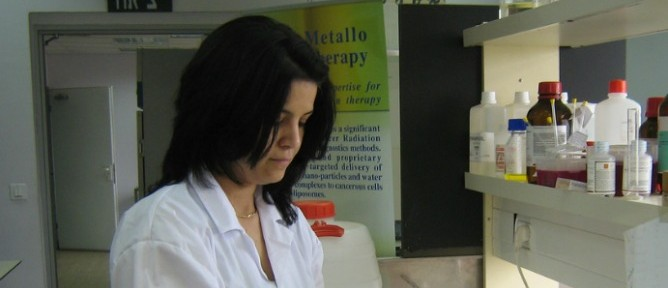 Ayoub earned her bachelor's degree at the Technion, a master's degree and a doctorate in biomedical engineering at Ben-Gurion University of the Negev, and finished her post-doctoral studies there as well. She is Chief Executive Officer and Chief Technology Officer of her own biomedical research company. Working with two Arab-Israeli employees -- a male chemical engineer and a female biologist -- Ayoub's work reveals that metal nanoparticles, especially gold, introduced into malignant tumors can enhance the effects of radiation therapy while reducing damage to neighboring healthy cells.
The only media outlet that picked up this story was the Journol do Brasil. In Brasil!
To sum up: A woman. In the sciences. Who is an Arab. In Israel. Doing research that could help treat cancer. This is not a story? Where's the coverage?

Posted by SC at October 16, 2012 12:57 PM
Comments
Guidelines for posting
This is a moderated blog. We will not post comments that include racism, bigotry, threats, or factually inaccurate material.
Post a comment