« September 2012 | Main | November 2012 »
October 29, 2012
At LA Times, Slain Hamas Gunman Is 'a Palestinian Man'
The Los Angeles Times published the following brief today in its print edition:
A deadly Israeli aristrike in the Gaza Strip and rocket and mortar fire from the Palestinian territory marred a fragile truce that took hold late last week.

Gaza health official Ashraf Kidra said one strike killed a Palestinian man and wounded another. . . .
The wire story was apparently based on an AP story that was published early yesterday, which reported the following about the slain Palestinian man:
The identity of the dead Palestinian wasn't immediately known. The Israeli military said it targeted a militant squad that had fired a rocket at Israel.
Yet, shortly later, and long before the LA Times went to press last night, the casualty's identity was known. Many online news outlets reported throughout the day that the killed Palestinian man was a Hamas fighter. As Reuters reported in a story posted yesterday on the Palestinian Ma'an News Agency Web site ("Israel kills Hamas fighter in south Gaza"):
An Israeli air strike before dawn on Sunday struck two gunmen from Hamas' military wing as they rode a motorcycle near the central town of Khan Younis, local officials said.

The Al-Qassam Brigades said Suleiman Qarra, 27, from Bani Suheila, was killed, and another fighter wounded.

An Israeli military spokesman said the air force had targeted a squad preparing to fire a rocket into Israel.
And there were pictures of the Hamas fighter's funeral, also available yesterday, long before Times editors went to press:
Palestinian mourners carry the body of Hamas militant Suleiman al-Qarra during his funeral in Khan Younis, southern Gaza Strip, Sunday, Oct. 28, 2012. A deadly Israeli airstrike and rocket and mortar fire from Gaza on Sunday marred a fragile truce that took hold late last week. (AP Photo/Hatem Moussa)
Given that the Times had all the information it needed to identify yesterday's casualty as a Hamas fighter, why did it call him just "a Palestinian man," as if he may have been an innocent bystander?
Posted by TS at 07:36 AM | Comments (3)
October 28, 2012
Yemini Takes Down Ha'aretz 'Apartheid' Poll
Journalist Ben-Dror Yemini
Writing in Times of Israel, Ma'ariv's Ben-Dror Yemini has a terrific piece take down of Gideon Levy and his editors for the recent distorted coverage of a poll which Levy says proves Israelis favor apartheid.
Beyond reiterating many of the points raised by the CAMERA/Presspectiva analysis concerning Levy's manipulation of the statistics (and Yemini cites Presspectiva), he also points to a number of recent surveys whose results contradict those which Levy alleged appeared in the September Dialog poll. Yemini writes:
A survey conducted by the "SIKUY" association, which no one can accuse of harboring any right-wing inclinations, found that "60% of [Israeli] Jews believe that promoting the equality of Arab citizens is in the interest of the state." Sixty percent! In addition, the survey found that "53% of the Jewish population in Israel is bothered by the inequality of Israeli Arabs," and that "40% of Jews are willing to pay a personal price in order to achieve the goal of civil equality in Israel." Indeed, a personal price for equality, for a sense of partnership.

This survey was more comprehensive and thorough than the survey ordered by a political organization that probably marked its goal on advance.

The other leftistsA survey conducted by the Jerusalem Institute for Israel Studies just last year found that 48% of the Jews in Israel support (vs. 43% who oppose) a "package deal," including a mobilization of citizenry and government, to improve the situation of the Israeli Arabs within the framework of "inclusive citizenship." But this survey received no front-page headlines.
Posted by TS at 03:42 AM | Comments (0)
October 24, 2012
Where's the Coverage? Hamas Vows to Kidnap More Israeli Soldiers

On Oct. 18, at a celebration marking the one-year anniversary of the release of over a thousand Palestinian terrorists and criminals in exchange for kidnapped Israeli soldier Gilad Shalit, Hamas leader Ismail Haniyeh vowed to kidnap more Israeli soldiers in the future. He said the Shalit abduction, detention and eventual prisoner swap "should serve as a road map to free Palestinian prisoners in the future."
As a reminder, Shalit was held in violation of international law, out of contact with his family and out of reach of Red Cross representatives for five years. At the time of the release, Hamas leader Khaled Meshaal vowed that Shalit "will not be the last soldier kidnapped by Hamas."
Now, a year later, Hamas still intends to kidnap more Israeli soldiers. And does this merit attention from major media outlets? Well, no.
While these menacing declarations have been covered by Jewish and Israeli media, neither USA Today nor The New York Times bothered to report them, though they covered other stories related to Israel. In fact, CAMERA could find no national or mainstream media outlets that reported these blatant threats to violate international law.
Abu Obeida, the spokesman for the military wing of Hamas, brazenly declared that Israeli "soldiers can at any moment be killed, or captured, or made disabled," and yet... Where's the coverage?

Posted by SC at 10:36 AM | Comments (0)
The ABC's of Settlements
Palestinians in the destroyed synagogue of the former Israeli settlement of Neve Dekalim, after Israel withdrew from the Gaza Strip in 2005 (EPA Photo by Mohammed Saber)
Don't say you weren't warned about crib notes. ABC News' online "Cheat Sheet" on foreign policy issues posted before Monday night's presidential debate states:

Of course, Israel fully uprooted all Gaza Strip settlements years before President Obama came into office. The Obama-Netanyahu settlement spat concerned West Bank settlements. Before publishing a "cheat sheet" for the vast American public, it's recommended to first review the ABC's of the issue at hand.
Nov. 4 Update: CAMERA Prompts ABC Correction on Gaza Settlements
Posted by TS at 03:57 AM | Comments (1)
October 23, 2012
NYT's Erlanger Skew(er)s Israel
The propensity to hector and criticize Israel seems bred in the bone at The New York Times, as commentary by Paris Bureau Chief Steven Erlanger underscores in a telling passage on October 23, 2012. A News Analysis column entitled "Foreign Policy Debate's Omissions Highlight Skewed World View" deplores the various world issues overlooked in the October 22 presidential debate on foreign affairs.
But Erlanger's own skewed world view is what's on display. In reviewing the neglected world hotspots, he touches on the Palestinians and Israelis, writing:
There was a glancing reference to the Palestinians, but no discussion of their divisions, of the role of Hamas, of the separate status of Gaza, of the weakening grip of Mahmoud Abbas and his Fatah movement, of what might happen if and when Mr. Abbas, the Palestinian president and leader of the Palestine Liberation Organization, leaves the scene.

And there was no criticism of Israel, its settlements or its occupation of the West Bank. Mr. Romney did say that Mr. Obama had not visited Israel as president even after his 2009 visit to Cairo in which he pledged a new era in relations with the Muslim world.
Get that?
Regarding the Palestinians, Erlanger faults omission of "discussion" of internal "divisions" among the factions.
Regarding the Israelis, he faults omission of "criticism of Israel, its settlements or its occupation of the West Bank."
This discrepancy in treatment of Israel, with the Jewish state cast as warranting serious criticism for activity related to the Palestinians while the Palestinians warrant only benign reference -- in this case discussion concerning internal, factional issues with no onus on them related to Israel -- is a pattern in the paper.
Equally notable and related to the distorted emphasis on blaming Israel is the omission of deplorable Palestinian conduct. The veteran Times correspondent, formerly the bureau chief in Jerusalem, previously had similar difficulty expressing criticism of Palestinian actions, in particular of their denigration of Jewish presence in the land of Israel, their glorification of terrorism against Jews and their calls to destroy Israel.
The saga of Erlanger's avoidance of coverage of anti-Israel incitement until he'd left Israel was noted by CAMERA in 2008. That bout of candor by the Times writer seems to have long passed.
And, as they say in Paris, plus ça change, plus c'est la même chose!
Posted by AL at 10:24 PM | Comments (0)
October 22, 2012
Will They Be Punished?
Mohammad Salim Al-Awa has accused Coptic Churches in Egypt of storing weapons and preparing for war against Egypt's Muslim majority.
Michael Armanious, who blogs at The New Egypt, has detailed how three Egyptians -- Muhammad Salim Al- Awa, Salafist Mohammed Hassa, and TV broadcaster Rasha Magdy -- have helped undermine the safety of the Coptic Christians in their homeland. He did this in a blog post about efforts to memorialize the deaths of two dozen Coptic Christians in Maspero Oct. 9, 2011. Armanious reports:
The Maspero Massacre did not take place in a vacuum. It was preceded by an ongoing campaign of anti-Christian incitement perpetrated by Egyptian elites of all stripes. In the months and weeks prior to the massacre, religious and political leaders and journalists spewed invective clearly intended to cause violence against Copts in their homeland.

Many of these acts of incitement have been ignored or swept under the carpet, but they are not forgotten. We must remember and document these acts of incitement in order to keep faith with the victims of the Maspero Massacre.
Armanious suggests that someday, "Al-Awa, Hassan, Magdy and many, many others may have to answer for their acts of incitement."

There is precedent.

In the aftermath of the genocide in Rwanda, pop-singer Simon Bikindi was sentenced for 15 years imprisonment for his role in generating hostility toward Tutsis in that country. Apparently, Bikindi "used a speaker on his car to broadcast messages asking the majority Hutu to rise up and kill Tutsis in June 1994. On a second drive along the same road, Bikindi asked if people had been killing the 'snakes.'

While Al-Awa, Hassan and Magdy did not directly call for the murder of Coptic Christians in their homeland, they did create an environment where such murders were inevitable.

If Bikindi can be punished for what he did in Rwanda, there are many Muslim extremists who should be punished for what they have done to the Copts in Egypt.
Read the whole thing.
Posted by dvz at 04:39 PM | Comments (0)
October 21, 2012
Ha'aretz Finds Another False Pretext for 'Apartheid' Smear
Franklin Lamb, right, poses with child murderer Samir Kuntar. Lamb's bogus intelligence report is the basis of Ha'aretz's heading "U.S. intel cries 'apartheid'"
Last week we described how Ha'aretz's Akiva Eldar manipulated an erroneous, unsubstantiated figure and falsely attributed it to the Israeli government in order to make the charge that even the government has acknowledged that - in the words of the online subheadline - "apartheid is here." As we wrote:
Why did Eldar invest so much effort into manipulating this data? The answer appears in the online subheadline, which posits that even the Israeli government acknowledges that "apartheid is here." Appealing to the most rabid anti-Israel activists, Ha'aretz pulls the "apartheid" genie out of the bottle, all by relying on an incorrect, unsubstantiated figure falsely attributed to the government. Ha'aretz knows precisely for whom they are writing overseas, and Eldar knows how to deliver.
We now realize that Ha'aretz pulled the same trick - accusing Israel of apartheid based on a falsely attributed source - twice in that single item! About half-way through the article, under the heading "U.S. intel cries 'apartheid,'" Eldar shifts gears somewhat, referring now to a different report (as opposed to the Finance Ministry memorandum he earlier cited). He writes:
The term "apartheid" features prominently in an article in the on-line magazine Foreign Policy Journal on a new "confidential report" prepared by 16 American intelligence agencies. Franklin Lamb reported from Beirut to the Foreign Policy Journal on the "confidential report, which he claims compares Israel to the apartheid regime in South Africa. The document, he says, warns that the Arab Spring and the Muslim awakening will encourage 1.2 billion Muslims to fight against what they refer to as "the immoral European occupation of Palestine." Lamb argues that the report accuses Israel of intervening in internal American affairs via 60 organizations and some 7,500 administration officials. The report, Lamb says, advises the United States to leave Israel alone as its existence sabotages the American interest in moving closer to the Arab world and the Iranian people.
Eldar, to his credit, then goes on to raise interesting details about Lamb's credibility:
A quick Google search reveals interesting details about Lamb; you can find him in friendly pose with the arch-terrorist Samir Kuntar. His profile states that he is a board member of the Sabra-Shatila Foundation, a volunteer with the Palestinian Civil Rights Campaign, a regular guest on talk shows of Hezbollah's Al-Manar station and a contributing writer to the Electronic Intifada site.
An article by Eldar's colleague Amir Oren in today's paper goes even further, calling the alleged intelligence report a fabrication. He states:
Not only was Lamb's secret study never conducted, it could not possibly exist. . .
If Eldar knew the "intelligence report" was bogus, why didn't he say so instead of dancing around the issue with interesting details about Lamb's background? Eldar was clever enough to be cautious; he used scare quotes referring to the "confidential report" and identified Lamb's claims as just that. But if Eldar had questions about Lamb's credibility, but didn't actually know that the so-called intelligence report was bogus, then why did he report it, instead of sitting on the story until he could verify it?
And why did Ha'aretz editors choose the following false heading when, in fact, no such intel exists?
Because, as we said, Ha'aretz seeks to appeal to the most rabid anti-Israel activists, and using the "apartheid" smear is a sure way to do that. No matter that the charges are based on falsely attributed reports (1) the Finanance Ministry and 2) a bogus intelligence report).
In his take-down of the Franklin Lamb article about the non-existent intelligence report, Ha'aretz's Amir Oren notes:
The story of the fall of mighty serious people (and others) into Lamb's snare exemplifies the difference between professional and amateur media, between those who are committed to verifying, checking and cross-checking information before publishing it and those who are content to recycle. If this difference is not enough to save traditional journalism, the kind that is liable no longer to exist a decade from now, it could serve as a draft for its eulogy.
Oren's condemnation of "mighty serious people (and others)" who fell "into Lamb's snare" might have been directed at his colleague Eldar as well as the Ha'aretz employee who wrote the false heading. Even if it wasn't, Eldar, a veteran Ha'aretz journalist, would do well to listen closely.
Update: Elder of Ziyon reveals Franklin Lamb's history of fabrication and crime.
Posted by TS at 07:36 AM | Comments (1)
October 18, 2012
What About the Rockets Gradye?
Gradye Parsons, Stated Clerk of the General Assembly of the Presbyterian Church(USA)
Gradye Parsons, stated clerk of the Presbyterian Church (USA), is apparently trying to make amends for his decision to sign a letter to Congress asking lawmakers to investigate Israel's compliance with U.S. law regarding foreign aid. In a piece published in The Algemeiner, CAMERA analyst Dexter Van Zile reports that Parsons wrote a letter to the leaders of the Palestinian Authority and Hamas asking that the two groups reconcile. Parsons, however, remained silent about the escalating rocket attacks emanating from the Gaza Strip. Van Zile asks some obvious questions:

What about the rockets, Gradye? What about the rockets? Could not the PC(USA)'s stated clerk not tell Hamas to bring an end to the ongoing rocket attacks that have been plaguing Israel – for years – and which have escalated in recent weeks?
Posted by at 02:55 PM | Comments (0)
October 17, 2012
Hezbollah's Special Forces in Syria
The media has been reporting with increased frequency about allegations of Hezbollah's role in helping the Syrian regime suppress its civil insurrection. The New York Times on Aug. 10 published an article titled, "U.S. Accuses Hezbollah of Aiding Syria's Crackdown" alleging Hezbollah's involvement in training Syrian troops to deal with the insurrection.
In early October, the Associated Press, Reuters, NPR and others described Hezbollah's stepped up activity in Syria in the wake of the death of a senior Hezbollah commander. These articles suggested a more direct role in the fighting.
On October 11, CAMERA posted an item about an article in Lebanon's The Daily Star in which a Free Syrian Army commander provided details. The New York Times reported that early this week, U.S. ambassador Susan Rice stated that Hezbollah had become part of Syrian President Assad's "killing machine."
The Christian Science Monitor, on Oct. 15, published an article in which a Free Syrian Army commander described the involvement of highly trained Hezbollah forces in the fighting.
In the Monitor piece, the commander states
that their most formidable foes across the border in Syria are not Syrian Army soldiers, but battle-hardened veteran Hezbollah fighters...He added that he had encountered some Hezbollah fighters on the road beside the border in Jusiyah and had approached them with bottles of water, pretending to be a supportive civilian.
The FSA commander continued:

"None of them were under 35 years old. They were very professional and tough fighters. You can tell they are superior fighters from the way they move in battle and how they fight..."
Such reports in Syria lend credence to the charge that Hezbollah has a substantial role in the Syrian regime's efforts to suppress the civil uprising.
Posted by SS at 10:10 AM | Comments (0)
October 16, 2012
Where's the Coverage? Israeli-Arab Woman Scientist Researches Treatment for Cancer

You may have read recently that IKEA airbrushed the women out of their catalogue pictures in Saudi Arabia. There was quite a bit of media coverage.
In fact, the airbrushing, though troubling, is just a metaphor for the way women are treated in many Arab countries. Egyptian-American journalist Mona Eltahawy wrote in her "Foreign Policy" article "Why Do They Hate Us?":
Name me an Arab country, and I'll recite a litany of abuses fueled by a toxic mix of culture and religion that few seem willing or able to disentangle lest they blaspheme or offend. When more than 90 percent of ever-married women in Egypt -- including my mother and all but one of her six sisters -- have had their genitals cut in the name of modesty, then surely we must all blaspheme. When Egyptian women are subjected to humiliating "virginity tests" merely for speaking out, it's no time for silence. When an article in the Egyptian criminal code says that if a woman has been beaten by her husband "with good intentions" no punitive damages can be obtained, then to hell with political correctness. And what, pray tell, are "good intentions"? They are legally deemed to include any beating that is "not severe" or "directed at the face." What all this means is that when it comes to the status of women in the Middle East, it's not better than you think. It's much, much worse. Even after these "[Arab spring] revolutions," all is more or less considered well with the world as long as women are covered up, anchored to the home, denied the simple mobility of getting into their own cars, forced to get permission from men to travel, and unable to marry without a male guardian's blessing -- or divorce either.
Civil society organizations from ten Middle East and North African countries have issued the first Arab Watch Report, focused on the rights to work and to education and launched by the Arab NGO Network for Development (ANND). Egypt's New Woman Foundation member Mona Ezzat acknowledged:
The unemployment rate among females amounted to three times higher compared to males, and that, over recent years. This was a major factor of the Revolution. Although the participation of women in revolutions was high, the proportion of their presence in leadership positions and decision-making positions is still weak and ineffective. They also suffer from inequality when it comes to professional upgrading opportunities.
While you are probably aware that women fare much better in Israel, you may not have heard how much better Arab women do in Israel. For example, there has been no coverage in the popular press about Arab-Israeli scientist Amal Ayoub, whose research shows promise in enhancing the efficacy of radiation therapy for cancer.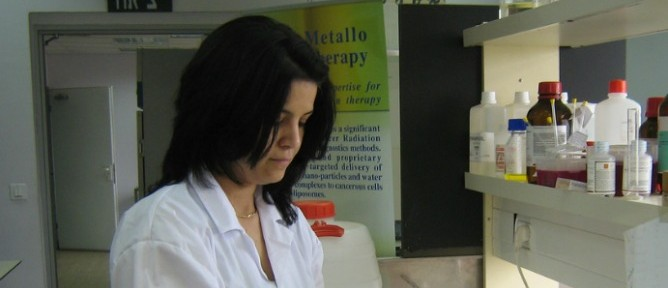 Ayoub earned her bachelor's degree at the Technion, a master's degree and a doctorate in biomedical engineering at Ben-Gurion University of the Negev, and finished her post-doctoral studies there as well. She is Chief Executive Officer and Chief Technology Officer of her own biomedical research company. Working with two Arab-Israeli employees -- a male chemical engineer and a female biologist -- Ayoub's work reveals that metal nanoparticles, especially gold, introduced into malignant tumors can enhance the effects of radiation therapy while reducing damage to neighboring healthy cells.
The only media outlet that picked up this story was the Journol do Brasil. In Brasil!
To sum up: A woman. In the sciences. Who is an Arab. In Israel. Doing research that could help treat cancer. This is not a story? Where's the coverage?

Posted by SC at 12:57 PM | Comments (0)
At Metro-North Railway, New Map, More Distortions
Henry Clifford, who earlier bankrolled distorted maps about Israel and the Palestine Mandate at Metro-North Railway stations in New York, this month has come up with a new one. Well, actually, he pulled it from the Web site of PASSIA: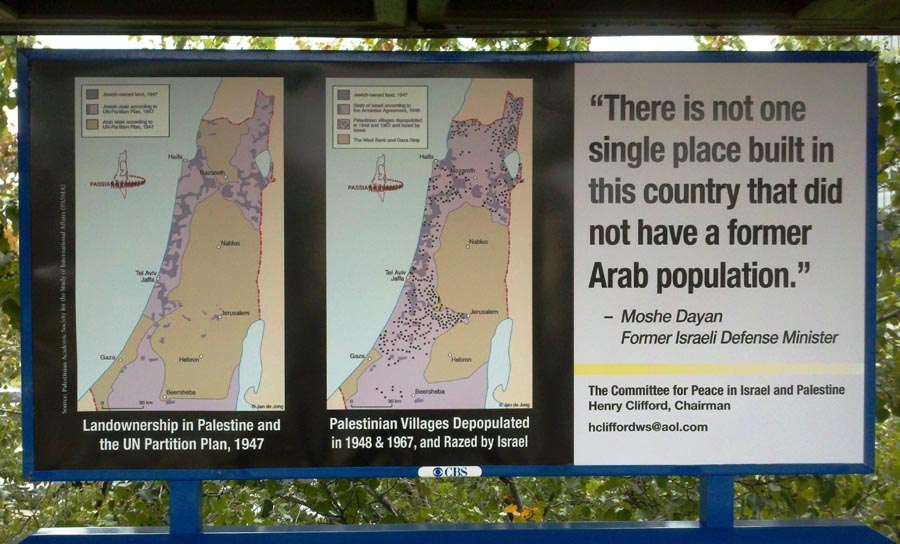 The map on the left is a huge manipulation for multiple reasons. First, though its title refers to "Land ownership" and it shows pockets of "Jewish-owned land" in 1947, the equivalent Arab-owned land is not identified. Instead, in an apples-versus-oranges misleading comparison, the Jewish-owned land is juxtaposed against land designated for an Arab state according to the U.N. Partition Plan.
So why doesn't Clifford show us the Arab-owned land? If he did, commuters would see that the amount of privately-owned Arab land was nearly equivalent to privately-owned Jewish land. As previously noted by CAMERA:
During the Mandate, the British carried out detailed land surveys, marking off who owned what, and according to figures in the British Survey of Palestine, published in 1946 and republished by the PLO-affiliated Institute for Palestine Studies, at least 65 percent of the country was state land, and probably much more than that. Jews owned 8.6 percent of the land and Arabs owned 28.6 percent. But the Arab total included Bedouin grazing land (8.4 percent) and waste land (13.4 percent), neither of which was legally ownable according to the prevailing Turkish and British land laws. Not counting Bedouin grazing land and waste land, Arab owned land totaled only 6.8 percent.
Second, Clifford's map falsely designates Jerusalem as part of the land slated to go to an Arab state under the 1947 partition plan. In reality, as illustrated by the U.N. map below, the plan called for Jerusalem and its suburbs to become an international zone:

Moreover, under the partition plan, Jaffa was supposed to have been part of the Arab state, but Clifford's ad wrongly indicates it was to be part of the Jewish state.
As for the Moshe Dayan quote, CAMERA called Clifford out several months ago for truncating the statement, cutting out Dayan's assertion that Jews purchased much of the land: "In a considerable number of places, we purchased the land from Arabs and set up Jewish villages where there had once been Arab villages."
But Clifford, the one man show called the Committee for Peace in Israel and Palestine, will not be deterred by the facts. Like the commuter rail, he barrels on full steam ahead, running over any facts along the way.
Posted by TS at 07:00 AM | Comments (1)
Ha'aretz Repeats 'Nakba Law' Error
Israeli Arabs exercise their right to mark "Nakba Day" in May 2012 (Photo by Flash 90)
The "Nakba law," which enables Israel's Finance Minister to withhold government funding from state-funded bodies engaged in activities which reject the existence of the state of Israel as a Jewish state, has been a challenge for Ha'aretz journalists. In May, after the English edition incorrectly reported that the law "fines bodies who openly reject Israel as a Jewish state," editors commendably issued the following correction May 11:
Unfortunately, editors have not absorbed the information. Today's editorial again errs, stating:
The 18th Knesset polluted Israel's law books with the so-called "Nakba law," which undermines Israeli Arabs' right to observe Independence Day as a day of mourning. . . .
Of course, Israeli Arabs are perfectly free to erect mourning tents in their yards on Israel's Independence Day. They also may orgazine large scale remembrance marches involving, for example, 400,000 people in Tel Aviv's Rabin Square on Independence Day. In actuality, the law does not prohibit anything. Again, it merely enables the Finance Minister to withhold government money budgeted to state-supported entities if they engage in activities rejecting Israel as a Jewish state.
If the Hebrew-speaking Ha'aretz editors cannot be relied upon to actually read the legislation, we shouldn't be surprised by mainstream English-language reporters also getting it wrong. And we shouldn't expect the problem to go away anytime soon, given that the "Nakba law" has taken on symbolic significance. Only, contrary to what the Ha'aretz editors would have us believe, the law is not a symbol of "anti-democratic legislation that brought the tyranny of the majority to new heights." Rather, it is a symbol of disinformation spread by incompetent or dishonest reporters.
For the Hebrew version of this post, see Presspectiva. Yishai Goldflam contributed to this post.
Posted by TS at 04:51 AM | Comments (0)
October 15, 2012
It's Time to Go Local
Local mainline churches, like this United Methodist Church in Watertown, Mass., have paid the freight for their denominations' anti-Israel activism.
A number of Christian leaders in the U.S have sent a letter to Congress asking lawmakers to cooperate with their ongoing efforts to hold Israel to an ugly double-standard while giving its adversaries a pass. The letter, sent on Oct. 5, calls for an investigation into how U.S. aid to Israel is used. The letter asks Congress to determine if Israel uses the money in ways contrary to the cause of peace and to abuse the human rights of Palestinians. The letter acknowledges that the Palestinians have done bad things, but does not call for any investigation into the Palestinian Authority's use of money from American taxpayers.
In a piece published in the Algemeiner, CAMERA analyst Dexter Van Zile concludes that the letter is an effort to set the stage for the upcoming national assemblies of the Evangelical Lutheran Church in America (ELCA), the United Church of Christ (UCC), and the Disciples of Christ. He writes, "Their call to investigate Israeli human rights violations gives peace activists in these churches the pretext they need to recount – at next summer's assemblies – all of the 'terrible things' that Israel has done – without having to recount or acknowledge the mistakes the Palestinians have made."
Van Zile states that the leaders and peace activists of these churches have proven "incorrigible" and that it's time for people to take their case to local churches in their communities. In a piece published by the Joint News Service (JNS), he writes:
Rabbis should consider whether or not they can, in good conscience, participate in upcoming interfaith Thanksgiving celebrations with pastors from denominations that assist in the demonization of the Jewish homeland. If they decide they can't, they should go public with their decision.

The mainline demonization of Israel has been a national story.

Now it's time to make it a local story.
The Jewish state sets the gold standard for human rights in the Middle East. It treats its enemies, dissidents and minorities with greater humanity than every other country in the region. And yet the leaders mainline Protestant churches are very quick to condemn Israel while giving Arab and Muslim countries in the region a pass for their misdeeds.
The members of these churches can put a stop to this demonization.
Will they?
Posted by at 10:55 AM | Comments (0)
October 11, 2012
Exposing Hezbollah's Role in Syria
Over the last 18 months, intermittent reports have described Hezbollah's participation in suppressing the popular uprising in Syria. Reported burials of Hezbollah fighters have been explained away as fatalities caused by training accidents or by vague statements about fulfilling the duties of jihad. A report today in Lebanon's The Daily Star, however, reveals more information on the extent of Hezbollah involvement. According to The Daily Star article
Syrian rebels said they have detained 13 Hezbollah members and threatened to take the fight to Hezbollah's stronghold in Beirut's southern suburbs unless the party ends its support for President Bashar Assad's regime. ... He said the FSA is holding 13 Hezbollah members in a village near Homs for their involvement in the Syria conflict.
It then quotes a commander of the Free Syrian forces,
"We [vow] to take the battle in Syria to the heart of the [Beirut] southern suburbs if [Hezbollah] does not stop supporting the killer-Syrian regime," Free Syrian Army spokesman Fahd al-Masri told media outlets Tuesday. "They [the Hezbollah detainees] have confessed to killing and slaughtering [people] in Syria," Masri said, indicating that most of the captives come from Baalbek and Hermel in the Bekaa Valley.
In light of Hezbollah's allegiance to the regime of Bashir Assad as it slaughters its own citizens, it is worth recalling supportive statements by some well-known Western radicals and anti-Israel activists for the Iranian-backed organization that, unlike other Lebanese militias, refused to disarm at the conclusion of the Lebanese civil war. These radicals expressed admiration for Hezbollah for its "resistance" against Israel. They ignored and were apparently unmoved by Hezbollah's role as subcontractor for Syrian domination of Lebanon, including its alleged involvement in the assassination of former Lebanese Prime Minister Rafic Hariri in 2005. Where are their denunciations of Hezbollah's alleged role in slaughtering Syrian citizens? The following are a list of some of Hezbollah's Western boosters:
Iconic radical professor Noam Chomsky stated in 2006 that
I think [Hezbollah leader Sheik Hassan] Nasrallah has a reasoned argument and [a] persuasive argument that they [the arms] should be in the hands of Hezbollah as a deterrent to potential aggression, and there is plenty of background reasons for that. ( Al Manar TV, 13 May 2006)
Chomsky's praise for an organization that prior to its involvement in Syria, had long engaged in brutality against civilians - Israeli, Jewish and Lebanese - is not surprising to those old enough to recall his sympathetic stance towards the genocidal Khmer Rouge in Cambodia.
Inveterate anti-Israel agitator and former professor Norman Finkelstein is another admirer of Hezbollah. He once offered praise of Hezbollah stating, "I did make a point of publicly honoring the heroic resistance of Hezbollah to foreign occupation."
Another professor promoting the notion of a positive transformation of Hezbollah from terrorist group to legitimate political organization is Stephen Zunes of the University of San Francisco, who wrote:
Indeed, the evolution of this Lebanese Shiite movement from a terrorist group to a legal political party had been one of the more interesting and hopeful developments in the Middle East in recent years. ... it appears that the movement as a whole had become another one of the scores of former terrorist groups and political movements with terrorist components that have evolved into legitimate political parties in recent decades.
The Guardian's Mathew Cassel portrayed Hezbollah as an admirable resistance movement.
Another Guardian contributor Ian Willliams eulogized Hassan Fadlalah, Hezbollah's spiritual leader:
There is no doubt that the Ayatollah Fadlallah was a modernising and progressive influence in Islam, much more "modern" than many of his Christian counterparts.
Then there is former U.S. Ambassador to Iraq, Edward Peck, a Gaza flotilla supporter and anti-Israel activist. When questioned in a July 2006 interview with Fox News whether he considers Hezbollah a terrorist group, Peck responded, "A terrorist organization is in the eye of the beholder." He then proceeded to equate the Hezbollah's raid into Israel, with the parachuting of American soldiers into Germany to kill Germans during World War II.
These are only some of the misguided statements made by Western activists who share an antipathy towards Israel and towards American policy in the Middle East. Could it be that their hatred of Israel and opposition to American policy blinds them or desensitizes them to the brutality of groups like Hezbollah?
Posted by SS at 11:12 AM | Comments (0)
October 10, 2012
New BBC Watch Launches

CAMERA congratulates CiF Watch, an independent CAMERA project, on the launch of their new Web site, BBC Watch. CiF Watch reports:
BBC Watch – a sister project of CiF Watch with the independent support of the Committee for Accuracy in Middle East Reporting in America (CAMERA) – will provide comprehensive monitoring of the BBC's coverage of the Arab-Israeli conflict in order to ensure adherence to the BBC's own editorial guidelines. A few of the more egregious problems at the BBC will be familiar to many CiF Watch readers:

•The BBC demonstrates a disproportionate focus on Israel in relation to other countries in the Middle East – a trend which continued even through the 'Arab Spring.

•The BBC's Middle East editor frequently displays an egregious lack of objectivity, portraying Israel in an overwhelmingly negative light and the Palestinians in a positive light.

•The BBC is self-regulating, and has been less than transparent and open to change in response to substantive criticism.
Hadar Sela, managing editor of BBC Watch, notes:
Two organisations which formerly monitored BBC output – 'Just Journalism' and Trevor Asserson's 'BBC Watch' website – have ceased operations in recent years, exacerbating the need for close and regular monitoring of the world's most influential broadcaster". BBC Watch will seek to build upon and develop the work already done by those organisations in order to continue the monitoring of BBC output on the subject of Israel and to examine the broadcaster's adherence to its legal obligation to produce accurate and impartial reporting as a service to its funding public.
Updates can be received via Twitter @bbcwatch and Facebook at www.facebook.com/bbcwatch.
Posted by TS at 08:55 AM | Comments (1)
UPDATED: LA Times Returns Quneitra to Israel
This 1992 map, published shortly before Hanadi's birth, shows Quneitra on the Syrian side of the Golan Heights (University of Texas Libraries)
In a profile featuring Hanadi, a young Syrian woman who reportedly joined the Syrian rebel forces, The Los Angeles Times reassigns the Syrian city of Quneitra to Israel ("In Syria, a rebellion calls for revolutionary measures"). The article, which has no byline, states that 19-year-old Hanadi is "[o]riginally from Quneitra in the Israeli-occupied Golan Heights."
This misleading formulation suggests that Quneitra is under Israeli rule, and that Hanadi spent her earliest days under Israel's thumb. While Quneitra is in the Golan Heights, and almost all of the Golan Heights has been annexed to Israel, Quneitra is not "Israeli-occupied." Israel returned Quneitra to Syria as part of a 1974 armistice agreement. So, for nearly two decades before Hanadi's birth, Quneitra had not been Israeli-occupied.
So why would the LA Times inject this gratuitous reference to Israel, one that has nothing to do with the internal Syrian situation, or the situation in Hamadi's hometown for decades, especially given that it only misleads? (Read more on media inaccuracies about Quneitra.)
The LA Times writer would not be the first who has trouble accepting that not every story about a Middle Eastern conflict warrants a mention of Israel.
Oct. 14 Update: CAMERA commends the LA Times for its prompt correction
Posted by TS at 07:10 AM | Comments (0)
At Ma'an, Gaza Training Camps are Just 'Homes'
Yesterday we pointed out that while the Agence France-Presse reported that there were no eye witnesses of an attack on olive trees attributed to Eli settlers, the Palestinian Ma'an News Agency reported that there were eye witnesses.
For the second day in a row, a Ma'an report is contradicted by the AFP. Today, regarding an Israeli airstrike on the Gaza Strip which took place this morning, AFP reports:
Palestinian security sources confirmed the strike had hit a training camp in Beit Lahiya which was used by militants from the Ezzedine al-Qassam Brigades, the armed wing of the ruling Hamas movement. (Emphasis added.)
Ma'an ignores the fact that Palestinian security forces confirmed the Israeli claim that the airstrike hit a Hamas training camp. Instead, the Palestinian news agency reports, without providing a source:
The strike targeted Beit Lahiya and caused material damage to several homes, with no injuries reported. (Emphasis added.)
Posted by TS at 05:10 AM | Comments (0)
UPDATED: Wall Street Journal's Creative Cartographers
The Wall Street Journal seems to have jumped the gun a bit, drawing "Palestine" over the West Bank in a map accompanying a News Hub broadcast.
Here is a capture image of the map, in which the West Bank is erroneously indentified as "Palestine":
Given the fact that there is no current state or internationally-recognized entity of "Palestine," labeling the West Bank or Gaza as "Palestine" is erroneous. See, for instance, this State Department map which correctly labels the West Bank.
This is not the first time that The Wall Street Journal has incorrectly used the term Palestine. The earlier error, and inadequate correction, follow:
Error (Wall Street Journal, Heading for World Watch; World Watch; 7/10/08): Palestine. . .[Israeli raids] "undermine grossly our efforts aimed at rebuilding our capacity and reestablishing law and order," Falam Fayyad said at a news conference he held Wednesday in the West Bank city of Ramallah with visiting Italian Foreign Minister Franco Frattini.

Correction (7/11/08): Salam Fayyad is the prime minister of the Palestinian Authority. An item in Thursday's World Watch column incorrectly gave his name as Falam Fayyad and indicated he was prime minister of Palestine.
Had the 2008 correction made clear to WSJ readers and staff that it is inaccurate to refer to the West Bank or Palestinian Authority-controlled territories as "Palestine," perhaps we would not be rehashing the same error in 2012.
(Hat tip: Yitzhak S.)
Oct. 17 Update: WSJ Commendably Corrects
Posted by TS at 03:53 AM | Comments (0)
October 09, 2012
Where's the Coverage? PA Accuses Israel of Trying to Destroy Al-Aqsa Mosque to Rebuild "Alleged Temple"

On Oct. 2, 2012, Palestinian Media Watch issued a report detailing repeated accusations in official Palestinian Authority media that Israel is attempting to destroy the Al-Aqsa mosque. This occured on at least five occasions in September alone. One example appeared in Al-Hayat Al-Jadida on Sept. 20, 2012:
The Islamic-Christian Council for Jerusalem and the Holy Places ... declared that Jerusalem today is very different from the Islamic and Christian Jerusalem, since acts of Judaization, including demolition, destruction, and banishment, have made the occupied city into something different, [something] adapted to the Jews' extremist goals, and it (the Council) warned that the these programs' crowning achievement will be the destruction of Al-Aqsa and the building of the alleged Temple on its ruins.
Jerusalem was founded as the Jewish capital by King David approximately three thousand years ago. It was holy to Jews before it ever was holy to Christians or Muslims and therefore impossible to "Judaize."
Note the reference by the PA media to "the alleged Temple". PMW writes:
The use of the term "alleged Temple" to deny Jewish history has been PA policy under Chairman Mahmoud Abbas for many years. In August, after Abbas himself used the expression, Palestinian Media Watch reported that the term "alleged Temple" had been used nearly 100 times in 2011-2012. As this report documents, the PA continues to use the term.
Both Jews and Muslims lay claim to the Temple Mount and it is one of the thorny issues in the Arab-Israeli conflict. Yet, anyone with the most basic understanding of religious history knows that Christianity acknowledges the existence of the Temple. After all, in Matthew 21:12, Jesus throws the money changers out of the Temple, not the "alleged" Temple. No one with any credibility can deny the historical fact of the Jewish Temple as thousands of archeological finds support the existence of not one but two Temples on the site.
Absurd accusations that Israel is attempting to destroy the Al-Aqsa mosque have been covered by some Jewish media but they have not made it into any of the popular press. Perhaps, you're thinking to yourself, if a world leader made this accusation at, say, the United Nations General Assembly, then major media outlets would cover it. Think again. On Sept. 25, 2012, King Abdullah of Jordan stood before the world and declared:
We are extremely concerned by threats to Jerusalem and the sanctity of its Muslim and Christian holy sites… [A]ny attempt to erase the Arab, Muslim, or Christian identity of Jerusalem will not be tolerated.
So then… Where's the coverage?
Posted by SC at 02:32 PM | Comments (1)
Ma'an's Mysterious Eye Witnesses to Olive Vandalism
A Palestinian farmer is pictured today with a destroyed olive tree in Qaryut (Photo by Nedal Eshtayah /ZUMA photos)
As this year's West Bank olive harvest begins, so do the allegations of settlers vandalizing trees. AFP's story today about uprooted trees in Qaryut, near Nablus, is reasonably cautious. It does not state as fact that settlers from Eli are responsible; rather it reports Palestinian allegations that they are. AFP reports:
Residents of Qaryut village 15 kilometres (nine miles) south of Nablus blamed the attack on settlers from the neighbouring settlement of Eli.

"More than 70 old olive trees were cut down by settlers on land near the Eli settlement," said Abdel Nasser Qaryuti, head of the village council.

No-one witnessed the attack, but he said the villagers had been the target of similar attacks from local settlers in the past. (Emphasis added.)
While AFP says there were no witnesses, the Palestinian Ma'an News Agency later claims that there were. Maan reports:
Eyewitnesses said the settlers used chainsaws to destroy the trees, which belonged to 12 farmers in the village of Qaryut.
Past cases underscore the need for careful reporting on alleged settler attacks on olive trees. As reported in 2006 by Maariv:
Inspectors caught Palestinian youths in the act as they were cutting olive trees, claiming they did it at the request of the owner of the grove. The police suspect that he did it for compensation. Now additional Palestinian complaints will be investigated

Are the settlers hurting the Palestinians or are the Palestinians hurting themselves? Frequently Palestinians farmers complain that settlers cut their trees and hurt them and their livelihoods. At times even IDF soldiers and police had to protect the Palestinians farmers in the territories during the olive harvest season. But the police suspect now that in some cases the Palestinians themselves are the ones cutting the trees and then blaming the settlers and demanding compensation from the Civil Authority.
Posted by TS at 08:23 AM | Comments (1)
The Atlantic and Wolfensohn's Strawberries
A Palestinian looter carries away equipment from a hothouse donated by James Wolfensohn and other Jewish American donors (2005 Photo by Emilio Morenatti /AP)
The Atlantic's Steve Clemons gives a highly selective account of James Wolfensohn's involvement with Gaza's strawberry crops to make the argument that Israel's occupation prevents the Palestinian economy from growing. Just like his distorted account of Wolfenshon and the strawberries, his larger thesis does not take into account any Palestinian responsibility for their economic problems. About the former head of the World Bank, Clemons writes:
Wolfensohn invested his own money in an effort to get Palestinian-grown strawberries to markets in Europe and worked out deals with the Israelis and established a greenhouse project and processing infrastructure at Israel's Karni Crossing. To make a long and sad story short, even the great James Wolfensohn failed to overcome Israeli arbitrariness in what it allowed and didn't in terms of earnest Palestine commerce with the rest of the world.
What does Clemons forget to mention about Wolfensohn and Gaza's strawberries? When Israel unilaterally withdrew from the Gaza Strip, Wolfensohn organized American Jewish donors to buy Gaza hothouses from settlers and hand them over to the Palestinians, who proceded to vandalize and loot them, as opposed to make use of them. Wolfensohn put up $500,000 of his own money. As the Associated Press reported at the time:
Palestinians looted dozens of greenhouses on Tuesday, walking off with irrigation hoses, water pumps and plastic sheeting in a blow to fledgling efforts to reconstruct the Gaza Strip.

American Jewish donors had bought more than 3,000 greenhouses from Israeli settlers in Gaza for $14 million last month and transferred them to the Palestinian Authority. Former World Bank President James Wolfensohn, who brokered the deal, put up $500,000 of his own cash.

Palestinian police stood by helplessly Tuesday as looters carted off materials from greenhouses in several settlements, and commanders complained they did not have enough manpower to protect the prized assets. In some instances, there was no security and in others, police even joined the looters, witnesses said. . . .

The failure of the security forces to prevent scavenging and looting in the settlements after Israel's troop pullout Monday raised new concerns about Gaza's future.
Indeed, Israeli restrictions on Gaza exports, including strawberries, have harmed the industry. But Clemons ignores the Palestinians' own role in harming the industry which Wolfensohn literally handed them on a platter. As Haim Harari put it:
Israel withdraws from Gaza and leaves intact greenhouses that could provide employment to numerous unemployed Palestinians. The greenhouses are destroyed, under the supervision of the Hamas and their metal parts are sold as scrap metal or used as raw material for more primitive rockets. The greenhouse area becomes a launching pad for rockets into Israeli villages.
Clemons takes Mitt Romney to task for assessing "Palestine's economic potential without considering that all they have done has been done under Occupation, with barriers to travel and commerce embedded throughout their territory which Israel occupies and dominates, often brutally." Clemons himself is guilty of looking at only part of the story, and in his story, he does not consider what Palestinians have done to stymie their own economy.
Posted by TS at 06:05 AM | Comments (0)
LA Times Misleads About Hamas in Bank Hacking Story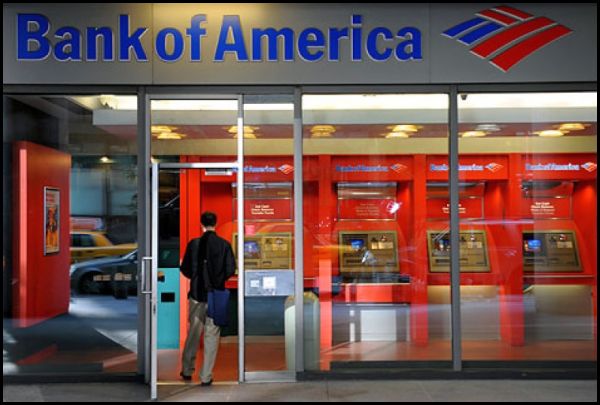 Bank of America was one of several American financial institutions attacked by a group identifying itself as the Izz ad-Din al-Qassam Cyber Fighters
A Los Angeles Time article about a Middle Eastern hacker attack on American banks whitewashes Hamas. E. Scott Reckard, Andrew Tangel and Jim Puzzanghera report:
The attacks on banks began last week on the largest institutions in the country: JPMorgan Chase, Citigroup and Bank of America. They spread to Wells Fargo on Tuesday and U.S. Bank on Wednesday. Another attack has been threatened against PNC Financial Services on Thursday.

The U.S. government and banks have been working feverishly to learn more about the attackers. A financial executive not authorized to speak publicly described a "war room" where bankers were coordinating efforts with the Department of Homeland Security.

Izz ad-Din al-Qassam is the name of the military wing of Hamas, the political party that governs the Gaza Strip. Experts say the attacks appear to have originated from the Middle East, thought it isn't clear who is behind them or the motivation. (Emphasis added.)
But Hamas isn't merely "the political party that governs the Gaza Strip." It's also been designated as a terror organization by American (as well as European and Israeli) authorities.
Hamas' designation as a terror group is more than slightly relevant to a story about shadowy Middle Eastern hackers named after a wing of Hamas. Why in the world would the Times withhold this critical information from American readers?
Posted by TS at 04:54 AM | Comments (0)
October 05, 2012
Texas Pastor Jokes With Morsi
Bob Roberts, Jr. speaking at the Christ at the Checkpoint Conference in Bethlehem in March, 2012.
In an article published at PJ Media on Oct. 4, CAMERA Analyst Dexter Van Zile details how Texas Pastor Bob Roberts exchanged pleasantries with Egyptian President Mohammed Morsi, "the man who can do more than anyone else in the world to protect the safety and well being of more than eight million Coptic Christians who are under siege in their homeland." He writes:
Did Roberts show the courage of Nathan and put Morsi on the spot and tell him that the whole world is watching what is happening to the Copts in Egypt?

Did Roberts tell Morsi that history would judge his presidency on how well he protects the rights and lives of Copts during his time as president?

Did Roberts call on Morsi to rein in Salafist clerics who are calling for Copts living outside of Egypt to be murdered in retaliation for the production of the movie Innocence of Muslims by a Coptic Christian in California?

Did Roberts advocate for Coptic Christians the way people advocated for blacks living under apartheid rule in South Africa?

No, he didn't.

When Roberts got his chance to speak he joked with Morsi about his own conservative roots, telling him "To us a Salafist would be a liberal!" Morsi loved this. "He died laughing and started pointing to someone saying something in Arabic," Roberts reported.

Roberts' joke is not funny. It's obscene. There is simply no comparison between Evangelical Protestants in the U.S. and people who have cut off the ear of a Christian in an attempt to get him to convert, set fire to a church in Cairo, and evicted Christians from their homes throughout Egypt.
Read the whole thing here.

Posted by at 01:01 PM | Comments (0)
October 02, 2012
The New York Times and "Zionist" Innuendo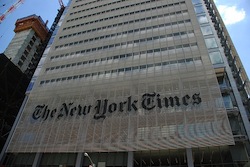 A "Zionist" is nothing more than someone who supports Israel's right to exist as the national home of the Jewish people.
This means that, notwithstanding attempts by anti-Israel and anti-Jewish activists to redefine the term, virtually all American Jews, minus a few isolated but outspoken outliers, are Zionists.
So it was somewhat odd to read the second paragraph of the Sept. 27 New York Times story, "Republicans Intensify Drive to Win Over Jewish Voters":
... the Republican Jewish Coalition, backed mostly by the casino magnate Sheldon Adelson, a Zionist, has begun spending $6.5 million on an air-and-ground strategy to reach Jewish voters who may view Mr. Obama as unreliable on the question of Israel's security. Jewish voters, who generally vote for Democrats in big numbers, overwhelmingly supported Mr. Obama in 2008, giving him 78 percent of their vote, according to exit polls ...
Why did reporter Lizette Alvarez go out of her way to describe Adelson as a Zionist? It's certainly true that the Republican funder is a Zionist. But it's also certainly true that an "overwhelming" majority of Jews who supported Obama are likewise Zionists. A Luntz Global/CAMERA poll found that 94 percent of American Jews would consider it a "tragedy" if Israel "no longer existed tomorrow," and the poll's cross tabs reveal that 93.7 percent of Jews who voted for Obama feel this way.
Again, people who support Israel's right to exist — including but not limited to the subset of people who think it would be a "tragedy" if it ceased to exist — are Zionists.
But the lexical waters lately have been muddied.
It's not just that bigots have taken to using the word "Zionist" euphemistically, as a way to attack Jews without saying the word "Jew." (See, for example, the video segment in which David Duke begins to say "Jewish" but quickly corrects himself when complaining to CNN about impositions "from the Je... from the Zionist domination of American foreign policy.")
It's not just the absurd mantra of radicals who insist, "I don't hate Jews, I hate Zionists," as if it is reasonable to claim you aren't against Jews, but are only against the vast majority of Jews — those who feel their people should not be discriminated against in a world that believes "all peoples have the right of self-determination."
The problem is also that others, including the mainstream Daily Beast on a Web page curated by Peter Beinart, have promoted the false claim that it is impossible to be both Zionist and liberal. Some pretend that Zionist means you support a particular war, or belong to a particular party. And if you redefine the term "Zionist," you distort the meaning of a concept that formed the bedrock of the renewal of Jewish national rights, and undermine the philosophical defense of those rights.
It is an uncomfortable reality for Israel haters that Zionism is not a partisan issue in the U.S. That is, unless and until anti-Israel activists, or sloppy writing in the New York Times, succeed at retrofitting a new definition to the word.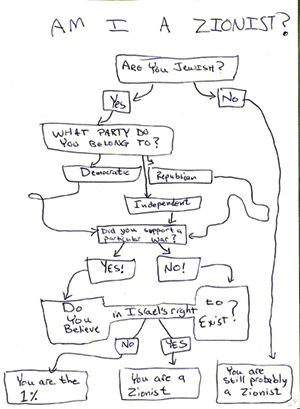 Posted by GI at 12:54 PM | Comments (3)