« Coptic American Reveals Egyptian Hypocrisy, Incitement | Main | Their Victims Could Fill a Stadium »
September 24, 2012
Where's the Coverage? Conference on Jewish Refugees from Arab Countries

On September 21, 2012, Israel hosted an event at the United Nations highlighting the stories of Jewish refugees expelled from Arab countries in the last century. What? You thought all refugees in the Arab-Israeli conflict were Palestinian Arabs? Nope.
The event, "Justice for Jewish Refugees from Arab Countries," featured firsthand accounts from Jewish refugees, along with remarks by Israel's Deputy Foreign Minister Danny Ayalon, Israel's UN Ambassador Ron Prosor, former Canadian Justice Minister Irwin Cotler and Harvard Law Professor Alan Dershowitz. Normally, when Alan Dershowitz sneezes, there's an article in the press. He's been mentioned in The New York Times on literally thousands of occasions.
But, when Israel tries to tell the story of the 850,000 Jews living in Arab countries who were dispossessed and forced out between 1947 and 1972, there is virtual media silence.
Ancient Jewish communities had existed in Arab countries for millennia until the Arab League defined all Jews as enemies of the state in 1947. State-sanctioned violence, arbitrary arrests, and forced expulsions followed. Arab governments confiscated billions of dollars of Jewish property. The total area of land seized from these Jews is five times the size of the state of Israel.
At the conference, Ambassador Prosor called on the UN to "establish a center of documentation and research to tell the 850,000 untold stories of Jewish refugees from Arab countries," saying:
Every year, the United Nations hosts World Refugee Day. Events take place in all corners of the world. Millions participate. Celebrities flood the airwaves to raise awareness about refugee populations. They speak about Africans, Asians, South Americans, Europeans and, of course, Palestinians.

One group never makes the cut: the Jews who were torn from their homes in Arab lands.
While CAMERA has covered the story of Jewish refugees from Arab countries extensively (see here, here, here, and here), few major media outlets cover the issue and fewer covered the symposium. There was an article in The Washington Times but, other than that, only Jewish and Israeli media covered the meeting.
As Ambassador Prosor noted, "Not a single syllable about the Jewish refugees expelled from Arab countries can be found in any of the 1088 UN resolutions on the Middle East or the 172 UN resolutions dedicated to Palestinian refugees."
The same can be said for the pages of our major newspapers and the airwaves of our broadcast media. Where's the coverage?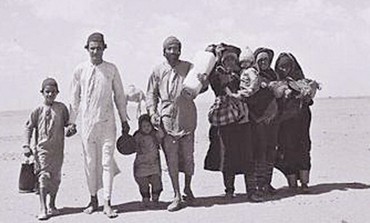 To help raise awareness of Jewish refugees from Arab countries, you can like "I am a refugee" on Facebook.
To watch a video on the issue, click here.

Posted by SC at September 24, 2012 09:19 PM
Comments
Who needs the MSM when you can get up-to-date news on Jewish refugees from Point of No Return?
www.jewishrefugees.blogspot.com
Posted by: Bataween at September 26, 2012 05:26 PM
It would seem the only refugees acknowledged in the region are the "Palestinians" living in UN refugee camps. The main reason the Arab or Sephradic Jews who were dispossessed of their properties and ancient homes in the Islamic diaspora after 1949; are not perceived as refugees is because they were absorbed into Israeli society as citizens, after their expulsions. That has not been the lot of the "refugees" who fled the UN partitioned areas that have become Israel either by international law and legal UN sanctioned national conference and conquest. The Islamic states surrounding Israel have kept up the pressure to dissolve a non-Muslim state in their midst which is defined by Islamists as a western invention and anti-Muslim. What is clearer in time is opposition to Israel and the prolonged refugee status of the Arabs, expressed by Abbas who wanted assurance "Palestinian Refugees" would retain refugee status (and funding) even in a legitimized "Palestinian" state. The prolonged status of "refugee" itslef in the instance of "Palestinians" is unprecedented and a modern invention, born out of "welfare states" and bad applications of Marxist historical derterminism. The angst against Israel is motivated not by real apartheid rage and Jewish oppression but by the intolerance of Islam to anything not. Certainly there are exceptions but Iran, Pakistan, and Egypt all demonstrate Islamic intolerance to true democratic values, pluralism and diveristy; mechanisms perceived by Islamists as diametrically opposed to established jihadi (Shariah Law) states.
Posted by: jeb stuart at September 27, 2012 10:42 AM
Posted by: Daniel at September 27, 2012 11:22 AM
Guidelines for posting
This is a moderated blog. We will not post comments that include racism, bigotry, threats, or factually inaccurate material.
Post a comment