« Where's the Coverage? Conference on Jewish Refugees from Arab Countries | Main | The New York Times and "Zionist" Innuendo »
September 28, 2012
Their Victims Could Fill a Stadium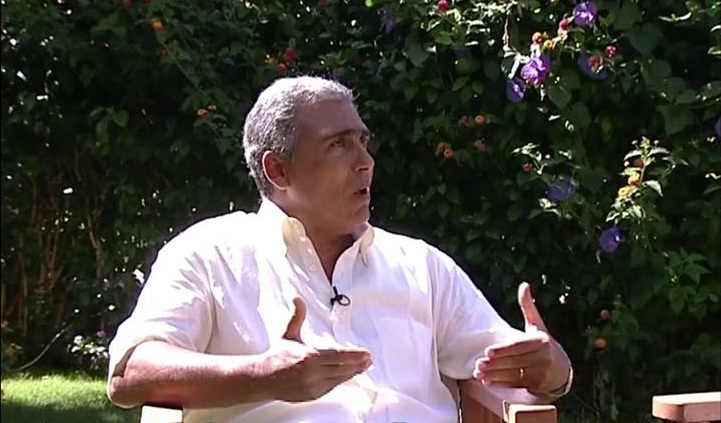 "The people of Egypt, the Muslims who want the Islamic trends and Islamic rule, are not the majority. Most Muslims believe in the separation of religion and state.�
That was the assessment offered about the revolution in Egypt offered by Rev. Samih Mouris (pictured above), an Evangelical Protestant pastor from Egypt at the Christ at the Checkpoint Conference held in Bethlehem in March 2012.
Mouris, pastor of the largest Evangelical church in the Middle East – Kasr El-Dobara in Cairo – was unable to attend the conference in person but addressed the audience through a video interview recorded with Munther Isaac a few months before the conference.
Unfortunately, totalitarians do not need a majority to impose their will on the societies they wish to control. That reality was well understood by Sabina Wurmbrand, wife of Richard Wurmbrand, an Evangelical pastor who was tortured repeatedly in Communist prisons in Romania in the years after World War II.
For a while after the war it looked like Romania was going to have a democracy, she reports in her book The Pastor's Wife. "Scarcely anyone realized what lay ahead,� she wrote. "'After all,'� they said, "'this is a country of twenty million people. We haven't got enough real Communists to fill a football stadium.'�
Eventually, the Communists took over, threw Sabina's husband into prison and terrorized an entire country for decades.
A similar pattern is manifesting itself, this time in the Middle East.
Rev. Mouris' church in Cairo was the target of repeated fire bombings earlier this month. Ray Ibrahim reports:
According to Al Masry Al Youm, Kasr El-Dobara, the largest evangelical church in the Middle East, located in Egypt, was recently besieged by "unknown people" hurling "stones and gas bombs." The first gas bomb thrown at the church Thursday afternoon, September 13, was signaled as an error by police, but it was soon followed by other bomb attacks, which went into midnight and early Friday. Worshippers locked themselves inside the church and put on masks to avoid gas poisoning.

Some of those trapped inside looked for help by trying to contact politicians, journalists, and even the "moderate" Muslim Brotherhood. All the latter did was announce on TV that the attackers were not members of the Muslim Brotherhood. After the besiegers left and the trapped Christians finally came out, not a single police or security agent to counter the attacks or protect the church could be found.

And today, Reuters reports that "Most Christians living near Egypt's border with Israel are fleeing their homes after Islamist militants made death threats and gunmen attacked a Coptic-owned shop."
The Islamists who attacked Mouris' church and who terrorize Christians throughout Egypt do not represent a majority of that country's citizens. They do not represent a majority of Egypt's Muslims.
But their victims?
They could fill a stadium.

Posted by dvz at September 28, 2012 10:49 PM
Comments
The problem for a majority ruled by an Islamic extremist minority is they dare barely to speak out. That is why their dead fills stadiums, and not just in Egypt. It is also why the Egyptian Mullahs appealed even through NPR affiliates and other media venues proclaiming that critic e prepared for the worse.ism of Islam is a criminal offense and must excite a violent reaction. A step Islamist states also tried to have made a UN Resolution. President Obama and S. of S. Clinton has been soft, and too often falls in line with the notion expressions critical of Islam and the Prophet determined to be blasphemy (By Islamic religious courts.) rue the problem of the American Constitution poses. These radicals and their mobs respond to Koran burning s with murder and the current administration puts its energy into stopping the Koran burning. What's next sending Rushdie back to Iran?
Posted by: jeb stuart at October 4, 2012 11:46 AM
Guidelines for posting
This is a moderated blog. We will not post comments that include racism, bigotry, threats, or factually inaccurate material.
Post a comment