« CAMERA in Times of Israel: Palestinians Exploiting Children for a Photo Op | Main | Where's the Coverage? The Gaza Strip Millionaires »
September 12, 2012
New York Times Downplays Attacks, Death of Ambassador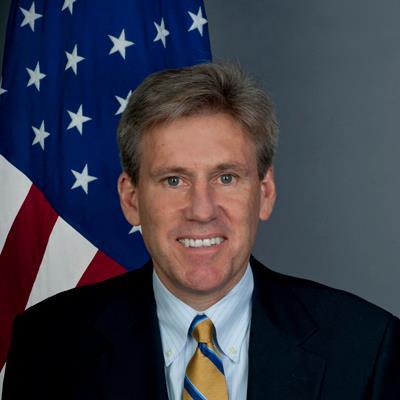 When totalitarian Islamists killed U.S. Ambassador J. Christopher Stevens (pictured above) and three other Americans in Libya and stormed the embassy in Egypt, The New York Times put the story on page A4. Apparently, the death of a U.S. diplomat, the storming of an embassy and the invasion of a consulate is not worthy of front-page coverage.
This caught the attention of Newsbusters, which joked that the paper is not printing all the news fit to print, but all the news "fit to downplay." Dan Drezner asks in a tweet (also highlighted at Newsbusters) "How in the hell do the attacks in Cairo and Benghazi not make the front page of the New York Times? #pageA4? #really?"
This question becomes more salient when in light of The Times coverage of the arrest of five Israeli Jews for the beating of an Israeli Arab in Jerusalem on Aug. 16, 2012. When the arrest took place the New York Times put this story on the front page on Aug. 21, 2012. A few days later, it published a page 3 story on how the beating highlights problems in Israeli society.
Why is a beating in Jerusalem more worthy of our attention than the storming of the U.S. Embassy in Cairo and the death of a U.S. Ambassador and three other Americans? Under international law, embassies are the sovereign territory of the countries that own them. Attacks on embassies are by their very nature, acts of war.
How is this not front-page coverage?
Sept. 21, 2012 Update
Several respondents in the comments posted below report that their editions of the Sept. 12, 2012 New York Times did include front page stories about the attacks on American diplomatic interests in Egypt and Libya.
CAMERA's did not and the Nexis-Lexis archive states that the article appeared on page A4 of the paper.
It is important to note that the Washington Post's first story about the attacks appeared on page A10 and the Wall Street Journal's first story about the attacks appeared on page A8 of that paper.
The NYT's placement seems most noteworthy because the newspaper has a history of of a striking double-standards and questionable judgment when it comes to what is featured on its front page and what is relegated to its back pages.

Posted by dvz at September 12, 2012 11:32 AM
Comments
When embassies such as Libya and Cairo policy is precariously foreign to American voters this is what happens; to State Department and President's inexperience and arrogance. Encouraging protest especially given local civilian intelligence is not only escalated terrorist grounds but indication that diplomatic relationship is spun out of control. And largely because of NYT chosen journalistic revisionism by delay, many Americans have no idea why or how the so-called Arab Spring begins and ends at death to Jews and Western economy.
Posted by: NJPRITCHARD at September 12, 2012 09:02 PM
Huh? My New York Times had this as a FRONT PAGE STORY this morning! Did we have different papers?
Please review this.
THanks,
Polly Hancock-Person
Posted by: Polly Hancock-Person at September 13, 2012 11:13 AM
Huh? My New York Times had this as a FRONT PAGE STORY this morning! Did we have different papers?
Please review this.
THanks,
Polly Hancock-Person
Posted by: Anonymous at September 13, 2012 11:14 AM
That's curious. My copy of The Times had a 4-column headline on page 1.
I've heard of Times-bashing, but this is over the edge. Don't you think?
460296
Posted by: Stanley Kaplan at September 13, 2012 11:24 AM
Posted by: Franklyn Field at September 13, 2012 01:27 PM
The NYT which apparently is a lot of people's Bible and those who read it daily and especially on Sunday believe they're intellectuals, better begin getting it together and RIGHT. The NYC is a lot of bulgogy. That's why I threw away the subscription invitation I received today.
Posted by: Myra at September 13, 2012 11:11 PM
Thank you for this update. I appreciate your diligence to accurate reporting.
Posted by: Nancy Sheintal at September 21, 2012 03:11 PM
The death of Ambassador Stevens only became known overnight, and elevated the importance of the story, apparently in time only for certain editions (in the Boston edition the story wasn't on the front page).
It is good that the NYT recognized the importance of this event contemporaneously, since we may look back on the death of Ambassador Stevens as the event that caused the Arab world to take responsibility for acting properly, to condemn such violence and take action to curb recurrences.
Posted by: Michael Segal at September 22, 2012 09:03 PM
Guidelines for posting
This is a moderated blog. We will not post comments that include racism, bigotry, threats, or factually inaccurate material.
Post a comment