« Survey: Public Trust in Israeli Media Dips | Main | New York Times Downplays Attacks, Death of Ambassador »
September 11, 2012
CAMERA in Times of Israel: Palestinians Exploiting Children for a Photo Op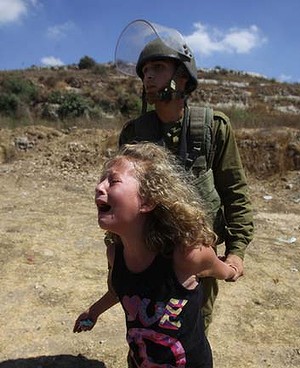 This Aug. 24 AFP photograph of an Israeli soldiers restraining A'hd Tamimi, 11, was featured in Australian papers, and was all over Facebook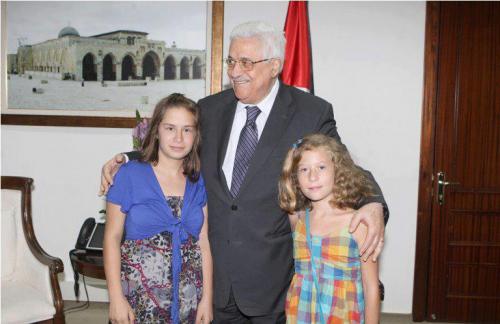 Mahmoud Abbas congratulates A'hd (right) and her cousin Marah for their "bravery" (From the Nabi Sabeh Solidarity blog)
Tamar Sternthal, director of CAMERA's Israel Office, writes today in the Times of Israel:
There's nothing like a photograph of an innocent child caught up in military conflict to elicit sympathy, rage, and at times, international intervention. In 2000, the iconic footage of 11-year-old Mohammed Al-Dura enflamed the Muslim world against Israel and generated world-wide outrage. By the time the evidence emerged, proving that the Israeli army could not have killed the boy, the damage had been done.

In the 1997 fictional film "Wag the Dog," a Hollywood producer and a Washington spin doctor fabricate violence in Albania in order to divert attention from the president's sex scandal. To persuade the country of the need for war, they manufacture footage of a young orphan girl fleeing from mayhem.

On a media stage far away from Hollywood, in the West Bank village of Nabi Saleh, where photographers gather every Friday to document repetitious scenes of Palestinian residents and international activists clashing with Israeli soldiers, Palestinian activists are placing their children in ever-more-visible roles. Unlike scenes in "Wag the Dog," a black comedy, there's nothing funny about parents exploiting their own children to score propaganda points in the Israeli-Palestinian conflict.

Unfortunately, that's just what happened on Friday, August 24, when A'hd Tamimi, and her cousin Marah Tamimi, both 11, were photographed by Agence France-Presse tearfully being restrained by Israeli soldiers. . . .
Posted by TS at September 11, 2012 07:39 AM
Comments
Guidelines for posting
This is a moderated blog. We will not post comments that include racism, bigotry, threats, or factually inaccurate material.
Post a comment