« Karsh: "The War Against the Jews" | Main | The Secular Beatification of Rachel Corrie »
August 22, 2012
Where's the Coverage? Palestinian Authority Incitement against Jews and Israelis

On August 20, 2012, Israeli Foreign Minister Avigdor Lieberman wrote a letter to officials of the Quartet of Mideast mediators -- the U.S., the U.N., the EU and Russia. This was widely covered by the media.
The independent Palestinian Ma'an News Agency reported that Israeli Prime Minister Benjamin Netanyahu "rebuked" Lieberman and "swiftly distanced himself from Lieberman's comments."
This was corroborated by an AP story which appeared in The Washington Post saying Netanyahu "sought to quickly disassociate himself from the letter." That article also noted:
Abbas' spokesman, Nabil Abu Rdeneh, rejected Lieberman's statement, calling it an "incitement to violence" that "doesn't contribute in any way to an atmosphere of peace." He urged Israel and the international community to condemn the letter.
In addition, according to Ma'an:
Senior PLO official Hanan Ashrawi on Wednesday said the Israeli government was waging a campaign of "distortion, hatred and incitement" which created "a culture of impunity, racism and exclusivity."
Incitement, distortion, hatred, racism, violence. That letter must have been horrible. Terrible. Outrageous. Let's see... After four pages that outline steps Israel has taken to promote peace, Lieberman gets to the most controversial part of the letter:
In recent years, we have seen that Mr. Abbas speaks with a moderate and pleasant voice to the international community, but in fact, has been personally acting to undermine attempts to renew the peace process, despite Israeli gestures and confidence building measures. He has continued in damaging behavior towards Israel, including extreme cases of encouraging a culture of hatred, praising terrorists, encouraging sanctions and boycotts, and calling into question the legitimacy of the existence of the state, as can be seen for example in his last speech at the General Assembly of the U.N. In my view, in his deeds and his behavior, Mr. Abbas does not represent the general Palestinian interest (for example, he has repeatedly postponed the democratic process of elections in the PA), nor even the interest of his constituents in the West Bank.

The Palestinian Authority is a despotic government riddled with corruption. This pattern of behavior has led to criticism even within his own constituency. Due to Abbas' weak standing, and his policy of not renewing the negotiations, which is an obstacle to peace, the time has come to consider a creative solution, to think "outside the box," in order to strengthen the Palestinian leadership. This is crucial, so that the Israeli gestures to strengthen the economy, stability and strength of the PA will not be turned into a boomerang against Israel.

Despite Mr. Abbas' delays, general elections in the PA should be held, and a new, legitimate, hopefully realistic Palestinian leadership should be elected. The PA elections were due to be held in 2010 and have since been postponed several times. As of today, no new date has been set for elections.
Is this letter unnecessary, ill-advised meddling? Probably so. Is it helpful? Probably not. But, does it create "a culture of impunity, racism and exclusivity"? Is it an "incitement to violence"?
By contrast, the PA frequently honors terrorists. Israel National News reported:
The Palestinian Authority, which has said it honors its Oslo Accords commitment to stamp out terror and incitement, is building a mausoleum in Ramallah to honor 11 terrorists who killed eight civilian hostages and three IDF soldiers in the 1975 attack on Tel Aviv's Savoy Hotel. Israel recently transferred their bodies to the PA as a "good will" measure.

[…]

PA Chairman Mahmoud Abbas told Washington officials earlier this year that the PA has ceased incitement and does not encourage terror, despite hundreds of documents that have exposed an escalation in incitement and terror in the school system and in official PA events.

The terrorists in the Savoy Hotel attack reached a Tel Aviv beach by boat from Lebanon and took eight hostages in the hotel before soldiers carried out a counterterrorist operation the following morning, killing seven of the terrorists.

As a "good will measure" to bolster the standing of Abbas and encourage cooperation with Israel, the Israeli government two months ago transferred the bodies of 91 terrorists, including the Savoy Hotel terrorist cell, to the Palestinian Authority. In return, the PA now is honoring them.
Palestinian Media Watch regularly documents instances where Palestinian leadership honors terrorists. Recently:
- Abbas' party, Fatah, recently held a youth soccer tournament named after three terrorists who murdered a 45-year-old father of seven in a drive by shooting in 2009.
- Official Palestinian television broadcast a performance by the Dalal Mughrabi dance group, named after the terrorist who led a bus-hijacking in 1978 that killed 37 civilians, including 12 children.
- A PA summer camp for children divided its campers into three groups named after the terrorists Dalal Mughrabi, Salah Khalaf (who planned many terror attacks including the murders of 11 Israeli athletes at the Munich Olympics) and Abu Ali Mustafa (who planned numerous terror attacks as part of the "Intifada").
Palestinian Media Watch has further documented numerous instances of PA dehumanization and vilification of Jews and Israelis:
Using media, education, and cultural structures that it controls, the PA has actively promoted religious hatred, demonization, conspiracy libels, etc. These are packaged to present Israelis and Jews as endangering Palestinians, Arabs, and all humanity. This ongoing campaign has so successfully instilled hatred that fighting, murder and even suicide terror against Israelis and Jews are seen by the majority of Palestinians as justified self-defense and as Allah's will.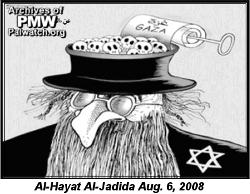 On July 23, PMW posted an article about a Palestinian Authority TV show where the host asked an artist to discuss one of his paintings "dealing with the Palestinian nation's problems such as the Gaza massacres." The painting shows an ogre impaling children on his bayonet and eating them. Two baby ogres are also shown eating children. The three monsters wear yarmulkes with Stars of David.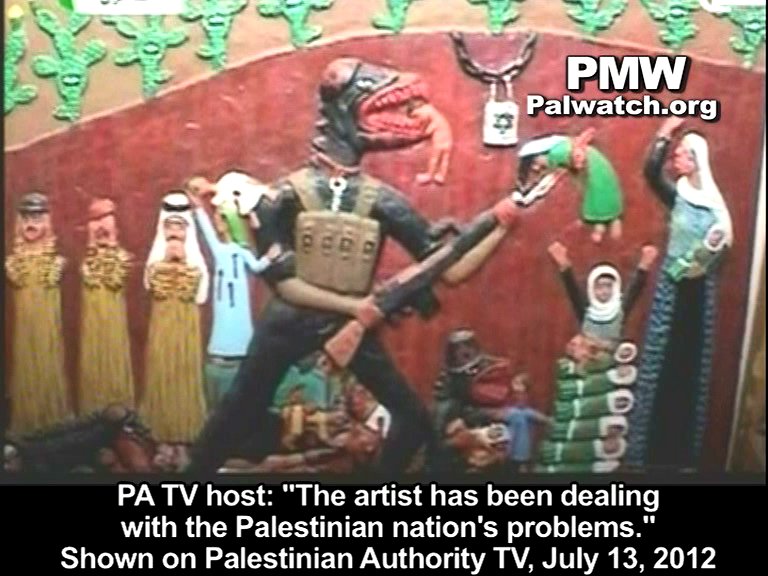 There are many similar examples. Are they part of a campaign of "distortion, hatred and incitement"? Do they create "a culture of impunity, racism and exclusivity"? Is this an "incitement to violence"? And if so... Where's the coverage?

Posted by SC at August 22, 2012 05:34 PM
Comments
It is disgusting to see how the Palestinians distort everything. It is disgusting that our government hasn't seen fit to back Israel 100%...who has been our allies for years. It is disgusting that the world seems to be favoring this "terrorist" nation! What is the matter with the world! I am an American - PRO-Israel...I have many Jewish friends. I have notice that some of them feign from being involved or talking about Israel's politics and everyone should be involved. If Israel falls, the United States falls! I bought Israelie bonds during the 7 day war! You must prevail! There are many, many Americans who are watching closely the events in the Middle East. I am tired of the liberal media being bias and they are. Our State Department is bias too! Hillary is definitely pro-Palestine and has a Muslim as one of her major secretaries. Americans should be aware and should STAND TALL WITH ISRAEL!
Posted by: Dorothylee Hans at August 23, 2012 05:08 PM
The PA is a terror group that incites the Arabs to violence. In truth, they cannot speak the truth, only lies. They do not want peace, only the entire land of Israel, Judenreich free.
Posted by: Florence Kahn at August 23, 2012 05:55 PM
Abbas has previously called for the assassination of Liebermann and the ethnic cleansing of Jews from Israel while lying to the Western media.
Leiberman speaks the truth
Posted by: Dr. Ron Polland at August 27, 2012 08:40 AM
Guidelines for posting
This is a moderated blog. We will not post comments that include racism, bigotry, threats, or factually inaccurate material.
Post a comment