« NPR, Walt, and Sanitized Images | Main | "The Turkish Lobby Played a Long Game – And Won" »
August 10, 2012
Hezbollah MP Walid Sakariya Didn't Get the Waltz-Mearsheimer Memo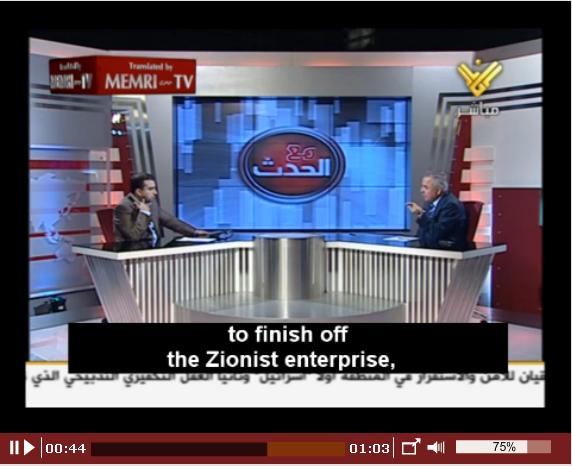 MEMRI has provided a useful clip from al Manar TV (Aug. 7, 2012) in which Hezbollah MP (and former military commander) Walid Sakariya tells the host that "The nuclear weapon is meant to create a balance of terror with Israel, to finish off the Zionist enterprise..."
He also expressed the hope that Iran would share its nuclear weapons with Syria... and who knows, maybe Hezbollah too.
Apparently, MP Sakariya does not subscribe to the hypothesis of former Columbia University professor Kenneth Waltz that Iranian nuclear weapons should be welcomed because they will bring stability to the region.
Unlike PBS News hour host Judy Woodruff, MP Sakariya is not impressed with University of Chicago professor John Mearsheimer's assertion that nuclear weapons are "weapons of peace" lacking any offensive capability.
Posted by SS at August 10, 2012 12:01 PM
Comments
Posted by: Barry Rosen at August 10, 2012 02:04 PM
Guidelines for posting
This is a moderated blog. We will not post comments that include racism, bigotry, threats, or factually inaccurate material.
Post a comment