« Where's the Coverage? Palestinian Authority Arrests Non-Muslims for Eating During Ramadan | Main | NPR, Walt, and Sanitized Images »
August 09, 2012
Dignity for Journalists, Hamas Style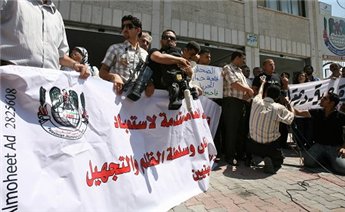 Journalists in Gaza protest Hamas' treatment of the media (date unknown) (Photo from Maan)
In 2007, Hamas official Mahmoud Abu Marzook promised Los Angeles Times readers that Gaza under Hamas will be a place where journalists "will be treated with dignity." In line with earlier examples of Hamas' version of dignified treatment of journalists, the International Federation of Journalists reports that Hamas is harassing elected officials of the Palestinian Journalists' Syndicate.
Will Western journalists, including those at the Christian Science Monitor, look out for their colleagues in Gaza and report on this latest case of the harassment of journalists? Or is censorship in Gaza only interesting if Israel can be blamed, justifiably or not?
Posted by TS at August 9, 2012 11:48 AM
Comments
Guidelines for posting
This is a moderated blog. We will not post comments that include racism, bigotry, threats, or factually inaccurate material.
Post a comment