« New Yorker Reporter Admits to Fabricating Quotes | Main | Hosni Mubarak "Staunch Ally of Israel" »
July 30, 2012
Where's the Coverage? Mainstream Media Ignore Bigoted Treatment of Israeli Olympic Team

On Friday, July 27, prior to the official opening of the 2012 London Olympic Games, the Lebanese judo team refused to practice next to the Israeli team and Olympic organizers erected a barrier to split the gym in half.

According to a spokesman for Israel's Olympic Committee, "We started to practice. They came and they saw us - they didn't like it and they went to the organizers." (Reuters)

The organizers promptly accommodated the Lebanese demand and set up the separation screen.

The Times of Israel reported:
According to several Hebrew sports sites, the two teams were scheduled to use the same gym and mats at London's new ExCeL center for their final preparations. However, the delegation from Lebanon would not train in view of the Israeli team, and insisted some sort of barrier be placed between them.
The Telegraph (London) wrote:
London 2012 organising committee officials erected a makeshift curtain to split the two halves of a training gym at the ExCeL centre on Friday afternoon to placate the Lebanese team, which was refusing to train at the same time as the Israelis.
The UK's Guardian picked up Reuters' story as did Yahoo Sports:
Olympic officials were forced to erect a screen between Lebanon's and Israel's judo fighters on Friday after the Lebanese refused to train on the same mat, the Israeli Olympic team said on Friday.
Yet, as of this writing, CAMERA has found no mention of the incident in The New York Times, The Washington Post, USA Today, Associated Press or networks such as CNN and ABC.

One of the fundamental principles of "Olympism," as outlined in the Olympic Charter, states:
Any form of discrimination with regard to a country or a person on grounds of race, religion, politics, gender or otherwise is incompatible with belonging to the Olympic Movement.
Can accommodating the request of an Arab team not to share the mat with or be seen by Israelis be regarded as anything other than a form of discrimination based on race, religion or politics? Would it be allowed if it involved any country other than Israel? And shouldn't it be covered by major American news organizations?

Ironically, earlier in the week, when the IOC refused to include a moment of silence to commemorate the 40th anniversary of the terrorist murders of 11 Israeli Olympians, Jibril Rajoub, head of the Palestinian Football Federation, sent a letter to IOC chairman Jacques Rogge thanking him for his position, writing:
Sports is a bridge for love, connection and relaying peace between peoples. It should not be a factor for separation and spreading racism between peoples.
And yet "separating and spreading racism between peoples" is exactly what occurred in the practice center for the judo teams in London. Where's the outrage? Where's the decency? Where's the coverage?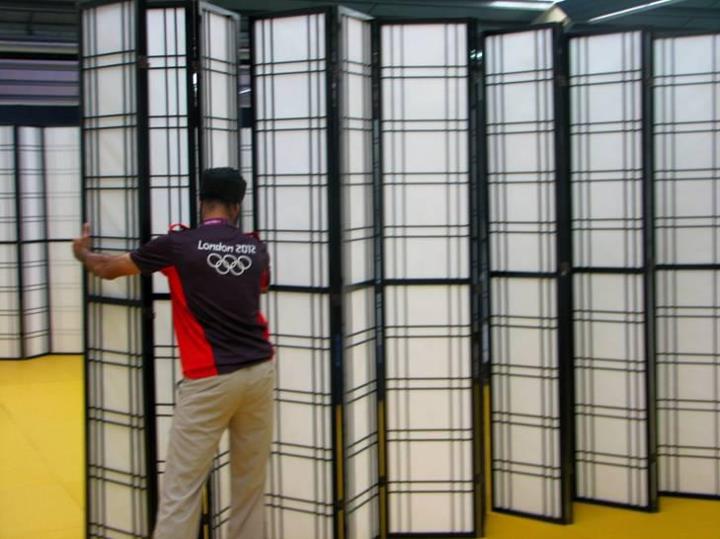 Posted by SC at July 30, 2012 03:36 PM
Comments
"Were forced?" Someone put a gun to their heads? What happened to "Just Say No?"
Posted by: Israel P at July 30, 2012 09:16 PM
Yesterday the Olympics committee kicked out a soccer player who sent a tweet calling the South Koreans "mongoloid." He is not allowed to play. He has to go home.
So if any Arab or Muslim competitor says anything racist about Israelis, they should go home too. Right? Right?
Posted by: Andrew at July 31, 2012 10:46 AM
Stop the bigoted treatment of the Isrealies.
Posted by: Karen Hollender at July 31, 2012 10:50 AM
Why 'organising (sic)' That's how you spell it in British English
Posted by: Ray Cook at July 31, 2012 04:45 PM
The IOC people should simply have told the Lebanese that if they didn't want to be in the same gym with the Israelis & be able to see them (hearing them seemingly ok), then they should have been told to go find a private gym in London to do their practicing.
Posted by: Peter Wolff at July 31, 2012 05:21 PM
What else is new? Yoo hoo, Jews. What's it going to take before you "get it"? The world at large doesn't like you (that means me, too). You (and I) will stand alone. Whereas they will clobber anyone for saying or doing anything racist against carpenter ants, it's open season on Jews (and always has been except for a few decades following the end of the second world war).
Posted by: Carol at August 2, 2012 09:00 AM
i think on this occasion that you are being a bit unfair on the mainstreaam media. If the various representavies of the the Israeli Olympic Committee do not see fit to make a fuss, why would it get prominent treatment in the MSM?
See also this:
http://www.thejc.com/news/uk-news/70774/ioc-president-rogge-faces-backlash-memorial-service-murdered-israelis
… There was further criticism from Guri Weinberg, son of murdered Munich wrestler Moshe Weinberg.
Mr Weinberg told Fox News about a meeting with Israel's IOC member Alex Gilady before the 1996 Olympics.
He said Mr Gilady had told the widows and families that a minute's silence sanctioned by the IOC for the murdered Israelis at that year's Atlanta Games would have to be met by the same memorial "for the Palestinians who died at the Olympics in 1972".
When Mr Weinberg's mother challenged Mr Gilady and said no Palestinian athletes had died, asking him if he was equating the athletes with their terrorist murderers, the Israeli official offered no answer. …
Posted by: Paul at August 2, 2012 11:32 AM
I am very glad that there are organizations such as Camera and Honest Reporting because there is so much antisemitism and anti Israel propaganda that it is impossible for one individual to answer to all newspapers and television stations with remarks about Israel and also in the foreign press newspapers like the French Le Monde,The Gardian and the BBC. Most of them don't accept comments unless you are a subscriber. Thanks again
Posted by: Anonymous at August 2, 2012 11:54 AM
I think it is actually customary to have screens on hand at judo practices to avoid accusations of stealing another team's strategy, or spying on their techniques. That's why the organizers had screens on hand.
The Israeli judokas were not upset at all by this, and CAMERA followers should not be either. Please do a little homework on the sport.
Thank you for your vigilance, but your accusations are misplaced here.
Posted by: Wendy Leibowitz at August 2, 2012 12:21 PM
Anti-Semitism (currently thinly-veiled as anti-Israel) has a long and sordid Olympic history, and the bigotry comes from the very top. Witness no "moment of silence" to recognize the murder of Israelis by Arab terrorists. And other less well known incidents going back for decades.
Posted by: Jason Barnes at August 2, 2012 01:46 PM
I think it is disgraceful the way the IOC
condescended to the Lebanese team by separating
their practicing with the Israelis. They must
have short memories. Israel helped Lebanon fight
muslims in their country in the 80s. I thought
Lebanon was more passive than many of their muslim neighbors. I guess I was wrong. Shame on
the Olympic committee.
Posted by: Selma Soss at August 2, 2012 03:31 PM
Posted by: Regina Sabin at September 17, 2012 05:40 PM
Guidelines for posting
This is a moderated blog. We will not post comments that include racism, bigotry, threats, or factually inaccurate material.
Post a comment