« Where's the Coverage? Jewish Refugees Expelled from Arab Countries | Main | The NYT and Hebron History Fit to Print »
July 08, 2012
AFP Doctors Swiss Report on Arafat's Death, Polonium
An AFP news story and photo captions falsely allege that a Swiss report concluded that Yasser Arafat had been fatally poisoned. For instance, there are these photo captions: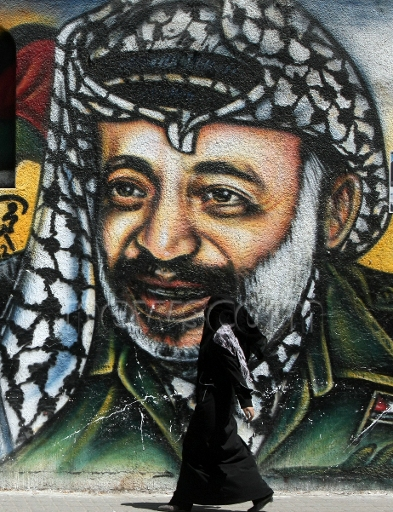 A Palestinian woman walks past a mural of late Palestinian leader Yasser Arafat in Gaza City on July 4, 2012. Arafat, who died in 2004, was poisoned by polonium, according to the findings of laboratory research carried out in Switzerland and cited in an Al-Jazeera report on July 3. AFP PHOTO/MAHMUD HAMSMAHMUD HAMS/AFP/GettyImages
A file picture dated November 16, 2003 shows late Palestinian leader Yasser Arafat smiling to reporters outside his office in the West Bank city of Ramallah. Yasser Arafat, who died in 2004, was poisoned by polonium, according to the findings of laboratory research carried out in Switzerland and cited in an Al-Jazeera report on July 3, 2012. AFP PHOTO/JAMAL ARURIJAMAL ARURI/AFP/GettyImages (Emphases added.)
There was also a July 3 AFP article headlined "Arafat poisoned by polonium: Report," which begins:
Yasser Arafat, who died in 2004, was poisoned by polonium, according to the findings of laboratory research out in Switzerland and cited in an Al-Jazeera report on Tuesday.
But the Swiss report does not conclude that Arafat died of poisoning. Francois Bochud, head of the Institute of Radiation Physics at the University of Lausanne, the research institute which conducted the study, has repeatedly made clear that that conclusion cannot be drawn from his work.
For instance, the very same AFP article reports in the last paragraphs:
To confirm the theory that he was poisoned by polonium it would be necesseary to exhume and analyse Arafat's remains, Bochud said.

"If (Suha Arafat) really wants to know what happened to her husband (we need) to find a sample -- I mean, an exhumation . . . should provide us with a sample that should have a very high quality of polonium if he was poisoned," he said.
So the diligent minority who bother to read to the end of the article will get an inkling that, contrary to the articles's headline and first paragraph, the Swiss report did not, in fact, conclude that Arafat had been poisoned.
In addition, the Associated Press reported:
Mr. Bochud stressed that the discovery did not provide proof that Mr. Arafat had been poisoned. That would require further testing.

"What is possible to say is that we have an unexplained level of polonium, so this clearly goes toward the hypothesis of a poisoning, but our results are clearly not a proof of any poisoning," he said by telephone from Switzerland.
Even Al Jazeera does not say that the Swiss research concluded that Arafat was poisoned.
Posted by TS at July 8, 2012 05:26 AM
Comments
Funny how this "news" is only coming out now, almost 8 years after that P.O.S. left this Earth. The Palestinians haven't really been in the news since Syria, Egypt and other Muslim countries began turning back to the dark ages with their Arab Winter (known as the Arab spring in MSM)


Where have his clothes, toothbrush and other items been stored since then? It would have been very easy for fake wife Suha to doctor the "evidence". We all remember when she falsely accused Israel of using "poison gas" on Arabs.
Posted by: c at July 8, 2012 03:59 PM
The reports on polonium would also have been placed in a more complete perspective if they stressed that the polonium levels were only several fold higher than background levels, yet 17 half lives have elpased since Arafat's death, leaving only a few parts per million of any polonium that may have been present at the time of Arafat's death. And it would also have been worthwhile to point out that many people get exposed to polonium from tobacco, and a tiny bit of contamination from tobacco in 2012 would dwarf any polonium remaining from 17 half lives ago.

No discussion of Arafat's diagnosis is complete without mentioning the numerous reports of a positive HIV test in Arafat and the decision of Arafat's widow not to release the hospital records. Many lab test results are crucial to determining the diagnosis, and despite the fact that Arafat's tests were sent out under a false name, as is common for celebrity patients, the results may be in the medical record. What were the T-cell tests? How about the test for cryptosporidiosis, the opportunistic infection often present in immunocompromised patients, with a clinical picture that looks a lot like Arafat's illness? It is hard to imagine that the staff of a French hospital would not have pressed to order these tests.

An article in Ha'aretz (http://www.haaretz.com/blogs/east-side-story/probe-into-arafat-s-death-could-open-a-bigger-palestinian-can-of-worms.premium-1.449905) notes "Several professors of medicine have expressed wonder at the total lack of any investigation into a possible reason for the Palestinian leader's death: AIDS." Any competent doctor would have pressed to order AIDS testing. The questions to answer are whether the tests were ordered, what they showed, whether they were placed in the medical record, and whether the press will report on what these professors of medicine consider to be an obvious diagnosis.
Posted by: Michael at July 9, 2012 09:23 AM
Guidelines for posting
This is a moderated blog. We will not post comments that include racism, bigotry, threats, or factually inaccurate material.
Post a comment