« June 2012 | Main | August 2012 »
July 30, 2012
Where's the Coverage? Mainstream Media Ignore Bigoted Treatment of Israeli Olympic Team

On Friday, July 27, prior to the official opening of the 2012 London Olympic Games, the Lebanese judo team refused to practice next to the Israeli team and Olympic organizers erected a barrier to split the gym in half.

According to a spokesman for Israel's Olympic Committee, "We started to practice. They came and they saw us - they didn't like it and they went to the organizers." (Reuters)

The organizers promptly accommodated the Lebanese demand and set up the separation screen.

The Times of Israel reported:
According to several Hebrew sports sites, the two teams were scheduled to use the same gym and mats at London's new ExCeL center for their final preparations. However, the delegation from Lebanon would not train in view of the Israeli team, and insisted some sort of barrier be placed between them.
The Telegraph (London) wrote:
London 2012 organising committee officials erected a makeshift curtain to split the two halves of a training gym at the ExCeL centre on Friday afternoon to placate the Lebanese team, which was refusing to train at the same time as the Israelis.
The UK's Guardian picked up Reuters' story as did Yahoo Sports:
Olympic officials were forced to erect a screen between Lebanon's and Israel's judo fighters on Friday after the Lebanese refused to train on the same mat, the Israeli Olympic team said on Friday.
Yet, as of this writing, CAMERA has found no mention of the incident in The New York Times, The Washington Post, USA Today, Associated Press or networks such as CNN and ABC.

One of the fundamental principles of "Olympism," as outlined in the Olympic Charter, states:
Any form of discrimination with regard to a country or a person on grounds of race, religion, politics, gender or otherwise is incompatible with belonging to the Olympic Movement.
Can accommodating the request of an Arab team not to share the mat with or be seen by Israelis be regarded as anything other than a form of discrimination based on race, religion or politics? Would it be allowed if it involved any country other than Israel? And shouldn't it be covered by major American news organizations?

Ironically, earlier in the week, when the IOC refused to include a moment of silence to commemorate the 40th anniversary of the terrorist murders of 11 Israeli Olympians, Jibril Rajoub, head of the Palestinian Football Federation, sent a letter to IOC chairman Jacques Rogge thanking him for his position, writing:
Sports is a bridge for love, connection and relaying peace between peoples. It should not be a factor for separation and spreading racism between peoples.
And yet "separating and spreading racism between peoples" is exactly what occurred in the practice center for the judo teams in London. Where's the outrage? Where's the decency? Where's the coverage?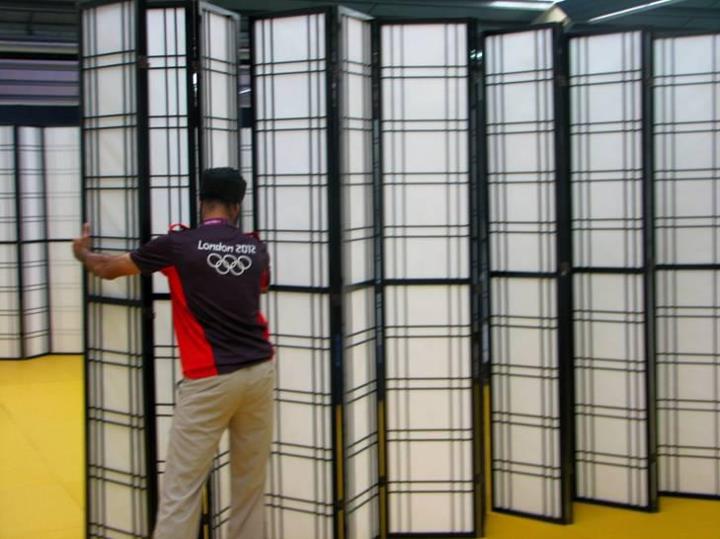 Posted by SC at 03:36 PM | Comments (12)
New Yorker Reporter Admits to Fabricating Quotes

The New York Times reports that Jonah Lehrer, a staff writer for The New Yorker, resigned from the magazine after fabricating quotations attributed to Bob Dylan.
Meanwhile, Rashid Khalidi and Ilan Pappe, both of whom are guilty of the same serious transgression, have not resigned from their university positions, nor even publicly addressed their fabrications. (See details here and here.)
Posted by GI at 02:09 PM | Comments (0)
July 27, 2012
No BDS for This Intractable Middle East Conflict
July 26, 2012: The Prime Minister "warned that it might take action to stop groups it deemed 'terrorists' from forming" an autonomous region. "No one should attempt to provoke us. If a step needs to be taken .... we would not hesitate to take it (Fox News)."
July 25, 2012: "... forces killed at least 15 ... in a raid near the country's border ... after tracking them with drones and attacking them with helicopters and on the ground, officials said on Wednesday."
June 19, 2012 : "Fighting leaves 26 dead."
March 25, 2012: "15 [were] killed...all of them women."
Dec. 29, 2011: "... at least 35 people died most of whom were teenagers" from air strikes ("Attack on Civilians Tied to U.S. Military Drone, Wall Street Journal, May 16, 2012)."
Oct. 19, 2011: "... airstrikes and artillery attacks against the group's bases... killing as many as 160 militants..."
1) Who is the Prime Minister who threatened to use his military forces to attack a neighboring state in order to stop militants from setting up an autonomous region?
2) Is the media complaining about the use of "disproportionate force" against the militants in these cases?
3) Has the U.N. Human Rights Commission launched a special investigation like it did for the Israeli Cast Lead operation in 2009?
4) Have the Presbyterian and other churches set aside large blocks of time at their national conventions to debate and vote on motions to boycott and divest from companies that do business with this state because its forces utilize American technology, including drones, to crush the aspirations for autonomy of a dispossessed people?
The answer to question 1): Recep Tayyip Erdogan, Turkey's Prime Minister. Erdogan's unapologetic resort to military force in dealing with Kurdish militants contrasts with his condemnation of Israel's response to the Gaza flotilla in 2010 which resulted in the deaths of 9 Turkish militants who attacked an Israeli boarding party initially armed with paint guns. Erdogan continues to demand an Israeli apology even though a UN investigation found Israel's interception of the flotilla to be legal.
To questions 2), 3) and 4) the answer is no.
Major news media report on the Turkish-Kurdish conflict in a perfunctory and dispassionate manner. This contrasts with much of the reporting on Israel. The New York Times and the BBC, for example, do not routinely publish editorials, op-eds and columns lambasting Turkey for failing to show any willingness to accomodate Kurdish demands for autonomy. Compare the Times's measured handling of Prime Minister Erdogan's bellicosity with its scathing treatment of Israeli Prime Minister Netanyahu.
Then consider the fact that the Turkish-Kurdish conflict has taken an estimated 40,000 lives, including many civilians, over the past 30 years.

Posted by SS at 02:48 PM | Comments (1)
"The Guardian and Glenn Greenwald: The anti-imperialism of fools"
Adam Levick, Managing Editor of CiF Watch, an independent project of CAMERA, writes the following in his article "The Guardian and Glenn Greenwald: The anti-imperialism of fools" published by the Times of Israel:
The Guardian's most egregious moral blind spot – especially in light of the media group's claim to represent anti-racist values – pertains to their editors' licensing of commentators who possess an antipathy towards Jews and routinely advance tropes indistinguishable from what is normally associated with far-right Judeophobia.
Read the entire article here.
Posted by at 01:39 PM | Comments (3)
CNN Fixes 'Israeli Tourist Bomber' Headline
Last week CNN commendably caught and fixed a bad headline about the Burgas terror attack which had stated: "Israeli tourist bomber had fake U.S. ID." The simple reading of that headline is that an Israeli tourist was the bomber.
The headline is no longer available online, not even cached, though you can still find it if you do a Google search for the headline, as seen below: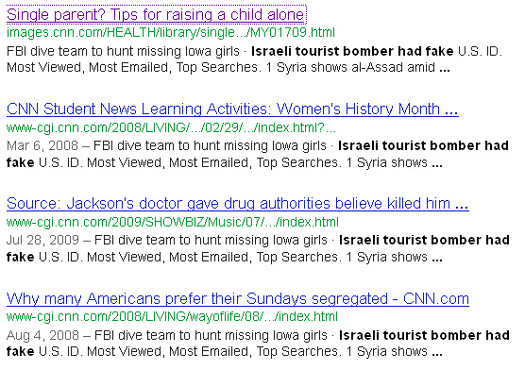 The new headline is: "Bulgarian bus attack is work of suicide bomber, minister says"
CNN is to be commended for removing the misleading headline in such a timely manner, and we urge the network to likewise change photo captions and a headline misidentifying terrorists as "political prisoners."
Posted by TS at 01:32 PM | Comments (0)
July 26, 2012
Sheik Challenges Hezbollah, Some News Fit to Print
Sheik Ahmad Assir gets a trim. (Photo: Reuters)
A previously little-known Sunni religious leader in Lebanon made headlines in The Washington Post and Washington Times for public denunciations of the Shi'ite Hezbollah ("Party of God"), the terrorist organization that also is the country's most influential political movement.
Washington Post readers got the story first. Washington Times readers got it more precisely. The Post relied on one of its own correspondents, The Times on Associated Press.
The Post reported the rise of Sunni critics of the Iranian-backed, Syrian-supported Hezbollah, most vociferously Sheik Ahmad Assir, a hard-line mosque preacher ("In Lebanon, cleric turns rabble-rouser" July 11).
The Times' AP dispatch quoted Assir as declaring that his small roadside encampment near Sidon "is the start of what will become Lebanon's Tahrir Square" in rebellion against Hezbollah dominance, but its publication trailed The Post by two weeks ("Sheik Challenges Hezbollah" July 25).
Though late, The Times' AP account was the more straightforward, its details of Lebanon's sectarian tensions, emerging anti-Shi'ite opposition groups, and the vulnerabilities of a Hezbollah dependent on Syrian dictator Bashar al-Assad's endangered regime somewhat clearer. It included historical context of the Hezbollah/Shi'ite suppression of other Lebanese groups not found in The Post's coverage, including this:
"Sunni bitterness still runs deep over clashes in May 2008, when Hezbollah gunmen swept through Sunni neighborhoods in Beruit. … More than 80 people were killed".
The Post's description of Hezbollah as "the Shiite militia and political party that is the most powerful group in the country…" and "Syria's closest ally in Lebanon" fell short in reminding readers of the movement's history as an Iranian-allied terrorist surrogate. Both media sources failed to note that Hezbollah has been designated a terrorist organization by the United States, Israel, the United Kingdom, Canada, Australia, and the Netherlands. Neither mentioned that until al Qaeda's Sept. 11, 2001 attacks, Hezbollah had murdered more Americans than any other terrorist group. And neither took note of reports that Hezbollah members have been fighting for Assad's regime.
The Times dispatch points out that Hezbollah's "extensive arsenal of weapons and rockets is virtually untouchable at the moment." The Post refers to Assir's demand that "the government confront Hezbollah over its arms caches". Yet neither outlet recalled for readers that Hezbollah's arsenals violate U.N. Security Council Resolution 1701, the measure that helped end the 2006 Israeli-Hezbollah war. And neither The Post nor The Times mentioned the Israeli military's release last year of maps said to identify nearly 1,000 Hezbollah underground bunkers, weapons caches and related sites.
The Times lagged behind The Post by two weeks. Both were informative, with the edge going to the former. But neither focused the spotlight on Hezbollah as intensely as deserved.
Erin Dwyer, CAMERA Washington research intern.
Posted by ER at 03:16 PM | Comments (0)
July 25, 2012
Where's the Coverage? PA President Mahmoud Abbas' Role in the Munich Massacre

Competition in the London Olympic Games begins today although the opening ceremony will take place on Friday, July 27. As of this writing, the International Olympic Committee has not agreed to a moment of silence to memorialize the murder of eleven Israeli athletes by Palestinian terrorists at the 1972 Munich Olympics.
In observance of the 40th anniversary, blogger Elder of Ziyon recently posted an item highlighting Palestinian Authority President Mahmoud Abbas' connection to the Munich Olympics massacre. In it he quotes a 2002 Sports Illustrated article about attack mastermind Mohammed Daoud Oudeh, a.k.a. Abu Daoud:
Abu Daoud openly acknowledged his role in the Olympic attack, both in his memoir, Palestine: From Jerusalem to Munich, published in Paris, and in an interview with the Arab TV network al-Jazeera.

[…]

Though he didn't know what the money was being spent for, longtime Fatah official Mahmoud Abbas, a.k.a. Abu Mazen, was responsible for the financing of the Munich attack. Abu Mazen could not be reached for comment regarding Abu Daoud's allegation. After Oslo in 1993, Abu Mazen went to the White House Rose Garden for a photo op with Arafat, President Bill Clinton and Israel's Yitzhak Rabin and Shimon Peres. "Do you think that ... would have been possible if the Israelis had known that Abu Mazen was the financier of our operation?" Abu Daoud writes. "I doubt it."
EoZ also quotes a telegram of condolence sent upon the death of Abu Daoud in 2010, as reported in the Palestinian Media:
President Mahmoud Abbas sent a telegram of condolences yesterday over the death of the great fighter Muhammad Daoud Oudeh, 'Abu Daoud,' who died just before reaching 70. The telegram of condolences read: 'The deceased was one of the prominent leaders of the Fatah movement and lived a life filled with the struggle, devoted effort, and the enormous sacrifice of the deceased for the sake of the legitimate problem of his people, in many spheres. He was at the forefront on every battlefield, with the aim of defending the [Palestinian] revolution. What a wonderful brother, companion, tough and stubborn, relentless fighter.'
Given all the talk about whether there would or would not be a moment of silence and the frequent mention -- though not frequent enough -- of the terrorist attack, you might think there would be some coverage of Abbas' role in it. But then, you would be wrong.
Mahmoud Abbas is named as the financier of the Munich massacre and he praises its mastermind. Yet, he is the very Palestinian Authority president frequently referred to by the media as "moderate" and with whom Israeli leaders are supposed to negotiate.
Why is the media world so upside down? When will sanity prevail? Where's the coverage?

Posted by SC at 02:45 PM | Comments (3)
Double Standards at The New York Times
In an article about Romney's election campaign, The New York Times saw it necessary to "correct" the candidate's suggestion that "The people of Israel deserve better than what they have received from the leader of the free world.'' The quote by Romney was immediately followed by The New York Times clarification:

Some Israeli leaders do not share this view; Ehud Barak, the defense minister and former prime minister, said last year that Mr. Obama had been an ''extremely strong supporter of Israel in regard to its security.'' They also have praised Mr. Obama for opposing the Palestinian Authority's bid for statehood at the United Nations.
While there is nothing in itself wrong with a political opinion being countered with additional information, the problem is that The New York Times does not do this consistently across the board.
Clearly, The Times is not always so diligent about clarifying statements by non-reporters. For example, in an article last year about an Israeli group involved in the illegal smuggling of Palestinians across Israel's 1967 lines, then-bureau chief Ethan Bronner quoted verbatim an entire advertisement by the group that was fiilled with demonstrably false accusations against Israel. Yet no clarification followed to correct the false assertions.
Not only did the newspaper's editors feel it unneccessary to vet the claims in the quoted ad, they also felt it unnecessary to issue a subsequent correction or clarification of the falsehoods the article relayed.
Just another example of the double standards employed by The New York Times.
According to Bronner's article, "Where Politics Are Complex, Simple Joys at the Beach" (July 27, 2011):
In a newspaper advertisement, the group of women declared: 'We cannot assent to the legality of the Law of Entry into Israel, which allows every Israeli and every Jew to move freely in all regions between the Mediterranean and the Jordan River while depriving Palestinians of this same right. They are not permitted free movement within the occupied territories nor are they allowed into the towns and cities across the green line, where their families, their nation, and their traditions are deeply rooted.'"
But, in fact, all of the advertisement's main points were false.
A) The Law says nothing at all about allowing "every Israeli and every Jew to move freely in all regions between the Mediterranean and the Jordan River" — and in fact, Israeli Jews are not permitted to enter Area A (PA controlled territory) of the West Bank or any part of the Gaza Strip.
B) The Law does not mention let alone bar Palestinians from "free movement within the occupied territories."
C) The Law does not prevent Palestinians from entering "towns and cities across the green line.
Israel's Law of Entry. It focuses on Israeli legal residence and nationality, and governs the entry of non-citizens into the sovereign State of Israel.

D) Current restrictions on freedom of movement, put into place following the first Palestinian Intifada when violent assaults against Israeli civilians by Palestinians from the West Bank and Gaza increased, apply both to Palestinians and Israeli Jews – and are a direct result of the security threat presented to Israel and Israeli citizens. Thus, Israeli Jews are barred from entering Palestinian Authority-controlled areas of the West Bank and all of the Gaza Strip, while Palestinians are issued permits to cross Israel's pre-67 boundaries. The number of permits granted to Palestinians are directly related to the security assessment.
So a political opinion made in the context of an election campaign is quickly clarified (when the newspaper's journalists disagree) but clearcut errors are left to stand.
Posted by RH at 12:19 PM | Comments (3)
July 18, 2012
Where's the Coverage? Israelis Help Syrian Refugees in Jordan and Turkey

As Syria spirals out of control, tens of thousands of refugees attempt to escape the violence. Rightfully the media continues to cover this story. A Google News search turned up 9,580 results in 0.10 seconds.
Among the media stories, Fox News reported on Syrian refugees in Jordan and The Washington Post reported on Syrian refugees in Turkey. Reuters' AlertNet reported that:
...Syrian refugees are dependent on humanitarian aid, with some coming with only the clothes on their backs...
So there are stories on Syrian refugees in Jordan and Turkey receiving humanitarian aid. Yet there are no mainstream media reports on Syrian refugees in Jordan and Turkey receiving humanitarian aid from Israelis. But they are and the Israeli media has covered the story. The Times of Israel wrote:
Israeli aid groups are providing "food, medicine, and a lot of help" to Syrian refugees who have fled to Jordan and Turkey, Likud MK Ayoub Kara told AFP Thursday. The Israeli groups have been working under the auspices of European institutions to provide direct aid to the refugees, including children and infants, over the past two months, he said.
Israel National News (Arutz Sheva) wrote:
Kara, a member of Israel's Druze minority, said the governments of Jordan and Turkey "know about the work of the Israeli organizations."

He also noted that efforts are underway in an attempt to bring wounded Syrian refugees to Israel for treatment, AFP reported.
Note that both of the stories refer to Agence France-Presse reporting and while numerous mainstream media outlets frequently pick up AFP stories, none has seen fit to follow up on this one. As far as CAMERA could determine, the only outlet, other than Israeli media, to cover the story is L'Orient Le Jour, a French language Lebanese newspaper.
When it comes to Israel and refugees, the media is awash in flawed and incomplete stories portraying Israel negatively. A recent CAMERA article, "On Refugees and Racism, a Double Standard Against Israel," noted:
Recent press attention has focused on the repatriation of illegal African migrants from Israel. Reuters, the Associated Press, AFP, and UPI have disseminated stories. The Washington Post, Los Angeles Times, New York Times, Financial Times, ABC, CNN, CBC, BBC and others have added their own reports.
But, when Israelis go out of their way to help refugees from a country at war with Israel in countries unfriendly to Israel, The Washington Post, Los Angeles Times, New York Times, Financial Times, ABC, CNN, CBC, BBC and others are silent. Where's the fairness? Where's the balance? Where's the coverage?
Posted by SC at 09:26 PM | Comments (3)
Planes, Tanks and Lies
Ahmed Masoud blames an Israeli airstrike for being switched at birth, but the Gaza skies were quiet at the time
Elder of Ziyon takes down Ahmed Masoud's tale of being switched at birth in a Gaza hospital in 1981, due to the chaos that ensued from an Israeli bombing. Masoud, a British writer and playwright, originally published his dramatic story in the Guardian, and more recently shared on CBC radio and Radio Netherlands.
Elder observes:
Wow...what a story! It is custom made for reader (and listener) sympathy. You can almost feel the heat from the explosions and smell the gunpowder, as you picture Masoud's father desperately trying to save his baby's life from the heartless Israeli air raid at the maternity ward, and the parents' desperate race through the streets of Gaza - with the still recovering mother forced to flee on foot, no doubt barefooted, dodging the falling bombs and debris while tenderly protecting her newborn baby.

Only one problem: Israel didn't bomb any hospitals in Gaza when Masoud was born. It didn't have air raids until the second intifada.

This story happened six years before the first intifada, when tens of thousands of Gazans were peacefully commuting to and working in Israel. Hamas didn't exist. Thousands of Israelis lived in Gaza. More from Israel would go there weekly to buy goods cheaper than they were within the Green Line. Arabs with the proper means would travel to Israel to be treated in hospitals there.

Masoud's birthday is August 27, and I cannot find any possible actions by Israel in Gaza in 1981 or 1982 around that date. Israel was fighting in Lebanon, not Gaza, and the very few protests there were met with riot control methods, not airplanes.
This takes us back to another story of an Arab birth, flight and the brutal Israeli war machine. The June 11, 1998 front-page Boston Globe story interviewed Hakma Abu Gharoud, a refugee living in Gaza, who fled her peaceful Negev home in 1948:
then nine months pregnant, [Gharoud] fled her Arab village in panic as Israeli tanks closed in. On the road outside her village, she went into labor. As her screams were drowned out by the thunder of shelling, she delivered a baby boy in an open field. She named him Mohajir, which in Arabic means "refugee." ... Today, Mohajir and his mother still live in the squalor of the United Nations refugee camp where the family ended up after the 1948 war that gave birth to the nation of Israel but displaced some 700,000 Arabs.
But as CAMERA's Alex Safian noted at the time:
On the date of the alleged attack against the Gharoud's village of Ashweih, Israel had only two tanks, neither of which was operational. (Arab-Israeli Wars, A. J. Barker, p. 19) According to Chaim Herzog's The Arab-Israeli Wars, Israel's armored forces on that date consisted of "some scout cars and a number of crudely home-made armoured vehicles." (p. 48) None of these vehicles were anywhere near the Gharoud's village. Whatever caused the family to leave, it could not have been Israeli tanks or armored vehicles. Of course, [reporter Charles] Sennott never mentions that invading Arab armies possessed such weapons in abundance, which they used to overrun many Jewish communities including, for example, Yad Mordechai and Kfar Etzion. . . .

In the area of Gharoud's village on the date in question, invading Egyptian forces were the ones on the offensive. The Israeli forces opposing them were heavily outnumbered and outgunned, totaling no more than 800 soldiers, "equipped with light arms, some light mortars, two 20-mm guns . . . and two davidkas (a type of home-made mortar) with ten bombs." (Edge of the Sword, Netanel Lorch, p. 201) The hard pressed Israelis struggled, sometimes in vain, to defend their Negev communities, and were in no position to go on the offensive. Sennott's article was therefore actually an inversion of history.
So Masoud was not the first to come up with a false tale about being chased at birth by Israeli weaponry that was not in use at the time. As long as journalists continue to unquestioningly accept such fictions, he won't be the last.
Correction: This post originally misreported the year of Masoud's birth in one reference as 1987. We regret the error.
Posted by TS at 08:10 AM | Comments (6)
The Geographically-Challenged Amira Hass
The Teva Naot factory, on Kibbutz Naot Mordechai, in the upper Galilee
Amira Hass should enroll in a geography course. In her article yesterday ("Disney Family Member Renounces Her Investments in Israel's Ahava Cosmetics,") she writes that Shamrock Holdings, the Disney family firm,
also has a stake in the Teva Naot footwear company, which is located in the Gush Etzion settlement bloc south of Jerusalem. . .
But there is just one small problem. Teva Naot's factory is not located in Gush Etzion, but in Kibbutz Naot Mordechai, in the upper Galilee. Despite the fact that Israeli reporter Amira Hass lives in the West Bank city of Ramallah, she apparently relied on erroneous and misleading reports from foreign BDS advocates regarding Teva Naot. Last year, BDS activists promoted a boycott of the Montreal Naot store on the false allegation that "Naot's soles come from the industrial zone of Gush Etzion, which is an illegal settlement located in the heart of the West Bank on occupied territory." In fact, the shoes' soles are made in Germany and Spain.
After that lie was exposed, BDS activists latched onto another excuse to boycott Naot shoes, sold internationally: the presence of an outlet store in Gush Etzion. (Naot also has outlet stores in Tiberias and the visitor's center at Masada.)
Hass, apparently, has confounded the location of one of the chain's three outlet stores with the location of "the Teva Naot footwear company." That's like saying the Hershey Company, of Hershey, Pennsylvania, is located in New York City (where it has a popular store.)
This kind of sloppiness, and the lack of fact-checking of information supplied by partisan sources, will not come as a surprise to those familiar with Hass' writing. We suggest that next time, at the very least, she open a map.
For the Hebrew version of this article, visit Presspectiva.
Posted by TS at 03:48 AM | Comments (1)
July 09, 2012
Jewish Self-Criticism A Weapon in the Hands of Israel Hater, Noushin Framke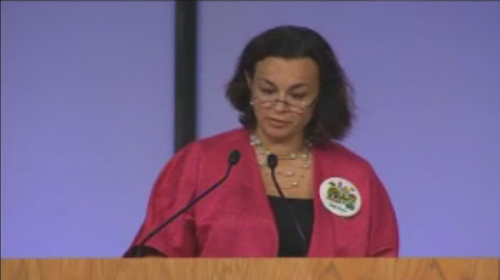 Noushin Framke, above, encouraged Hamas to keep Gilad Shalit as a bargaining chip. (Screenshot from PC(USA) video feed of General Assembly.)
By a two-vote margin (333-331), the General Assembly of the Presbyterian Church (USA) denied anti-Israel activists a trophy – the passage of an overture that calls upon the denomination to sell its stock in companies that manufacture products used by the Israeli military.
The passage of a divestment overture by the PC(USA) might have reinvigorated anti-Israel activism in liberal Protestant churches in the U.S., which in the past few years, have been somewhat quiescent in their attacks on Israel.
The defeat of the overture in question, which called for the denomination to sell its stock in Motorola, Caterpillar and Hewlett-Packard, is a good thing.
Still, there are reasons to be concerned about what is going on inside the PC(USA) because anti-Israel activists did win a consolation prize – the passage of another overture, this one calling on the denomination to boycott Israeli products produced in the West Bank.
This overture, which passed with a vote of 457 to 180, was approved after Noushin Framke, a prominent anti-Israel activist in the PC(USA) was asked to speak to the assembly by the people moderating the event. Framke told the assembly that Peter Beinart, an American Zionist Jew who is offended by Israeli policies in the West Bank, supports such boycotts.
Framke's invocation of Beinart's support for a boycott of products is emblematic of a process by which anti-Zionists use Jewish self-criticism to isolate the Jewish state in the arena of public opinion. Framke (pictured above) thinks the Jewish state should not exist.
Framke expressed her anti-Zionism through her involvement with the Israel Palestine Mission Network of the PC(USA), (also known as IPMN), which has trafficked in anti-Zionist and in some instances, anti-Semitic imagery. This imagery is detailed in an article published on CAMERA's website in February 2012.
This article reveals that when the IPMN displayed a picture of President Obama with Jewish stars hanging from his ears, Framke clicked "like" on this image. She also clicked "like" on a comment on Facebook that said Hamas should keep Israeli soldier Gilad Shalit hostage until the Palestinians achieve right of return. In another comment, Framke wrote that "the only *just* solution is ONE binational states, with equal rights for all the citizens." She continued:
YES, this means NOT a Jewish state, whose idea is an anachronism, anyway. The world has gone to pluralistic societies that are inclusive, and Israel going in the other direction, getting more an more exclusionary, which results in extreme racist nationalism.
And in another comment, Framke wrote that Israeli soldiers in the West Bank "are not human beings."
Once the Jewish Council for Public Affairs went public with its concerns about these and other postings on the IPMN's Facebook page, it was deleted.
Why is Noushin Framke speaking to the PC(USA)'s General Assembly, from the podium no less? Do the leaders of the PC(USA) honestly think the presence of someone who demonizes Israel on the dais adds to the credibility of the GA's proceedings?

Posted by dvz at 01:29 PM | Comments (5)
July 08, 2012
The NYT and Hebron History Fit to Print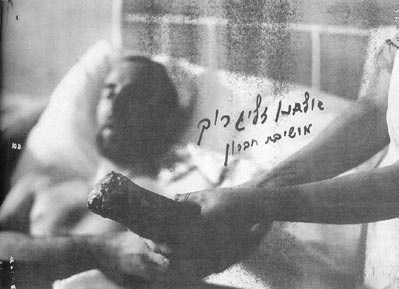 Elhanan Zelig Roch lost a hand in the 1929 Hebron massacre, in which Arabs killed 67 Jews
Less than two weeks after The New York Times' highly selective history of the West Bank village of Battir (Beitar), the "Paper of Record" brings us a selective history of the city of Hebron. Jody Rudoren's July 6 article about a Hebron area meeting of Jewish and Muslim spiritual and community leaders, along with rightest European Parliament members, recounts:
Hebron, home to about 150,000 Palestinians and 900 Jews, has been practically the opposite of peaceful since Israel began occupying the West Bank in 1967. Its Cave of the Patriarchs was the site of a massacre in 1994 when Baruch Goldstein, a doctor from the large neighboring settlement of Kiryat Arba, killed 29 Muslims praying at the mosque. It was the only city excluded from the Oslo accords, and it was the subject of its own pact in 1997 separating the two communities and restricting their movements. Clashes continue, sometimes daily.
Of course, Hebron's bloody history began long before "Israel began occupying the West Bank in 1967." Before the 1994 Hebron massacre of 29 Muslim residents, at the hands of Baruch Goldstein, there was the 1929 Hebron massacre of 67 Jewish residents, at the hands of their rampaging Arab neighbors. The survivors fled for Jerusalem, and the holy city of Hebron was emptied of Jews for the first time in centuries.
But, like with the recent Battir story, The New York Times ignored the Jewish history of the contested site, choosing to supply readers only the Palestinian history.
Posted by TS at 07:10 AM | Comments (3)
AFP Doctors Swiss Report on Arafat's Death, Polonium
An AFP news story and photo captions falsely allege that a Swiss report concluded that Yasser Arafat had been fatally poisoned. For instance, there are these photo captions: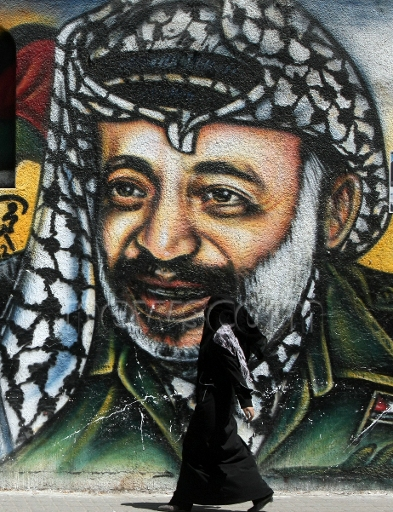 A Palestinian woman walks past a mural of late Palestinian leader Yasser Arafat in Gaza City on July 4, 2012. Arafat, who died in 2004, was poisoned by polonium, according to the findings of laboratory research carried out in Switzerland and cited in an Al-Jazeera report on July 3. AFP PHOTO/MAHMUD HAMSMAHMUD HAMS/AFP/GettyImages
A file picture dated November 16, 2003 shows late Palestinian leader Yasser Arafat smiling to reporters outside his office in the West Bank city of Ramallah. Yasser Arafat, who died in 2004, was poisoned by polonium, according to the findings of laboratory research carried out in Switzerland and cited in an Al-Jazeera report on July 3, 2012. AFP PHOTO/JAMAL ARURIJAMAL ARURI/AFP/GettyImages (Emphases added.)
There was also a July 3 AFP article headlined "Arafat poisoned by polonium: Report," which begins:
Yasser Arafat, who died in 2004, was poisoned by polonium, according to the findings of laboratory research out in Switzerland and cited in an Al-Jazeera report on Tuesday.
But the Swiss report does not conclude that Arafat died of poisoning. Francois Bochud, head of the Institute of Radiation Physics at the University of Lausanne, the research institute which conducted the study, has repeatedly made clear that that conclusion cannot be drawn from his work.
For instance, the very same AFP article reports in the last paragraphs:
To confirm the theory that he was poisoned by polonium it would be necesseary to exhume and analyse Arafat's remains, Bochud said.

"If (Suha Arafat) really wants to know what happened to her husband (we need) to find a sample -- I mean, an exhumation . . . should provide us with a sample that should have a very high quality of polonium if he was poisoned," he said.
So the diligent minority who bother to read to the end of the article will get an inkling that, contrary to the articles's headline and first paragraph, the Swiss report did not, in fact, conclude that Arafat had been poisoned.
In addition, the Associated Press reported:
Mr. Bochud stressed that the discovery did not provide proof that Mr. Arafat had been poisoned. That would require further testing.

"What is possible to say is that we have an unexplained level of polonium, so this clearly goes toward the hypothesis of a poisoning, but our results are clearly not a proof of any poisoning," he said by telephone from Switzerland.
Even Al Jazeera does not say that the Swiss research concluded that Arafat was poisoned.
Posted by TS at 05:26 AM | Comments (2)
July 06, 2012
Where's the Coverage? Jewish Refugees Expelled from Arab Countries

This month the United Nations marks World Refugee Day with concerts, film festivals and other events on five continents. Yet, as Israel's ambassador to the U.N. Ron Prosor writes in his Huffington Post article, "The Middle East's Greatest Untold Story," very little if any mention will be made of the 850,000 Jews expelled from Arab countries since the rebirth of the state of Israel.
Year after year Palestinian refugees attract more attention and resources at the U.N. than Britney Spears at a paparazzi convention, yet not a single syllable about the Jewish refugees expelled from Arab countries can be found in any of the 1,088 U.N. resolutions on the Middle East or the 172 U.N. resolutions dedicated to Palestinian refugees.

[...]

The historic Jewish presence in the Arab World must be recognized. The grave injustices inflicted upon them must be acknowledged. The crimes committed against them must be rectified.
Posted by SC at 12:59 PM | Comments (3)
July 04, 2012
Palestinian Photojournalists Protest
The Western media continues to ignore Palestinian protests against talks with Israeli Vice Premier Shaul Mofaz, their violent repression on the part of Palestinian police, and the intimidation of Palestinian journalists. Yesterday, photojournalists protested outside the Palestinian Ministry of Interior. Western media outlets, which rely so heavily on Palestinian stringer photographers, are ignoring the following:

Palestinian Photojournalists hold banners and cameras outside the office of the Palestinian Interior Ministry in the West Bank city of Ramallah, July 03, 2012. Journalists protested against the assault by Palestinian police during their coverage of the Palestinian protest against the visit of vice Prime Minister of Israel Shaul Mofaz to Ramallah (Issam Rimawi/ZUMA Press/Newscom)
Posted by TS at 07:03 AM | Comments (2)
July 03, 2012
Illuminating the Situation of Palestinians in Syria
A New York Times Op-Ed by Rod Nordland and Dalal Mawad on July 1, 2012 describes aspects of the Palestinian situation rarely discussed in The Times's usual coverage of the Palestinians.
The article describes a recent spate of assassinations of Palestinian officials in Syria. One victim was a Hamas official. Another was an officer in the Palestine Liberation Army (PLA).
While Hamas immediately blamed Israel for the assassination of the Hamas official, the article suggests that it was most likely carried out by the Syrian regime itself to send a message to Hamas. The authors point out that the Syrian regime has served as Hamas's benefactor and host of its senior leadership for many years. But recently due to the regime's violent suppression of domestic, mostly Sunni, opposition, Hamas has balked at offering support to the Syrian regime and chosen to relocate outside of Syria. The Muslim Brotherhood, of which Hamas is an offshoot, has long been suppressed in Syria, at times brutally, yet only recently has Hamas found it necessary to cut its ties with the Syrian regime.
The assassination of the PLA Colonel is also illuminating. The PLA, according to the authors, is "nominally a branch of the PLO," yet it is "incorporated into the Syrian military." Most interesting though is how the authors characterize the situation of the Palestinians in Syria, who are generally described as refugees. The authors write:
Syria prides itself on being one of the few Arab countries to offer Palestinians full civil rights. They can own property and hold government jobs, for instance...
One middle-aged Palestinian, concerned with what regime change will bring, states,"It is hard for us to forget that Syria deals with us as ordinary citizens..."
The article then contrasts this cautious view of the future with those expressed by younger Palestinians.
Many other Palestinians in Syria, especially younger ones, diagree. With so many civil rights, they were raised essentially as Syrians, and they find it hard not to be swept up in the fervor on the streets.
The picture presented by the authors is one of the Palestinians participating in Syrian life in a relatively normal manner, though with some concerns. This is a more nuanced picture than the conventional depictions of Palestinian refugees as living in squalor, isolated from the population at large and with fewer occupational opportunities.
Posted by SS at 02:24 PM | Comments (1)
July 02, 2012
Where's the Coverage? The Ignored Palestinian Protests

Normally, the Western media giants deem Palestinian protesters clashing with security forces newsworthy. Normally, the media takes a keen interest in all developments and setbacks regarding Israeli-Palestinian talks.
And so, the media's total lack of interest in recent Palestinian demonstrations against talks with Israel is noteworthy on two counts. Over the weekend, and continuing today, Palestinians have been demonstrating in Ramallah and in other West Bank locations. On Saturday, seven were arrested. Ten were hospitalized, including a local journalist beaten as he tried to cover the events.
The Palestinian Authority's Minister of the Interior has called for an investigation. But the major media outlets, usually so quick to run photos of Palestinian demonstrators, has almost entirely ignored the story. Not a word from the Washington Post, Los Angeles Times, CNN, New York Times, International Herald Tribune and others.
Editors, all too eager to print photos of Palestinians demonstrating against or clashing with Israeli forces, have lost their interest in the latest round of Palestinian protesters. The reason? Perhaps because the protesters are not facing off against Israeli soldiers, but against Palestinian police. Initially, they protested Palestinian plans (now cancelled) to meet with Israeli Vice Premier Shaul Mofaz.
The western media, usually saturated with images of Palestinian protesters, has virtually none of this weekend's clashes, which started as protests against engaging in peace talks with an Israeli, and which morphed into anti-(PA) police violence. Here are some of the protest images not covered by the international media:
Palestinian policemen scuffle with protesters opposing a meeting between Palestinian President Mahmoud Abbas and Israeli Vice Prime Minister Shaul Mofaz, in the West Bank city of Ramallah, Sunday, July 1, 2012. A scheduled high-profile meeting between Palestinian President Mahmoud Abbas and Israeli Vice Prime Minister Shaul Mofaz has been postponed indefinitely, a senior Palestinian official said Saturday. The rare high-level talks would have been a step toward resuming formal peace negotiations, although expectations were low that they would produce any breakthrough. (AP Photo/Nasser Shiyoukhi)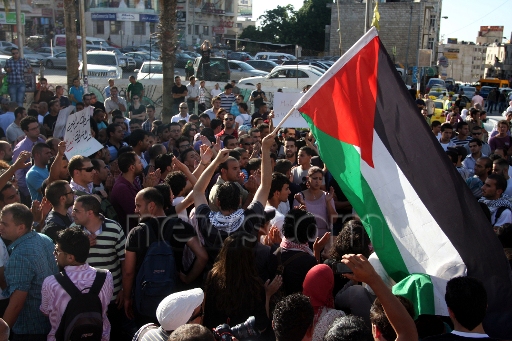 Palestinian protestors hold banners and national flags during a protest against a scheduled meeting between Palestinian President Mahmoud Abbas and the Israeli Vice Prime Minister Shaul Mofaz in the West Bank city of Ramallah, on 01 July 2012. A senior Palestinian official announced that the meeting had been postponed
Ramallah, West Bank, Palestinian Territory - Palestinians help a wounded man, injured in a protest against a scheduled meeting between Palestinian President Mahmoud Abbas and the Israeli Vice Prime Minister Shaul Mofaz in the West Bank city of Ramallah, on 01 July 2012. A senior Palestinian official announced that the meeting had been postponed
See also Elder of Ziyon.
Posted by TS at 07:08 AM | Comments (1)
July 01, 2012
The LA Times, UNESCO and the Holy Sites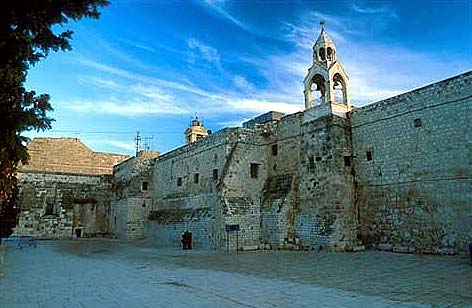 The Church of the Nativity. UNESCO's own expert panel recommended against adding it as a World Heritage site
The Los Angeles Times' coverage of the controversy surrounding Unesco's decision to list Bethlehem holy sites as World Heritage sites comes up short. While it notes Israeli Prime Minister Netanyahu's view that "UNESCO is driven by political considerations and not cultural ones," it ignores a key point of evidence substantiating that position.
As reported in many media outlets, but not the LA Times, U.S. ambassador to UNESCO, David Killion noted the decision was made "against the official recommendation of the International Council on Monuments and Sites, the expert advisory body that evaluated the site." The expert panel's recommendations are almost always heeded.
(Hat tip: Stephen Silver)
Posted by TS at 07:35 AM | Comments (0)
What Gideon Levy is Missing in Nazareth
Students at the Nazareth Academic Institute
As is often the case, Ha'aretz's Gideon Levy is again loose with the facts. Today he writes:
The fact that for 64 years no new Arab city has been founded or developed, no industrial zone established, and no Arab university has come into being does not show equality.
Gideon Levy should find the time to go to Nazareth. He would be happy to learn that Israeli billionaire Stef Wertheimer is building the Nazareth Industrial Park, to serve the city's Arab population.
Watch Israel 21C's video about the park:
As for Arab universities, he should make a stop at the Nazareth Academic Institute. Its Web site explains:
Established at the initiative of the Arab community in Israel, Nazareth Academic Institute (NAI) seeks to increase access to higher education for young Arab women and men in Israel and foster a participating citizenship in the country .

The institute has operated for 5 years (2003-2008) as a branch of the University of Indianapolis, USA. Offering baccalaureate degrees in Communications, Computer Science and Chemistry, NAI has produced 228 graduates, 70% of them are women .

On November 1st 2010 the Nazareth Academic Institute proudly opened its first academic year as an independent Israeli College, accredited by the Israeli Council of Higher Education .

NAI is an egalitarian institute, open to Jews and Arabs alike and operating in harmony of citizens of all backgrounds. Uniquely in Israel and the Middle East, It is jointly managed by Arabs and Jews. Arabic, Hebrew and English are its languages of study.
Were Levy genuinely interested in advancing Israeli Arabs culturally and economically, as he claims in his Op-Ed, he would do well to promote the positive initiatives in these fields, rather than pretending they don't exist.
Posted by TS at 06:18 AM | Comments (0)