« Where's the Coverage? Another Double Standard for Israel on Refugees | Main | What Gideon Levy is Missing in Nazareth »
June 29, 2012
Algemeiner: Another Christian "Peacemaking" Statement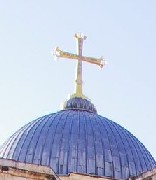 The Algemeiner has published a piece by CAMERA analyst Dexter Van Zile about a "peacemaking" document issued by Kairos USA. An excerpt:
Another group of Christian peacemakers has issued yet another statement about the Arab-Israeli conflict. The authors of this document state their goal is to "respond faithfully and boldly to the situation in Israel and Palestine.� Apparently in the lexicon of the folks who wrote this document – a group that calls itself "Kairos USA� – "situation� is another word for "conflict� or "war� and "responding faithfully and boldly� means focusing the eye of Christian judgment on Israel and its alleged sins like the Eye of Sauron looking for the holder of the One Ring on the slopes of Mount Doom.

Unlike Sauron, the folks who wrote this document found what they are looking for – a scapegoat upon which they foist all the blame for Palestinian suffering. This can be seen in the visual rhetoric offered by the group's website, which shows pictures of the security barrier and juxtaposes them with pastoral images of the Holy Land. The implication is obvious – Israeli security measures are a blot on the Holy Land.

Just to give you a sense of how distorted the text is, the Jewish Council for Public Affairs accurately reports that the 8,000-word document does not include the word Hamas.
To read the whole thing, go here.
Posted by dvz at June 29, 2012 04:49 PM
Comments
Hitler was branded a Christian because of his parentage but in personal belief he was an atheist. Christian Arabs in the region are especially susceptible to intimidation. the Mufti of Mecca is said to have recently issued a fatwa calling on the faithful to burn all the Christian churches in the "caliphate" and cleanse Islam. In Nazareth featured on another page as an Israeli industrial success the Christian Arab population suffered under Arafats installation of an Islamist mayor and the institution of shariah law. The Christian Arab population has been reported on one Christian web site to have decreased from 60 to less than 40% in less than two decades. The Christian situation is extremely precarious in the region even more vulnerable than Israel who's principle crime is the fact it is a Jewish Homeland. But at least they have a Homeland that guyrantees them the right to practice there faith and more humanely allows the practice of other faiths as long as the expressions are not intent on confrontation. While there are earnest groups trying to build bridges bewteen the diverse cultures and beliefs in the region some Christian groups are merely submitting to the intimidating factors of Islam.
Posted by: jeb stuart at July 7, 2012 09:12 AM
Surely in the near future the phrase, "nothing good comes from Chicago" will be accepted as a truism. It makes me suspicious that this organization is centered a few doors down from J street. In fact, Kairos USA goal does not seem Christian at all, they appear to be another group that is devioted to pacifism and are willing to compromise too much, in my opinion and spiritual sense, I believe they are making false positives to achieve a higher good. Perhaps they are misguided because they think there is an imbalance in how the west has recently come to view the ugly side of Islam, and I also wonder if their leaders have been co-opted by fables generated in Egypt and other Muslim Brotherhood outlets that 9-11 was a Bush CIA initiative. It remains to be seen how much genuine love this group has that we might know them or if they are just another group that mistakes tolerating tyranny like radical Islam as necessary demonstrations of Christian faith. One might suggest that at least they are not directly attacking Jews. But if the Israeli border comes down in the manner they prescribe it will have the same effect.
Posted by: jeb stuart at July 7, 2012 09:33 AM
Guidelines for posting
This is a moderated blog. We will not post comments that include racism, bigotry, threats, or factually inaccurate material.
Post a comment