« Where's the Coverage? PA Celebrates "Achievements" of a Master Terrorist | Main | Anti-Semitic Rant Passes Without Challenge at Methodist Convention »
May 02, 2012
The World Is Flat and Some Israeli Told Me So
60 Minutes Producer Harry Radliffe

"The world is flat. How do I know? Some Israeli told me!"
That's about what 60 Minutes Producer Harry Radliffe would have us believe.
Radliffe, you'll remember, was the producer of the 60 Minutes segment on Christians in the Holy Land – the segment that falsely reported the security barrier "completely surrounds Bethlehem, turning the 'little town' where Christ was born into what its residents call 'an open air prison.'"
The security barrier does not "completely surround Bethlehem" but in fact passes by its northern and western sides.
CAMERA called Radliffe on Monday April 30, 2012 and asked for 60 Minutes' source of misinformation about the security barrier. Radliffe said that the Israeli Ministry of Defense was the source of information about the security barrier. He went on to say that maybe the people at the Ministry of Defense "don't know what they are talking about" suggesting that the error was not the fault of 60 Minutes, but was really the fault of the Israeli government.
When CAMERA asked Radliffe for the name of the official at the Ministry of Defense who gave 60 Minutes the information he said he didn't have the name and that we should call 60 Minutes' office in Tel Aviv for that information.
Later on Monday, CAMERA contacted the CBS communications department (via email) for the name of someone we should contact about 60 Minutes' "source" at Israel's Ministry of Defense. We have received no response.
So we are left with Radliffe's statement that the Israeli Ministry of Defense is the source of the error that appeared in the 60 Minutes episode.
This seems pretty incredible. The idea that the Israeli Ministry of Defense would provide such an obvious misstatement of fact about the security barrier just does not make any sense.
Why?
Well, the Ministry of Defense has a map of the security barrier's route on its website!
And the map clearly shows that the security barrier does not "completely surround Bethlehem."
Here it is: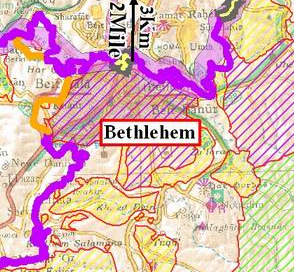 A map of the security barrier around Bethlehem from the Ministry of Defense website.
Is it possible that someone working for the Ministry of Defense gave the wrong information to someone at 60 Minutes?
Sure! It's not very likely, but it is possible.
But who? Who are the someones we are talking about?

Posted by dvz at May 2, 2012 11:35 AM
Comments
The views to the east from Bethlehem are stunning. It is a major tourist site with hundreds passing through every day. Many foreigners live there, and that includes the Palestinians - I bought some falafel from a guy who happily told me that his family came from Greece!
What should be unmissable about this town is that it is the scene of huge religious oppression toward Christin Arabs.
But we should be kinder, after all they only had 60 minutes...
Posted by: Charles Nankin at May 2, 2012 12:26 PM
Harry Radliffe is lying through his teeth.
Bob Simon has a history of lying about Israel.
He did a piece on 60 minutes 3 years ago saying Israel was an aparthied state.
Has Bob Simon apologized for his lies about this supposed security barrier surrounding all of Bethlehem? NO.
I blame the Israeli goverment for allowing Israel haters like Bob Simon to report lies, just as Israel allows Harriet Sherwood of the Guaridian to report her lies about Israel.
Israel should kick both of them out permanently.
DVZ writes: The Ministry of Defense responded to an inquiry regarding this issue. Please see the following article:
http://blog.camera.org/archives/2012/05/ministry_of_defense_rectifies.html
Posted by: Ed Frias at May 2, 2012 10:24 PM
Lets face the reality that 60 Minutes has not been kind to Israel for decades. With their loaded questions and skilled interviewers, they can put words into the mouths of who they inteview. We have seen this time and time again.
Their latest correspondent, Charlie Rose, is has shown his bias on another program for years, catching various Israeli leaders disputing or refuting their bosses. Of course if a boycott were launched against the show..oh I didn't mean to say boycott, I meant preferential viewing of other stations. For example, some UHF channels have syndicated programs, far more exciting and entertaining. But lets face it, whether one-half
fenced or fully fenced...the point gets across..and that is their real intent. Think of it this way, okay, so they make a retraction by saying, "only one-half is cut off, sorry for the
error".
Posted by: Noah Lev at May 3, 2012 10:43 AM
It is important to keep in mind that the liberal media is in business to sell (not necessary accurate) stories. They have a relentless bias against Israel, Zionism and Jews. And to think, that the bigots think the Jews control the media, etc. It's mind boggling. The Christian Arab that appeared on the 60 minute show was obviously being hard on Israel to placate his Muslim neighbors. Probably for fear of retribution.
Posted by: Saul J. Schweber at May 3, 2012 11:09 AM
CAMERA - we dont say this enough - god bless you for your work.
Posted by: ofer at May 7, 2012 05:23 AM
Guidelines for posting
This is a moderated blog. We will not post comments that include racism, bigotry, threats, or factually inaccurate material.
Post a comment